Moon Bar: A Beautiful Beach Bar…A Beach Club On North Ambergris Caye
Over a year ago, a new spot opened in my neck of the woods.  6.5 miles north Ambergris Caye, just north of Portofino Resort, is Moon Bar at Mangata Villas.  But it's more than a bar…because yes, you can drink and eat but you can also lounge on the beautiful beach, use the pool and more.
I pass the sign every day on my way home from town.  And I followed some of the preliminary planning stages online in the blog:  Gringo With A Great Dane.   The very first thing I needed to do was look up "mangata".  Surprisingly to me, it is a Swedish word!  And it has a beautiful meaning:
Mangata: Swedish word for the glimmering, roadlike reflection that the moon creates on water
Who knew the no-nonsense Swedes were so poetic?
Last week, we finally stopped in for a pizza and to check out Moon Bar.  If you are looking for a great afternoon destination spot – I'm not sure you can find a better one.  The ocean is beautiful (you can see the Mexico Rocks snorkel and dive site from the beach) – the beach is great – there is lots of seating – a very cool-looking bar with lots of fun drinks.  You can use the pool if you are eating and/or drinking at the bar and the paddleboards and kayaks.
Plus, they have really beautiful-looking casitas (below) and villas where you can stay…so you can get everyday access to all of this.
But there is one rule:  it's an adults-only spot.  16 and over.  I love that this is an option.
Let me show you my pictures of the "beach club".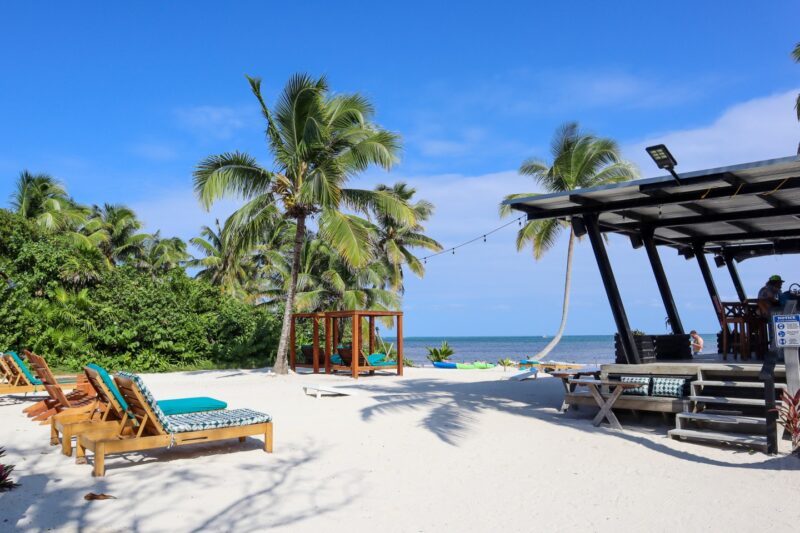 How pretty is this pool?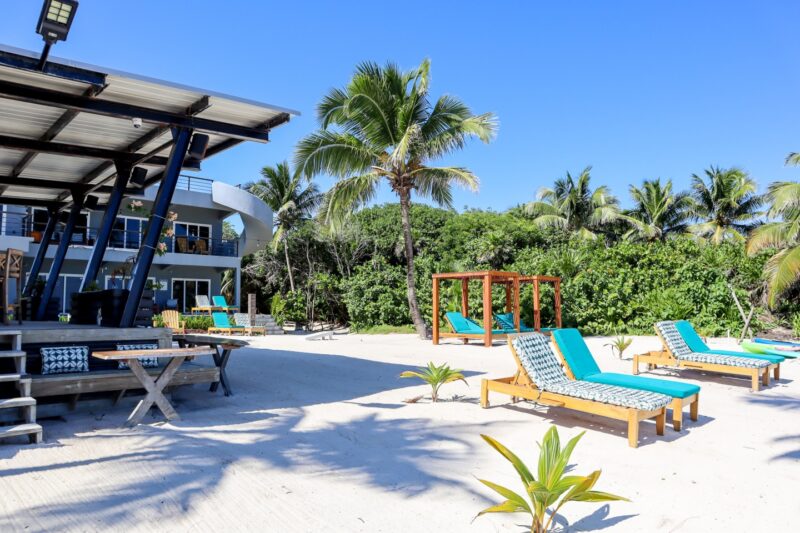 How am I doing getting every single angle!
We snagged one of the shaded seats around the edge of the bar – they are really surprisingly comfy.
And ordered a pizza.  They do pizza and drinks – what more do you need from a beach bar?
But lots of the drinks are very special.  Like their soon-to-be-famous Flight of Frozen Margaritas?
The drink menu.
You can see the menu in full here…they are great about Facebook updates too. 
For example on Facebook – they announce their weekly drive-in movie.  How cool does this look?  (Pic by Moon Bar)
Ok…back to the daytime.
And the pizza!
We ordered the Funghi – of course.  Olives, garlic butter and mushrooms?   Yum.
A very tasty pizza.  And they fire it up in the Ooni Koda – just like the one we have at Cayo Frances Farm and Fly…though we haven't mastered it like they have.
A beautiful bar, a great place to spend a long afternoon – eat pizza, have some drinks, maybe take a walk in the neighborhood (it's beautiful!), and if you are feeling active, to take out a paddleboard or kayak.  Laid-back, friendly, and reasonably priced for all of this!
I'm a big fan!  And will most certainly be back.  I want to take a peep inside the villas and casitas too.
Drive on up there.  I'd say it's about 25 minutes from the bridge…that's not bad for all of this.
I really think you'll like Moon Bar.  In fact I am sure of it.