Pictures Around San Pedro Town on Beautiful March Saturday Morning
I have 101 things to do this morning.    Complete my monthly newsletter (if you don't receive it in your email, you can sign up at the end of this post), do billing for my advertisers, sort through and organize my photos from a long weekend in Placencia for next week's blogs, work on my calendar for the month ahead…
All the things that I put off and then put off and then put off again.  I'd so much rather walk around town and take pictures – chat with vendors, talk about the weather and tourism, check out what seasonal fruits and veggies are for sale…and just soak in all the little things that make San Pedro my favorite town in the world.
I need to get that busy work done!  I'm already behind schedule!  But then I drove into town to drop off Jeff at his boat for a week at the camp with guests and…the light in town was just so pretty.  Busy work can wait…
Here's what I saw at about 930am on a Saturday morning.  I started at the north end of Middle Street – the most narrow of the three main streets in San Pedro (Front, Middle and Back) but perhaps, the most lively.
There is a relatively new art store on Middle Street – and when I was in Placencia, I saw a branch there too!  Meliza's Art and Soul
Saul's Cigar shop…
Must-Visit Shop in San Pedro Belize: Sauls' Coffee and Cigar House
And across the street – a great spot to stop in the afternoon or evening for a cone.
DandE's Frozen Custard Shop in San Pedro, Belize: DON'T Call it Ice Cream
A great new coffee shop in town – lots of room to lounge.  Green Espresso Cafe
Elvi's Kitchen – one of San Pedro's most popular restaurants.
I popped in to say hello to my friends at Martha's Ice.  When I managed a bar on the island (over 10 years ago!) – I saw them every single day.  Ice delivery!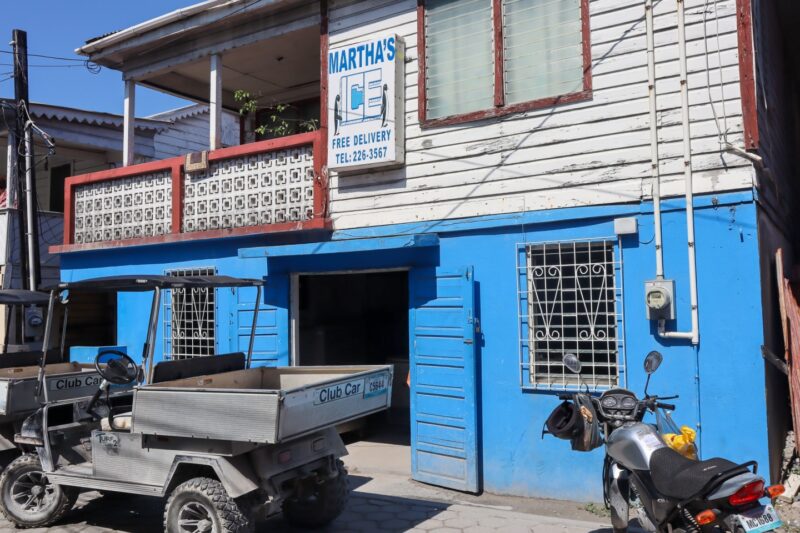 But how did I not notice THIS!!!  That is so crazy cool – and must have HURT!  His granddad started Martha's Ice over 40 years ago – when it was just a small grocery store and a chest cooler with ice trays.  (You can read some of the history in this great article on Ovidio Guerrero)
I headed into Cellular World (below on the corner) for a new phone charger and a chat with the lovely kid at the counter.  He is originally from Delhi India and we both can't wait to go back to India to visit.
Six years ago, I won a trip to Kerala India and…it seems like a dream!  12 Things I Did Not Expect AT ALL About Kerala, India
And…I cut thru to the Back Street.
Passing the artisan market – this lovely gentleman was carving a big piece of mahogany.
And to the new location of 501 Ramen.  (Here's a look at one of the old locations and the food.  YUM)
I like this location even more.  There is lots of parking AND he left the amazing Cubs sign on the wall from the previous owner.
Belizeans eat ALOT of packaged ramen.  Even I'll admit that cheap stuff is tasty – but homemade noodles and broth?  YUM.
Right next to the Tortilleria.  They do thousands of fresh corn tortillas a day.
Cutting thru the soccer field – called Saca Chispas.  (Read here how it got that name)
And back to the boat and my gold cart.  To head home and do some work.  I hope.