Two Family Friendly Tours We Enjoyed in Placencia, Belize: Monkey River Visit & Snorkel at Laughing Bird Caye
It's been almost a month since I returned from BEAUTIFUL Placencia, Belize.  It's just about 100 miles south of my home on Ambergris Caye…it's also a beach community in Belize…but it has a very different feel and lots of different things to do.  Some really amazing tours to take.
I wrote a long post (for me) a few weeks ago about the things we did, where we ate and renting a golf cart in Placencia for family of 6.
There are a wide variety of snorkel and diving tours – you can see Splash Dive Center's lists and descriptions on their website. 
They also set us up on a trip – one of the most popular from Placencia – to the Monkey River Town.  And I'll start my blog there.  Because Monkey River Town is a very interesting spot.  In fact, it is still called "Town" when it is only a village.  The status of town was removed in 1981 – and given to San Pedro!  (My guide was sure to make sure I knew that 🙂 )
Let me begin…
Splash Dive is so conveniently located just across the street from where we were staying – the gorgeous, I mean gorgeous, Chabil Mar Resort.
Good bye Chabil Mar…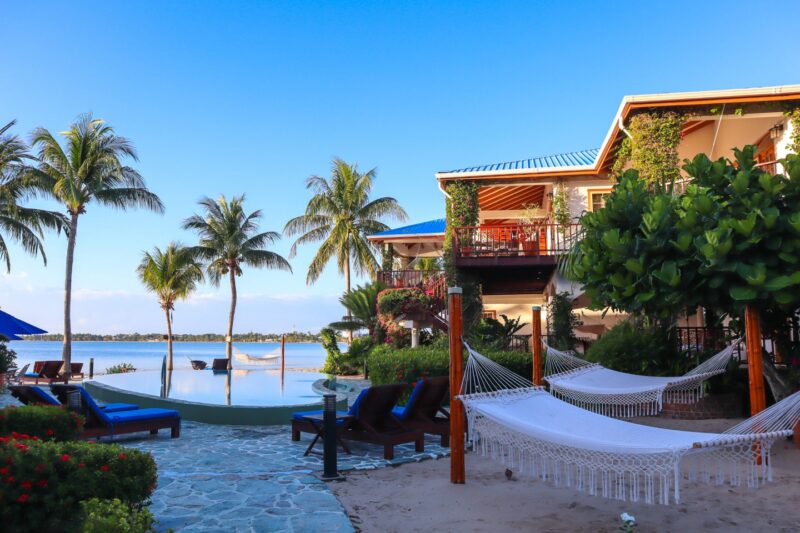 Hello Splash Dive (across the street on the lagoon)
We waited for a bit for another couple to arrive – and enjoyed some fruit punch and cookies and the gorgeous day.
About 45 minutes to an hour south of Placencia via boat is Monkey River Town.  It's a cool ride – winding thru the thick, lush mangroves that line the shoreline.   On the way…we stopped in a few places to watch manatees dive and feed…their bowling ball noses poking above the water to take a breath.  With that wet sigh that says "Oh boy…here come the tourists"
The water is semi-murky but you get a really great view and sense of their crazy size as they come to the surface.
And you are going to have to take my word for it…I got no pictures!  I was focusing on the manatees.
Our guide was born and raised in Monkey River.  The spot was promoted to the status of a town in 1891 when it was a bustling port for the export of the area's bananas and lumber.  At that time and for the next few decades, there were as many as 3000 people living in Monkey River.
But as other towns grew and roads connected them, the industries waned and people moved away from Monkey River.  There is now a village parking lot – a road finally reached the area in the late 80s.  In October of 2001, Hurricane Iris, a Category 4, destroyed most of the village.
Now only a few hundred people live there (including a few gringos according to my guide) And the #1 industry is tourism.
Pulling up to the town.
We stopped to order our lunch at the village's restaurant…fish or chicken.  And to get ready to ride up the Monkey River.
There is a small shop too.  Run by someone I had met previously in my former life as a bar manager in San Pedro!  Belize is SUCH a wonderfully small world.
It was the last day of lobster season and the traps were already out.
We loaded up, spritzed ourselves with more sunblock and some bug spray,  headed upriver and saw all sorts of birds, small crocodiles, huge iguanas, and…the showstopper.  A troupe of howler monkeys with 2 babies feeding in the fruit trees.  Right on a tree dangling over the water.
The river is beautiful and this time of year, lined with blooming grasses and climbing flowers…
After watching the monkeys do monkey things, we put on our more rugged shoes for a bit of a hike.  It's relatively flat terrain but was muddy in spots…Crocs worked just fine but flip flips?  A bit too slippery.
Beautiful HUGE cohune palms…and lots of bamboo.  A monkeys barking in the distance.
A tapir track!
We saw a baby hummingbird.  Just a quick look at a nest that could fit inside my cupped hand.
He should be more of a "looker" when his feathers come in.  Right now he is best described as wormy.
We learned about plants and trees – we were asked whether we wanted to try tasting termites…and we got thoroughly lost in what was probably a very small area.  Thank goodness for our guide!
We were all a bit sweaty and our feet alot muddy.
Monkey River Feet.
Willy, aged 8, must have forgotten about our croc sightings because he insisted on going swimming.  We headed a bit upriver and beached on the side of the river.
Kids are funny.
We headed back to the village – spotting herons galore – and ate lunch at Alice's.  Delicious rice and beans.
We piled back in the boat and headed back to Placencia happy.  My favorite part of the tour was the monkeys…but I LOVE learning about a new and interesting village in Belize.  It's really incredible how many villages in Belize developed so separately from each other – it really wasn't until the last 15-30 years that decent, paved roads connected many places in Belize.
When our guide grew up, there was no electricity in Monkey River, no road to the town.  I'd love to return here…for a bit longer…and learn some more.  There is a hotel there..
The very next day, the weather had taken a turn for the worse.  We were scheduled for the all-day trip that I've heard SO many great things about – the snorkel trip/beach BBQ to the Silk Cayes.
The trip was postponed.  And the next day wasn't so good either but forecasts were calling for some clearing.  The dive shop was headed out to Laughing Bird Caye – and we jumped aboard.  It was not a full day and the weather only improved on our way back home.  But it was fun anyway…
Laughing Bird is a tiny caye and a national park (located on a "faro" – something I just learned about from that site!) located about 40 minutes (by boat) from Placencia.  The snorkeling takes place right around the island…everyone saw great stuff – sharks, rays, pufferfish, parrotfish, eels, and brightly colored coral (surprisingly bright).  And though it was blustery and grey, I'm glad we went…the island is beautiful.  I can only imagine how GORGEOUS it all is on a sunny day.
Ruth was SUCH a great snorkel guide – especially for the kids.  HIGHLY recommend!
The rangers live out here!  Or at least for a few weeks at a time.  Wow.  Now that would be a cool blog.  Though I'm not sure I would make it…
Maybe that's what Laughing Birds means…you go a bit…cuckoo…
If you look carefully below, you can see who really runs this island.  Big hermit crabs.  They scour the whole place in the night…leaving claw/drag marks everywhere.
That would make an excellent horror film!
Or maybe not.
This would be the title I think…
I can't wait to go back – and to get to the Silk Cayes.  Why is it that no matter how many tours I take in Belize – how many different villages I visit, my Belize Bucket List keeps getting longer?
Thank you Splash Dives!  What excellent adventures.