Shopping in Belize: My Favorite Shops and Markets for Great Souvenirs On Ambergris Caye
When you are shopping in Belize – in San Pedro, to be more exact – there are plenty of pretty things for you to bring back for friends and family – great souvenirs…but there are also great things to buy for yourself.  To spark joy as you remember the amazing time you had in Belize.  And how you want to go back.
I hope that this guide keeps it generally stress-free.  Spots that are easy to visit AND offer pretty things.  Because shopping isn't always fun and I want to set you up for success!
But first…let me back up a bit.
Shopping for souvenirs on any vacation can be a drag.  I, for one, do NOT enjoy wasting quality beach-, snorkel-, and nap- time sifting through…junk.  And often, gift shops can be just that…shot glasses, fridge magnets, junky jewelry, tacky t-shirts made in China.
And what seemed funny when you riding on your vacation-rum-punch-high, is more just…embarrassing or useless when you get home.
Especially this one. Get it?  Do you get it?!?
Of course, you do.  It punches you in the face.  Eyeroll.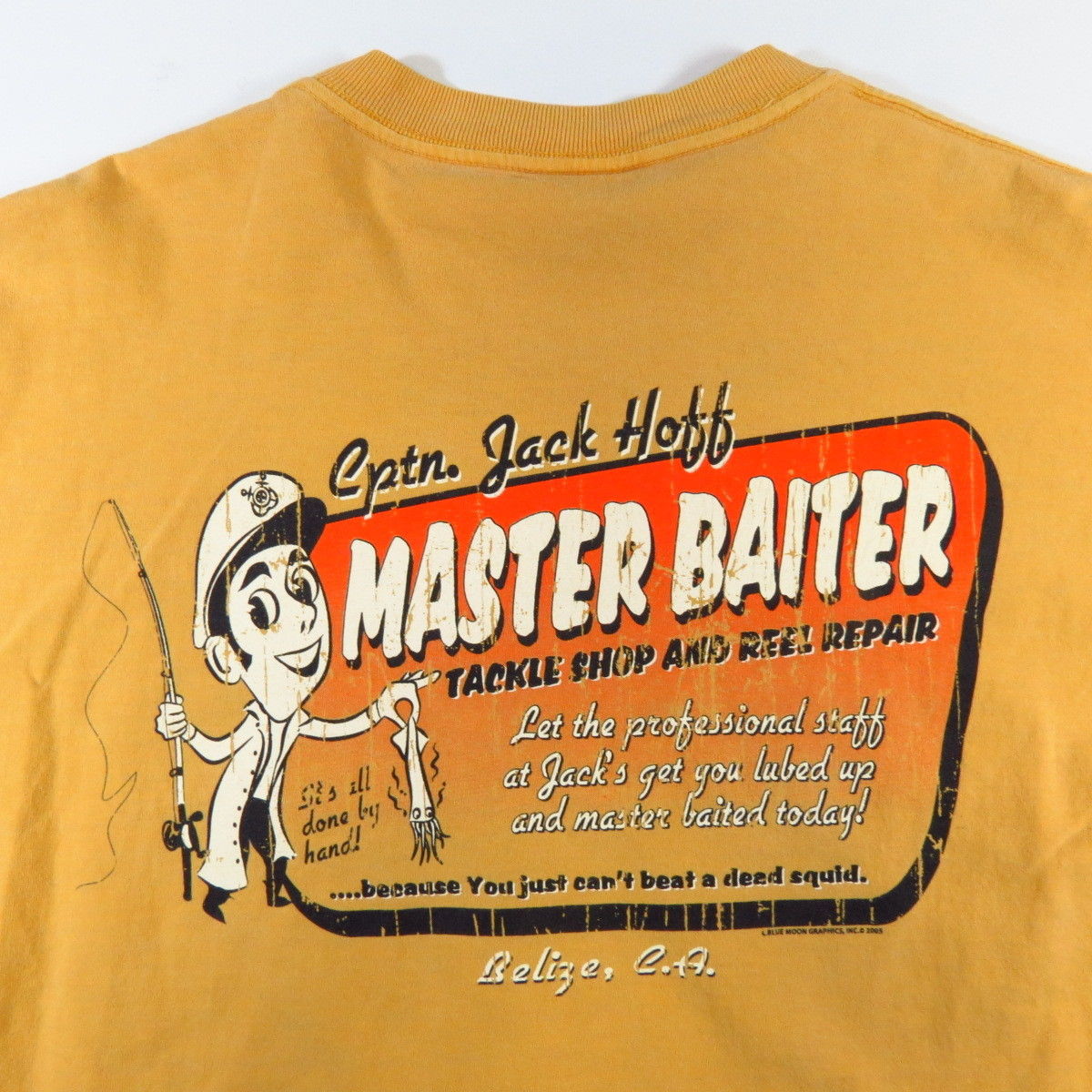 BUT…shopping for quality, locally made products is good times.  Meet the artists and artisans.  People have some fascinating stories.  And there is nothing better when you get home and have something that you love and enjoy and use.  Something that gets you daydreaming about Belize…
So here are my top picks for buying souvenirs in San Pedro.  Stuff you can go home with and not feel like a total Jack Hoff.
1.  Art
This is my absolute favorite souvenir…favorite.  And I'm not talking about spending tons and tons of money.  There are a few shops in San Pedro that sell beautiful works by local artists in all sizes and mediums and at lots of different price ranges.   Here are a few:
Belizean Arts in the old Fido's Bar and Restaurant has a wide range of beautiful things from jewelry and beaded Christmas ornaments to gorgeous original artwork.  You don't want to miss the really great selection.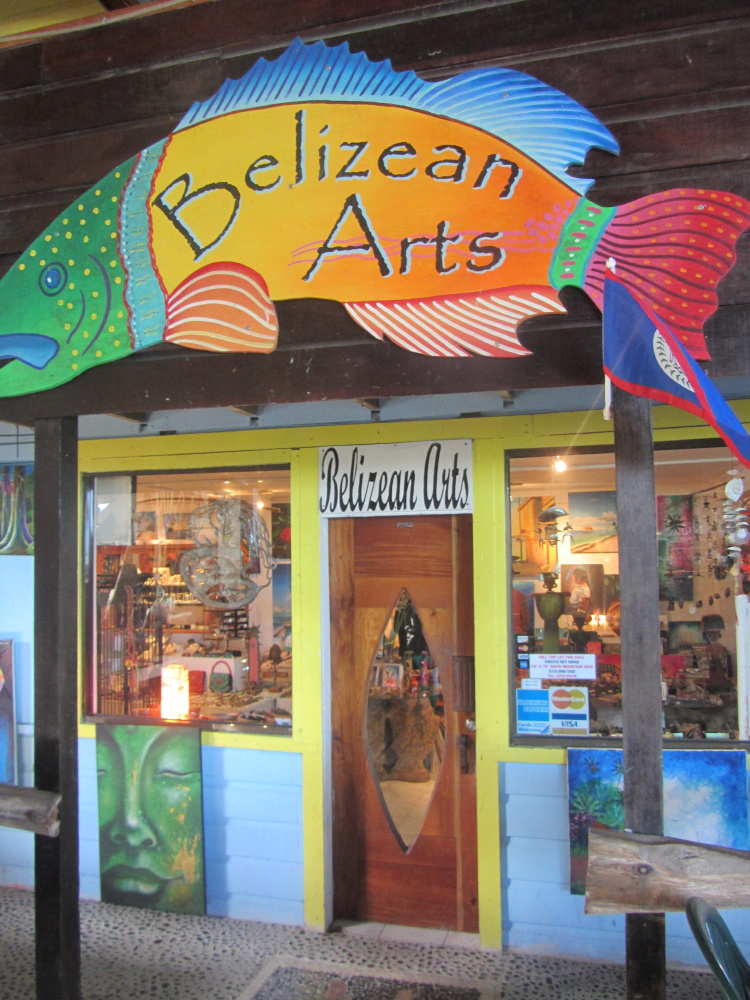 Belizean Melody's Art Gallery, on Front Street, also has a great selection.
There is a new spot located on Middle Street, San Pedro and at Mahogany Bay (south of town) called Meliza's Art and Soul.  Another fun place to explore.
If you are up at 1.5 miles north near the Truck Stop, stop into this cute gallery tucked behind a huge almond tree…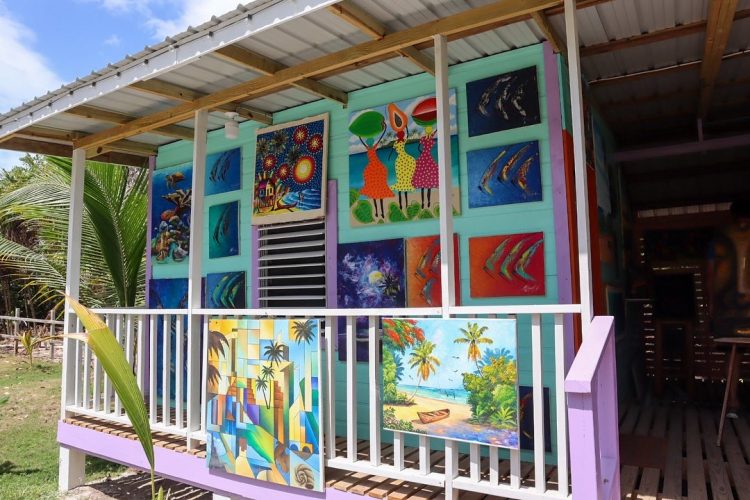 2.  Rum and Rum-Products
Even if you THINK you don't like rum, try it in Belize. It's doesn't have to be all sweet – try a rum and tonic with extra lime – or a caipirinha.
Belizean rum is made locally with Belizean sugar cane (one of the countries biggest industries), it comes in quite a few different blends and varieties,,,an age and flavor profile to fit lots of different taste buds.
One of the most popular brands is Traveller's Rum – bottled in Belize City. They have a tiny shop on Middle Street in San Pedro that's well worth a visit.  A spot where you can taste a few different types and pick up some souvenirs.
Pick up one of these cute little bottles of their coconut rum – each labeled "Fluffy Gial".  (Fluffy means plump and huggable)
Just the right size (about 9 ozs) to make a few Panty Rippers for friends at home.  A taste of San Pedro.  Here's a recipe.  (I used to like just the coconut rum, pineapple juice and a squeeze of lime…a very tasty drink)
They sell the same size in their popular One Barrel Rum.  That one is called "Barrelito".
Taste them all – from sweeter, more vanilla/maple-flavored One Barrel to Three Barrel to Five Barrel to the true sipping rum.  Don Omario.
And make sure to check out Saul's Coffee and Cigar Shop, also on Middle Street, San Pedro.  He makes some delicious creamed and flavored rums that taste great alone or with his coffee.  They also come in VERY cute bags.
Get some BELIZEAN cigars, if that's your thing.  Or just sit outside and sip a coffee (with or without the rum cream) and watch San Pedro go by…
His shop is hard to miss…look for the wood carvings on the outside.  Inside there are even more!  For ALL the details and lots more pictures – check out this post.
And now that we are talking about it…
3 .  Coffee
While not grown in large quantities in Belize (we are a pretty lowland country and great coffee grows best above 3,500 ft), we are right next door to one of the best coffee bean producers in the world – Guatemala.   You can buy very good coffee at the Saul's shop (above) or the at island favorite, Caye Coffee, which roasts and packages fresh Antigua, Guatemalan beans here on the island.
I actually visited beautiful Finca Philadelphia outside Antigua, Guatemala and learned that Caye Coffee sources some of their beans there!  (The city of Antigua sits over 5000 ft above sea level)
The roasts are perfectly named for San Pedro, – Front, Middle, and Back – are REALLY good and make a terrific souvenir.  Front Street – gift shops, real estate agents and a beach view – the lightest brew.  Back Street – local homes and hangouts, some of the greatest, cheaper street foods, real life – the most flavorful brew.
I am a big fan of the whole bean Middle Street blend but try them all.  You can pick up a bag or two at most grocery stores in town or check out their spot south of town.  (And the new location is opening soon…I can't wait for you to see where it is!)
4.  Belizean Hardwood Products
Belize produces the most beautiful hardwoods.  It's the reason that the Spanish and the British first colonized this area…
From mahogany to more exotic ones like sea grape and rosewood, they are gorgeous gorgeous gorgeous.  And there is no shop better to view them all than Graniel's Wood Shop on Middle Street.  From the free-formed polished bowls to a MUST BUY, the gorgeous multi-wood clam chair, I can wander around this small store for about an hour.  It even smells great.
And you'll be amazed by 1. how COMFORTABLE this chair is and 2. how they can pack it up for you so you can make it your luggage.
If you are not into heavy lifting, they have lots of other options.  These are not dyed!  Beautiful.
I just saw this very pretty bonefish box at Graniel's last week…
You'll see wood carvings and trinkets in many spots all over town – my advice is to NOT buy on your first day.  A table set up by Estel's on the beach or on the corner by Belize Chocolate shop…Glen, north of town, has some great carvings.
Look around and find something you love.
5.  Chocolate
While Belize does not grow much coffee, we do grow chocolate!  Some of the world's best.  In fact, cacao was first cultivated and grown in area (Mexico & Central America) thousands of years ago.
San Pedro has its very own chocolate brand and shop and both are divine.   I've gone on and on and on about my love for the Belize Chocolate (GREAT website too) but you really need to go in.  Whether you just eat cookies and brownies and sip on a uber-chocolately milk shake or bring home some of their heavenly chocolate products, you'll be a happy camper.
Make SURE to sign up for chocolate class when you are there.
I suggest some orange chocolate body butter and chocolate tea for gifts.
This is an oasis in San Pedro. And they have some great t-shirts!
And leads me to the next one…
6.  Shirts
I am not a huge t-shirt gal but I know many people that are.  There are more and more great shirts to buy in town that in NO way resemble that awful one I posted above.  (I'm sorry to dwell on it…but WHO BUYS CRAP LIKE THAT?!?)
Belize Chocolate Shop has some great ones
The Truck Stop also has very popular shirts and baseball hats.
The Belikin Store, across the street from Tropic Air, right in downtown San Pedro has lots of fun stuff – especially for beer lovers and part-time man-cave dwellers.
From growlers to YETI mugs and cups to branded dominos (I have two sets) to t shirts.  Good stuff.
This last one, I don't even really need to tell you…but I will anyway…
7.  Marie Sharp's Hot Sauce
This is a no-brainer.  If you return home without a bottle or 10 of Marie Sharps then…have you even been to Belize?
A Belizean institution, Ms. Sharp was born and raised in San Pedro and then later moved to a large farm near Dangriga in the south.  She turns the HOT habanero into flavorful deliciousness – in all heats and lots of different flavors.  From cactus paddle to grapefruit.
Some of the smoked flavors are sooo great – and this beautiful bottle makes it extra special.
And lastly – not so much a specific gift idea but a place to visit.  The Artisan Market on Back Street, San Pedro.  They have almost all of the things above…art work and carvings but lots more.  Baskets…hammocks…bead-work…here's my look around the market AND some of my favorite things to buy.
Is it odd that I'm still thinking about this CUTE turtle basket – perfect for earrings – 4 years later?!
And one more!  Belizean Breezes Soap Company has TWO shops on Front Street.  Stop in and sample the dozens of fragrances and products.
So there you go.  Shopping in San Pedro can yield some great stuff if you know where to look.  Please let me know if you've found great stuff that I've forgotten.  I will update this list to add it…
And wait…I just thought of one.  A tattoo!  Here's a look at a Tattoo Expo we had in Belize a few years back AND some very specifically Belize tattoos.