Going To Mexico In A Few Days…And a Bunch of Photos
I'm finally getting the hang of my new laptop…and my beloved camera, repaired, should be arriving in just over a week…it's time to pull things together!
The weather has been beautiful and even the day of on-again-off-again rain was needed on the island – to tamp down the dust and give the flowers a sprinkle.
The road north is getting repairs and the few miles that have been smoothed feel great.  It's the very beginning of mango season in Belize and THAT is one of my very favorite times of the year.
One of the three young mango trees that we have at the camp has produced three fruits…and the young sapling is bending under the weight of them.  Hang on little mangos!
I haven't been feeling my best these last few weeks – my thyroid gland is swollen and sore, I'm feeling very very tired and frustrated.  So…I've decided to go to Merida, Mexico – a trip I'd been saving for this summer –  to visit an endocrinologist there.  I had planned to go this summer but why not do it now!  A quick trip…
Here's what I'm thinking.  Flight from San Pedro to Corozal, Belize.  Taxi over border to Chetumal.  Bus from Chetumal to Merida.  Easy peasy.
Map from Moon Guide.  Ambergris Caye jutting out just below Xcalak Mexico.  It's amazing how close (yet so far) some big cities are:  Merida has about 1 million people.  At least double the current population of the country of Belize.
And it's less than 250 miles away.
I don't plan to stay long – just two nights  – but I want to get a second diagnosis.  (Last October I got diagnosed with Hashimoto's Disease in Belize City)
Everyone who has been sending me messages about having thryoid issues in Belize…please keep sending.  I will be grumpy about any diet and/or excercise suggestions (I am addicted to Diet Cokes, gluten and Hulu right now) but I really do appreciate the advice and the questions and the sharing.  Maybe we should have a FB group to chat…
I'll let you know all about my trip to Merida (pictures, prices, food) – it is well known as a spot for great medical care, a gorgeous colonial city and shopping.  It's sooo interesting that Merida was once one of the richest cities in the world because a product I'd never heard of until I went there.  At the end of the 19th century, the henequen trade produced millionaires.  Who knew?
Sadly I won't have my good camera but I know I'll take lots of snapshots.  Merida is a gorgeous big city with a huge array of hotels and restaurants and shopping and museums.  Let's just consider this a trip to scope it out – for a longer trip this summer to really explore and visit all the friends that have moved up there.
The last time I visited Merida was March of 2014!   And since that time, the dollar has become incredibly strong.  When I was there in 2014, one USD bought you about 12.50 pesos….now, one USD = about 21!
I'll report back.  Temperatures in Merida are forecast to be around 100 degrees in the afternoon…
Here are a bunch of snapshots from this week so you too can see how BLUE the sky has been…really really pretty.  A few in town and a few at the camp – Cayo Frances Farm and Fly.
Cute deli Back Street, San Pedro
Lunch time view at Blue Water Grill
And their now iconic sign…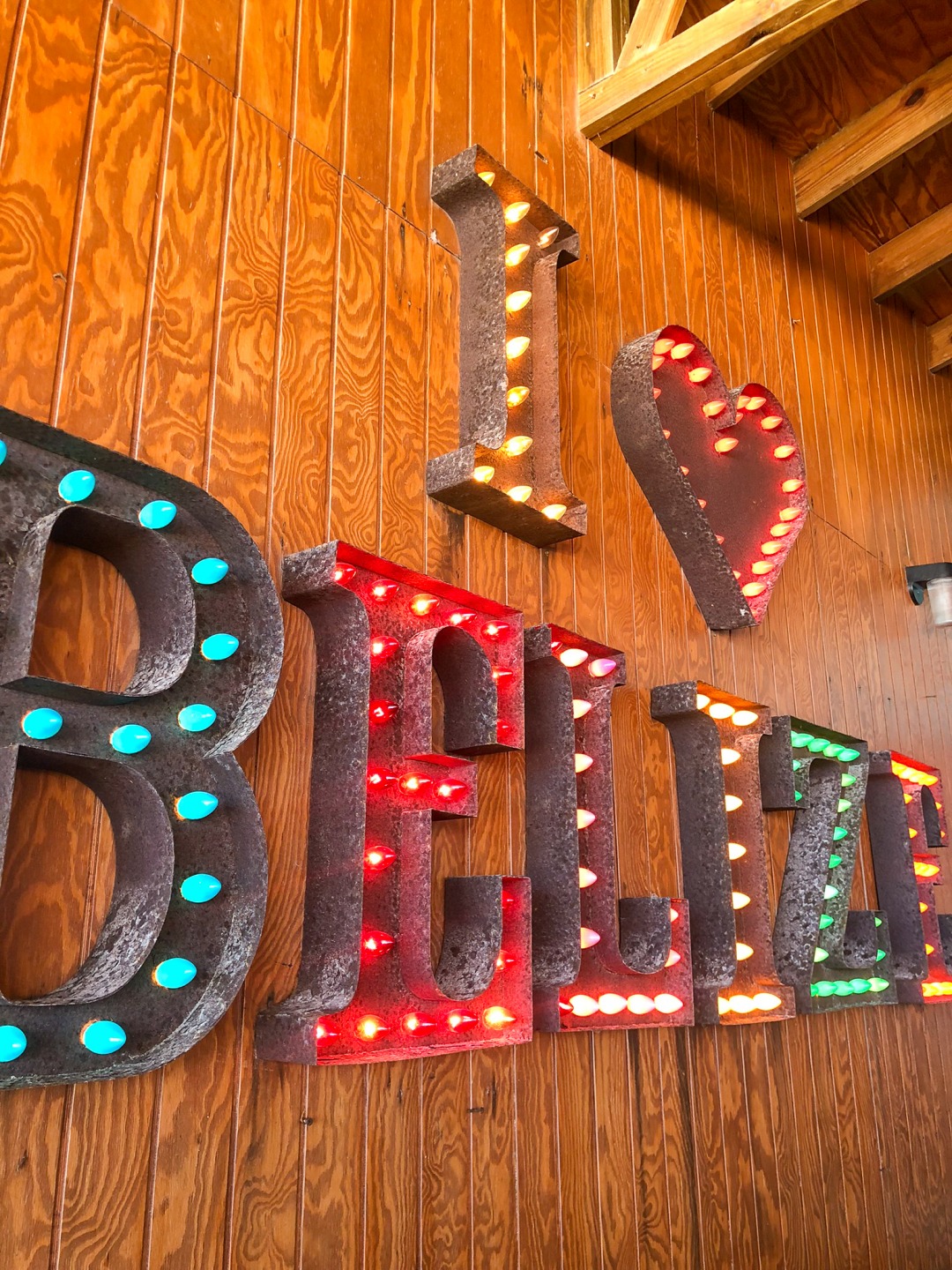 Habaneros.  If i used these in my cooking – and I do in my chicken soup, they make ALL the difference – I would use about 4 per year.  I'm not sure how this town goes thru 1000s of these things a week…
In a local shop.
Growing at the camp.  We need to grow ALL peppers right near the kitchen – only the constant presence of people and dogs keeps the wishy willys (black iguanas) away.  They would mow this plant right down to the ground in an hour or two.
Addtionally…I always thought that the peppers turned colors as they ripened.  From green to yellow to orange to red and then eggplant purple.  No.  Certain plants produce certain color peppers.  You garden, you learn.
My trip over to the camp earlier in the week – it was a cloudy day but the water was as clear as I've ever seen it in the lagoon. Even I could see fish!
I'll update you before I go on things going on here on the island and my Belikin merch giveaway.  I need to give our some growlers – they are BIG!