TEN Things to Know About the Extra Long Easter Weekend on Ambergris Caye
The Easter Holiday is Here And COVID Restrictions Have Been Eased:  Things You Should Know About the Celebrations on Ambergris Caye
We are already well into Easter Week – or Holy Week/Semana Santa – the most sacred week in the Christian calendar.   It's a holiday that is celebrated differently around the world – and even differently from household to household.  Growing up in NJ, it was a weekend…but mainly a one-day event.  My Easter was about dying eggs, chocolate, the Easter Bunny, and a family dinner with leg of lamb.  Very light on religion, heavy on candy.
Town council putting up fun decorations this year around town – like this peep on the beach.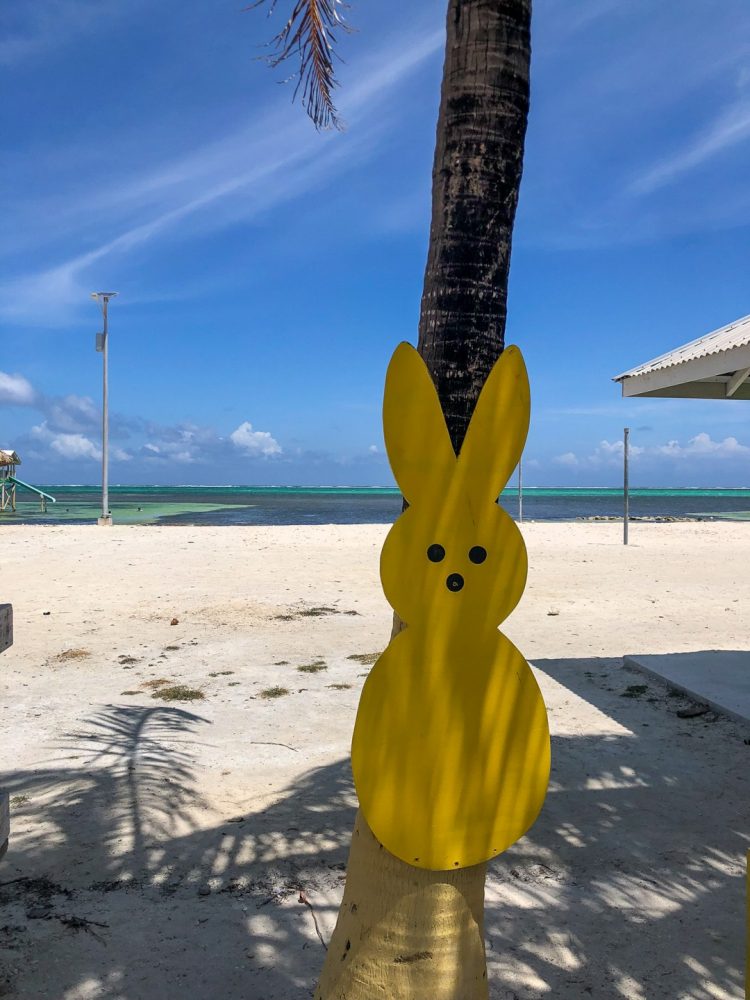 Here in Belize – it's…well…it can be all things.  The religious aspects of the holiday are much more present but to varying degrees across the country.
Benque Viejo, in the far west, covers the streets with gorgeous multi-colored carpets of sawdust and re-enacts the procession of Christ through the streets.  You will find almost nothing open on Good Friday – it is a day of reflection.  (My good Friday in Benque – it's incredible)
And in San Pedro (the busiest, most tourism-driven spot in Belize), Good Friday is a very quiet day.   You will find some shops – grocery stores and some restaurants – open but alcohol sales are banned.  And the streets are quite quiet. There is a solemn procession near sunset – this year, I hear that it will only be from the RC Church on Front Street to the cemetery at the end of Front Street (rather than throughout the whole town).  I have also heard that there will be a more extensive Passion re-enacted.  I will let you know when I hear more!
And then the nightclubs open at midnight to begin a LONG weekend of intense partying.
See why it's hard to call it just one thing?  So I thought it easiest to make a list.  Things you should know if you are on Ambergris Caye this week…
I hope you find it helpful.
Easter Isn't A Day or A Weekend…It's ATLEAST 4 1/2 Days
Belize is predominantly Roman Catholic and Easter is not celebrated (or observed) on just one day.  Banks, government offices, many businesses will close a half day on Holy Thursday – are most certainly closed Friday, Saturday and Sunday – and then Easter Monday is a public holiday too.  So Easter is not just one or two days…it's 4.5 officially.  But for many?  It's like the week between Xmas and New Years…things just slow to a crawl for many as they focus on vacation.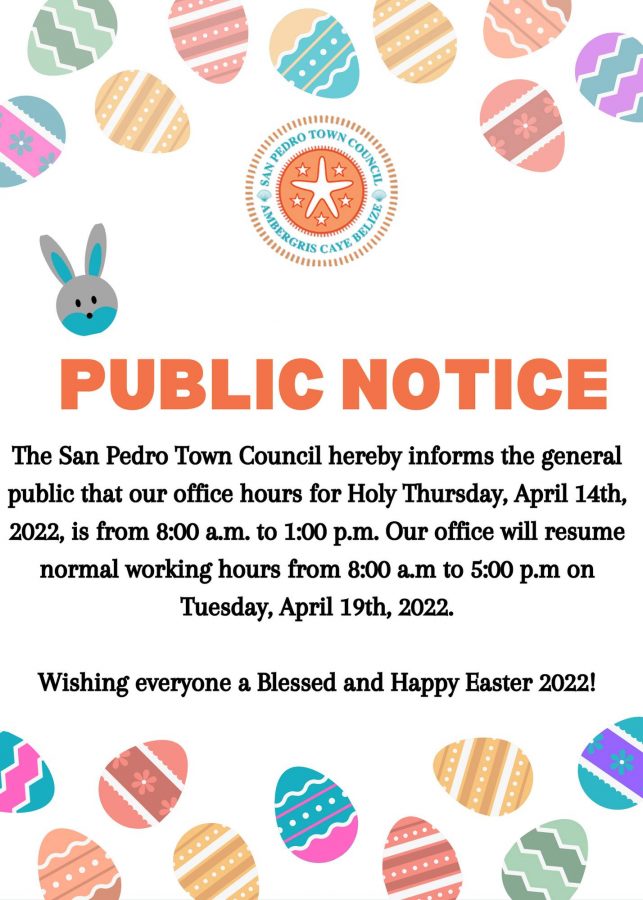 There are No More COVID Restrictions
The last two years, Easter Week has been very very quiet.  In 2020, we were under lock-down restrictions.  in 2021, we had a curfew and social distancing regulations.
This year, there is no curfew, no restrictions on group size, no masking.  So the Easter parties are back!  But there are still things to know!
My dyed quail eggs from last year.
You Can't Buy Alcohol on Good Friday…Well…Except…
The Intoxicating Liquor Licensing Act of Belize does not mess around here.  It states that NO LIQUOR should be sold on Christmas Day and Good Friday from midnight on Holy Thursday until midnight on Good Friday.  None.  Zero.  Anywhere.
But San Pedro modifies the rules – tweaks them to make it a bit more visitor friendly.  In general, you can buy alcohol at your hotel bar or at restaurants if you are eating.  The official rules will be announced soon – and I will post them.
Employees who work during "The Easter" should be getting paid extra
Here is the official language from the Labour Department:  In accordance with section 117 (3) (4) of the Labour Act Chapter 297, all work done on Holy Saturday shall be paid for at one and one-half times the employee's ordinary rate of pay. Also, all work done on Good Friday and Easter Monday shall be paid for at double the employee's ordinary rate of pay. Furthermore, no deduction shall be made from the wages of a worker paid by the month or the week for time not worked on a public holiday.
I always found it strange (when I was managing a bar 1000 years ago) that Easter Sunday – the day I thought was THE big day – wasn't included.  I also found that it is the #1 time of the year for employees to call in sick – or just not show up at work.  That's just my experience 🙂
If you are in or on the water (river, sea, lagoon) on Good Friday, you will turn into a mermaid
I probably should have listed this first.  This is kinda NEED TO KNOW information!
When I first moved to San Pedro 15 years ago, I wanted to go snorkeling on Good Friday (I think I had a friend visiting at the time).  And I found that the tour company I usually went with didn't put boats on the water on Good Friday.
It's bad luck.
Kids are told that you will turn into a mermaid if you go into the water on Good Friday.  Good Friday is a day of reflection, not playing.  A bit of a tall tale to tell the kids- to keep them in line – it can't hurt…right?  I mean…I was told to be good for the Easter Bunny wouldn't come.  Same thing!
Many people call it "The Easter"
Maybe short for "The Easter Week" or "The Easter Break", many people refer to this extended holiday as "The Easter".  As in:  "Are you headed to Placencia or Caye Caulker for The Easter this year?"
Town, Water Taxis, Budget Hotels are PACKED
This is the week when many many many Belizeans travel to the beach.  So water taxis are PACKED – especially on Thursday – as people travel out – and then on Monday.
Golf carts can become scarce – if you are looking to rent – set this up ahead of time.  AND if you are staying at a hotel…you may find that it is MUCH busier than usual.
Easter Saturday, 2014, the water taxi dock collapsed under the weight of all the people waiting in line.  Thankfully there were no serious injuries.
We Usually Run out of Something
No…not me-and-Jeff "we" – I mean the entire island!
Because it is a holiday week, and places like Belikin and fruit/veggie supplies are closed for the loooong holiday weekend AND there is increased demand for…just about everything, the town usually runs out of something.
In previous years, it's been things like WATER.  Water pressure dips precariously low as the increased demand puts a strain on the system.  This year BWS says we are ALL GOOD!
Or it can be limes.  On Easter Sunday…there isn't a lime to be found on the island.  Or eggs…or cold beers…
Just plan accordingly!
After A Quiet Good Friday, There will be big parties all over town
Here are just some of the adverts I've seen.  IN GENERAL, the crowds stick to town and Secret Beach, so if you are not up for a party – it's quite easy to avoid.
Note:  Greasy pole is extremely amusing (and a bit scary) to watch.   Who thought of this!?!   Apparently it's embraced by cultures around the world!
There are Other Interesting Things Going On Around the Country
Country's Largest Bike Race
Belize's biggest cycling event occurs on Easter Saturday – with riders heading from San Ignacio to Belize City. The Holy Saturday Cross Country Cycling Classic
Horse Racing at Burrell Boom
In Burrell Boom, just outside Belize City…jockeys, horses, spectators – at the Castleton Derby.   Easter Monday.
Phew…I thought this was going to be a short post but I really got going…
I hope you have a happy happy Easter weekend.
I am going on the water on Friday so I can't promise anything in the future.  Can a mermaid blog?
We shall find out!