Belizean Kriol: A GREAT Introduction, A Fun Way to Learn
I don't know about you – but I vividly remember hearing Belizean Kriol (not "Creole" I later learned) for the very first time.  It was on a boat trip to snorkel the amazing Hol Chan Marine Reserve just off Ambergris Caye.  When the local guides were talking to us – the visitors – they spoke English with a slight lilting accent.  But when talking back and forth to each other…about maneuvering the boat or just joking around…it was different.  I could recognize a word here and there IF I really concentrated. Lyrical, almost sing-song…as a total Belize newbie, the best way I could describe it at the time was…"like a Jamaican accent".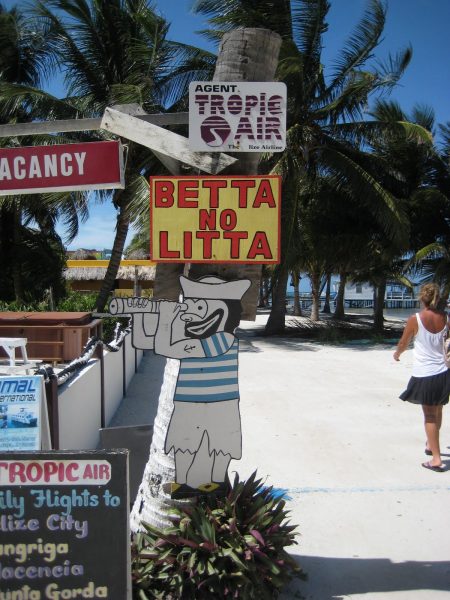 Just about 7 months later, I moved to Ambergris Caye – and the more I found out about Kriol in Belize, and the more I heard it spoken, the more interested I became.  Because it is not "just English with an accent" and it is not "just slang".  It's a beautiful language with a rich history…and a very interesting culture.
I'm going to show some simple examples – signs I've seen around Belize over the years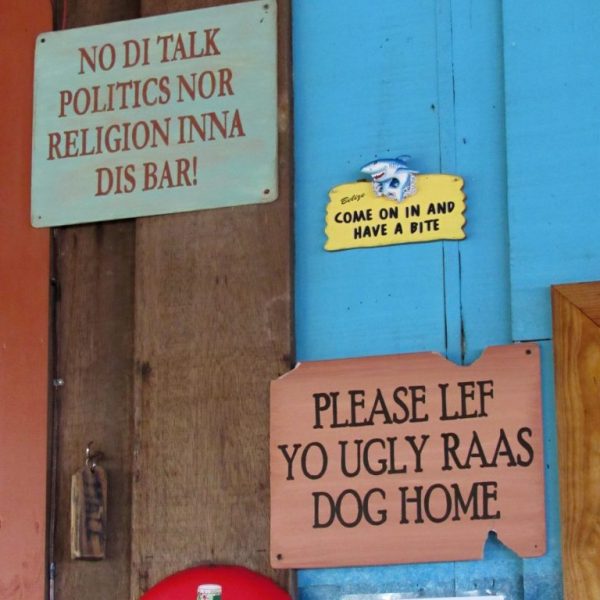 All languages tell a million stories but Belize Kriol, to me, tells them with a bit of extra flair and pizazz.
But let me back up a bit before I get to the FUN activity book that I'm here to talk about!
What is Belizean Kriol and How Did It Start
Kriol is the English-based language originally spoken by the Creole people of Belize.  It's called a "Contact Language" – formed when two peoples with different languages exist in close contact.  And the languages can meld to form another language. (Read more in the Wikipedia page)
In Belize, Kriol developed in the early colonial/logging industry days (1600 and 1700s) – when African slaves toiled for the British logging endeavors.  Again, read more at the Wikipedia source, it's very very interesting. And the language is English-based but with influences from Native Central American languages like Miskito, Spanish, and a slew of West African languages.
It became the Lingua Franca of Belize.  The common language spoken amongst people who speak different languages – namely Spanish, English, Garifuna, and Maya dialects.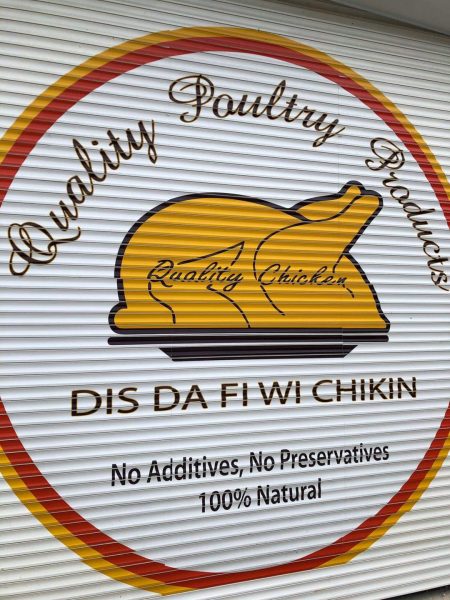 The Kriol Dictionary
A few years ago, I bought a copy of the insanely impressive Kriol Dictionary – at a shop in Belize City.  It's an incredible book.  Grammar, words, phrases.  As the authors say – a work in progress.  You can see the whole thing on-line here.  But if you find a copy, BUY IT.  Such a great reference book and fun to thumb through.
A VERY FUN Way to Learn A Bit More About Belizean Kriol
If you just want to dip your toe into Belizean Kriol and have some fun with it may I recommend a fantastic small business called Kuchriments.  As a word puzzle-crazed enthusiast, this is right up my alley.  I think sooo many people would love it.
Kuchriments says on the Facebook page:
"A Bileez Kriol fusion of kolcha, pipl & products that speaks your language.
Kalek yu oan kuchriments"
I've been following the Facebook page and the Instagram page for a while now.  I love the phrases and sayings.  And I doubly love that they are written and spoken with short audio tape.
A good one recently…
I find that when I try them out on my Kriol-speaking friends I get two reactions:  1.  Heavy laughter at my horrible accent and 2. "I haven't heard that in a LONG time" – they are phrases that "my auntie" or "my grandma used to say".  I love it.
THIS.
But a few weeks back, I saw that they posted a Kriol Activity Wordbook for only $10bzd and…well…I had to have it.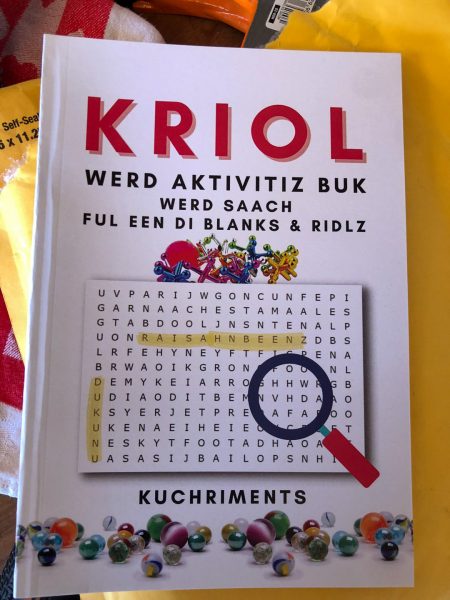 So I ordered a few – made my bank deposits – and received them in the mail.  And immediately asked the owner of Kuchriments if they had time to chat.
They turned out to be a she – Andrea Rodriguez…and after a lovely chat, she is even more interesting and accomplished and passionate than I could have hoped for.
Let me just tell you about Andrea.  And the book!
Andrea Rodriguez, Kuchriments and Her Love of all Things Kriol and Creole
Let me tell you first – that you can order her book from her directly.  You can reach her thru her Social Media or her website…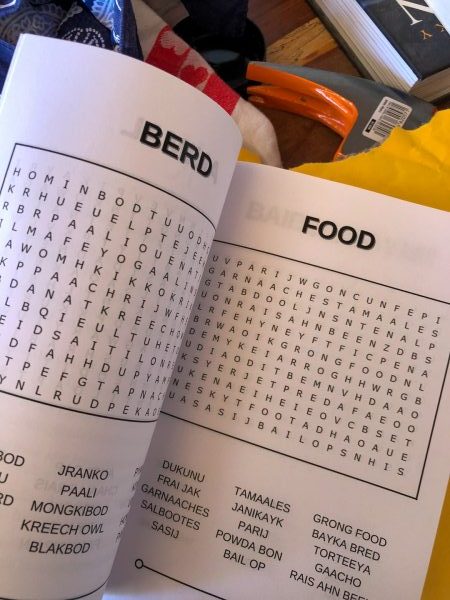 There are riddles and Fill in the Blanks and…I can't wait to give these out to some friends.  This book is so good.
Here's some more about Andrea, the business owner – who I now plan to meet at a cricket match…hopefully soon!  (Her father, who has passed, and her brothers are quite serious about cricket.  And there is an active league in the Belize River Valley.  Go Bermudian Landing Summa Feva!  And the Crooked Tree Brilliants!)
I really won't be able to fit it all in here…but I'll save some for a later post.
Andrea Rodriguez was born and raised in Bermudian Landing Village, in the Belize District.  Like beautiful Crooked Tree, Bermudian Landings is in the Belize River Valley – which is called the heart of the Creole Culture.
Here's my Guide to Gorgeous Crooked Tree Village – a spot that should be on everyone's Belize Bucket List
Andrea is Creole, her Dad's side is Young/ McFadzean and her mom is McKoy/Thompson.
She's a busy busy lady – married for 19 years with 3 kids, 17, 15 & 11.  She's a writer, speaker, educator, and more recently a Kriol-evangelist (a zealous advocate of Kriol.)  I'm going to call her a Kri-vangelist.  It flows, right?
Like many in the Belize District and particularly the Belize River Valley, Andrea speaks English and Kriol – and only a bit of Spanish.
I asked Andrea:  What did you speak as a kid – at home?  I spoke mainly Kriol but because my parents managed the Community Baboon Sanctuary, I learned and spoke a lot of English with the tourists that visited the Sanctuary.
At school – I spoke Kriol and English.
My One and Only Visit to the Amazing Baboon Sanctuary – I now have a hook-up…maybe THE hook-up and I need to get back.
Baboon is the local word for the howler monkeys.
Andrea's mom manages it today with a group of local women!
Back to Andrea:
What got you interested in Kriol – grammar, sayings, words?
I was creating a new blogging website and I wanted something different and authentic. I love to talk Kriol and I believe that certain words or expressions are better in Kriol so I started to add it to my site and my social media posts. As a little girl, I was always mesmerized by the Creole culture and the Anansi stories. We would have storytelling around a campfire for overnight visitors. I remember my Dad would bring the best storytellers from the surrounding villages and provide a little something to "wet the throat", ( a bottle of rum) to get them going. Although I wasn't old enough to listen I still crept in and found a spot. Those stories and memories remain with me and I enjoy telling them to my kids, the edited version of course.
Finding the Kriol dictionary and The Song of Kriol was a game-changer for me, it taught me about the history, the grammar, and ways to spell words. I learned so much from it and decided to share the knowledge.
The proverbs/sayings were also a huge part of growing up. I loved the wisdom and humor I found in them. Parents would use these to scold, teach, or tell jokes and it's always something I've held on to.
Do you feel like you "know know" Kriol or do you get input?
No, not all of them, some I remembered only a portion or the meaning was unclear. So I asked my mom, older siblings, and the elders for insight. For instance, for 2022 Kalinda, I sought out people in the River Valley to contribute a proverb. That was so much fun and I learned a lot of new ones. I also "borrowed" a book of Creole proverbs that was written by Sir Colville Young, our former Governor-General for inspiration.
How did you get the idea to make this a business? I started this journey by creating a page to share a Kriol word every day and proverbs. I was sharing on my personal pages and newsletters and people were receptive so I decided to create Kuchriments and started sharing.
The calendars were created before Kuchriments, more as a side hustle. People started approaching me for more Kriol products and I also had a desire to see more products featuring the Kriol language. I was having so much fun doing it at first that the thought of turning it into a business was not at the forefront. It was only until late last year after a lot of encouragement from my family that I decided to make it official.
I am a freelance social media manager, working from home while I raise my kiddos. I'm a writer and also produce faith-based content and products. I do a lot of volunteering, teach childbirth education classes, and struggle with saying no to things I love to do.
What's your FAVORITE Kriol word. Ohh this is a hard one, but "Kuchriments" is definitely at the top. I love saying this word cause I got a lot of kuchriments.
Favorite saying – "No kaal haligeta lang mowt til yu don kraas di riva" (Don't call the alligator long mouth until after you cross the river.) OR  "Breggin tuba eena shallow waata"
 (Bragging tuba (fish) in shallow water.)
I'll wrap it up there…but I really can't say enough about impressed I am by Andrea and her business…it gave me a lee kick in the butt.
Make sure to follow her on Social Media and buy her book.  She can ship around Belize – and the US.  You will be asked to pay for the postage…and it's really not much.
And maybe…just maybe…you'll feel comfortable to try our some Kriol if you are new to it or learn some more phrases if it is your language.
Either way, it's very cool stuff.