Dale Wallace Sr. Making and Playing Beautiful Guitars in Belize
A few weeks ago, after a visit to my dentist on the island, I got a note with a few pics attached.   The subject of the email:  Do I Have A Scoop for You!
One of Dr Mark's photos – of his wife Joan, Dale and the ukelele they had brought in for repair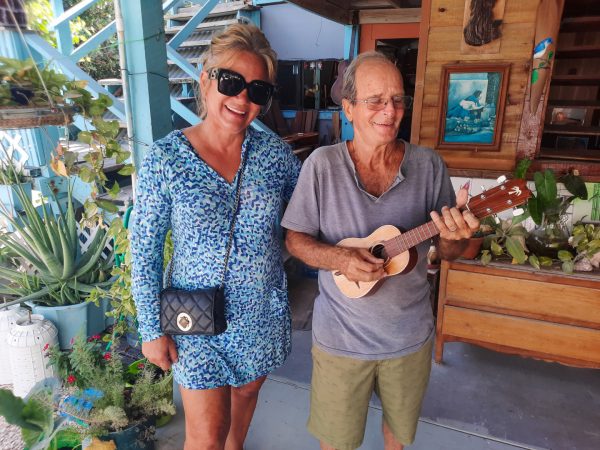 And they did have a great scoop!
Joan and Dr. Mark had just been to visit Dale Wallace Sr – a resident of San Pedro for 40+ years – a regular on the music scene around town AND a craftsman making beautiful guitars.  This was right up my alley…
Dr. Mark also runs an amazing dental clinic for kids of San Pedro
As soon as my camera came back from repair, I called Dale…and stopped by his house tucked back in the mangroves in the San Juan neighborhood just north of town.
(Read a really interesting write-up on how the early neighborhoods developed on the island here. There was San Pedro town and then #2 Boca Del Rio, #3 San Juan, #San Pablo…)
Maybe you have noticed the sign pointing down to his home.  A red guitar that went up a few years ago, right by the San Pedro High School, pointing the way to the Wallace home.
It's quite distinctive.
A home, surrounded by scores of beautiful potted plants (Dale's wife's very successful covid- project) with a woodshop tucked underneath.  A second red electric guitar lets you know that you found the right place.
Beautiful guitars and Belizean hardwoods everywhere.
The red guitar Dale played for years around the island.  He started that way – and got into guitars repair and building later.   So let me give you a bit of his history…I always wonder how people first found Belize – especially residents like Dale.  Who first visited the island in the early 70s!
Dale was born, the youngest of four boys and in a family of musicians, in 1950 in Flin Flon – a small mining town half in Manitoba and half in Saskatchewan with a very curious name.  The family moved to Vancouver and Dale attended school there – even joining his first (of many bands)  This old San Pedro Sun article provides lots more great background information.
Dale found out early that he loved to travel – making his way to Mexico and then to Belize City…where he heard about Ambergris Caye.  His first visit to the island was in 1974.  There were no TVs or radios…and only a few vehicles on the sandy streets of town.  There were a few hotels in town and El Pescador, the first hotel north, had just opened.
Dale made his way back to Belize – taking a job performing at the old Barrier Reef Hotel.
He then fell in love and married a local woman, Virginia Alamilla.  They moved back to Vancouver for 9 years where they had 2 of their 4 kids – Dale says his wife loved it there but he wanted to return to San Pedro.  And they did.
Dale was playing in bands around town – and solo.  He released cassette tapes and then CDs – his genres:  Latin, Flamenco, and country…with a bit of rock and roll.    And also, at the time, Dale learned to repair guitars – out of necessity.
I asked him how he did that…back then.  Without Youtube tutorials and the internet.  "Well", Dale said, "I ordered a book".
Dale still plays his guitar at resorts and at weddings.  His former partner WIl Nunez – who played keyboard – has retired in the last few years.
And he's teaching and working with one of his grandsons – repairing and building guitars and ukeles (I'll go down the Tiny Tim rabbit hole later today I am sure) from scratch.
He's a luthier (new word for me) – one who makes stringed musical instruments.
So let me show you some of his work and Dale's workshop that gave me flashbacks to my dad's basement workshop (where he worked on stained glass and model trains) and my grandfather's (where he did woodworking and stained glass)…
And stored nuts and screws in the same way – old food jars.
I love the organized chaos of a wood shop.
Rosewoods and dark zericotes…
…they are incredible works of art.
Each piece made by hand.
His guitar was painted by Papo Alamilla – one of our island's most famous artists – and the creator of the beautiful Belize mural at the Truck Stop.
It was the hand-carved bridges that most caught my eye…
This custom made beauty – featuring the prize flyfishing fish (the tres pescados) of Belize – is sooo gorgeous.  The permit as the bridge – with the guitar strings attached to it.
The guitars take months to build by hand…
The natural tiger stripes in this piece of rosewood are so pretty.
Amazing work.  WHAT a special souvenir this would be for a guitar player and lover of Belize.  Or a custom-made one for a trophy at an event or…
You can contact Mr. Dale by phone – and he has a great website with information and photos for Wallace Fine Guitars.   HIs home and shop are down a tiny road – that juts into some gorgeous THICK mangroves – just a stones throw from San Pedro town.
It's very cool to picture that this is how the entire back side of the island used to be…