All About the DELICIOUS Food of Belize: My Take
What is Belizean Food?  What Food in Belize Should I Taste?
Pretty much everyone who visits Belize leaves saying (or thinking) the same thing.  I came for the sun and the snorkeling and the beach and the adventure, and I left raving about the food.  About the people and the food.
The food of Belize is that good.
Most people outside of the country have no idea what Belizean cuisine is.  I don't blame them. There are only a handful of Belizean restaurants in cities around the USA.  We are a small country!  But the food is delicious.  And if I had to describe it…it's a blend of food inspired by the Yucatan region of Mexico, by the Caribbean and the fresh seafood (particularly conch) and a dash of Honduran and Guatemalan cuisines…and American here and there…
You'll just have to come down here to try it.
Lunch menu at Briana's Deli in San Pedro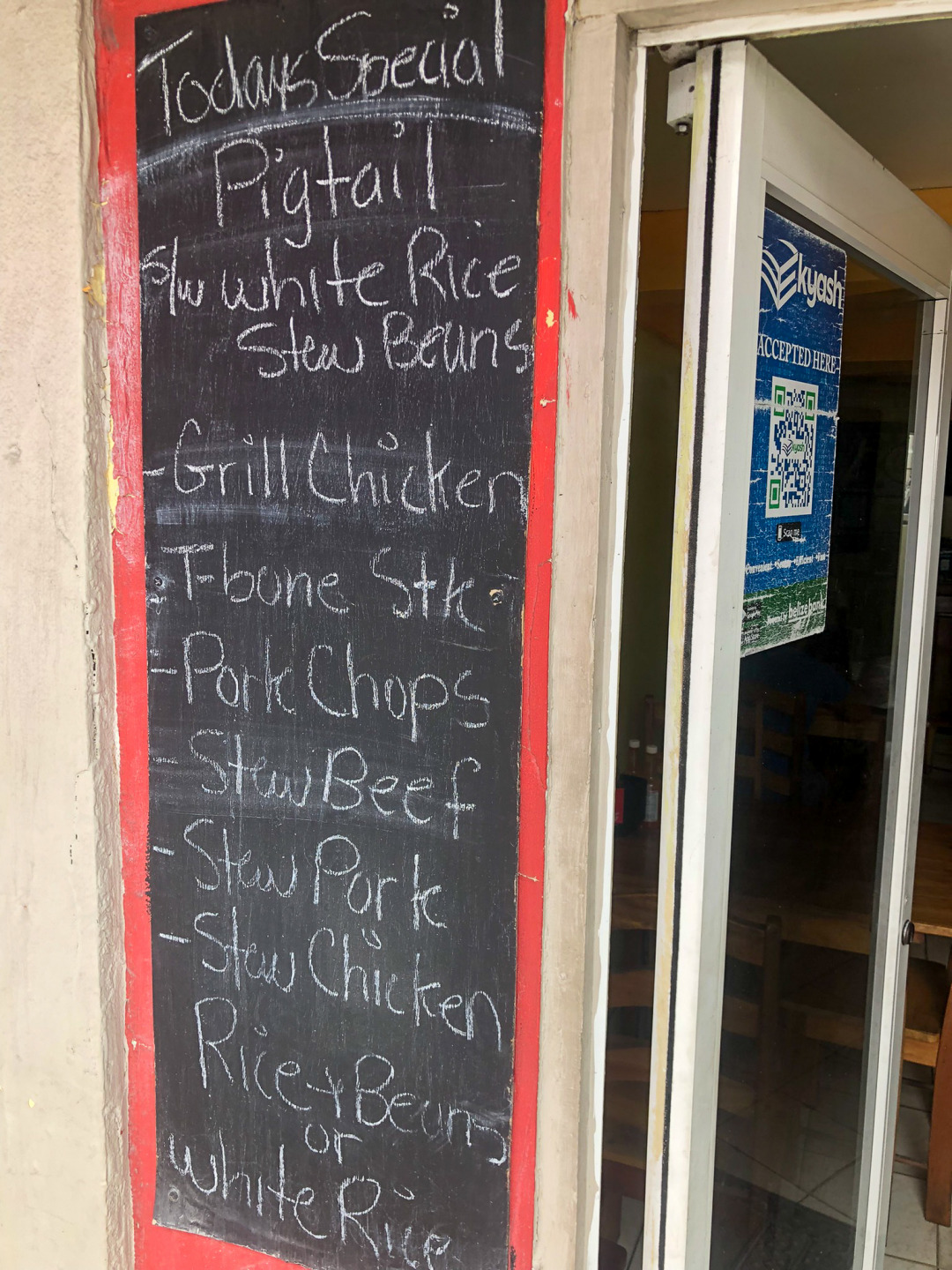 So here is my take on a Belize Food Primer.  I will surely leave things out since Belize is REALLY a melting pot of cultures from the colonizing British to Garifuna, Mestizo, Maya, Chinese, Creole and more…and things vary a bit as you move through the country.
A drive from north to south in Belize can be like visiting 3 or 8 different countries in a few hours – you'll probably pass through at least Creole, Mayan, Mennonite, and Central American populated villages.
But here are my ideas for the basics – focused on Ambergris Caye becuase I've lived here for 15 years.  You can also find all sorts of other options – especially in the more touristy areas and the bigger towns – from pizza to cafes to fancy European restaurants.  But if you want to try the food of Belize – and that's why you visited, right?  Here's a good place to start.
Breakfast and lunch are the two main meals of the day.
Breakfast Food in Belize
Breakfast is my favorite meal.  In the US, I love it for the sweets – the dessert-fest that you can eat in the morning like pancakes or muffins or coffee cakes or sugar coated cereals.  In Belize, breakfast is primarily savory not sweet.
The protein is coming to you by way of ham and beans or leftover stewed chicken from the day before.  The "bread" part takes lots of different forms.
Tortillas 
Fresh, thick flour tortillas are either rolled with beans and ham or beans and chicken or two are layered with it like a large, thin breakfast sandwich.  The result is always tasty and filling.
Fry Jacks
Deep fry flour tortilla dough and get one of Belize's greatest delights – the fry jack.  You can eat it sweet – with jam or honey – or use it to sop up your eggs – or order it stuffed with beans and ham.  No matter which you choose, EAT IT.
Corn tortillas are also very popular – and you can pick them up at the local tortilleria in most places.  1lbs of corn tortillas for $2bzd.  Made daily.  They are usually served on the side with lunch – for scooping stewed meat or soups.
Here's one in San Pedro.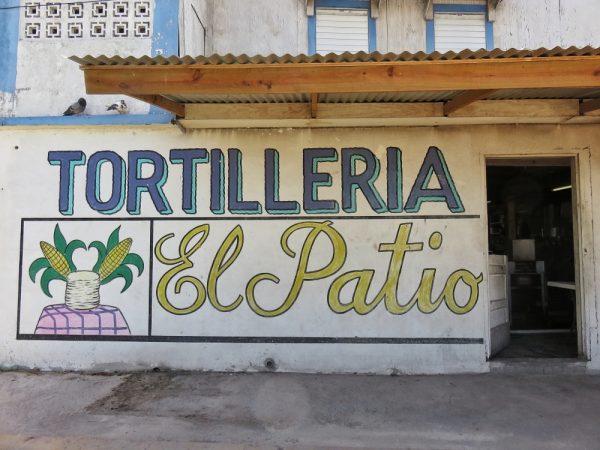 Here's 1lb.  Make sure to eat some when they are warm.  They are delicous.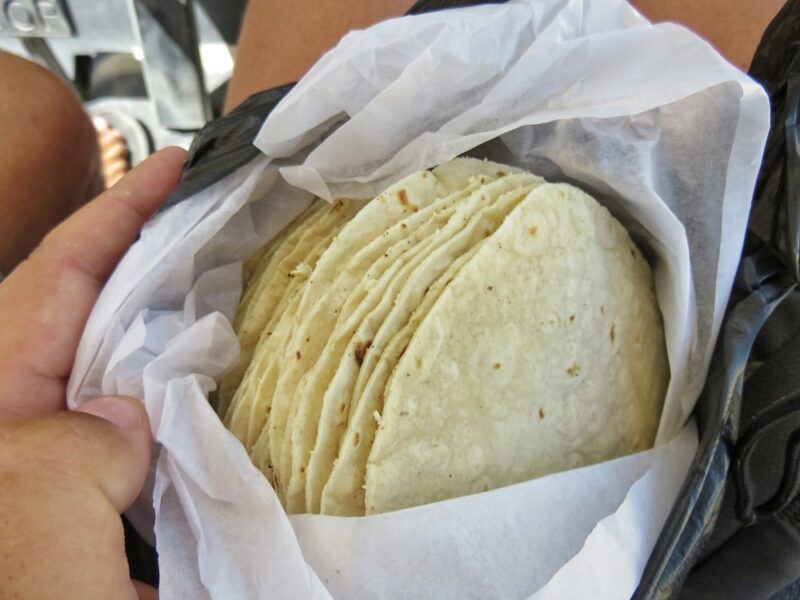 Shirt by ID Seven and Fry Jacks by Estel's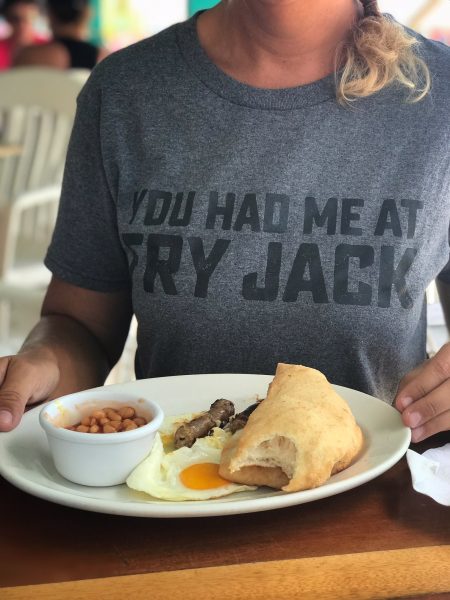 My favorites:  Estel's Dine by the Sea in San Pedro and Pop's Diner in San Ignacio.
Also try the Fry Jack House in San Pedro for all sorts of flavors – savory and sweet.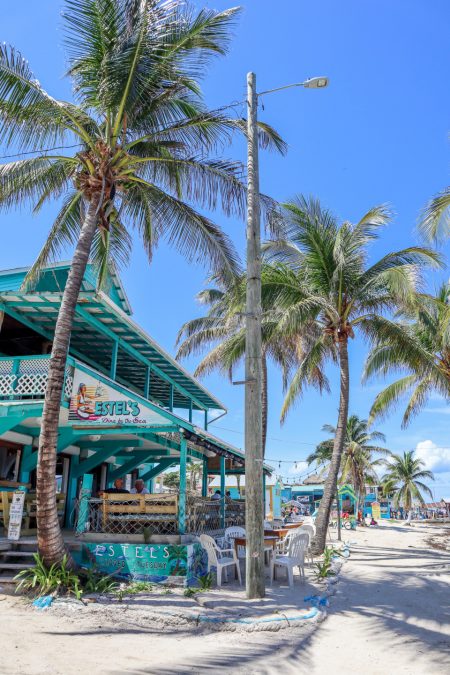 Meat Pies
Gorgeous crusts filled with a bit of meat stew.  These are grab and go – you'll often see them at the counter at gas stations and grocery stores.  They are delicious.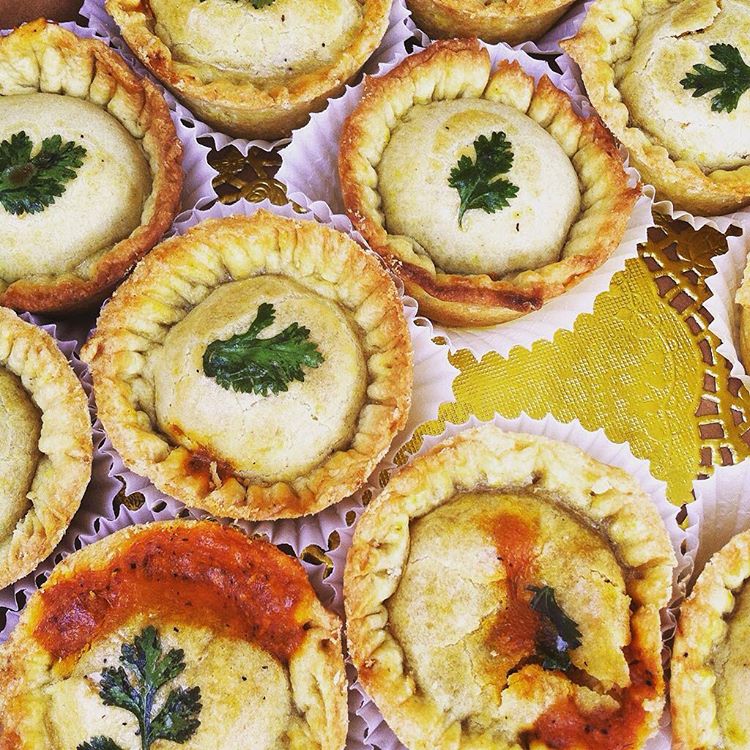 Johnny Cakes
Tasty almost-biscuits (they are not as buttery), made with baking soda and often coconut milk.  They were made for journeys and supposedly "johnny cake" is a variation of that word.  They are great for a few days I find…but only if you have a microwave.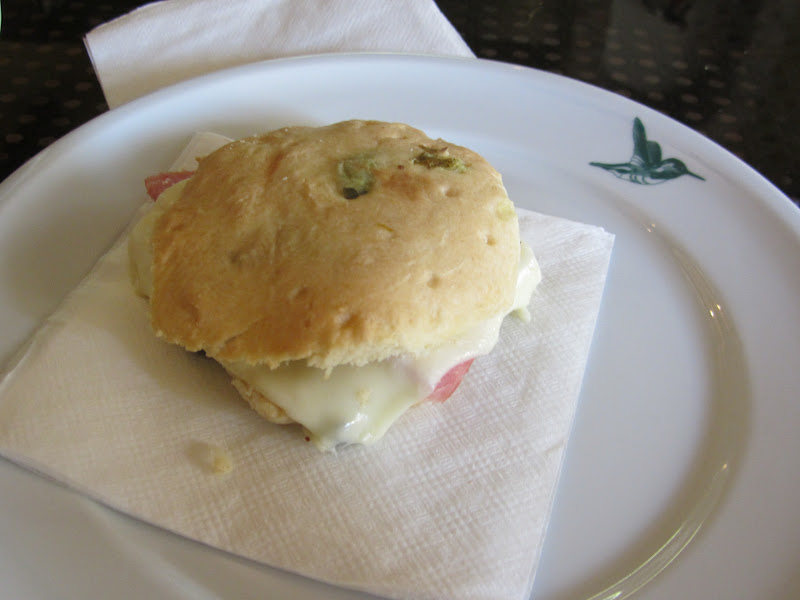 My favorites:  above, the jalapeno Johnny Cake at Le Petit Cafe at the Radisson Hotel in Belize City.  Below: The DELICIOUS ham and cheese johnny cake at Celi's Deli in San Pedro (we love them toasted with ham and cheese).  Both sell out early.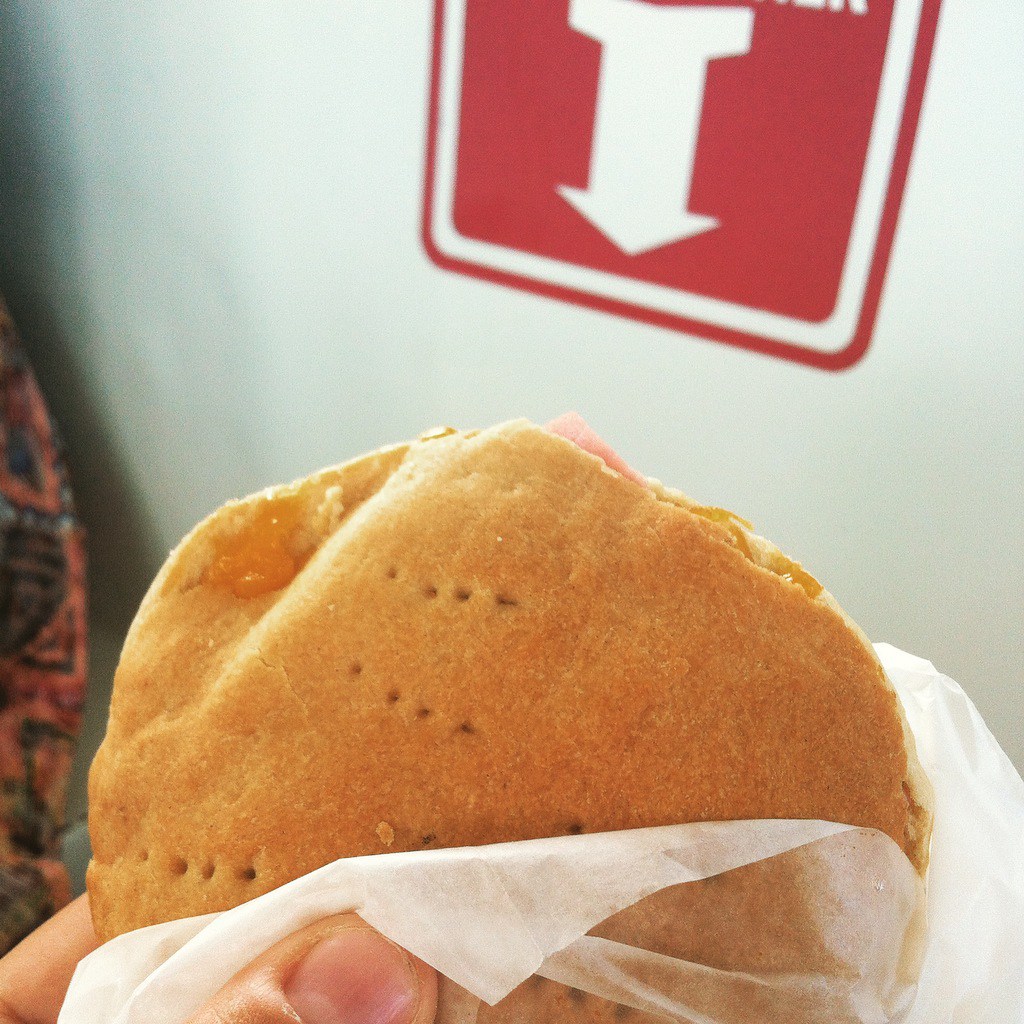 Tacos
Tacos, for the most part, are a breakfast food. And the town of Orange Walk in Northern Belize is renowned for its breakfast tacos.  Across the country, they are the same price…3 for $1bzd, chicken, 2 for $1bzd, pork…and they are really good.  Fresh corn tortillas rolled around a bit of meat.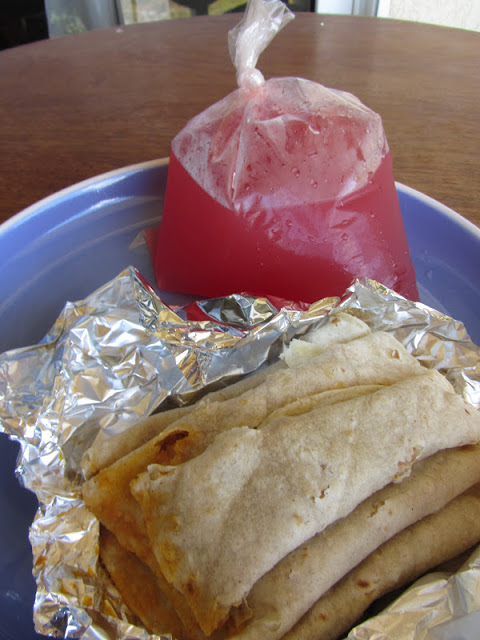 My favorites are (as seen above) take-away tacos at Neri's with a $1bzd bag of watermelon juice.
Lunch Foods in Belize
The biggest meal of the day.  And the national dish and favorite for lunch is – Stewed Chicken with Rice & Beans.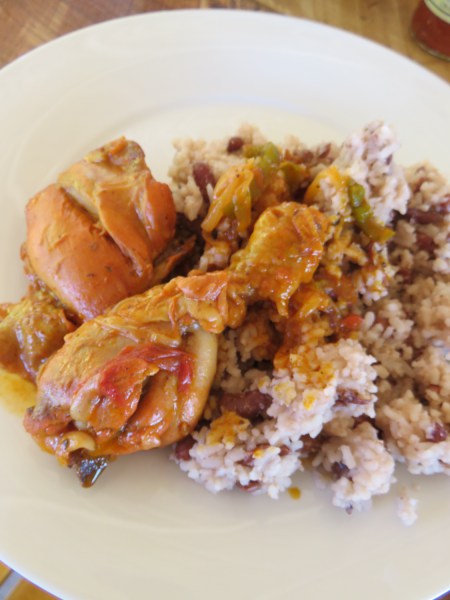 Chicken pieces cooked with recado* and other spices and served, with the gravy, over rice and beans.  (In Belize, it's almost one word – ricenbeans – and it is a mixture of cooked rice & stewed kidney beans.) Do NOT confuse "Rice and beans" with "Beans and rice".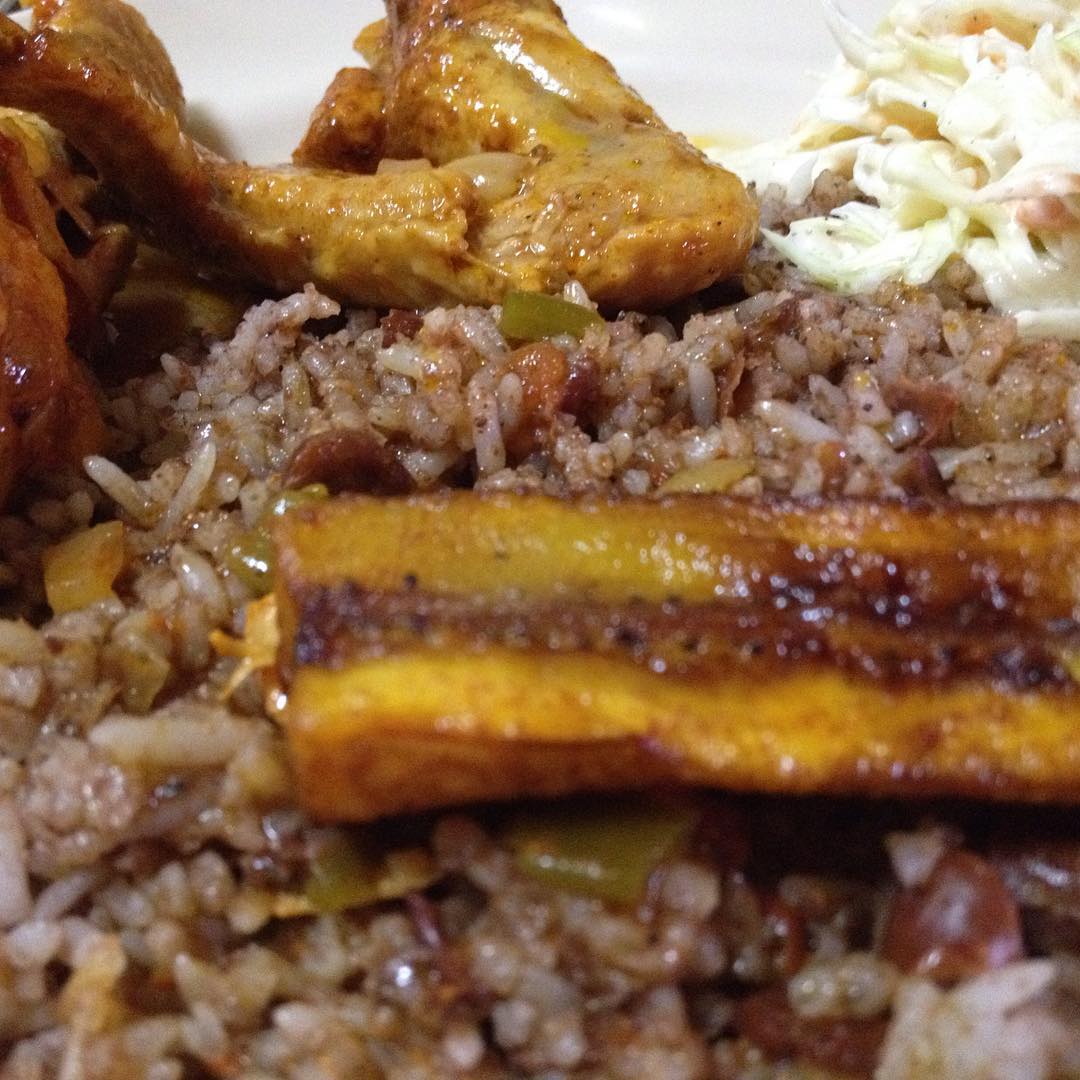 Recado is a spice paste made primarily with annatto seeds that adds a bit of a twang to your stewed meats.  Every local store here sells it by the counter.  The black recado (used for "black soup" is made with charred tortillas)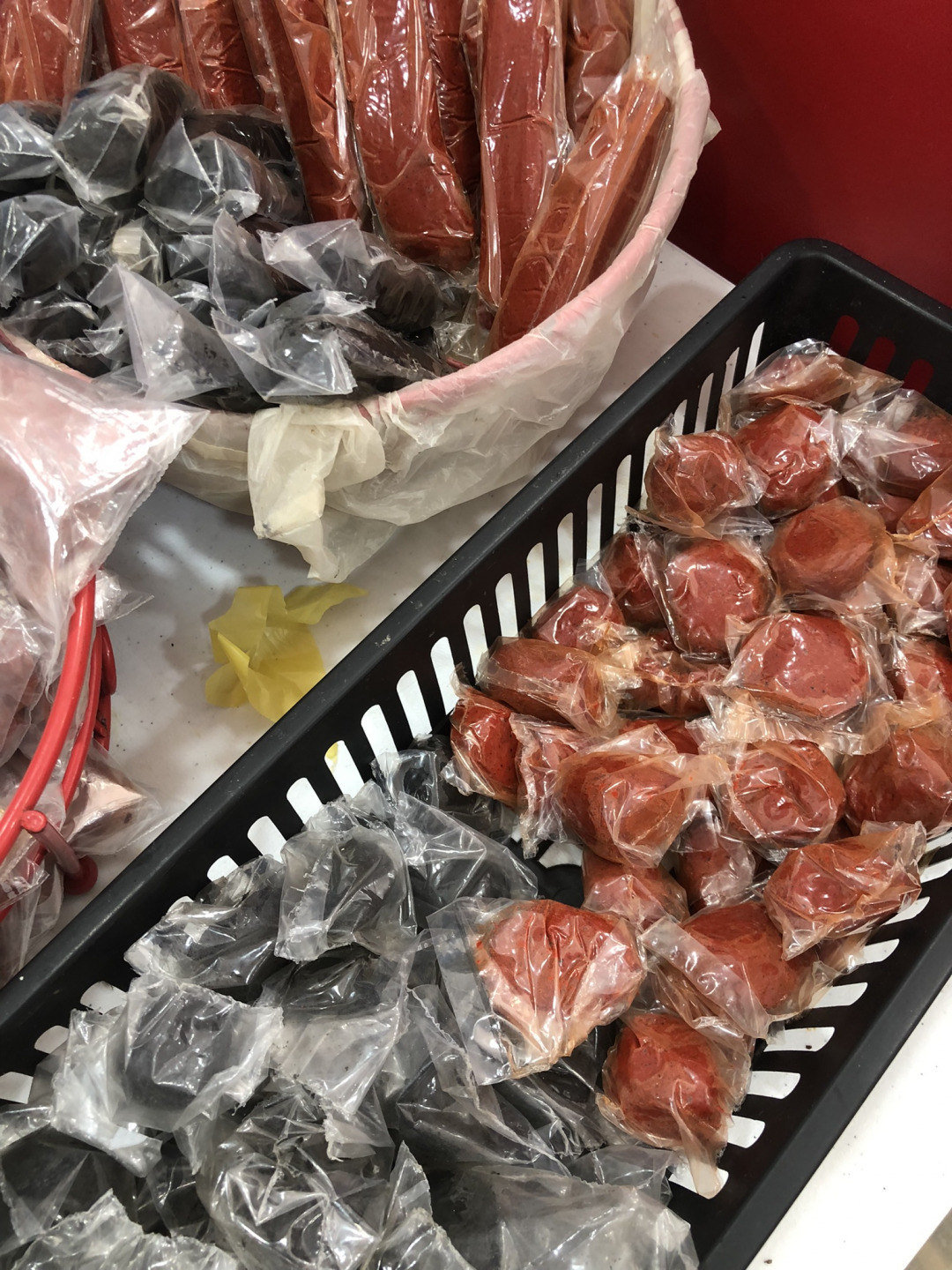 For the second, the stewed kidney beans, usually with a bit of onion, green pepper and cilantro, are served on the side of white (or coconut) rice.
The dish is almost always served with cole slaw or potato salad and a generous helping of gravy (the pan drippings from the stew chicken.)  And always with a slice or two of sweet fried plantain.
My favorite:  Stew Chicken, Dark Meat, at Briana's Deli (Back Street, San Pedro) – we eat that maybe 2-3x a week.
Fry Chicken
Fried chicken with rice & beans or a GENEROUS serving of french fries.  This is sold at many places, often the special of the day at local delis, but a favorite is from the "Chiney Shop" or the local Chinese restaurant.
Some places in Belize City serve hundreds of pounds of chicken a day – like Li Chee, one of the cities most famous.  (I didn't love it)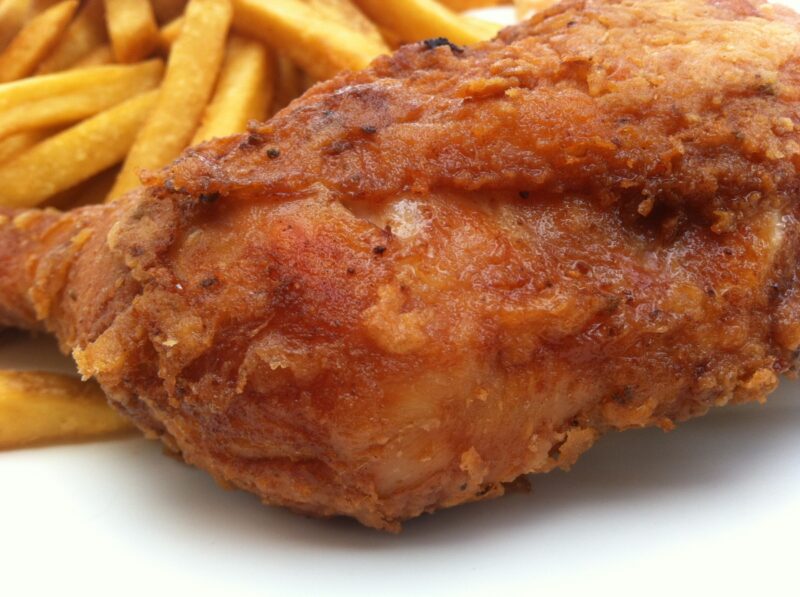 This is then SMOTHERED in cheap ketchup.  (Ketchup where sugar rather than tomatoes is the main ingredient.)
My favorite in Belize City?  Friendship Chinese Restaurant.  My favorite in San Pedro.  Lily's Treasure Chest (they also make an amazing fried fish fillet).  I'm always looking for delicious fried chicken.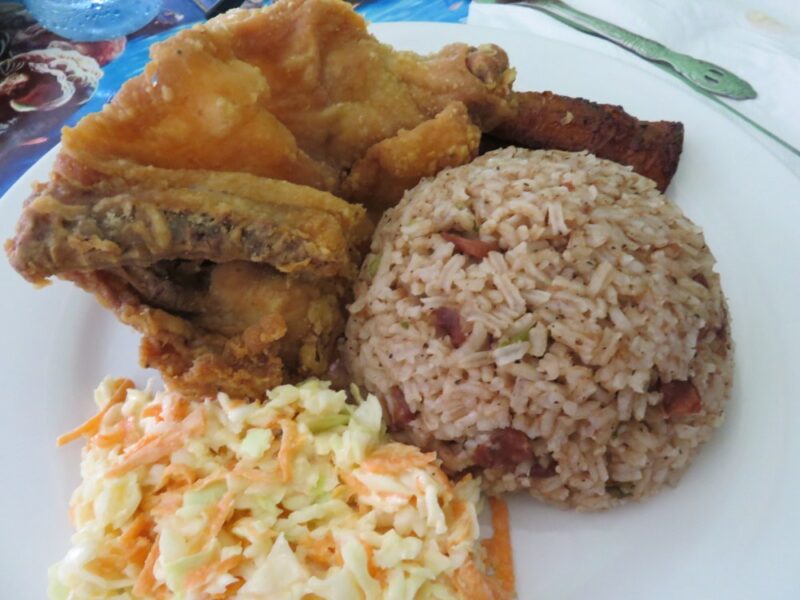 Whole Fry Fish
Again, served with rice and beans, this is a delicious way to eat fish.  Good frying makes pretty much the entire thing edible.  Usually, the fish is snapper – but if you can get a hogfish, jump at the chance.  It's delicious.
Soups 
Despite the daytime temperature (not often below 80 degrees), soup is extremely popular.  Beef, chicken, cow foot, and escabeche (onion and vinegar soup) are all popular.  My two favorites are:
Black Soup or Chilmole – a chicken soup colored and flavored with black recado and served with a whole egg, corn tortillas and rice.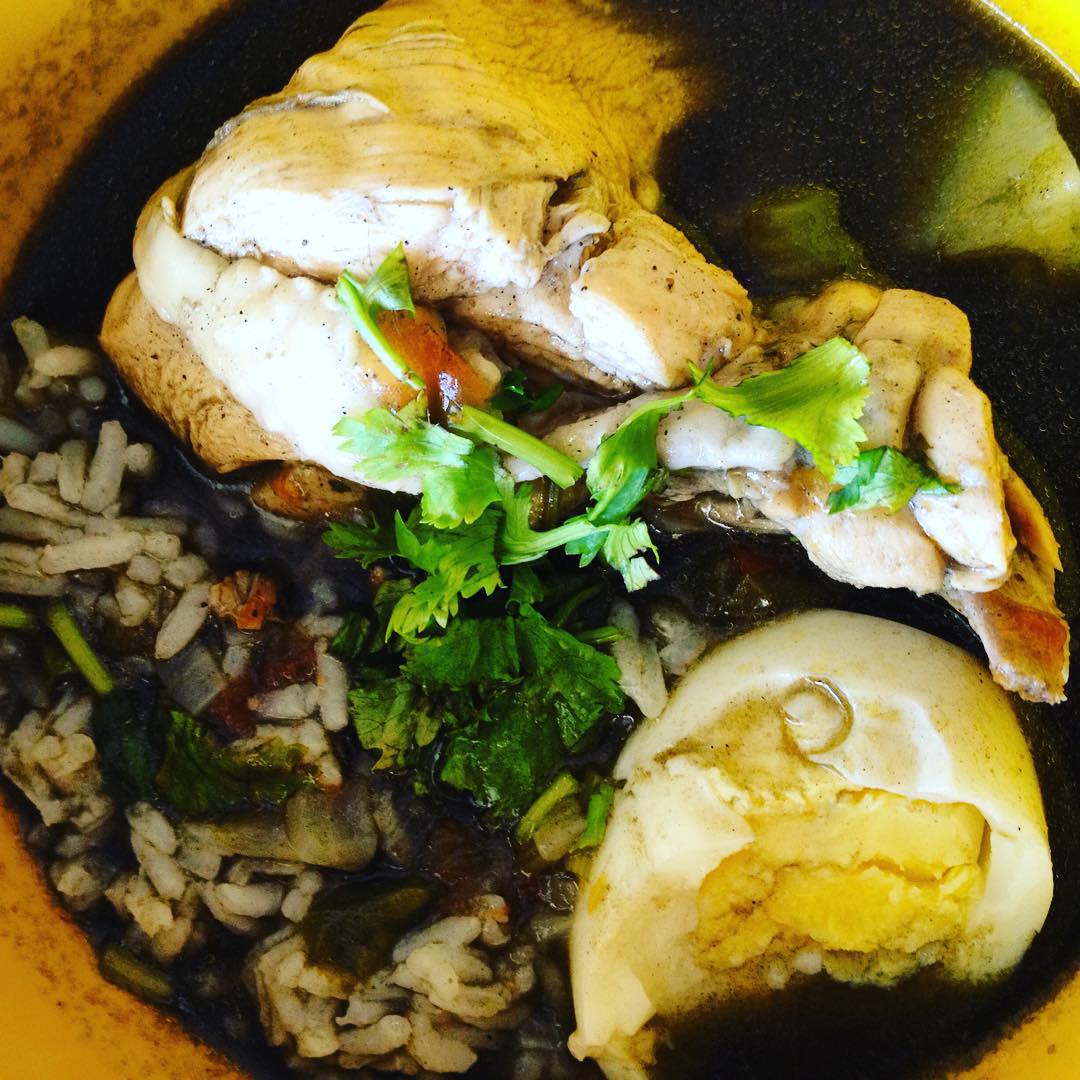 Conch Soup – it is made with conch and coconut milk.  Some places thicken it so that it can be almost a chowder.  With lots of rice on the side, it is ALWAYS delicious.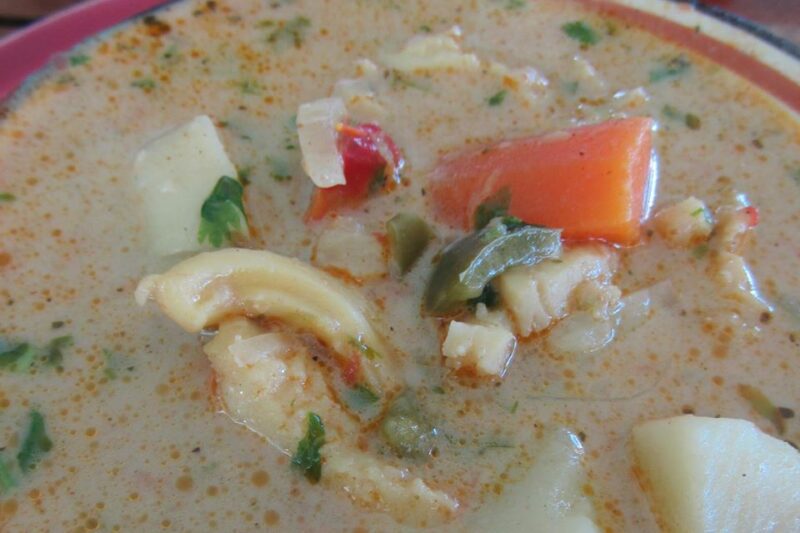 My favorite conch soup:  Estel's Dine by the Sea, San Pedro, Belize and El Fogon in San Pedro.
Barbecue
Weekends are for BBQ.  You'll see people setting up grills early on Saturday and Sunday so they are ready by lunch.  Always chicken – and often sausage, pork chops and ribs – you can get a delicious plate of chicken BBQ for around $10bzd.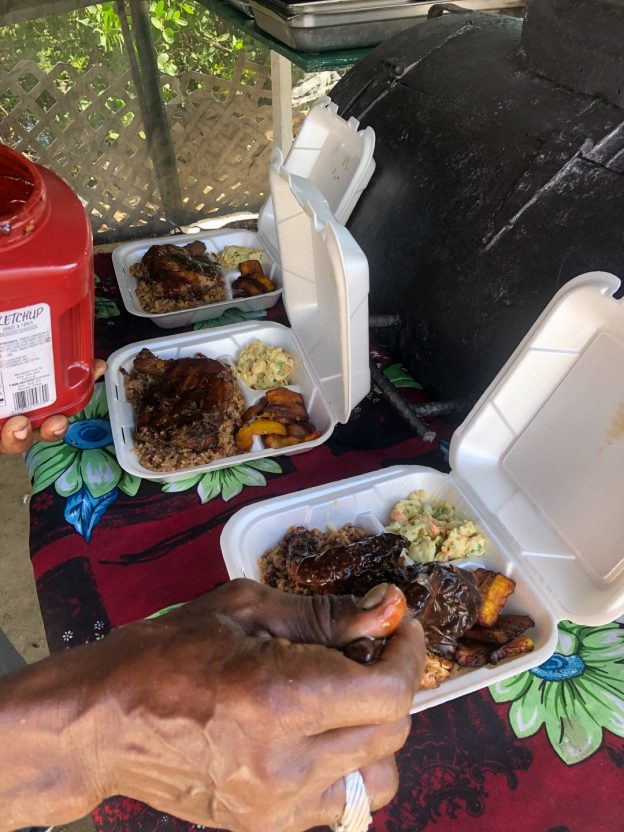 Ceviche
Ceviche is a must-try when visiting Belize.  And conch is the most popular type.
Basic ceviche is a fresh chopped mix of tomato, onion, cilantro, lime and seafood.  The seafood, whether shrimp, fish, conch, lobster, is "cooked" in the acid of the lime.  Eaten with corn tortilla chips, it is so good on a hot day…or any day.  Note:  good conch in ceviche should have a small amount of chew but it is still tender.  If your conch tastes like rubber (it doesn't happen often)…it's been cooked or soaked in the lime way too long.  Conch, fresh, is sweet and relatively tender.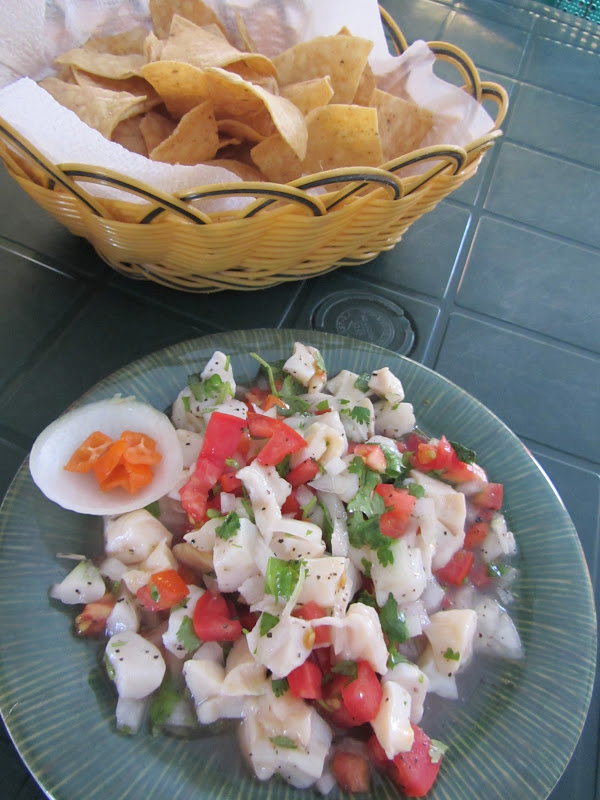 My favorite ceviche:  Lily's Treasure Chest in San Pedro.
Dinner Food in Belize
Dinner is usually the same as lunch – often served with fry jacks instead of rice (or with both).  You'll find many of the same dishes at the local delis and small restaurants.
You'll also find small dishes – like panades and garnaches and…here's a list from a tiny local deli.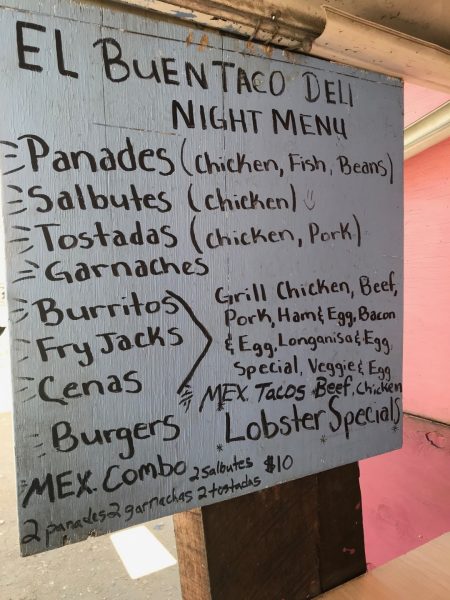 Read this blog for a breakdown of what all of these dishes are.  And try them all – they are only a few dollars each…they are delicious and very typical for dinner in San Pedro.
Just for a preview – these are the amazing chicken salbutes at El Fogon Restaurant in San Pedro.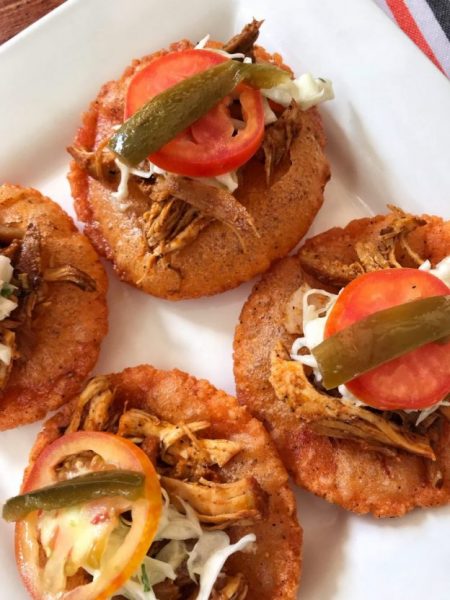 Dessert
You can find local sweet treats for sale around San Pedro – often at small fruit and vegetable stands.  There is wangla – a kind of brittle made with sesame season.  And cuto brut – delicious patties of boiled sugar with hunks of coconut in them.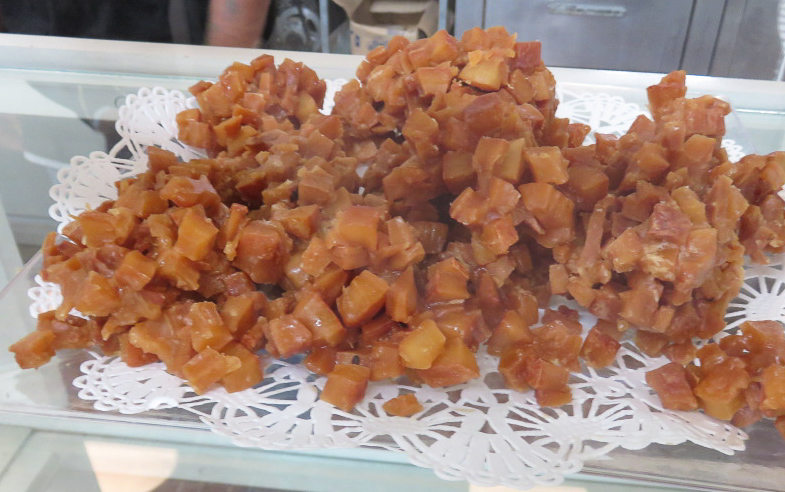 There is fudge – which has no chocolate, just boiled condensed milk…that forms a sweet, crystallized bar.  And heavy dark squares of bread pudding with a good dose of nutmeg and all-spice for flavor.
I'd say the two most offered desserts at restaurants are coconut pie and "lemon" pie.
Coconut pie or tarts are just that.  Pie crust stuffed with sweetened fresh coconut.  If you like, you can pour a little rum on top.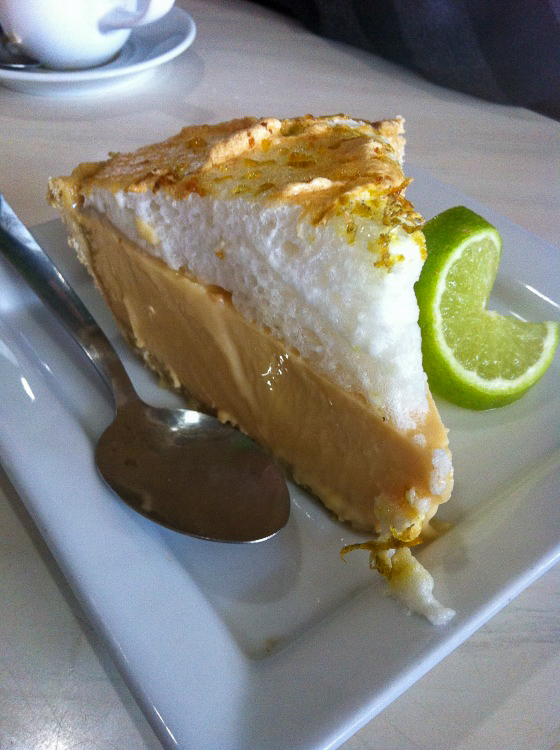 "Limon" pie – or lime pie or "Caye Lime" pie is also a favorite.  It usually has pie crust rather than cookie crust by you can find so many different variations – whip cream, ice cream, meringue.
My favorite – for both these desserts – is Elvi's Kitchen in San Pedro.  Mmmm…the frozen lime pie with ginger snap crust is so great.
Party Foods
Chicken Ceviche
This is one strange dish in my estimation but served and LOVED at many parties.  I'm hoping for some help on the description.  Because right now all I can come up with is:  chicken parts and knuckles served in grease.
But I asked on Facebook for other descriptions and got some help:
Maria from Orange Walk:  A local poultry sensation – a chicken innards delicacy.
Alexis (a chef) from San Pedro:  Chicken cooked in a lime vinaigrette?
Jamal from the mainland:  "raw chicken in lime juice! oh, and there's some other stuff casually thrown in, too." mmm,mmm, good!
Finn from San Pedro:  Chicken ceviche is basically made with chicken parts like neck and back, gizzard, feet and cooked in lime, salt, and a whole lotta pepper.  Yum.
You can buy chicken "back, necks, and feet" at the meat market and try to make your own – or (allow me to suggest this option) test it out at the Lions Den Bingo night in San Pedro.
Enough said about chicken ceviche.
Conch Fritters
Almost like hush puppies, these are delicious glunks of batter with onion, pepper and hopefully generous chunks of conch.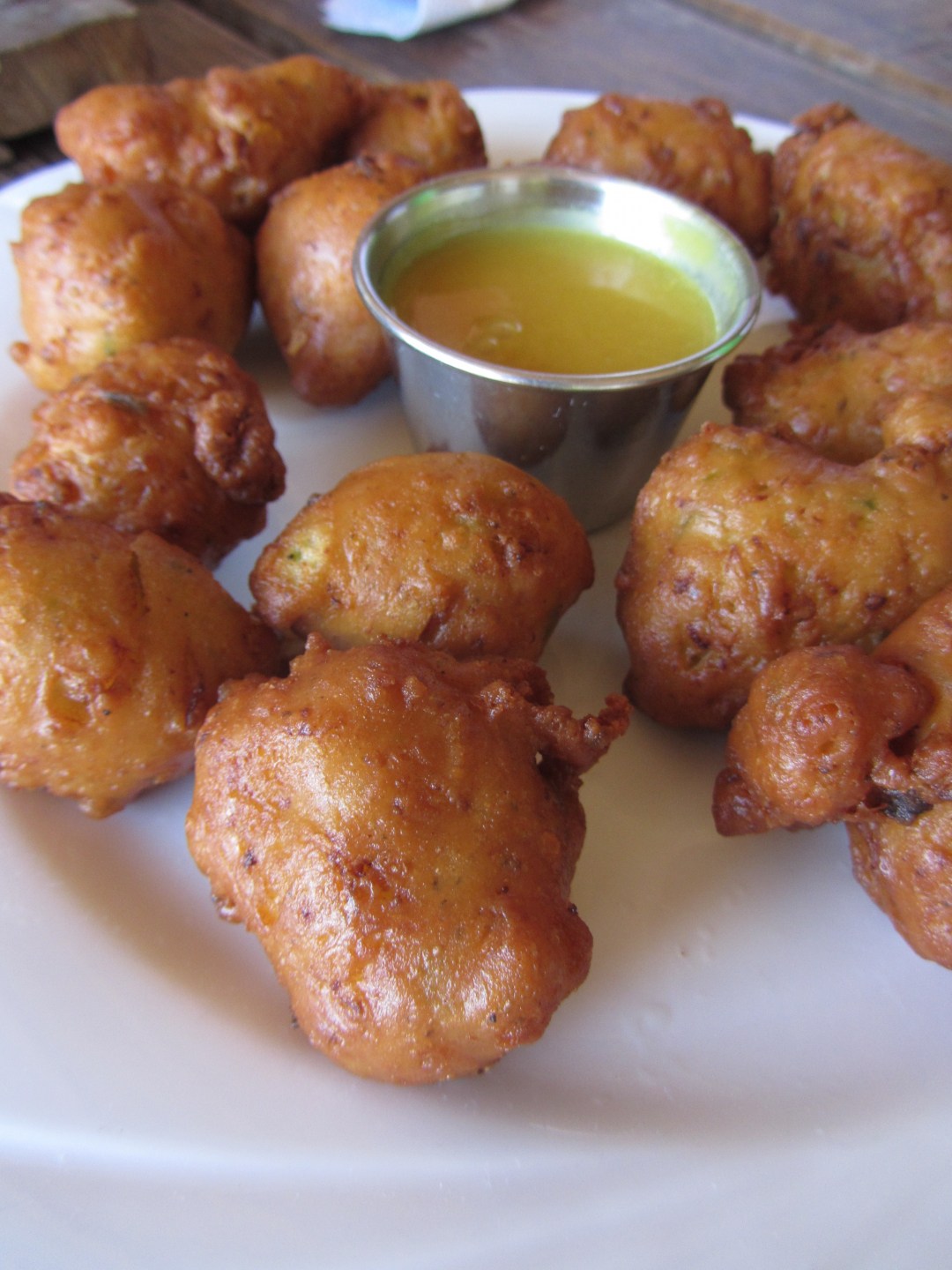 My favorite:  El Fogon in San Pedro, Belize and Tranquility Bay wayyyy up north
Read:  Driving up North:  Margaritaville and Tranquility Bay and Where the Reef Meets the Land
Cheese Dip
THE GO-TO DISH at all parties I've been to in Belize – cheese dip.  A runny DELICIOUS dip of local "Dutch cheese" blended with evaporated milk, hot sauce, and often a can of salsa.  Eaten at each and every party – and also available by the single serving(or larger amounts) at Annie's Pastries just north of town.
Always eaten with corn tortilla chips.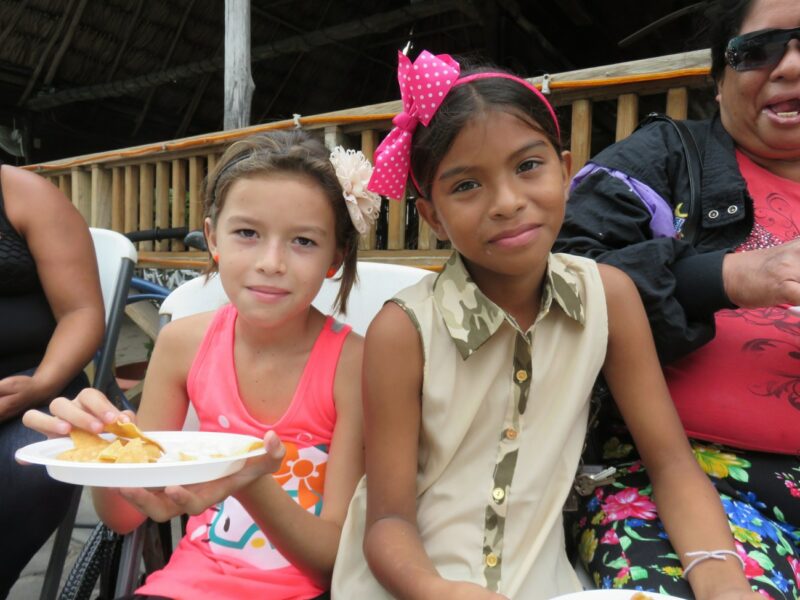 If you are in San Pedro between 2 and 8pm and hear a bike horn honking, it just may be the Annie's Cart.  Go out and do yourself a HUGE favor.  Buy the chicken dip or the lobster dip (in season) or just the cheese dip.  It's DELICIOUS.
Read more in:  My Favorite Quick Snacks Around San Pedro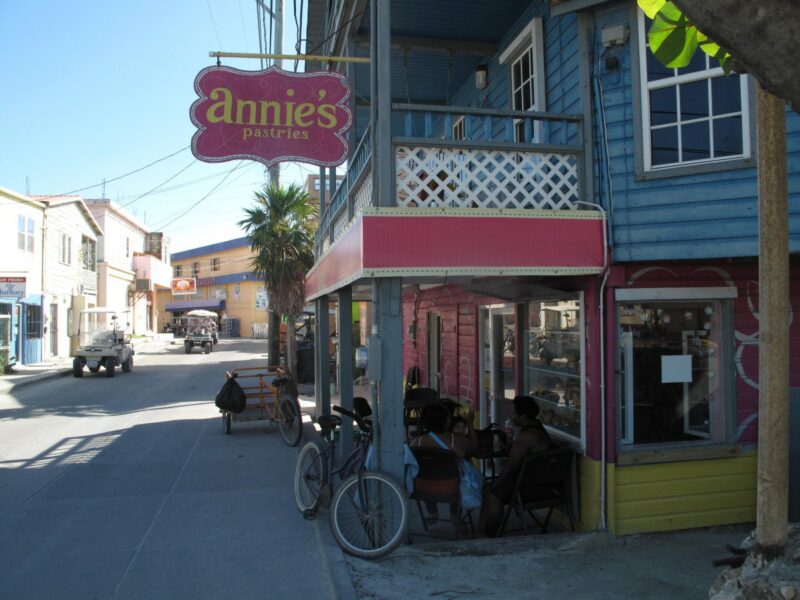 I am sure I have forgotten many things, so please comment and help!  Until then, I suggest that you try each and every item on this list during your visit to Belize.
And if you like it, can you stick a PIN in it and share or save for later?  Muchos Gracias.  A Guide to the Food of Belize.