Secret Beach Area: A Look North Along the Shoreline
Last week, Jeff and I took a trip west on Ambergris Caye.  Out to the Secret Beach area and all the "subdivisions" leading up to that area.
This is an old map (2014?) of the area – about 4 miles north of San Pedro town (on the barrier reef side) and about 4 miles west – to the other side of Ambergris Caye.
In the last post – I took a bunch of photos of the new homes and the new businesses that are popping up away from the beach area.  (Areas like "Palmaya Woods" and "Grand Belizean Estates")  The whole area is generally called "Secret Beach" even though much of it isn't at the beach and none of it is a secret.
Here's a look from Google Earth.  The water is even beautiful from space!
See:  Secret Beach Area: Houses Starting to Go All Over the Place
I took a ton of pictures on our trip out there – and this time, I want to show you some of the ones I took going north.  When you reach the Secret Beach sign (marked above on the Google map – Secret Beach Belize) – you can head south or north.  Let's head north.
The first beach bar is Pirates Not So Secret Beach.
And then Maruba Bar.  Both have LOTS of seating.  And it looks like it can get quite close together…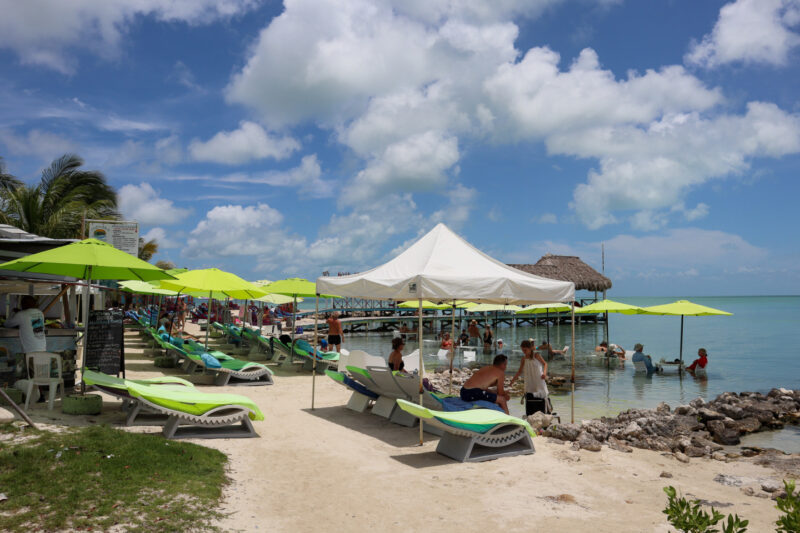 And then an empty lot or two – these are for sale if you are interested 🙂
Next bar…
A bit more room…in fact, quite a bit.  This seems to be more of a family spot.
Next up – the Secret Beach Water Park.  They have grown – and have a HUUUGE palapa (biggest one on the island?) and a bar and more space….
I wrote about it in April 2021:  Secret Beach, Ambergris Caye Adds a Pretty Sweet Water Park!
Just north of the huge palapa, some food stalls.
And then we hopped back in the cart…there is a road that has been extended north behind the waterfront properties.  It's a bit…rugged the farther north you go.
Here's a look from space.
We headed north.
And came to a big project called Casa Cava.  The lovely owners invited us in for a look.  They bought the beautiful property about 10 years ago – and at the time, it was only reachable by boat.
Beautiful cabanas around a beautiful pool.
And the waterfront.
And a peak inside the gorgeous cabana that is completed.  Each one is going to have a different theme and feel.
AC and a HUGE bathroom and…wow.
I took pictures and talked about gardening (the plants look amazing – it's NOT easy gardening out here!) and Jeff talked cisterns and solar power.  I love taking a look around at a new project.
A few lots north is this very very pretty private home right on the waterfront.
And then Casa Nova Cabanas – one of my favorite spots on the island.  You can see my stay there here:  Gorgeous Beach at the Beautiful Boutique Bed and Breakfast: Casa Nova Cabanas
Here's their dock and their boat.  Yeah Buoy!  Great name.
You can see Cayo Rosario right out there – it was so clear that it felt like you can walk to reach her.  Cayo Rosario is a World-famous area for flyfishing for permit – and (ick) proposed/soon to be filled, expanded to almost double the current size, and surrounded by over-the-water cabanas.  We…will…see if that really happens.  Here's the plan.
We headed north…the road ends with two private homes.  You can rent one for around $2000US a day – with a group this would be AMAZING.
We didn't get that far…I was taking pictures of the stunning shorelines and the mosquitos and sandflies were getting intense.  MY FAULT!  I forgot to spray up.
Here some of my photos.
The mosquitos were ok on the beach but when you got even a few feet away – you definitely needed repellant!
That's it from me.  I need to head back to Secret Beach to head south…hopefully soon. I'll report back.