Delicious Jerk Chicken at Robin's Kitchen & An Icy Cold Paleta or Three
If you read the title of this blog, sighed aloud, and thought "now that sounds like island-perfection"…you are spot on.  There is nothing better on a hot summer afternoon.  Tender, tasty grilled chicken with the signature sauce at Robin's Kitchen.  It's so good.  But add a fruity iced paleta (or two) after the meal?  And you are in heaven.
Let me give you the details where you can get this tasty combo for either lunch or dinner or the hours in between.
Robin's Kitchen is a small, unassuming palapa south of town – and within walking distance from the island's biggest and most well-known resorts – the new Alaia Resort, beautiful Victoria House, and Mahogany Bay.
Robin is John Harvey's nickname – and he was born and raised in Jamaica.  Bogue Hill, St. James Parish, Montego Bay to be exact.  And when he went to school at the vocational institute in Kingston, Jamaica (I first met John about 14 years ago when he worked primarily in plumbing with a side gig in BBQ) – he met some Belizean friends.  And after school was completed…he came for a visit.
Ambergris Caye – and San Pedro – reminded him of the beautiful beach and blue blue water of Negril.  He fell in love and stayed in Belize and started a family…
Just because I had to look it up – here is a map of Jamaica.  Jamaica, areawise, is about half the size of Belize.  But Jamaica's population is almost 3 million people, compared to Belize's 400,000.  Kingston metro area alone (the capital) alone has over 1 million people.
Ok…back to Belize.  I haven't been to John's place in WAY too long.  I used to live right across the street – at Royal Palms – you can see it behind John in this picture…
So I could call over and get some quick BBQ.   But now it's a 10+ mile trip from my home.  It's been way too long.  Time to stop in for some jerk chicken.
He was offering jerk chicken and curry chicken – and we went for the jerk.  John will also prepare any fish you bring in from a fishing trip.
One of the best parts – other than the delicious tender chicken – is John and his team.  You would be hard-pressed to find anyone more friendly or more welcoming…
Mmmm…and the tangy sweet sauce is delicious.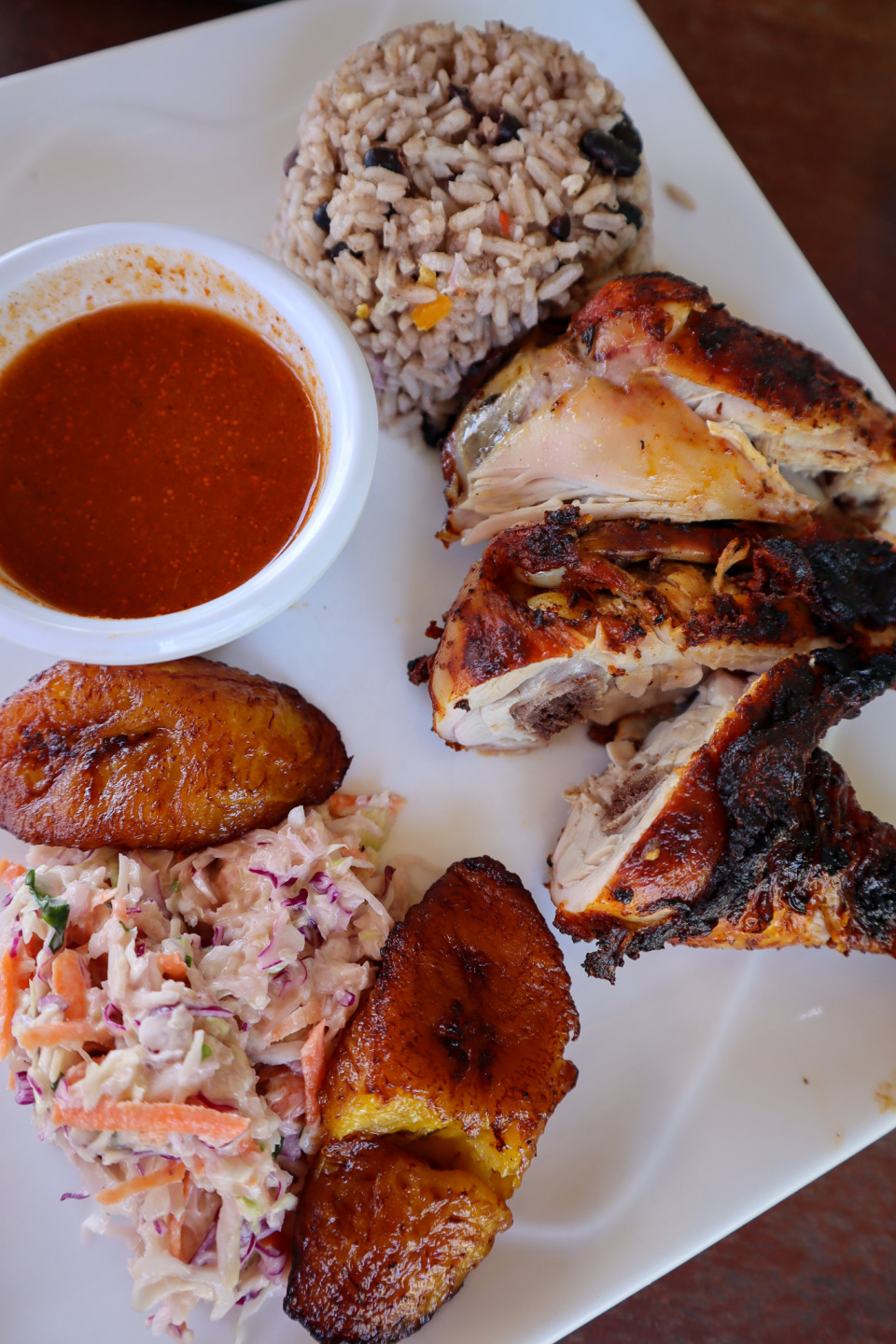 John sells waters and sodas – and there is a small deli next door where you can buy cold beers.  You can also BYOB if you enjoy a cocktail or champagne with your jerk chicken.
And then…you'll have room for it, trust me…head just two doors down to Las Paleta's by Regina.  The sign hanging at Robin's Kitchen is faded but it's a good reminder.
As seen on sanpedroscoop!
There is no better way to cool off on a hot hot hot summer day than a paleta.  Fresh fruit juice…a bit of sugar…and ice cold.  And only $2bzd.
You'll see the sign.
You can read about Regina and her fantastic business here.  She has this "factory" south of town and a small storefront on Back Street.  You can also buy the paletas at Farmhouse Fresh Market just north of the bridge and at Beach Basket at Grand Caribe.
Here is the Facebook page.
We had to try a bunch. Tamarind is delicious.
Mango…yum.
Jeff loved his Watermelon Lime.
But the one that I loved the most?  Raspberry Mojito.  Delicious raspberry with lots of fresh mint and lime…soooooo refreshing!
Read all about Regina and her small business:  Local Female Entrepreneur Rocks San Pedro, Belize with Her Delicious Paletas
Now THAT is a tasty Monday lunch.  Or any day of the week.
And worth the drive.
Las Paletas also does ice cream and this regional obsession.  Chamoyada.  It's a mango sorbet with chamoy…a flavor profile so unfamiliar to my boring bland palate.
It's becoming a "thing" in the US too – the New York Times sharing recipes and information on Tajin and chamoy.
Sweet, creamy, spicy, a bit bitter, super sour…maybe you should try one.  Be more adventurous than I am.  And report back!