September Celebrations are Finally BACK in 2022
It's been a long couple of years.  And finally, this year, September Celebrations in Belize are BACK ON.
September is Belize's month.  Two holidays in a row – close enough so that the in-between seems like continuous holiday as well.  (Think the time between December 23 and January 2nd.  It's just a general slow down country wide)
September 10 – Celebrates the Battle of St George's Caye.  St George's Caye was the first capital of Belize and in 1798, the dreaded Spaniards tried to eject the British baymen who they greatly out numbered.  A battle ensued and the Brits won.
September 21 – Celebrates Independence Day – independence from Britian on September 21, 1981.
Pic from San Pedro's 2016 Jump Up Parade on September 21.  It was spectacular!
This year, Belize is officially 41 years old.
September is generally a month of parades and parties, fireworks, bands, pagaents and spelling bees.  All of this has been "on pause" for the last few years because of COVID but now IT'S BACK ON.
All of the events haven't been officially announced but I wanted to write about it early because it's a really fun time to visit Belize.
Some people – like me – like to decorate their carts.
Note:  Usually this is the time of year when airline ticket prices are lowest but…I'm not finding that to be true right now.  If you see any great deals, let me know…I'd love to share them with everyone.
Peppered through out this post are pictures from previous years – the last year the country celebrated properly was 2019!
Belize City has the big Carnival parade to kick things off – this year, September 3rd.  (Here's my experience in 2013 – Part One and Part Two – taking the water taxi over to Belize City for the day for this event is so fun and will kick your butt.  But I went back for more in 2014)
San Pedro celebrates September 10 (The Battle of St George's Caye) with a parade and a night time ceremony that takes place the night before…
The night before…music, a 21-gun salute, speeches by government official and fireworks!
There is a Uniform Parade on September 10th – where school kids and town workers don their uniforms and march.  Usually the new Miss San Pedro is crowned that morning…
There is nothing cuter than patriotic school kids.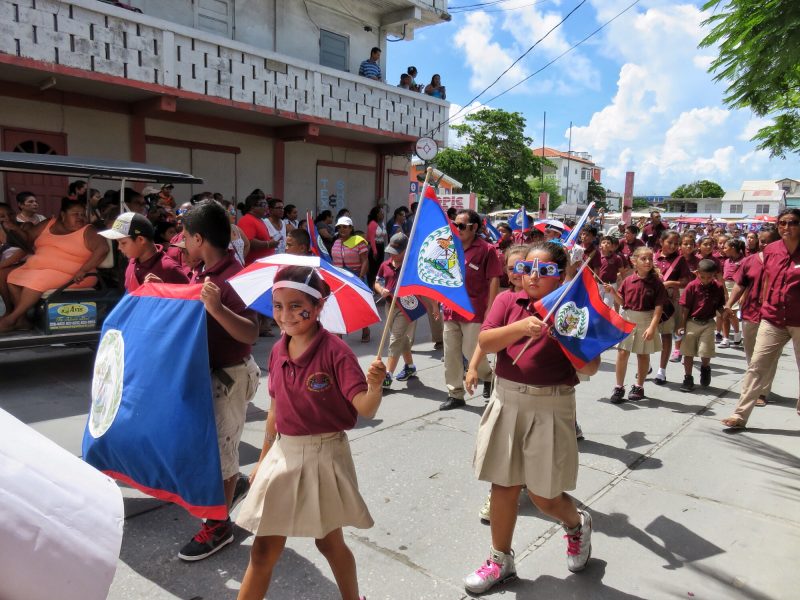 September brings some of the hottest days of the year – the humidity is generally at about 4000%.
Faith was Miss San Pedro High School, 2016.  She just won the Miss San Pedro competition a few weeks ago.  For 2022-2023.
This year, the town has announced SOCA Festival to celebrate.
If you aren't too familiar with Soca music, it's a combination of reggae and soca and just tons of fun.  It's originally from Trinidad and Tobago and it's THE music of Carnival.
Like "It's Carnival" By Destra and Machel Montano is a good one because Destra is coming to San Pedro!
And the 21st is the Jump Up parade which is always so fun – SO HOT – and perhaps my favorite event of the year.  To see the whole town sweating and dancing…it's the best.