Black & White Garifuna Restaurant: Culture + Really Delicious Food
Early this week, Jeff and I headed south of San Pedro town to Black and White Garifuna Restaurant & Cultural Center slightly ashamed that we hadn't been there before.
The owner, Ms Julia Martinez has created such a unique spot on Ambergris Caye – a warm and invited indoor and outdoor space highlighting one of Belize's most unique cultures.  Plus – the food is soo good, I should have been recommending Black and White Restaurant to visitors for years!
The Garifuna Restaurant is way more than just a place to eat…it's a gift shop, an informational hub, a culture center, a multi-roomed bar, kitchen and outside dining garden.  We really enjoyed everything about Ms Julia's business.
And left raving.  "I need to get this into my book! – visit San Pedro, eat this hudut!" I pre-planned on the ride home.  And Jeff added his biggest compliment "Let's definitely bring (my) Mom and Ken here next time they visit – they'll love it".
Before I get into our lunch and my dozens of pictures, let me back up just a bit – especially if you don't know about the Garifuna people, their very unique culture, and how they landed in Belize.
A Brief History of The Garifuna & Coming to Belize
Here's a pic of the annual re-enactment of the Garifuna landing in Dangriga, Belize.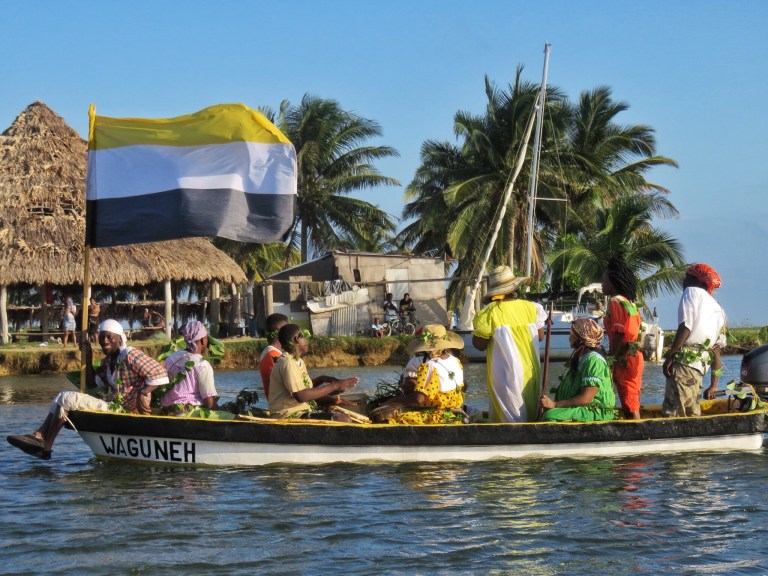 The Garifuna people officially started on the island of St. Vincent with intermarriage between indigenous Caribs and  West African people.  The African people were thought to be escaped slaves on neighboring islands like Barbados as well as a group of African slaves that had been shipwrecked in the 1670s.  Over a century later, the people  – then called Black Caribs and over 5000 in number – were exiled to Roatan and then made their way to Belize in 1802. (More history from Wikipedia)
Belize celebrates this arrival each November 19th with a National Holiday called Garifuna Settlement Day.  (You can see some of the pictures of celebrations around the country – it's a gorgeous holiday and a day when all Belizeans are Garifuna) The southern part of Belize – namely Dangriga and Hopkins and Punta Gorda – are still very much centers of Garifuna culture.  The language, the art, amazing music, the dancing, and the food.
If you visit Hopkins or Punta Gorda, you will see, feel, and sometimes hear the Garifuna influence every day.  But in San Pedro, they are a much smaller community.
Miss Julia Martinez, who owns Black and White and has lived in San Pedro for almost 30 years (she is originally from Punta Gorda) and works hard to keep the Garifuna influence and culture alive on our island.
She even won the 2022 San Pedro's LobsterFest First place prize for Best Lobster Dish with her Lobster Hudut.  (You can see all the winners here)  When I saw that in the paper…I knew I had to stop hemming and hawing and get to Black and White Restaurant asap.
Black and White Garifuna Restaurant
Black and White is located less than 1 mile south of San Pedro town.  Just south of the gas station but just before Caribbean Villas Hotel (across the street).  You will see the large bright signs on the road…you just turn in.  Down the sandy path, there is plenty of parking.
Pictures of the Restaurant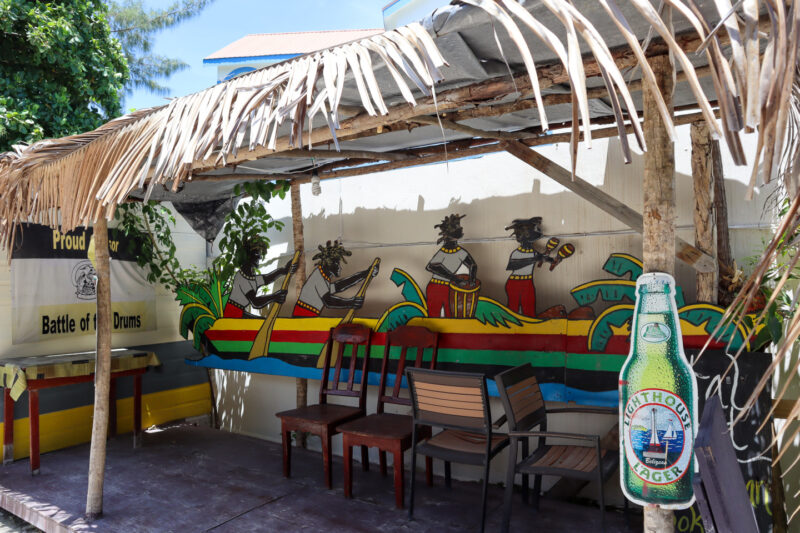 Outside there are lots of tables, some under palapa coverings, some set up for larger parties of 10 or 15.  It's all very colorful and pretty and looks very pretty at night.
Garifuna music plays over the speakers throughout…
Step inside – there are all sorts of informational signs and artwork.
The Food
Black and White Garifuna Restaurant is the only spot in San Pedro where you can find a full menu of Garifuna dishes.  Good-sized dishes of hearty, soul food made with very local flavors.  We went for two of the most popular Garifuna dishes.  Bundiga and Hudut.
The food, like the culture, is a blend of Caribbean and African.  Very basic, and some might say plain, ingredients like coconut, plantains, local root veggies but together…they are so rich and delicious.
Our server was so friendly and checked on us a number of times – he explained the dishes as did Ms. Julia.
Hudut:  Often called sere in Belize – is a coconut soup with vegetables and starchy sides.  Ms Julia's hudut is the best I've ever tasted.  Not as thick as a chowder but way more flavorful.  We scraped this Whole Fish Hudut bowl to the very last drop.
Our server made sure to tell us about the "red thing" – a fiery habanero.  I plucked it out immediately while Jeff asked for a separate bowl to cut up that pepper into his hudut.  Sending the soup from mild to red hot in seconds…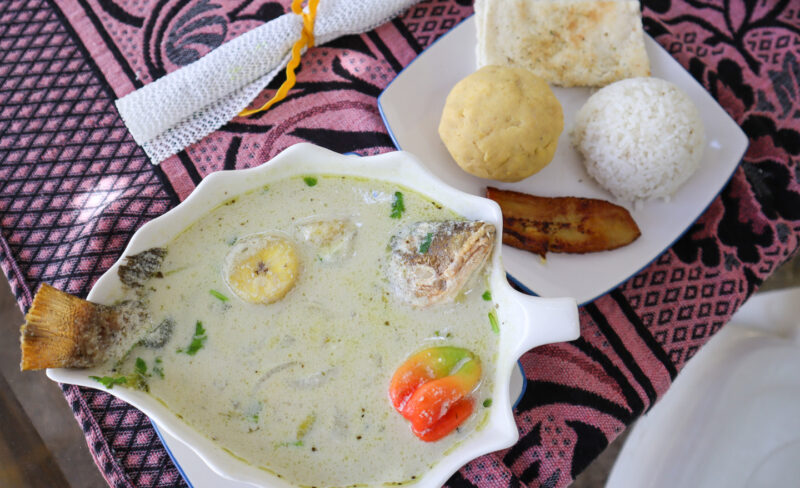 The sides were white rice, cracker-like cassava bread (which is MADE to go in this broth), a plantain mash ball – slightly sweet – and fried plantain.
We also tried Bundiga – with a whole fried fish.  Bundiga is a dumpling – of grated green bananas and coconut – served as the side to the main dish – our fish.
The fish was so moist…absolutely delicious.  You can see the mild Bundiga on the side.
The restaurant also does a wide array of other local favorites like rice and beans, ceviche, curries and more.  But we were here for Garifuna.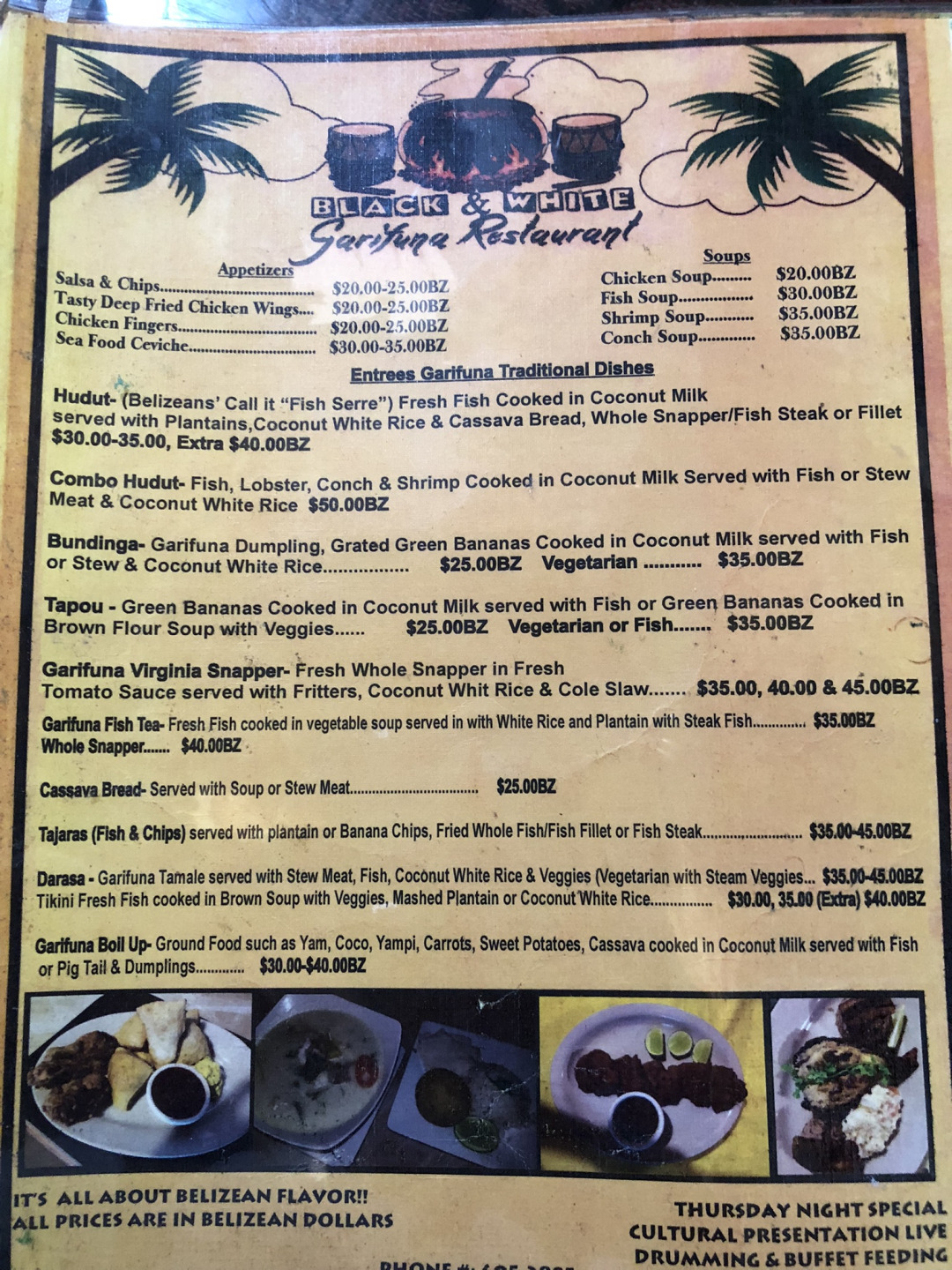 To cool off, we ordered from the tea menu – you can get it either hot or cold.  The ginger tea – which you can have sweetened or unsweetened – was a delicious, strong ginger juice.  You can just taste how healthy this stuff is.
A Quick Look Around the Inside
There's a bunch to look at inside though the shop and shelves which Ms Julia pointed out, are a bit bare for the slow season.  Usually, she has a whole wall devoted to Belizean sweets that you can buy and take home.  Like Belizean fudge and Wangla (almost like a soft, sweet brittle with sesame seeds) and Cuto Brut (patties of fresh coconut cooked in sugar) – all three of these are delicious.  She also makes the local puddings – like bread pudding and sweet potato pound.
Traditional clothes and drums.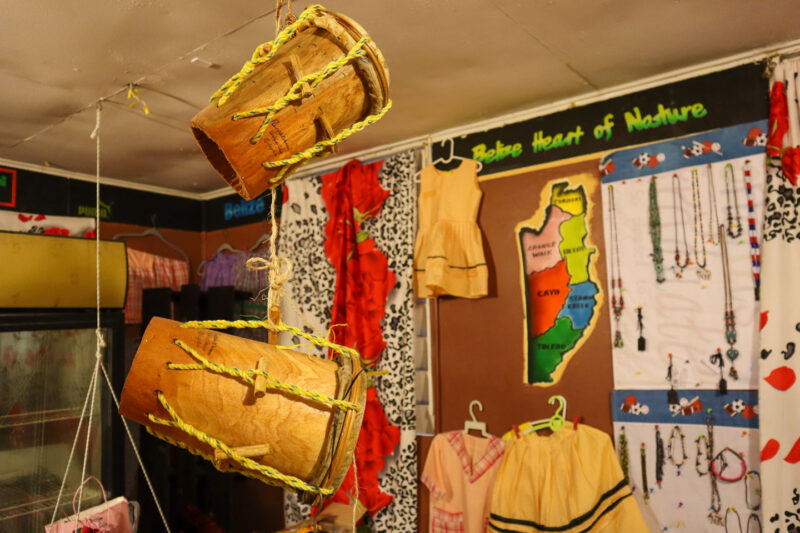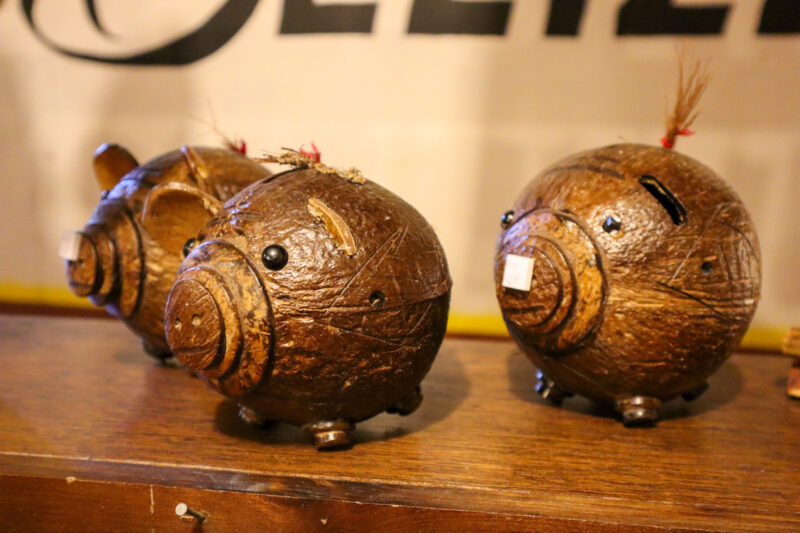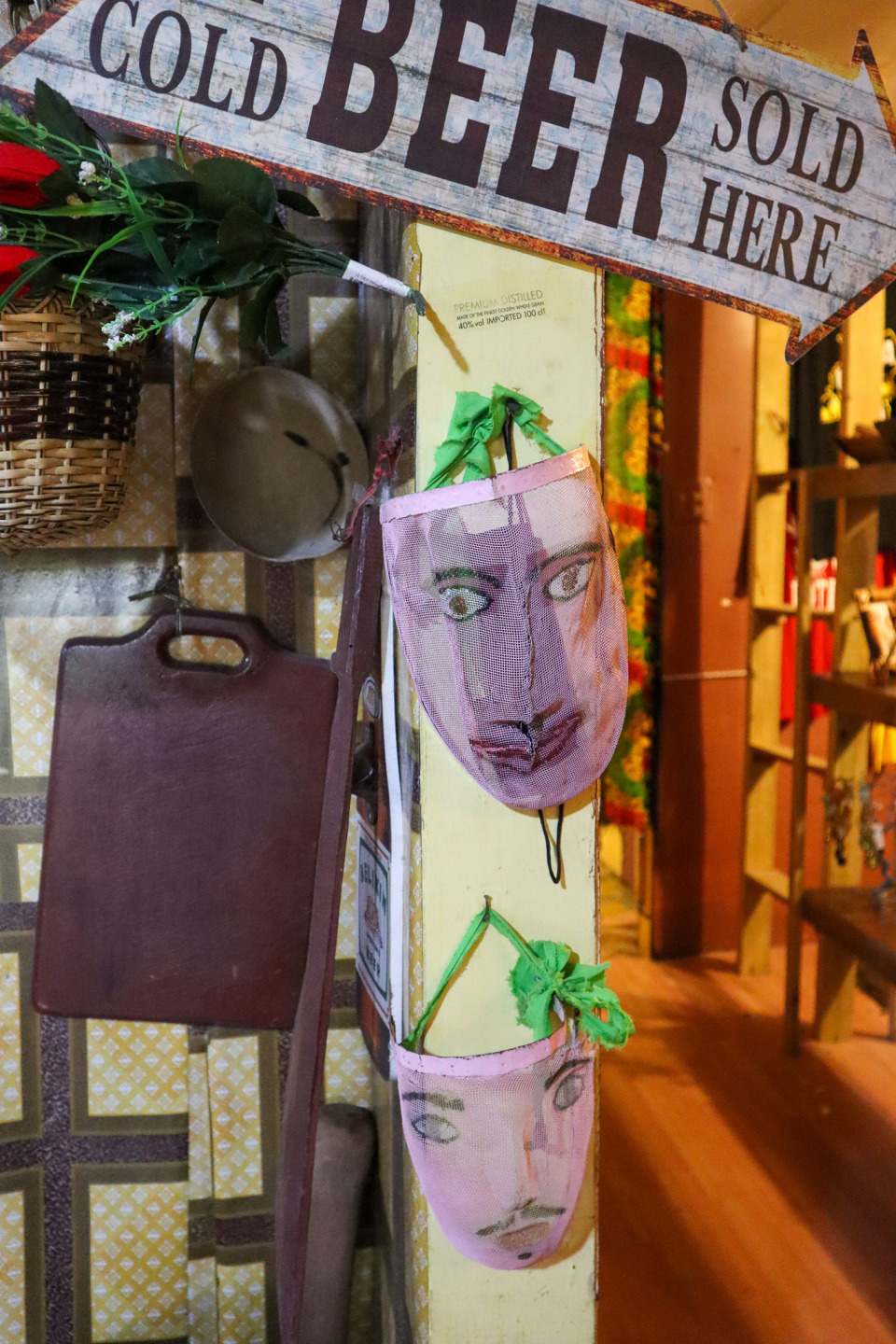 Before I end – Ms. Julia can also do Garifuna Cooking lessons – she has a drum group and dance group that performs here at the restaurant on certain nights (check her Facebook page for details) and can be hired to perform for events and groups and lastly, she does catering…bringing this delicious food to you.
A peek in the kitchen…love the colors and the very impressive organization.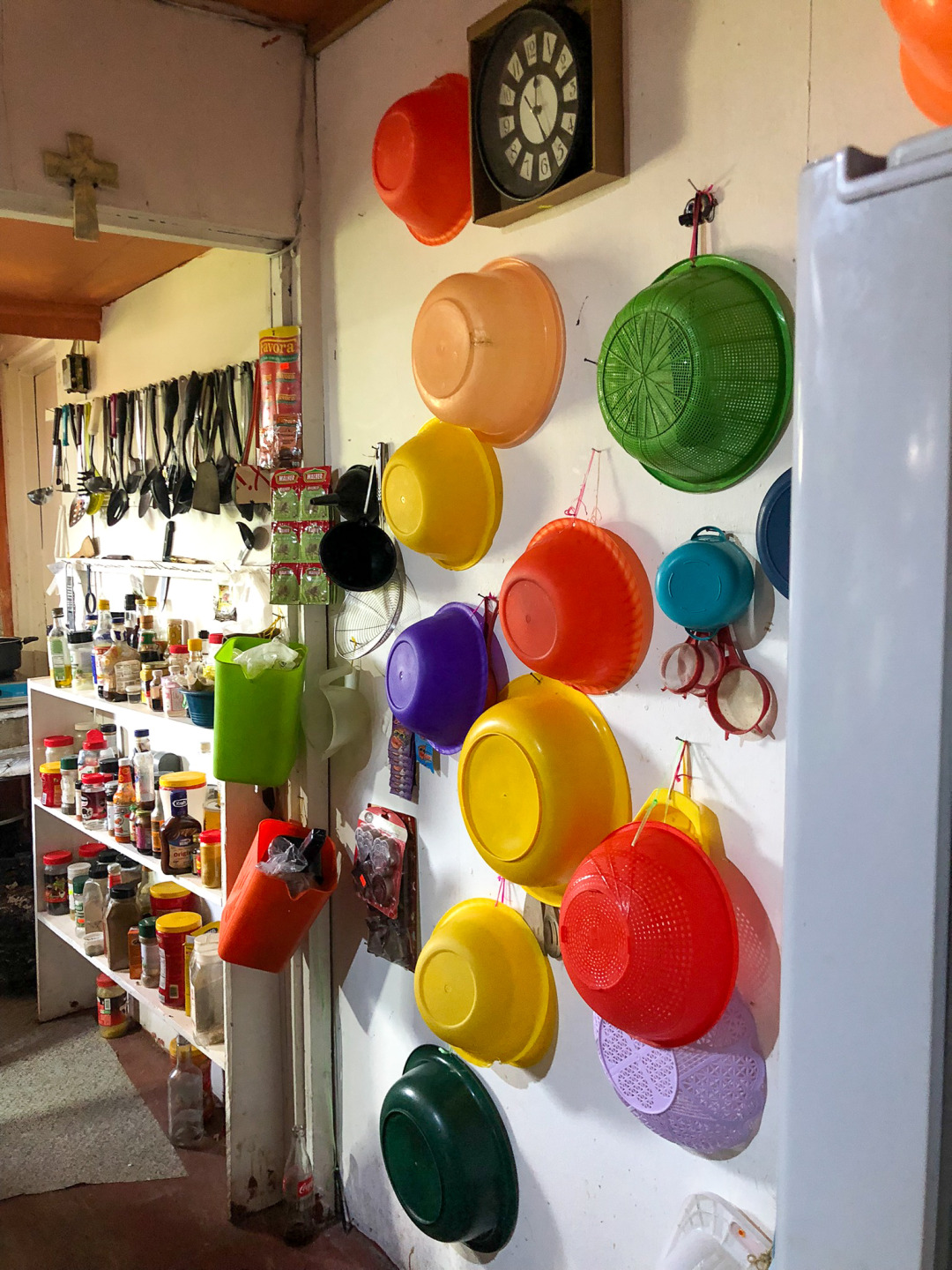 I hope you are picking up what I am laying down – head over to Black and White Restaurant – for lunch or for dinner – and try the hudut.  That dish, in particular, but the whole experience is something you will remember.
And I am SO glad I finally visited the restaurant to experience a bit of how special it is.  I'll be back – I'm already planning to make conch hudut my first conch of the conch season.  (It starts October 1st!)
As with many spots in Belize, most information is available on Facebook – hours, special events, etc.  You can even message Miss Julia via her Facebook page for more information.