Quick Bite: Pupuseria Salvadoreno For Lunch
When I first moved to Ambergris Caye and lived and worked near/in town, I was obsessed with pupusas.  The masa-corn pancakes stuffed with cheese or veggies or beans or all three – grilled on a flat top until ever so slightly charred and served HOT with very mild tomato salsa and crispy cabbage slaw.  
They are on my short list of foods I want to be served in heaven.  After hot fudge sundaes with Cool Whip and salted peanuts, perfect fresh cherries and NY bagels with lox schmear but not too far behind…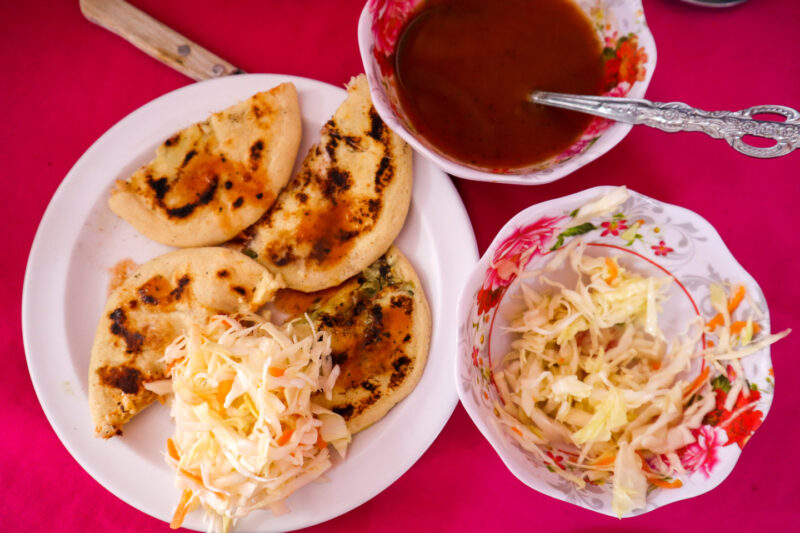 Back then, I'd head to Middle Street to get pupusas for dinner once or twice a week.  It is quite hard to walk past someone grilling pupusas on the street side – the smell of warm corn and sizzling melted cheese – without stopping to buy one or two.
But I only learned this week that one of my favorite old haunts – Pupuseria Salvadoreno – makes pupusas all day long.  They are not just an evening treat – so Jeff and I decided to stop in for lunch.  And…they were even better than I remembered.  This Middle Street restaurant, which has been open for 20 years now, is such a warm friendly family spot – it was great to be back.  We ended up trying 5 different flavors and chatting to Imer about how they do it.
Crazily enough I learned the next day that we had visited the restaurant on El Salvador's Independence Day – September 15th!   This national dish of El Salvador is worth celebrating pretty much every day of the year.
So…I thought I'd share our lunch with you.  He shared a bunch of the family pupusa-secrets with us.  But after listening to him…and how the corn is ground by hand, the cheese kneaded by hand, the dough pressed and prodded for a few hours by hand…we decided the real secret is:  make 100s of pupusas, 6 days a week, 300+ days a year for a couple years and maybe yours too can be this good.
Maybe.
Inside a bar and a bunch of tables – decorated with family photos and mementos.
I was instantly drawn to this refrigerator devoted to cheese – just packed with 2 kilo blocks of the stuff.  Do they just like to stockpile cheese…could they possibly be using this much?!?!  This is busy pizzeria amounts of mozzarella!  And as anyone who lives in Belize knows, imported cheese is EXPENSIVE!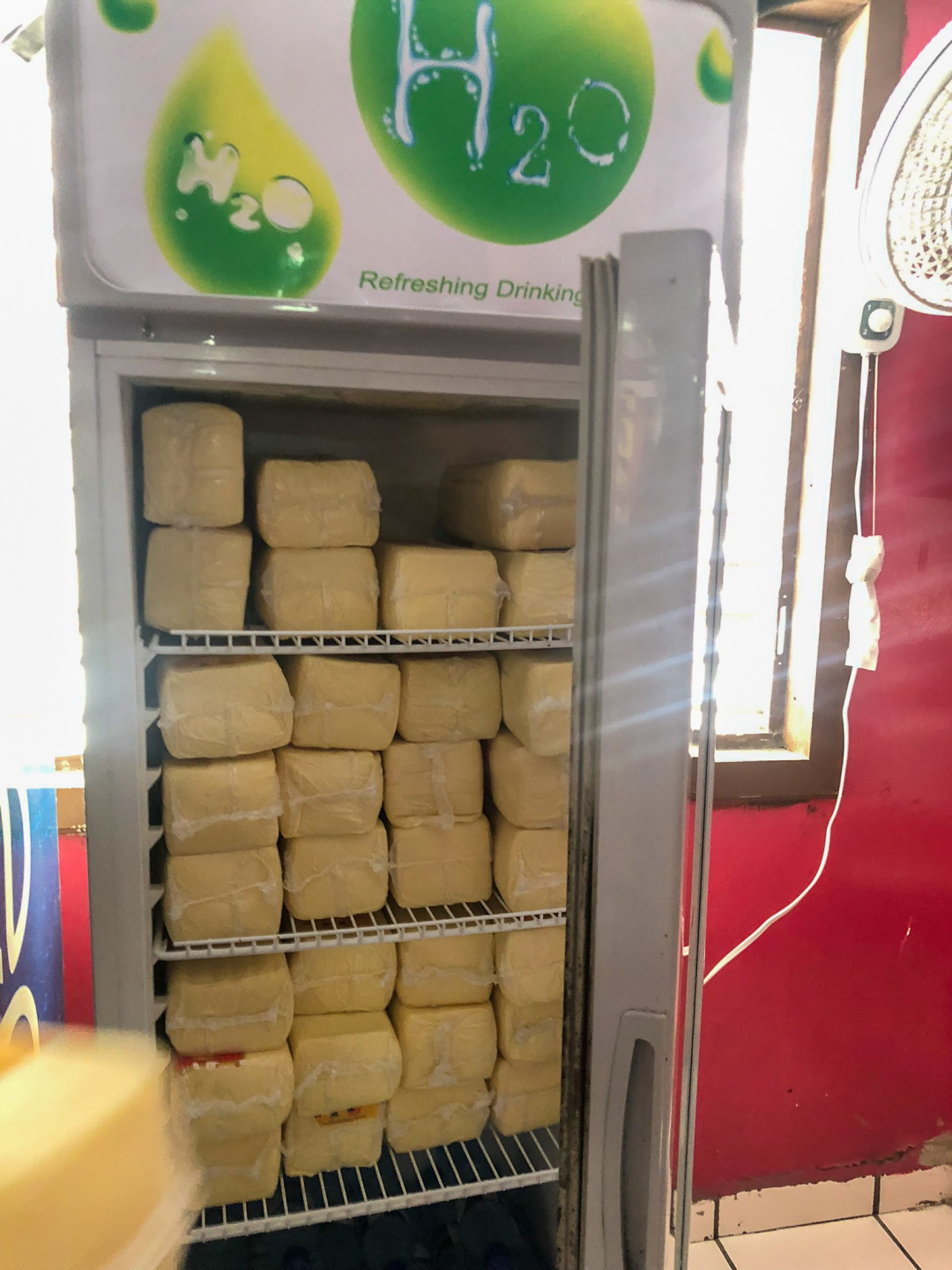 Pupusas are $3bzd each – and three is a very healthy serving.   I can't see doing more.  (They price was $2.50bzd when I moved here 15 years ago – I bet the cheese has doubled in price!)
Imer shared that they are using 2 to 3 blocks a DAY right now!  (And this is the slowest of the slow season…)
Wow.
We ordered one of 4 different kinds – all with cheese though you can order without cheese too:  Mixed (pork and beans), chicken, spinach (local vine spinach which has SO much flavor) and pumpkin (local pumpkin – more like zucchini)
These pupusas are NOT greasy and heavy – when eaten fresh they are actually much softer than I remembered.  More pillow-y than heavy.  The spinach and the mixed are my favorites.  Divine.
But what really makes it for me is the cabbage slaw.  It is so simple.  Chopped cabbage and maybe a dash of vinegar?  This one is not weighed down with tons of dry oregano like some other places do…
The cool crunch and warm soft cheesy pupusa…I mean…good god.  These things are delicious.
Imer is the host at the restaurant; his mom makes the pupusas – in the back during the day (to avoid the sun and heat) and on the street side at night.  So good.  I highly recommend it.
Pupuseria Salvadoreno is open everyday except Tuesday and holidays.
I found this older post from 2016 – the last time Jeff and I had pupusas together.  It's only been 6 years.  (Jeff wore that same shirt yesterday!)
Note: I was so obsessed that I named my first Belizean cat Pupusa.  (I later learned that pupusa has some alternate meanings in the "Urban Dictionary" that my male cat was best not knowing about – ugh.)