Elvi's Kitchen Re-Opens With Beautiful Updates and Incredible Food
Last week I was invited to a press get-together/party at Elvi's Kitchen, one of San Pedro's finest restaurants and definitely one of my favorites.  Normally, I shy away from invites after about 4pm – I live 8 miles outside of town, my photography skills in the evening are…not great and I'm just not a night-gal – but an invite from Elvi's Kitchen….to try a few favorites, and taste some new dishes and flavors?  Yes, please.
And I happily found out that we were trying way more than a few!
I've had such cool experiences at Elvi's Kitchen over the years like:
My Personal Cooking Lesson with Chef Jennie
I've named their warm Coconut Pie the best dessert in Belize ( I need to start working on an update of this post!)
I "met" Prince Harry while standing right next to Miss Elvi and her daughter Jennie
AND I ate my best meal on the island, ever, at Elvi's 40th Anniversary Extravaganza (where 80-year-old Miss Elvi way outlasted me late into the night…)
But let's get to the other night!  The building looks great – a new sign and a door that remains open to the street.  Very welcoming.
The new lights look fantastic…all hand-weaved in Southern Belize.
The old flamboyant tree still stands; she is wrapped in lights.  When the family first opened a small burger stand, over 45 years ago, it stood under this tree.
And every year – the restaurant and Chef Jennie – Miss Elvi's youngest daughter- try to improve and enhance.  Make the space more beautiful and elevate the menu.  Classic Belizean and Yucatec-Maya flavors and ingredients but just…extra.
We were seated in the lovely back room where there is air conditioning, for those who like it, and local art – for sale.
We first had a tasting with Oscar, Chef Jennie's son, who is both the restaurant and bar manager. He has been making some liqueurs to make the drinks a bit more special and unique.
From top to bottom (and can see my neighbor's favorite by how empty the glass is):  Cacao, Hibiscus, Chipotle and Local Blackberry – all locally grown.
They were blended into a seriously impressive-looking and tasting array of drinks.  I went mocktail…and the fresh mint and citrus (especially the pink grapefruit) and ginger…they were sooo good.  I must have sucked down 5?  Can you get light headed on mocktails?
But a Ginger Mint Paloma…fresh ginger, mint, tequila and grapefruit?  Doesn't that sound amazing?
I was so smitten by this tiny branded airplane on the edge of this class.  So chic!
Keep them coming!  Hibiscus is such a delicious flavor – tangy.
Elvi's is working on new dishes for vegetarians and vegans so they have a choice (or 10) for every member of the family.
We started with the very beautiful ginger-coconut shrimp.
And then tried a new Mayan dish called Sikil Pak – made with pumpkin seeds, toasted with tomatoes and spices.   Almost like a warm rich smoky pesto dip for their homemade tortilla chips.
Next up…onion rings!  Flavored with the most Belizean flavors – red recado (the flavor in stewed chicken), black recado and white recado.  I didn't even know white recado is a thing…(though the spice blend sounds delicious!)
And it tastes delicious in onion rings…the flavors are very mild but you can tell the difference.  Almost like tempura-rings and an herb-garlic aoili makes everything even better.  Fact.
And then delicious poke tuna atop avocado and mango and more avocado with a conch-relish on top.  I could eat this kind of food all day…mango AND avocado!
And then…yes…we are still on appetizers…a dish that was so simple but so impressive.  Ceviche – but with young coconut – so that it soaked up the flavors of ceviche – the lime and cilantro – and the texture…it was almost exactly like conch.  Vegans (and non-vegans) rejoice!
And then…an Elvi's favorite – in fact, two of the most beloved dishes – the stone crab claws with garlic buttery sauce and a plate with chipotle butter…I've never had these before.  They seem like…too much work?  But they are cracked just perfectly and the sauce…I regret to say I was licking my fingers.  They are a bit of work but then…so is a huge perfectly cooked Maine Lobster.  Maybe not a blind first date food but they are soooo sweet and surprisingly meaty.
And maybe you should let the blind-first-date know exactly who you are on that first date.  Someone who loves good food and just might lick her fingers.
That squeeze of charred lime just makes them over the top.
I see what the hype is about!
And then the famous coconut shrimp curry…so rich and so good.  Dish #8?  And I finished the whole thing.  The sweet plantain chunks in there make it extra delicious.
And then…dessert!  My two favorites in town – the key lime pie with the thick gingerbread crust and whipped topping and the warm coconut pie with ice cream.
I swear there is a teeny tiny bit of lemon (though they have denied it) and the fresh coconut in this pie that just brings it over the top.
An epic meal.  Everything amazing – especially the curry and the fresh salads, the crab and the desserts.  All amazing.
Chef Jennie is so passionate about the local flavors and spices.  During the 2-week break the restaurant took to do some upgrades and menu changes, Jennie travelled all over the Yucatan and even took a private cooking lesson with a cook features on "Chef's Table: BBQ" in a tiny village outside of Chichen Itza.  To learn more about her recado blends and her ingredients.
I'll stop here but be sure that you are going to get great food – and a beautiful experience at Elvi's Kitchen.  The staff is extremely knowledgeable about the food…
You can view the menus and live music information on their website – or follow them on Facebook – they post the prettiest pictures of their food.
Like these tacos this week…made me hungry.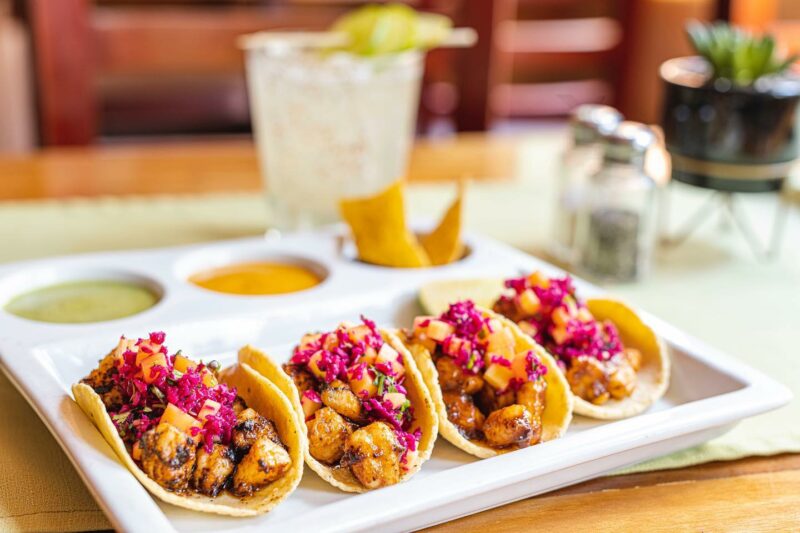 I left extremely full and extremely happy.  I love Elvi's Kitchen and I know you will love it too.