San Pedro Township Day: Our Pretty Town Turns 38
We have two holidays celebrating San Pedro – the one and only town on Ambergris Caye.  The first is Dia de San Pedro in June.  A traditional celebration of the patron saint of fishing – San Pedro or St. Peter.  This is a many-day celebration that centers around San Pedro's Catholic Church – and featured a dawn fishermen's mass on the water but it also a secular celebration – often with carnival rides and live music in town.  Here is a good description of the festival.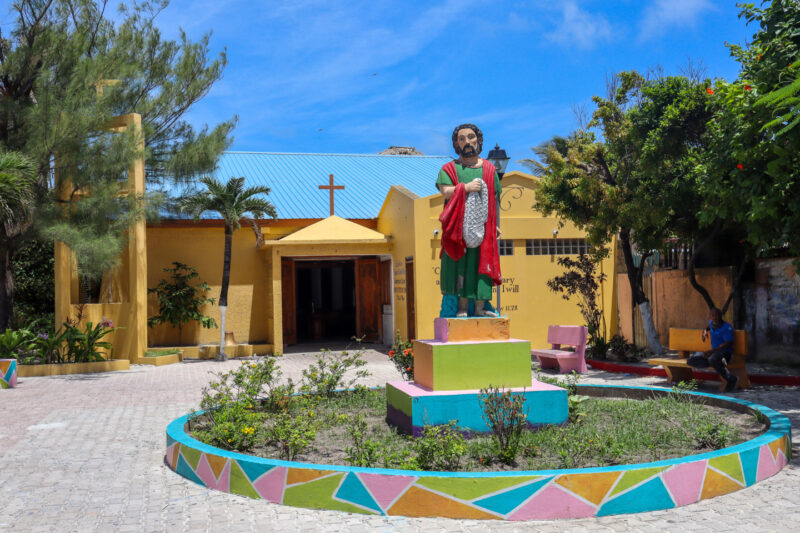 The 2nd celebration is San Pedro Township day.  This year was the 38th year that San Pedro has been an official town.  We were "upgraded" from village to town in 1984.
Apparently, the same year that Monkey River Town (south of Placencia, Belize) has "downgraded" from Town to Village.
Monkey River is a seriously unique village to visit.
Fun facts:  There are only 2 cities in all of Belize – Belmopan, the capital, and Belize City – only  towns (San Pedro, San Ignacio, Dangriga, Benque, Orange Walk, Corozal and Punta Gorda) and 192 official villages.
How cool is that?  You can click on all the town names above to see my most recent visits to each.  They are all SO different.
But what I'm trying to say with all of this is:  Happy Birthday San Pedro!  
Here are some photos I took of San Pedro this week.
And I'll start with this pile of trash.  🙂  WHAT?
What remains of Big Daddy's Nightclub on the beach.  One of the oldest bars in San Pedro.  The front portion of the building – which has a bar, a restaurant and a dive shop in it – remains but the old nightclub is…well almost completed gone.  Also hoping this trash pile will be gone soon…but it's kinda cool to peer inside!
The Bowen tree is going up…
This new sea-house and slide just went up this week – right in the center of town.
The view down the Front Street – the Garifuna Settlement Day flags will be replaced with Christmas lights.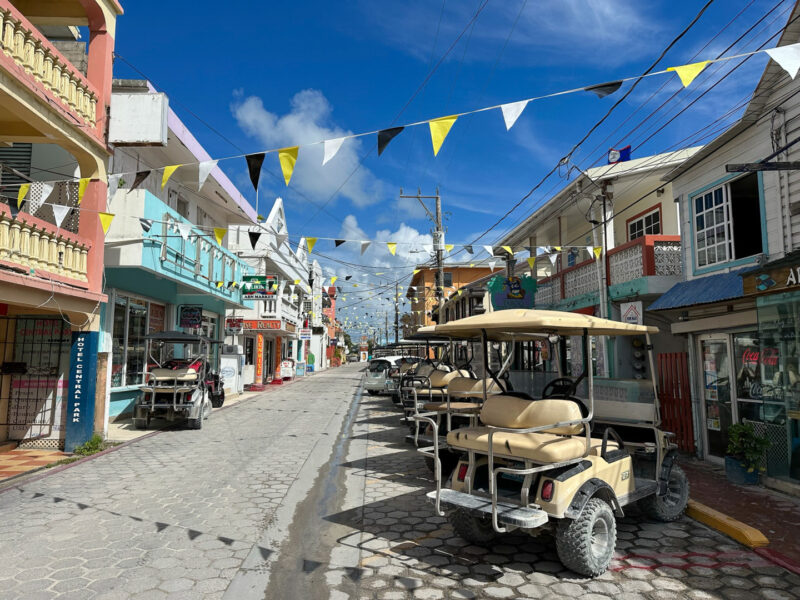 Read:  The Best Things About Christmas on Ambergris Caye
And a shady view on Back Street.
And…it looks like Calvin at The Iguana Sanctuary is doing lunch now.  If you haven't been to the Iguana Sanctuary – right in the middle of our busy town – then…you need to get there immediately!  I will be by soon to try lunch.
All the details and a map:  Jungle In Downtown San Pedro: MUST Visit the Iguana Sanctuary – Calvin's Green Iguana Eco-Park
I have some fun stuff going on this week – dinner to enjoy the new menu at Rain Restaurant at Grand Caribe, a few days visiting Cayo Frances where Jeff is SOOO busy and then a few nights at Victoria House (I am BEYOND EXCITED for this stay-cation!)
Have a great week everyone.  I'll be reporting back.  And if you want more frequent (perhaps too-frequent) updates, check on my stories on Instagram.