The Event of the Season: Dazzled by the 2022 LoveFM Lighted Parade in San Pedro
If you are lacking in any Christmas spirit – THIS Is the event to snap you out of it.  Last night, LoveFM and Dibary held the beloved Lighted Holiday Parade thru the streets of San Pedro.  Kids, costumes, more kids, music, flying candy…sooo fun.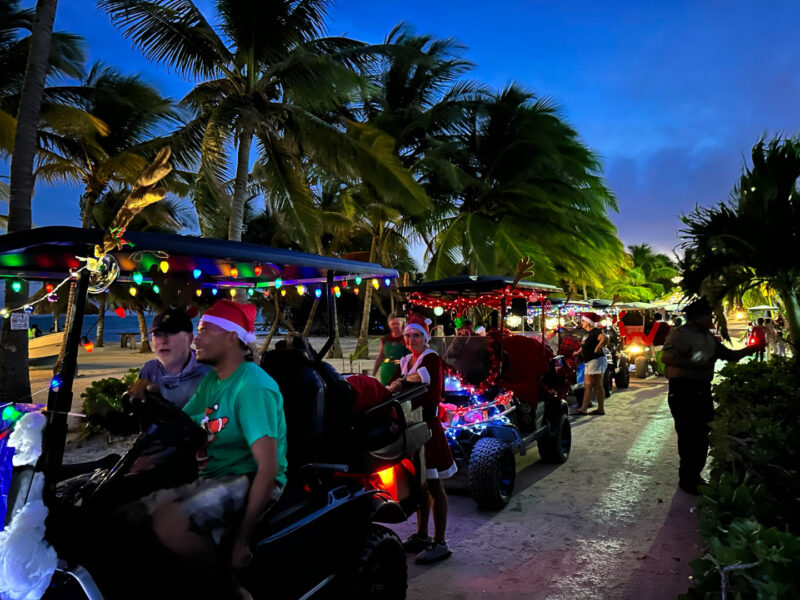 Here are my pics!  I'm going to share them in order…me getting there way early (must remember it starts 45 mins late each year!), the line-up and then the actual parade.
Headed into town a bit early…and found a parking spot just over the bridge…so I could make a clean get away after the parade started.
If you get caught behind the parade?  It could be a very long evening.
Each group had a meeting spot.  The RC Church had a lovely manger ready to go…
There were so many dancers and drum corps…all in great costumes.
A quick look over at Wayo's Bar – a lovely evening.
Micky waiting patiently.  (To everyone who wore one of these costumes – THANK YOU!  The kids went nuts for all the characters and remember…it was in the high 70s last night.  It had to be SWELTERING in these things!)
Throwing and catching candy is a big part of the fun.
The police cadets getting ready.  CLAP RIGHT SIDE!  One two… CLAP LEFT SIDE!
My friend Raf and his Rotary Club crew.
And to prove the bravery of the kids of Belize.  AHHHHHH!
Characters warming up…
Baby Shark (I had to ask) and Lil Watermelon?
Dazzling display by My Lights Store.
THE PARADE IS STARTING!!!!  Run to front and…go!
I got a lolly and a message…
I feel you!  Too much excitement for this cute…
SO brave!
Kids running into characters arms..or stumbling…coerced by their parents…. 🙂
Not everyone loved the drums…
My friend from the New Horizons School…just a few days ago, we helped delivery gifts to the classrooms there.
The Lions Club.
The amazing crew at RRR – if you don't know about this team — you must read this!
LOVE the red capes.
And then…it was over.  The streets were lined with happy families and teens having a fun night out…what a fantastic event.
I slipped into my golf cart and was home by 730pm.  A Christmas miracle.