Easy Incredible Luxury at Victoria House Resort on Ambergris Caye
My Incredible Two-Night Stay  at Belize's Victoria House Resort
Earlier this month, I spent two dreamy days and nights at Victoria House Resort and Spa on Ambergris Caye, Belize.  And…I was surprised!  I've lived on this very island for over 15 years – and I've always known that Victoria House is one of the best resorts in Belize…but…still, I found myself amazed to find just how fantastic it is.
I LOVED my stay…the restaurant and beautiful beach bar and the sprawling, gorgeous grounds…I had no desire to leave. There are countless beach loungers set in pairs along the seafront; hammocks slung between soaring coconut palms…you could spend all day testing each one.
And though this hotel has over 40 room/villa/casita options – I'm still having a hard time calling it a resort.  There is so much space, acres and acres of gorgeous beach and impeccable gardens…it all feels very much like boutique lodging.  There are so many spots to make your own.
Victoria House Resort and Spa, in fact, is one of the most beautiful resort experiences I've had in all of Belize.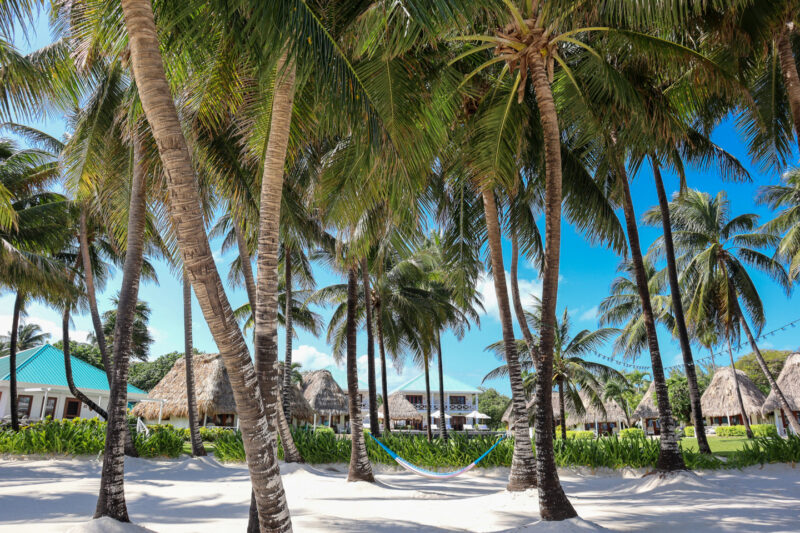 The best!  It's flawless…while also being so warm and welcoming.
Let me try to share my experience with you – because just walking the long beach in front or driving by the entrance on the road – even if you've done it 500 times?  Didn't give me the full picture of this incredible resort.
Victoria House's Location
Victoria House is located just about 2 miles south of San Pedro town – so it's an easy taxi ride or golf cart jaunt into town for lunch, drinks or some afternoon shopping.  And while that is all very much a possibility – I love all that the island has to offer -I was very content staying right on the property.  In fact, after my two nights at Victoria House, I was no ready to leave.  Not even close!
Your Ambergris Caye Check-List:  11 Things You Must Do On Your First Trip to Belize
The property is HUGE.  10 acres with over 600 feet of beachfront and lots of winding paths and gardens, beach seats, and hammocks…this is not a resort with a crowded, loud central pool scene.  This is a resort where you can easily have an area all to yourself.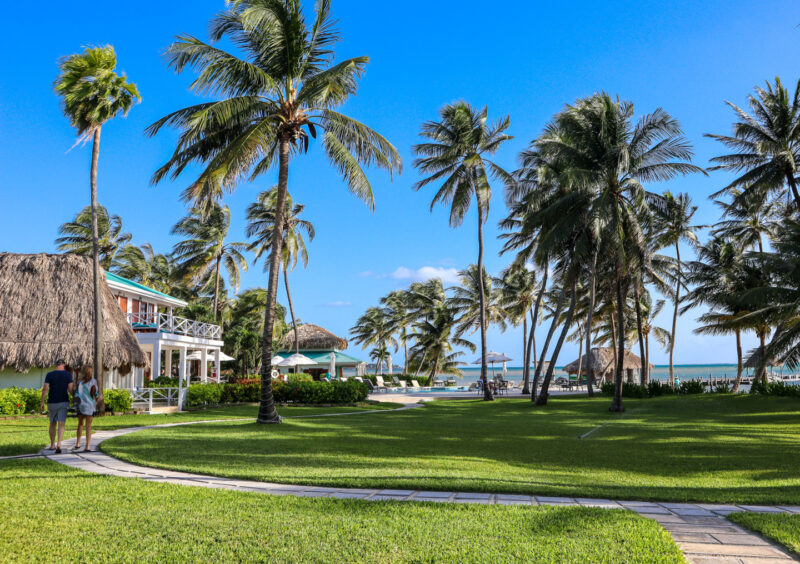 Checking in to Victoria House
I arrived in the early afternoon…
And a lovely staff member showed me the restaurant and the pools on my way to my room.
The view as we walked over to my suite was absolutely beautiful as a dark cloud was passing over.  The sun was out about an hour later – and it gave me enough time to check out my lodgings for the 2 nights.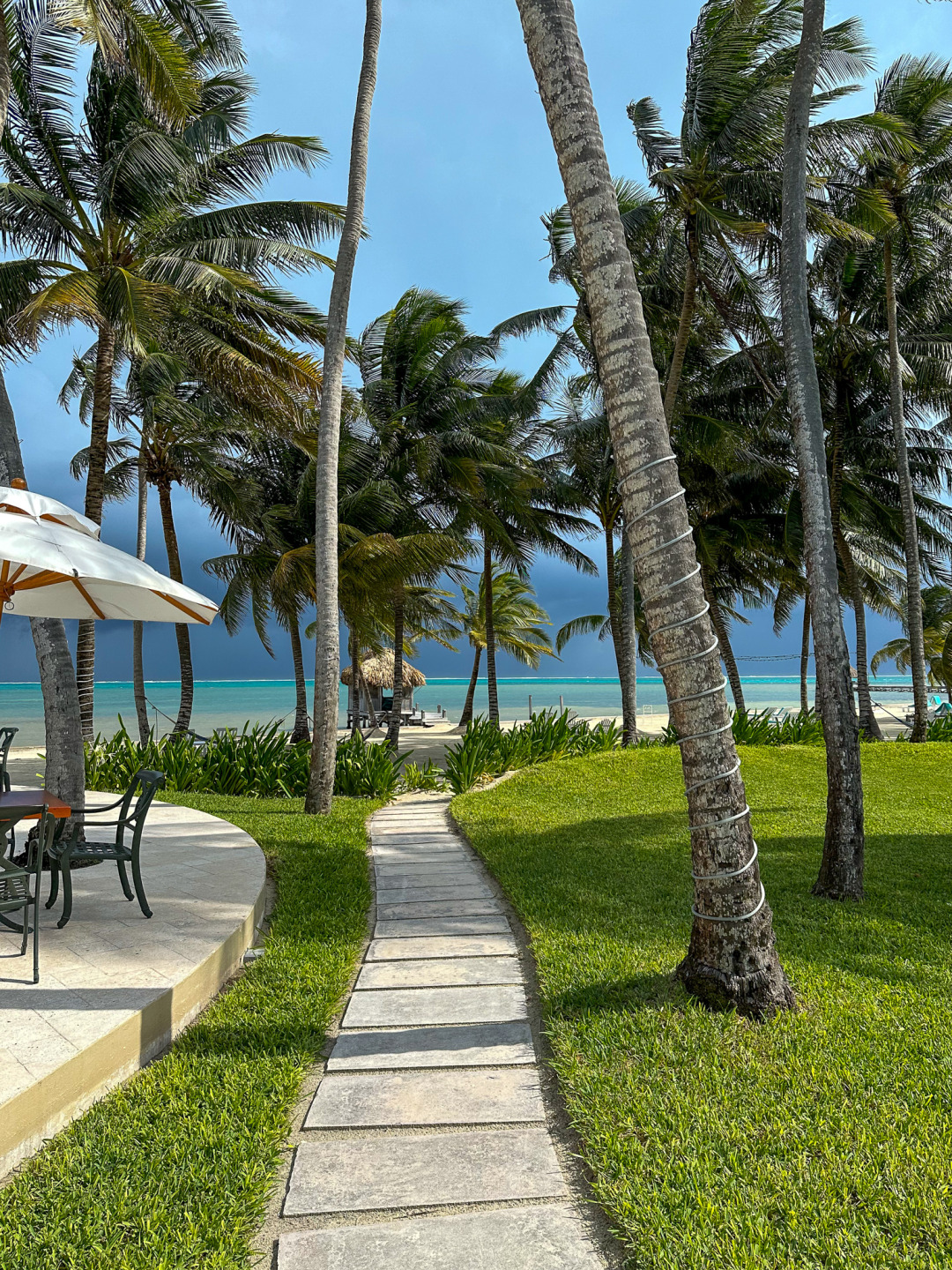 There are two main pools at Victoria House – one by the restaurants and the entrance to the lobby.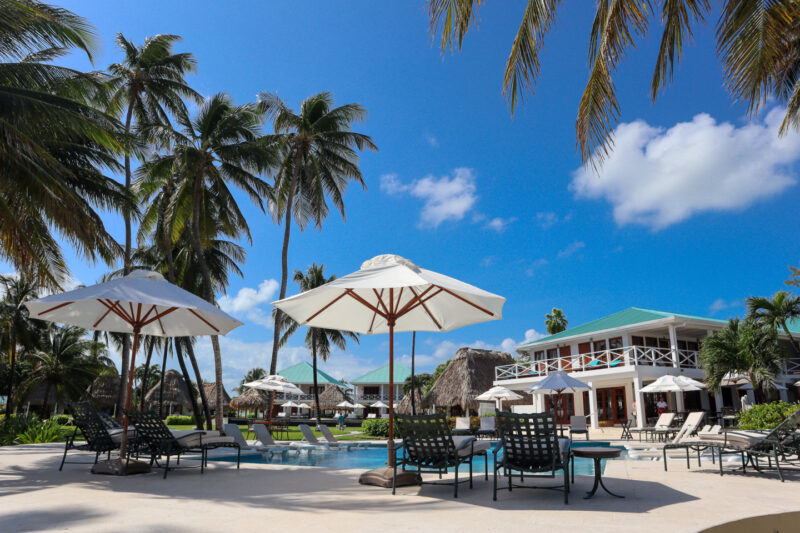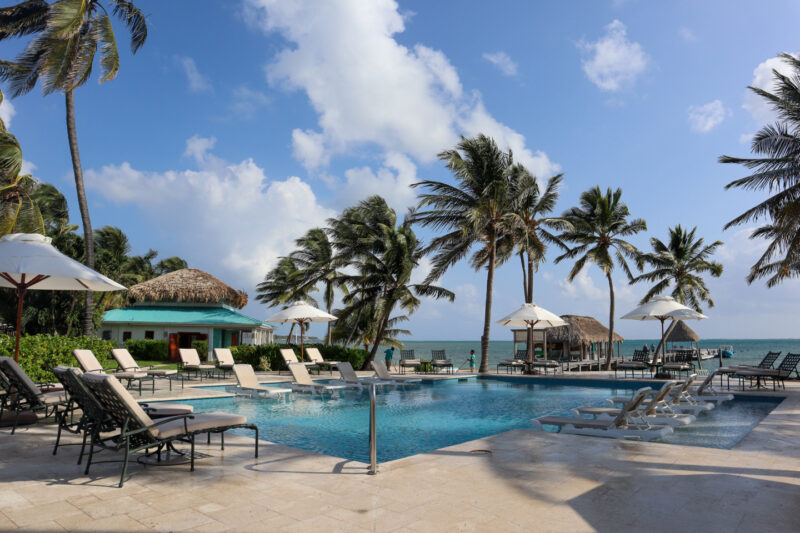 And then this beautiful infinity pool…just outside my villa.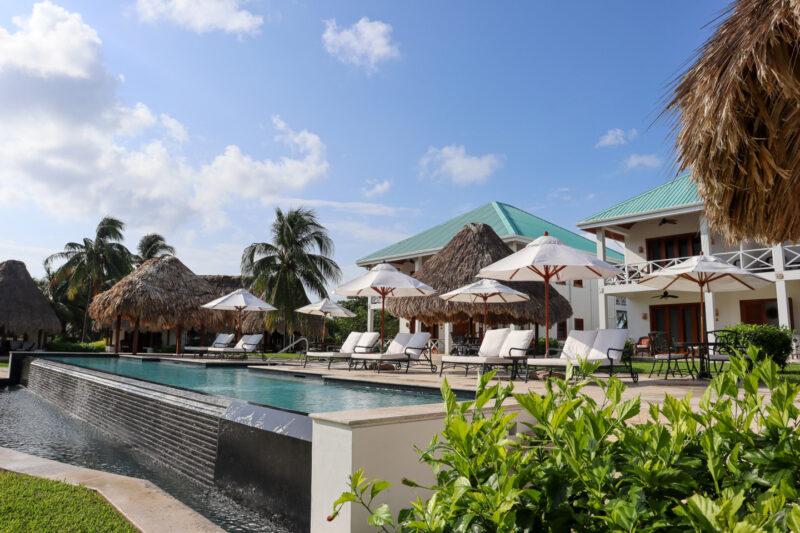 The pool looks even more beautiful at night.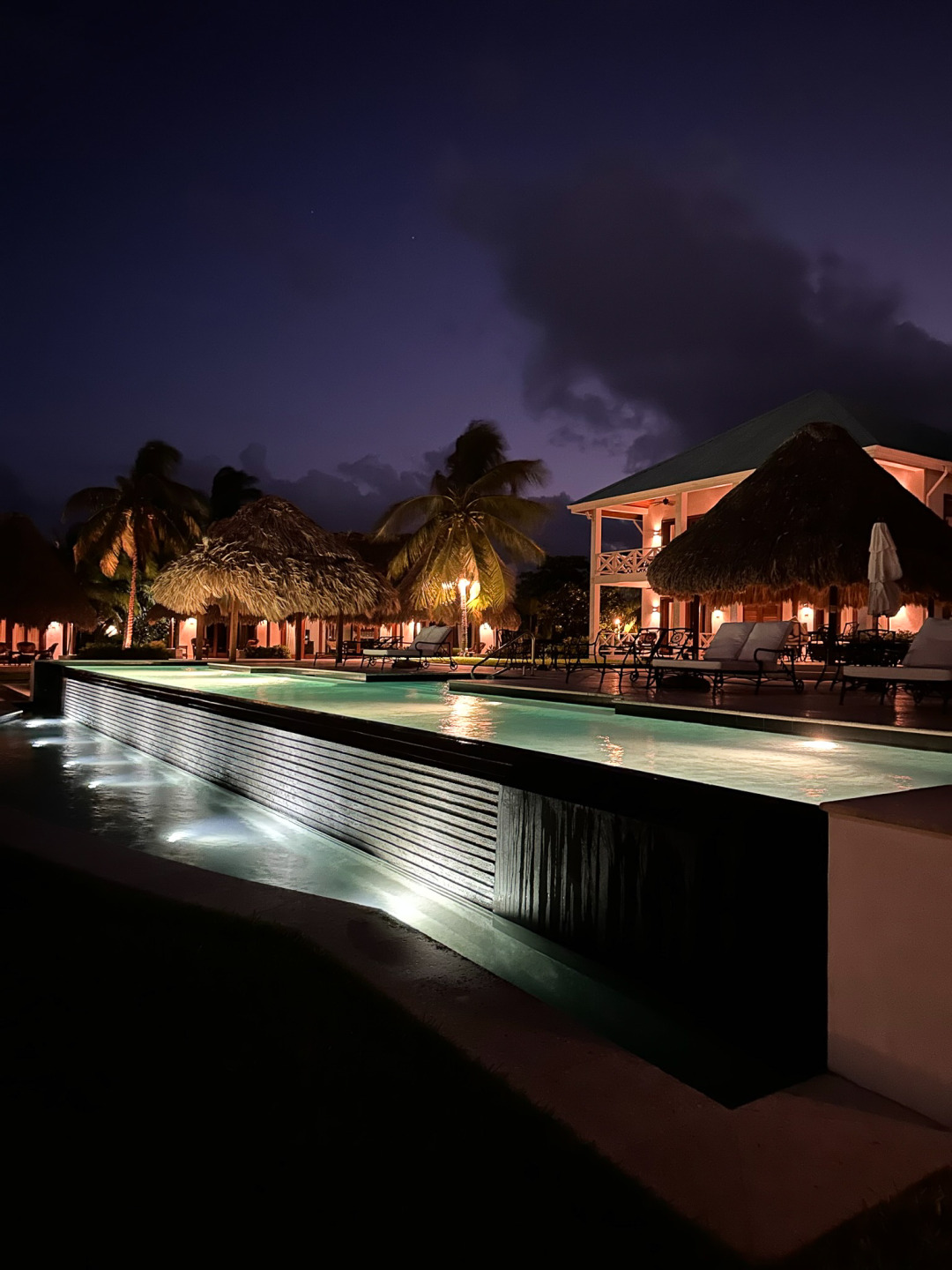 Or day.  It's hard to decide.
Everything about white cushions makes me feel very luxurious.
Along with the Wi-Fi information (it is strong and reaches everywhere on the property) – I was given an App to download – if I wanted.   And a WhatsApp number so I could reach the front desk.
I found both to be really helpful.  The App had all the information about exploring town, about tours to the mainland and tours on the island, the restaurant menus and times were available (I love to decide what I want to eat before I even get to the restaurant…these are important decisions) and more.
I could even order Molten Chocolate Cake with Homemade Vanilla Gelato and Brulee-d bananas with the perfect crunchy shell for delivery to my room.  (Now maybe you can see why I never wanted to leave)
My Lodging
I stayed in a "Master Bedroom" – it is one of the bedrooms in a two-bedroom Luxury Villa when the larger villa is not being used.  Below with the peaked roof.
A king bed with just the most amazing mattress and pillows, a huge bathroom with two sinks, an indoor shower, an outdoor shower/patio and beautiful products that smell so good – like honey and oatmeal.
Thatch roof on the outside and very high ceilings inside.
My room was quietly cleaned each morning – not only did all of the employees know my name but they also knew when I was out and about.  There is also a lovely turn-down service each night.  Another luxury!  It's so nice to return from dinner to a cool, darkened room – the curtains drawn, the shades lowered, and the bed inviting you in.
Though the drawn curtains, along with the insanely comfortable bed and pillows, made it impossible for me to wake for sunrise pictures.  Sorry…I really meant to!
The grounds are beautiful day and night – and I was lucky to have a huge bright moon lighting up the Caribbean Sea and the reef just off shore.
I set my alarm again the next day but alas…same problem.
My Master Bedroom/Luxury Villa is not the only type of accommodation – they have a broad range from staterooms to entire villas.  The staterooms are priced less than I would have imagined and if you are hesitating…this is exactly the type of spot you want to splurge on!
I took a walk down the beach the next morning to check one of the villas out.  I LOVED that there was a beach bag in my room with towels ready to go.  Such a thoughtful touch.  And I adore a beach bag that stands up on its own.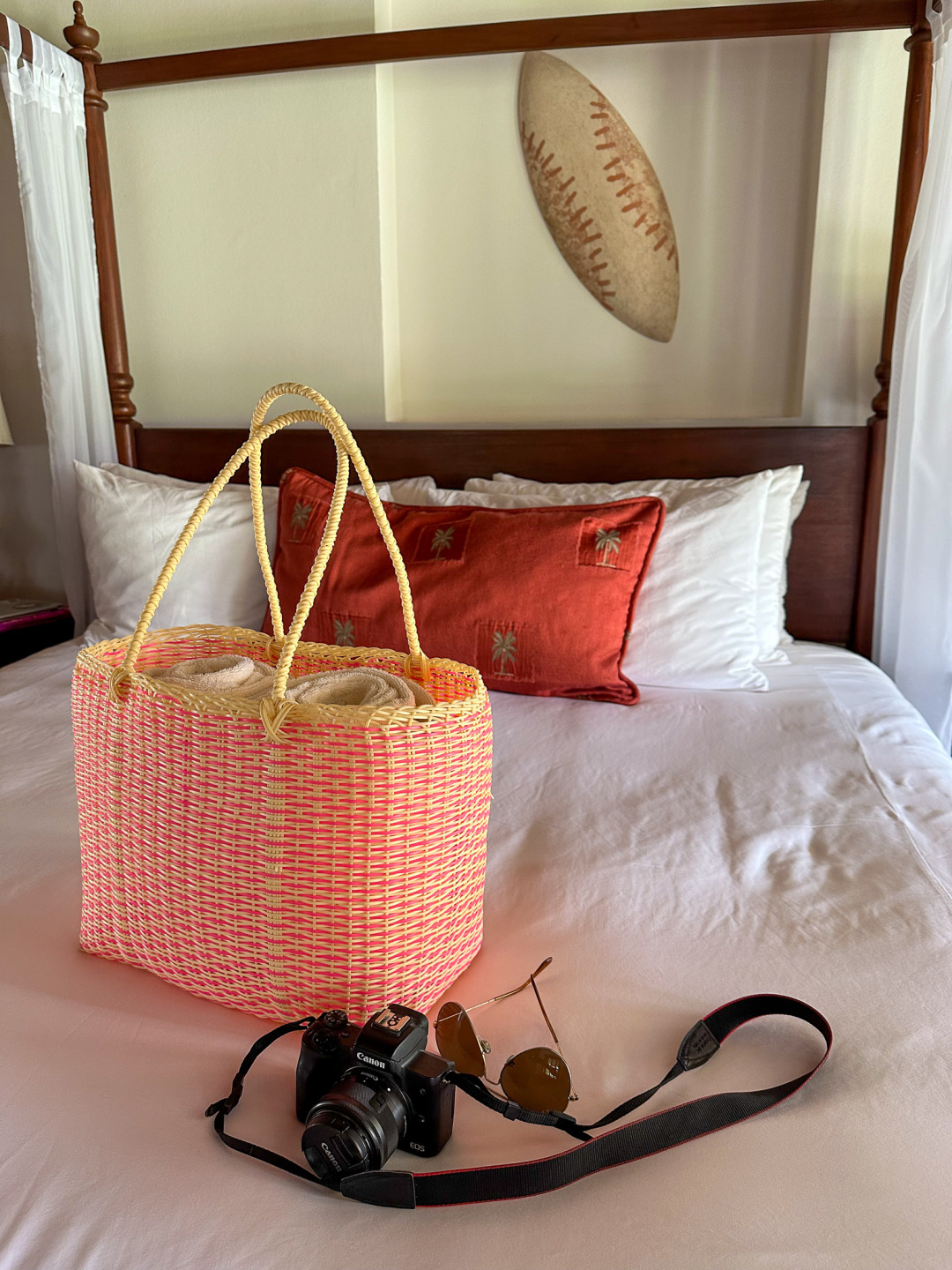 Victoria House has some of the most impressive coconut palms – tall and swaying in the breeze.  They have been taking good care of them since they first opened the much smaller resort in 80s.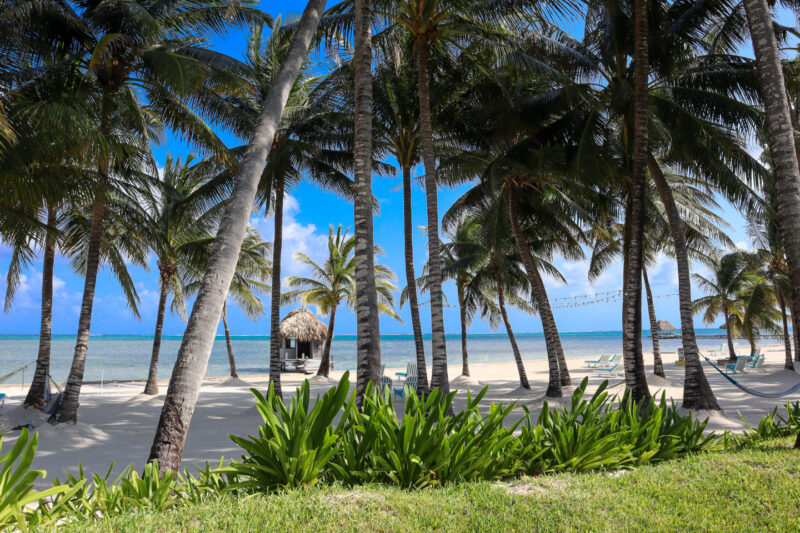 Some of the other accommodations…so pretty and right on the beach
A private pool?  Yes!
The Spa at Victoria House Resort
Victoria House has a very impressive full-service spa for those staying at the resort or those who want to visit.  It's in a beautiful new building.
This 3,500 sq foot space offers so many rooms for treatments…and a gorgeous outside shower and courtyard area.
The entry hall and front desk.
And my massage room.
I had such a good 60-minute massage I practically melted.
A bit woozy and feeling and smelling so good in my thick spa full-length robe and slippers…I lingered with some herbal tea after my treatment to prolong the magic.
Dining at Victoria House
There are two spots where you can dine at Victoria House – the Palmilla Restaurant with the beautiful cool inside the area and the outside patio – and the Admiral Nelson's Beach Bar.  Actually, you can make that three – you can also dine anywhere on the property…or in your suite if you choose.
Each morning I went out to the Palmilla Restaurant, where coffee service was set up inside.
And then returned for breakfast – my favorite meal of the day.  The Victoria House breakfast menu is pretty epic.  Sweet (like chocolate-swirled challah French toast) and savory (avocado toast or lobster eggs benedict) – the menu makes it almost impossible to narrow your choice down to one.
I went with a homemade Brioche breakfast sandwich one morning…and a really great eggs benedict the next day.  And will be returning with Jeff soon to try a few others.
A cheeky little black catbird or is it a melodious blackbird? was dancing on my table for a taste.  And was denied.  I love breakfast!
You can also eat out by the pool…
Or in the lovely Admiral Nelson Beach Bar.  It has a beautiful wrap-around porch right on the beach and inside seating…I enjoyed a late lunch at the bar, chatting with Cesar, the bartender, and watching the World Cup.
It's a great place for lunch or dinner – or for some afternoon cocktails chatting with the staff or playing cards and trying some of the bar snacks.
Who is Victoria House Resort Right For?
I stayed at Victoria House solo and I LOVED it.  The staff is lovely – and so attentive.  Many of the folks I chatted with have been with the resort for years and were very proud to share information about the resort and the island.
I always have questions for everyone – from the poor groundskeepers, who I pepper with questions about the perfectly maintained plants and flowers, to the wait staff and spa employees.  So many of them have worked for the resort for years and years – and were truly proud to be there.
With the spa and the lovely staff, what felt like my own personal pool…it was a fantastic getaway for one.
This would be an incredible place for your honeymoon or just a romantic getaway.  You could hang out at the resort for a day or two and then go out flyfishing or diving at the world's second-longest barrier reef or snorkeling.  You can explore the island and it's just a quick trip into town.
As you may know, I have lots of suggestions for things to do on the island!  My book 50 BIG Experiences on Ambergris Caye.
One night, the staff set up this lovely over-the-water cabana for a romantic dinner under the just about full moon.
I swoon just thinking about a wedding at Victoria House.  (They even list an "Elopement Package" on their website.  Smart!)
I did spot a few families during my stay –  two couples vacationing together with their kids and what looked like three generations…teens to grandparents.  The resort is roomy enough – there is enough space at the beach and by the pools and on the property – so that it never feels cramped or like you are overlapping someone else's vacation.
Most mornings, I felt like I had the spot to myself!
I will leave it there…and for all of you that I've run into over the last few weeks, I apologize….I've been gushing about my stay at Victoria House Resort. Too much?    I was honestly caught off-guard by the experience!
I had no idea about the incredible spa, the perfection of my suite, the huge and lovely, attentive staff, no clue about how massive the property is, and how much privacy you can find there.  The food is fantastic…I loved my stay.
It's the kind of vacation spot where you are planning your return after only a day or two there.  I was not surprised to hear from my amazing waiter at breakfast that the resort has couples that return here each year for their anniversaries – one couple has been coming for over 30 years.
Forget the paper (1st) or wood (5th) anniversary – and think BELIZE Anniversary.  For all of them!
For more information about Victoria House Resort, you can see their website.  But better yet…book a stay.  I promise you'll love it.