My Complete Guide To Secret Beach on Ambergris Caye: 2023 Update
My Scoop on Ambergris Caye's Most Popular Spot:  Secret Beach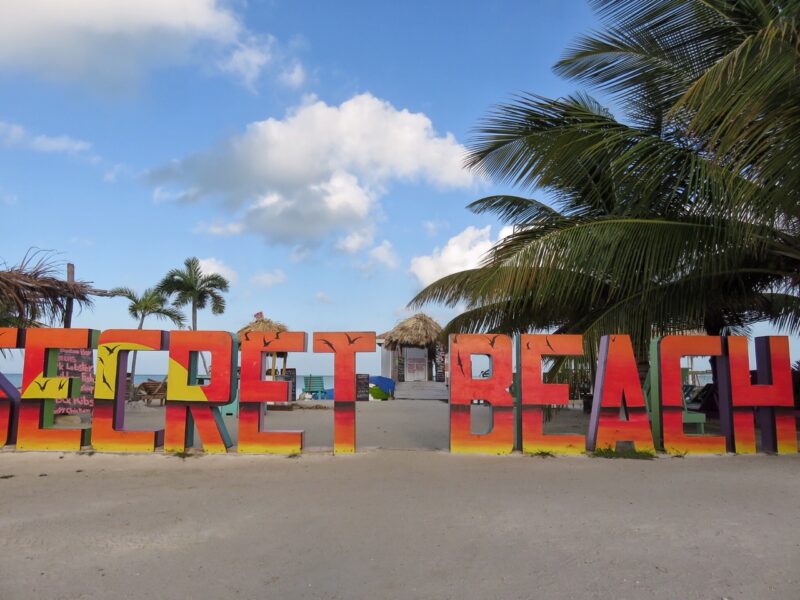 As soon as you touch down on Ambergris Caye, you are going to hear the suggestions from your bartender, the taxi driver, the golf cart rental guy and your front desk:  You MUST go to Secret Beach.  EVERYONE tells you that you HAVE to go.
It's definitely on my 12 Things You MUST DO on your First Trip to Ambergris Caye
How you might wonder, can it be a secret if everyone is talking about it?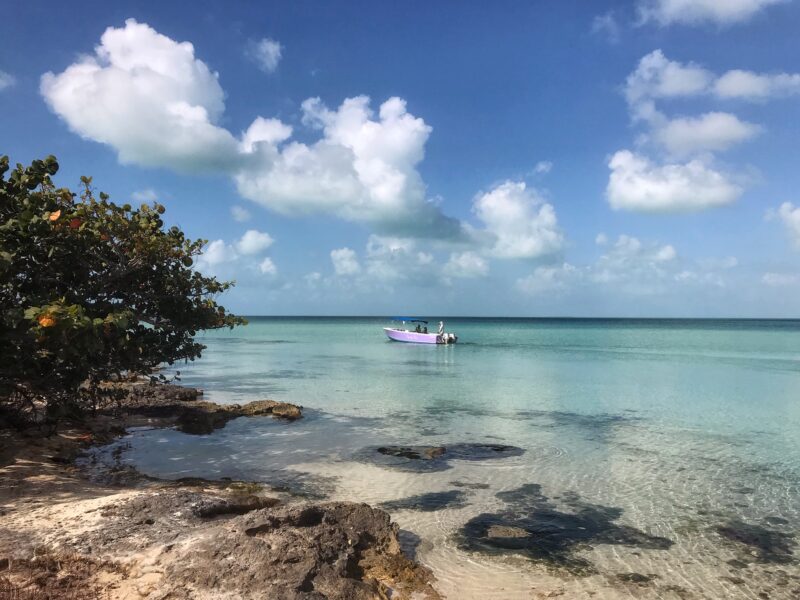 Answer:  It's NOT.  In fact, it is the most tourist-visited area of Ambergris Caye right now and perhaps in all of Belize.  (Though it is also very popular with the local crowd too – especially on weekends.)
It's said with a "wink" for sure but THAT DOES NOT MEAN YOU SHOULD TAKE IT OFF YOUR TO-DO LIST.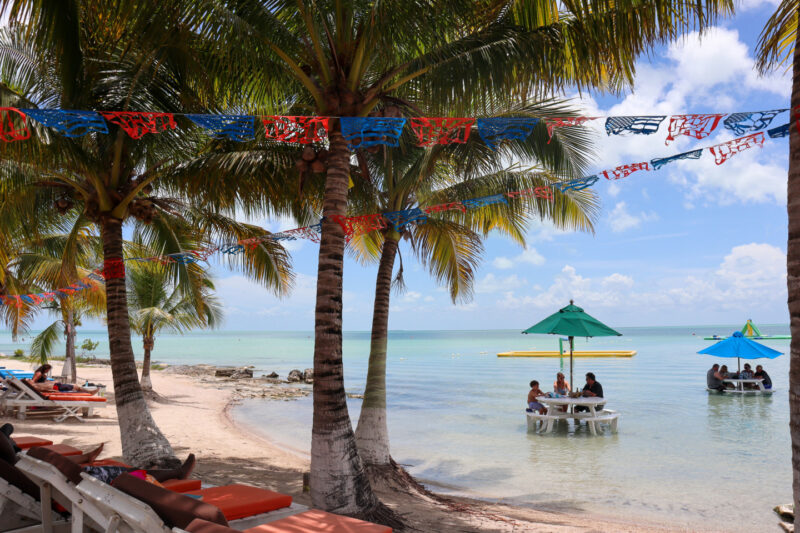 In fact, many who visit Ambergris Caye list Secret Beach as one of their favorite places on their trip.  My family – visiting a few years back, with 6 kids in tow, went almost every day.  (You can check out my Fun Things To Do on Ambergris Caye with Kids that WON'T Break the Bank)
It's also in my book:  50 BIG Experiences on Ambergris Caye
In its native state, the west coast of Ambergris Caye is one of the most stunningly beautiful natural areas in Belize – heartachingly gorgeous.  But quick development often comes with growing pains.  Electricity and public water do not come all the way out here and sometimes, things can seem cluttered, crowded and disorganized.
Make sure to see Your Guide to Ambergris Caye
My top tip for Secret Beach is:  Don't rush to settle into any one spot.  Take 15 minutes to drive around a bit and find the location right for you.
And let me give you some tips…hopefully, give you all the information I think you need to know to enjoy Secret Beach.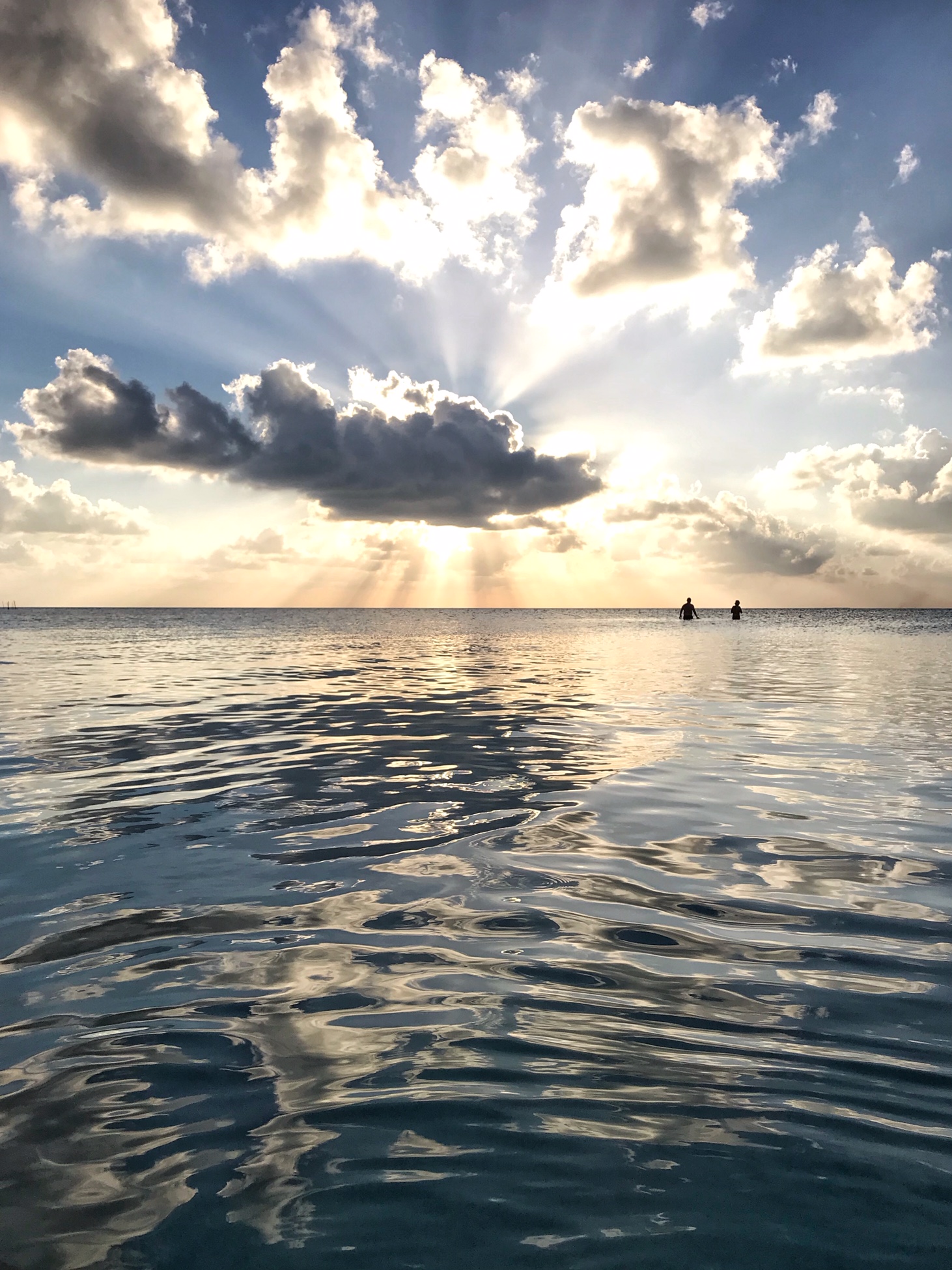 A Brief History of Secret Beach
Until very recently, almost ALL development on Ambergris Caye was on the reef side.  The coral reef – the fishing, the diving and snorkeling and the trade winds –  the things that first brought residents to the island and the very first tourists 50 years ago – are primarily on the eastern side of the island.
But less than 10 years ago, a developer filled a LONG road across one of the large shallow mangrove lagoons that forms the center of the caye.  About 2 or 3 miles long, the road stretched from one side of the island to the other – and allowed, for the first time, access to the west side (or the leeward side) of Ambergris Caye for the first time.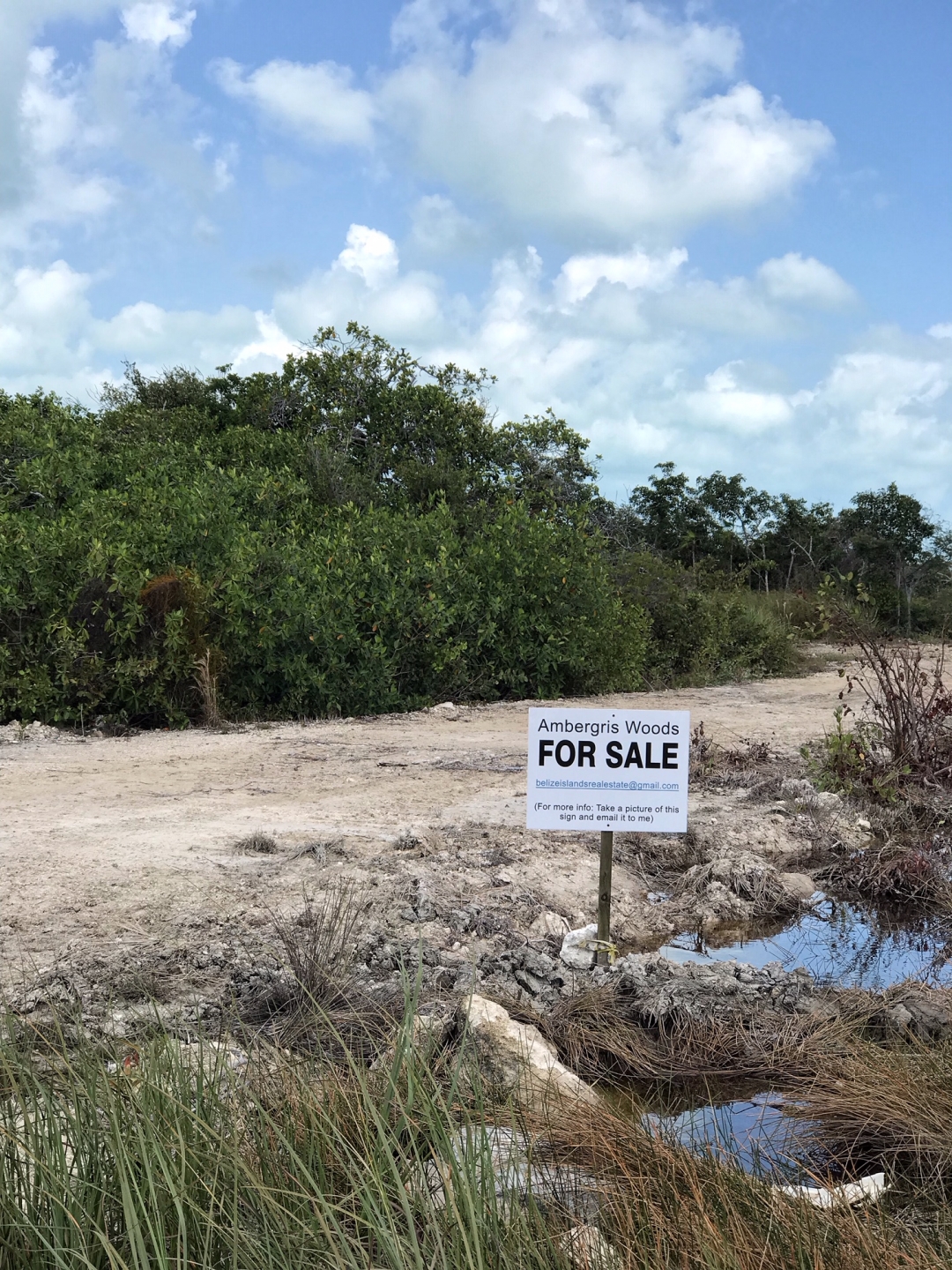 The lagoon and moon rock-like landscape was cut up into hundreds..perhaps thousands…of cheap saleable lots – many of which are still for sale today.
There is no reef on the west side but there are crystal clear waters with stunning craggy limestone shores and sandy bottoms.  The water is still and relatively shallow.  You have to walk a good way out to get above your waist in some areas.  Stunning.
Swimming and floating perfection.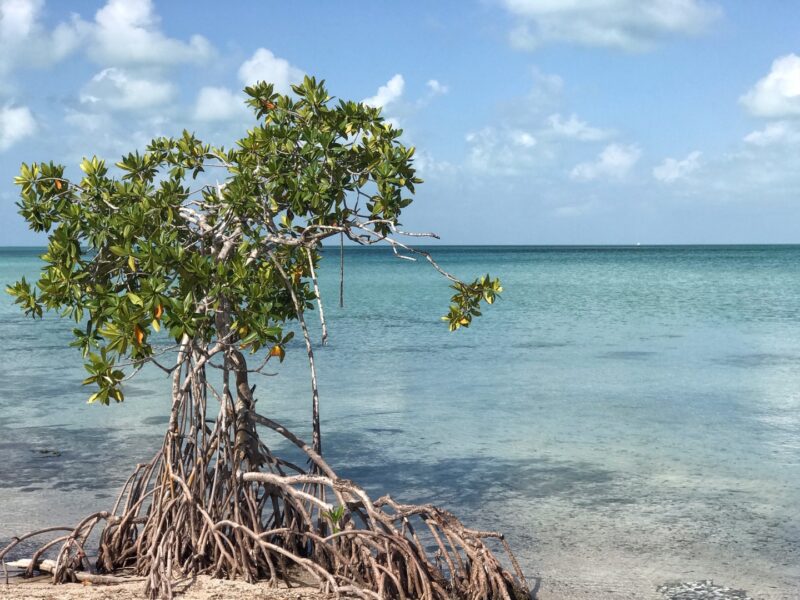 So when the road was completed, locals loved to drive across on weekends – it was a BIG trek – and just soak in the water.  There was a dock…and not much else.  If you went out there on a Monday, you would most likely be alone.
And it was glorious.  And since it is on the west side of the island, it's even MORE stunning at sunset.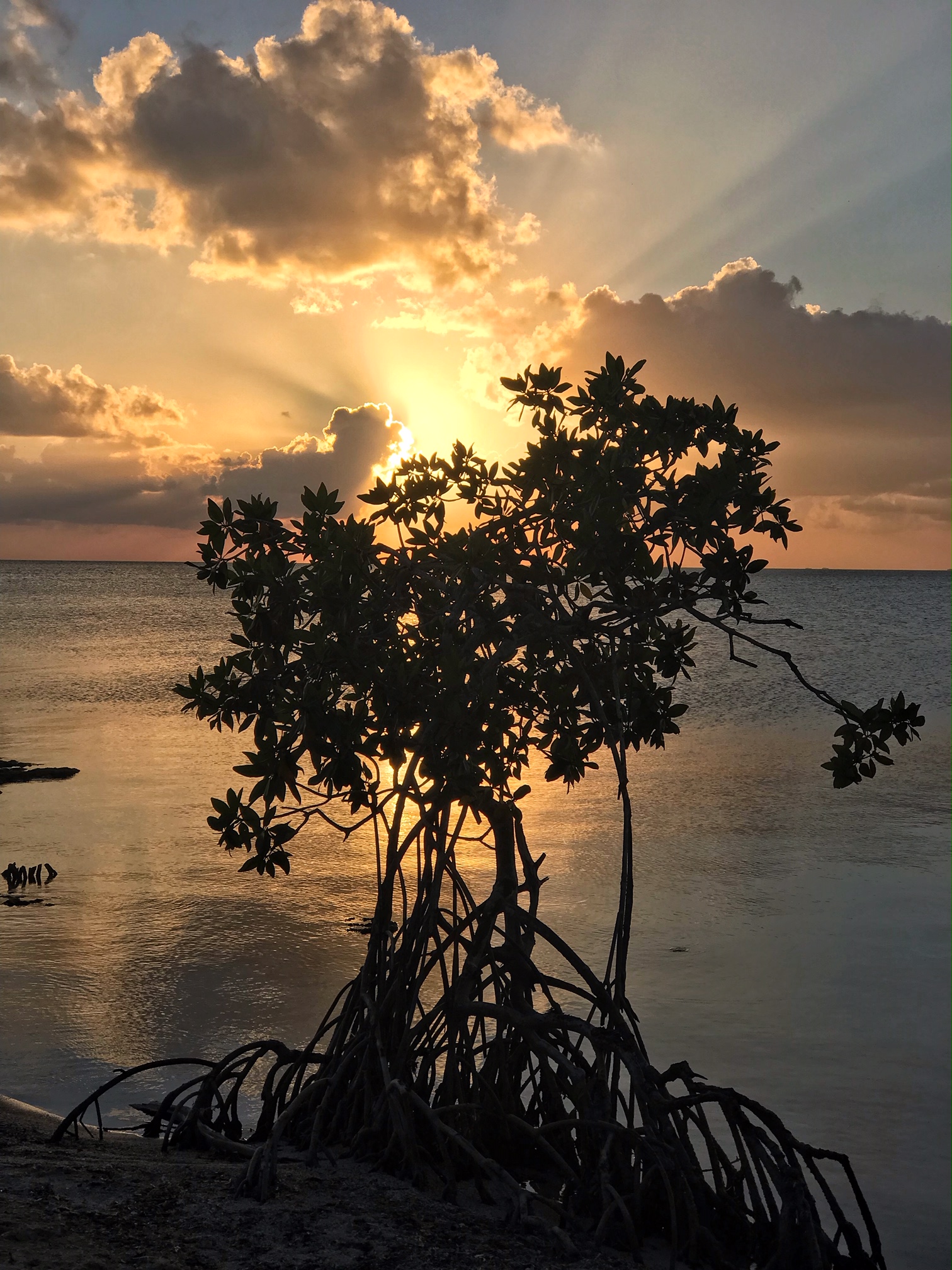 How To Get To Secret Beach, Ambergris Caye
Most hotels, roads, the town, the airstrip, and most development are on the reef side of Ambergris Caye – the east side.  Odds are you are staying on the reef side.
Secret Beach is on the west side of the island – the opposite side of Ambergris Caye.
To get there from San Pedro town, you will need a golf cart!  It's at least a 40 minute ride from the San Pedro town center. You can see the map below – the big orange arrow points toward Secret Beach.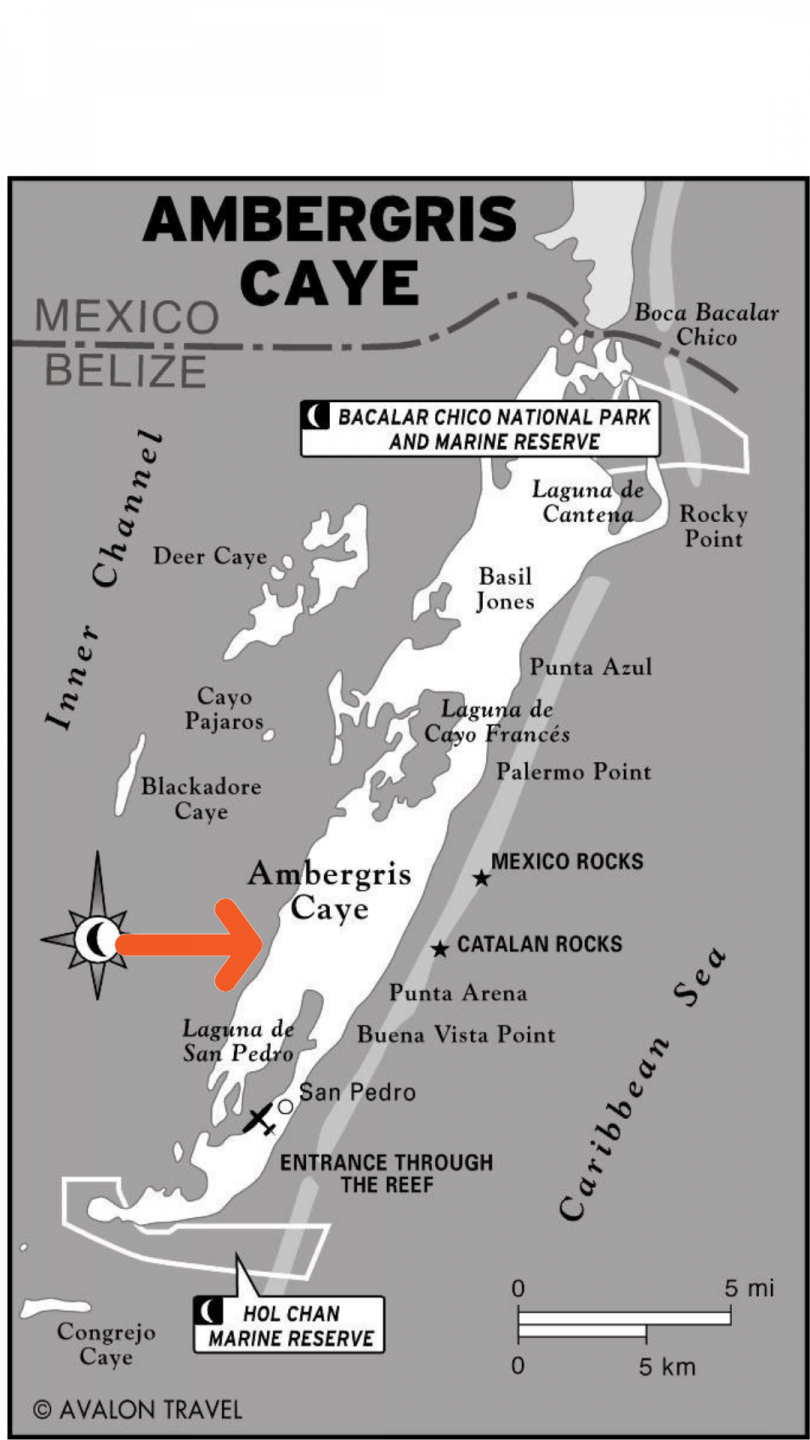 At approximately 4.5 miles north Ambergris Caye (4.5 miles north of San Pedro town), you will take the big left turn.  This turn – you'll see all the signs –  is called "the Secret Beach Junction".
Which is not a bad name for a bar…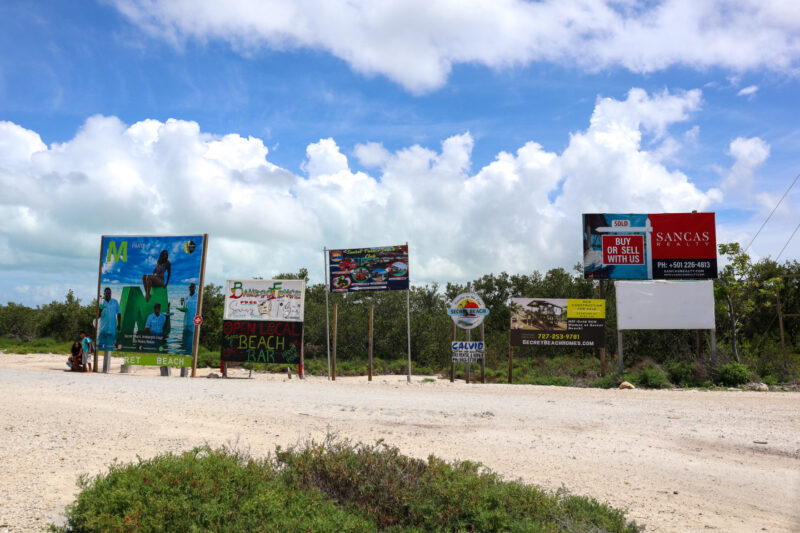 Follow the unpaved road (as of January 2023, this road is in fairly good shape – not too bumpy) and your trip from the Junction to Secret Beach should only take about 15-20 minutes with your golf cart.
As you go, check out the mangroves, the vast lagoon system, birds, and the occasional crocodile on the sides of the road.  Turn when you see all of the signs pointing you in the Secret Beach direction.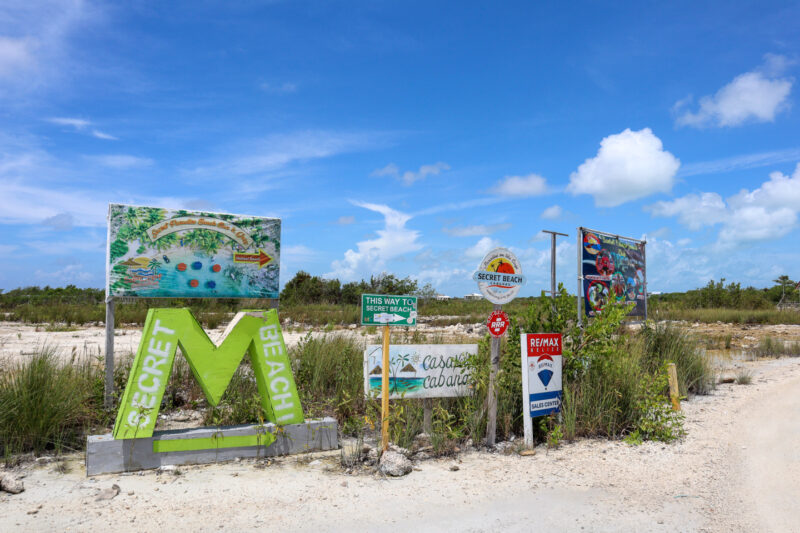 …until you see the water and the bars.
There are now a smattering of private homes and businesses as you get closer to the water.
Do you Need a Golf Cart to Go to Secret Beach?
You can ride a bicycle but it is a long dusty road in some very strong sun.  I'd suggest going by golf cart for your first trip out there and maybe gauge how you feel about it for the next time.  Bring lots of water and lots of sunblock!
What To Do At Secret Beach
While about 8 or 9 years ago (take a look at Secret Beach in 2014), you had to bring your own water, beers, and food, there are now about 10 bars and restaurants, all serving food, and even more stands and salespeople selling all sorts of things from souvenirs to services like hair braiding.
The primary thing to do at Secret Beach is to settle down at a beach bar/beach club and while away the day.  Swim, drink, eat, apply sunscreen, repeat.
Bars and Restaurants – All Different Vibes
When you reach Secret Beach, you'll see the big SECRET BEACH letter sign right in front of you.  You can turn to the right for some of larger beach bars and the water park or you can turn left to go a bit more off-the-beaten-path.
Head's up:  There are going to be guys trying to lure you into particular spots with rum punch coupons and promises of brightly colored free shots.  All fun stuff…but don't feel the pressure!  Pick the spot that's right for you.
Here's a look at some of the bigger bars at Secret Beach.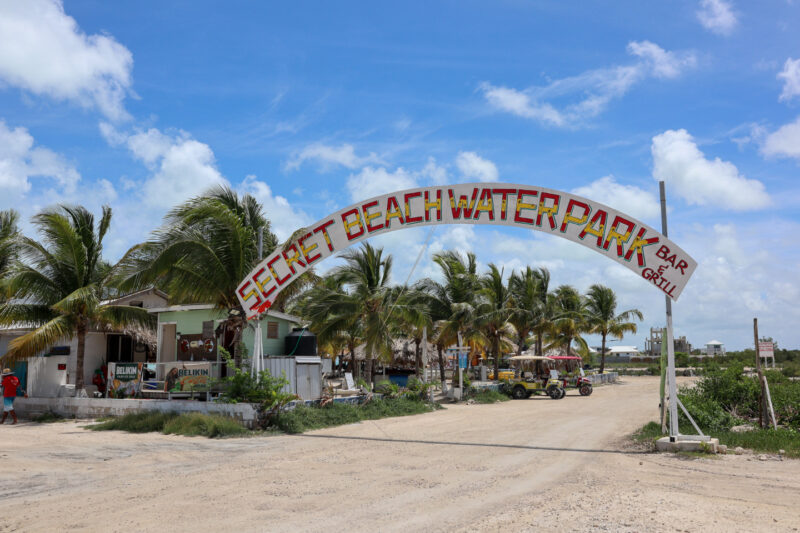 Park your cart and head to the beach – just in front of this road.  You'll find the following bars.
This spot is HOPPING!  Lots of chairs, lots of tubes and chairs and very Instagram ready tables in the water.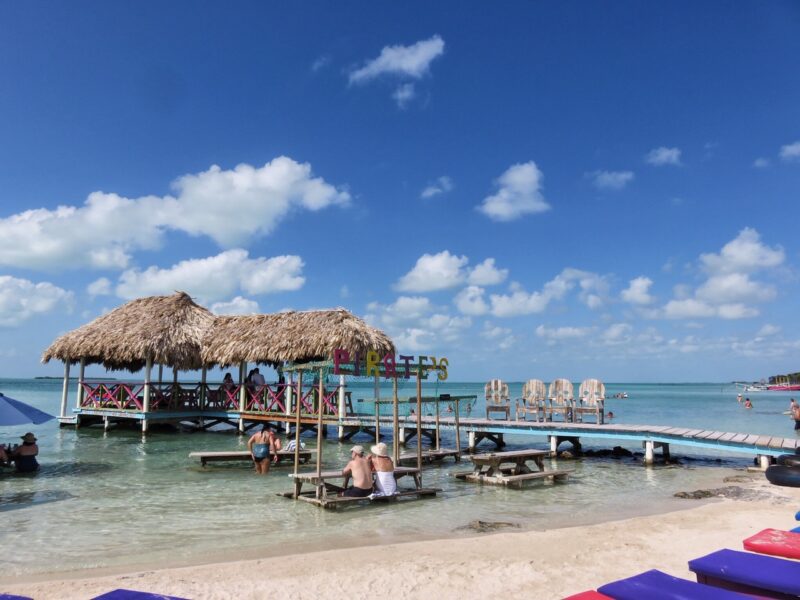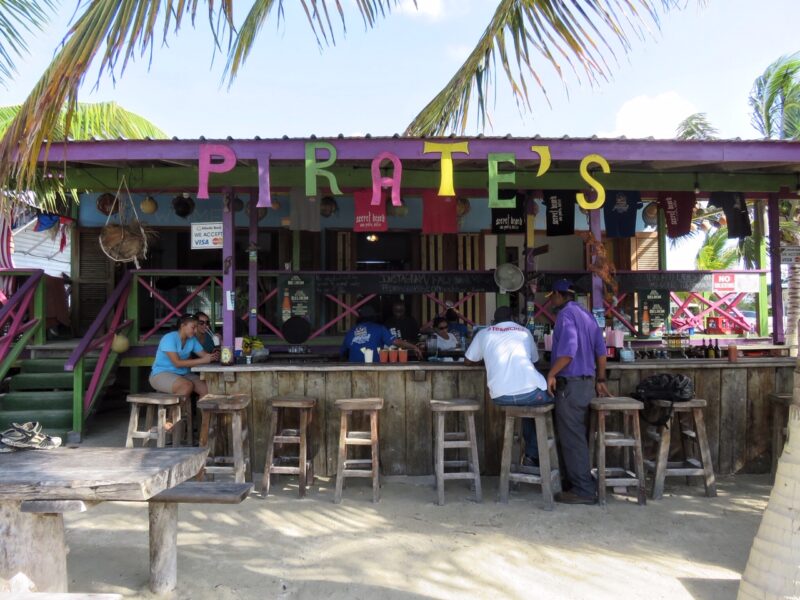 This beach bar is large and going for a bit of an upscale vibe.  There are LOTS of chairs, loud music and lots of people.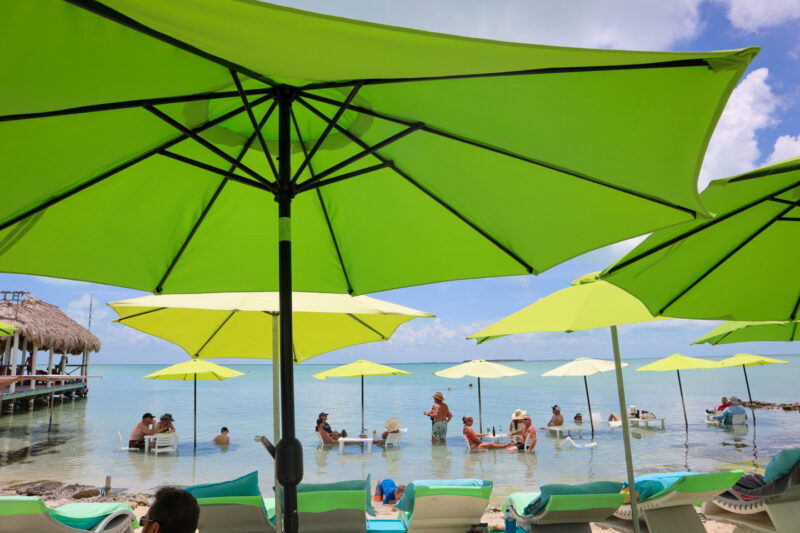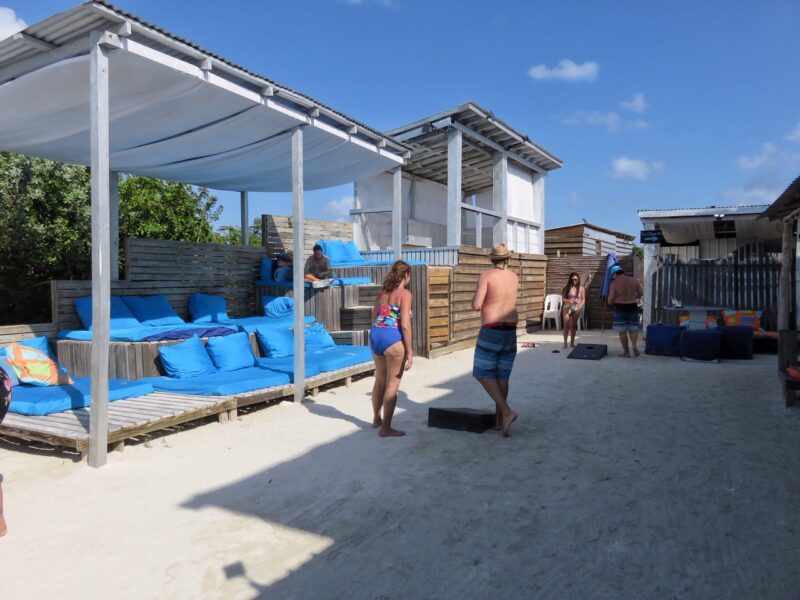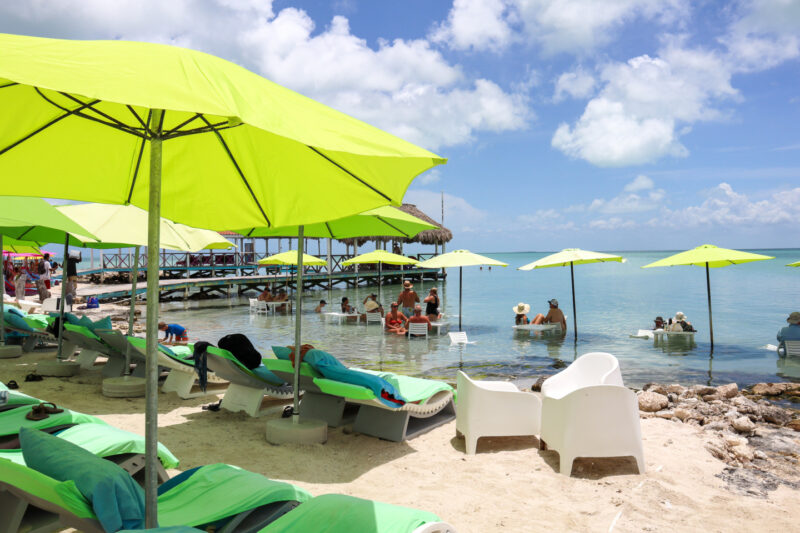 These guys have a good-sized property. Secret Paradise has tables in the water, a volleyball net, games and an attractive bar…a real island feel.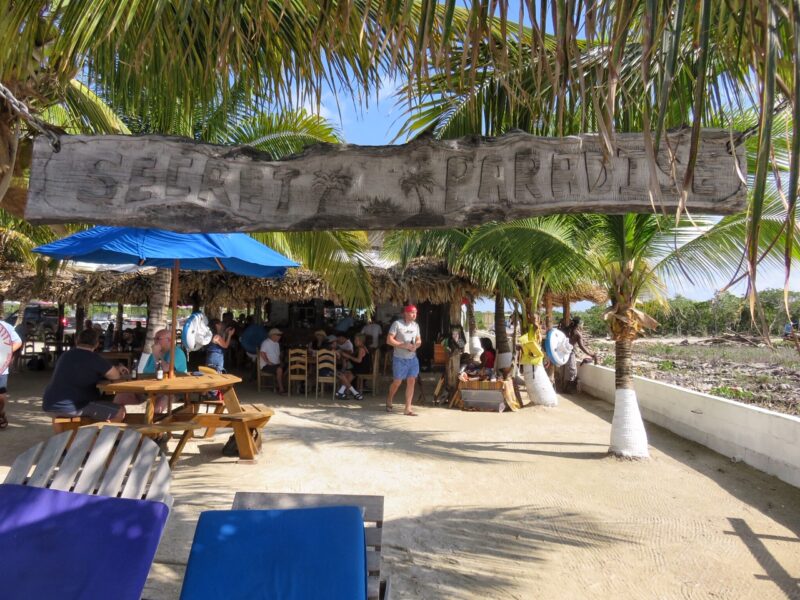 They got lots of beach loungers along the shore line and tables in the water.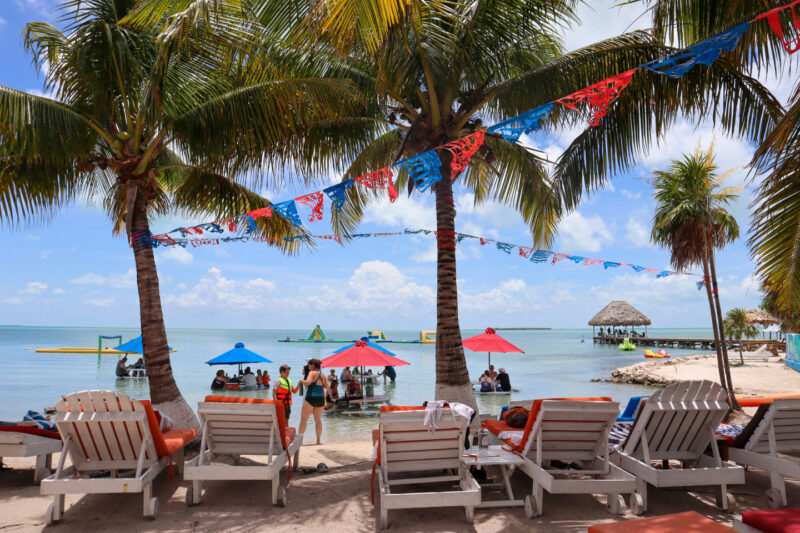 They are also right next door to the water park…which I will get to in a bit.
If you turn LEFT when you reach the SECRET BEACH SIGN, you will run into some of these bars.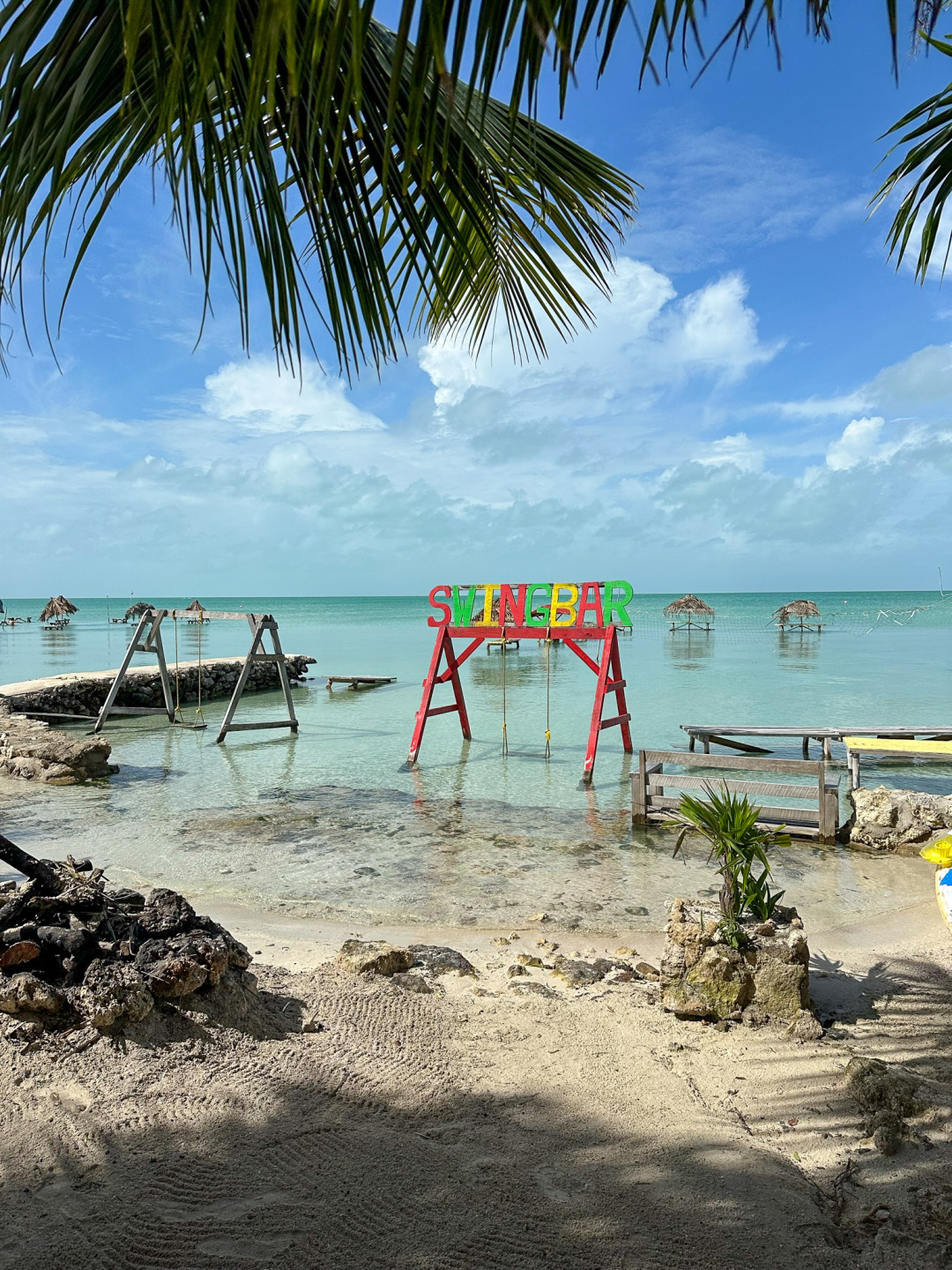 One of my favorites is locally-owned Swing Bar.  It's a bit of a hodgepodge of things…but it's got real character…a funky and fun feel.  And I love the hammocks over the water…very Belize.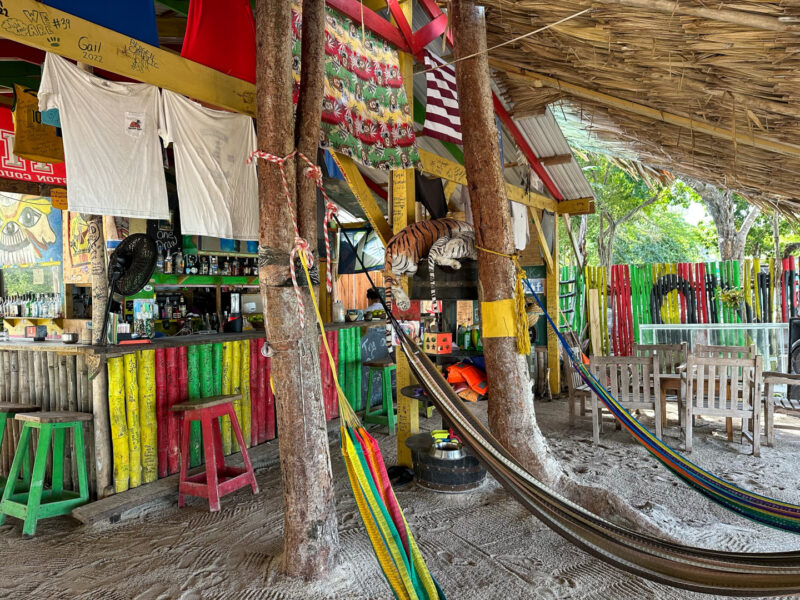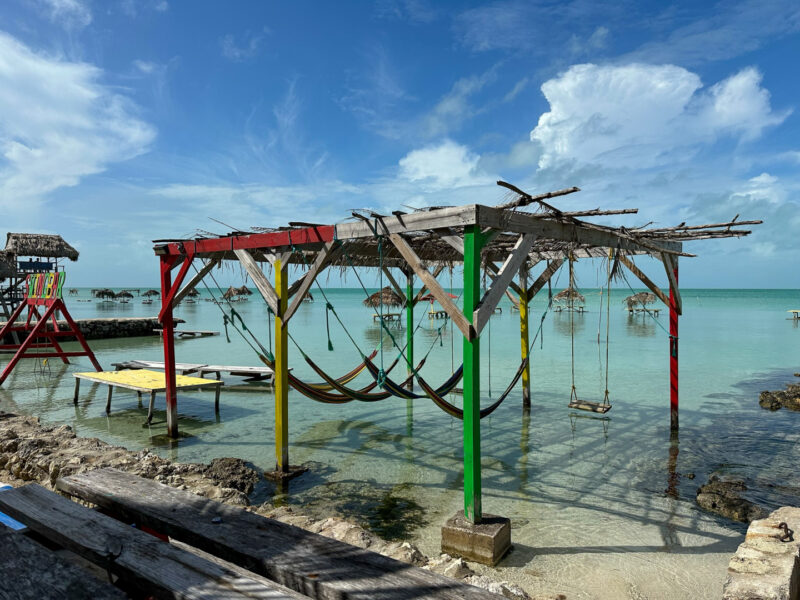 They also do a bonfire each evening…or so I've been told.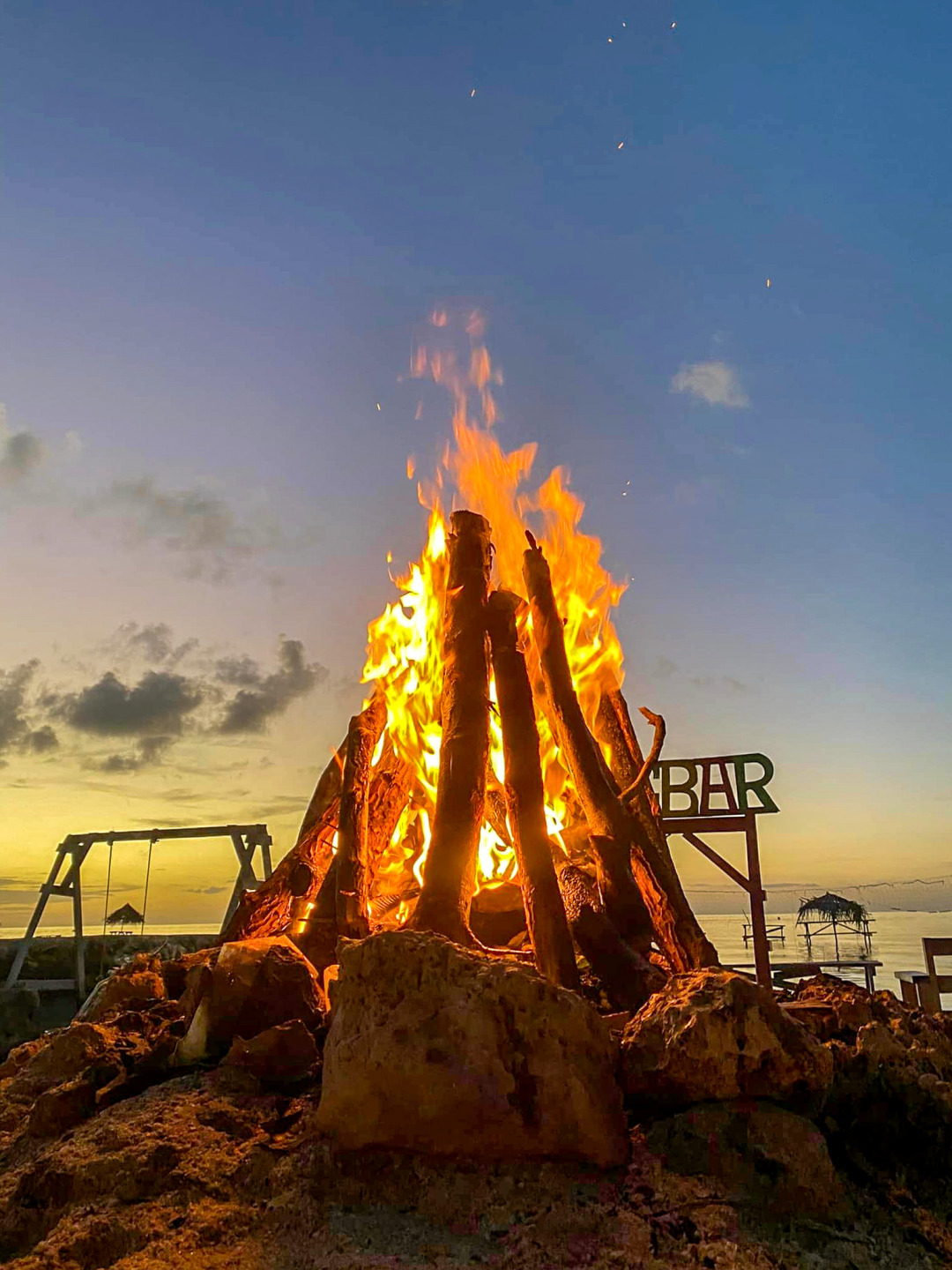 Blue Bayou is a popular spot.  For the food, the over-the-water bar and for the seating in the water.
This original palapa (below) has grown and there are more tables in the water.  They have one of the most diverse menus in the Secret Beach area.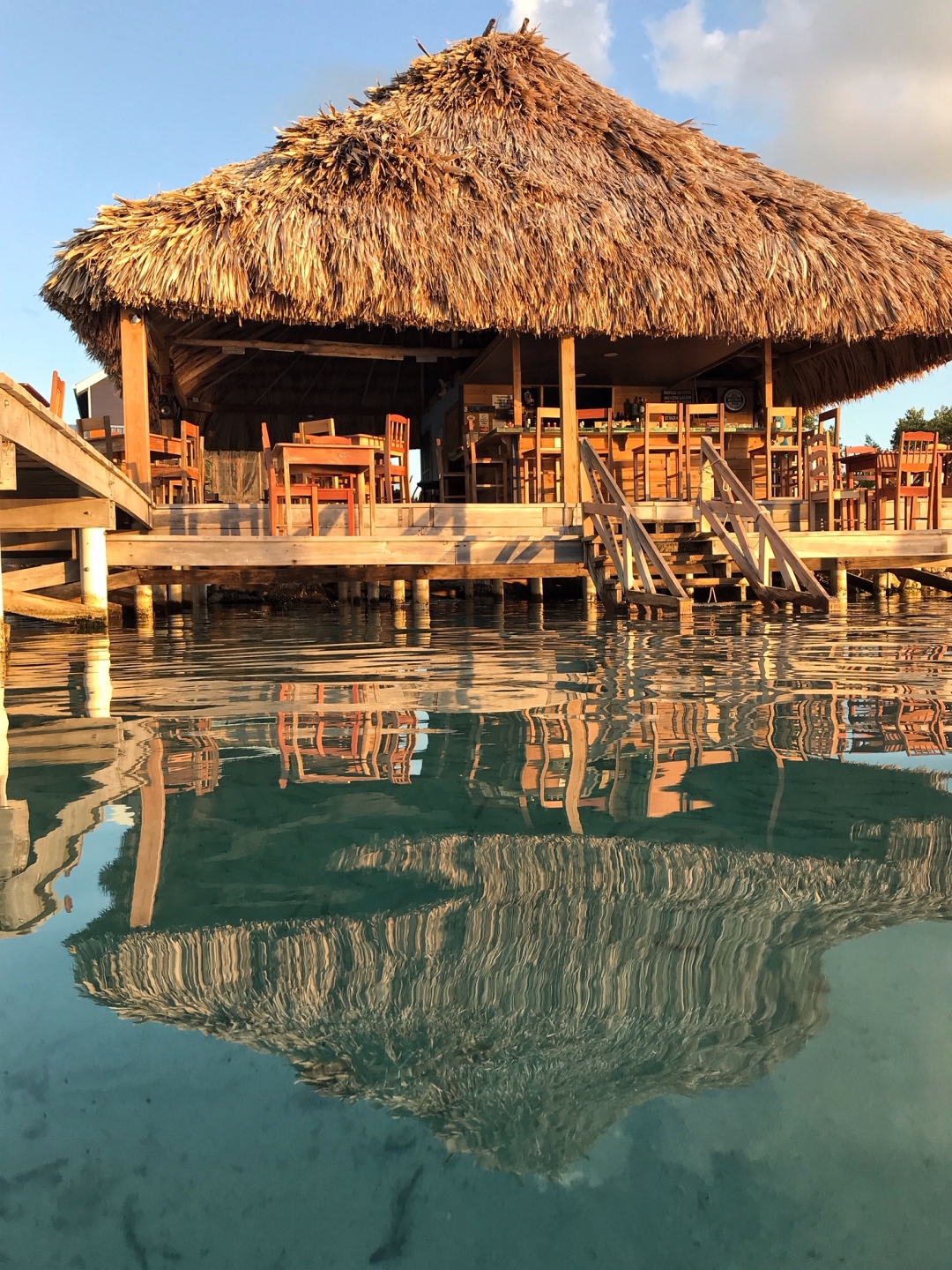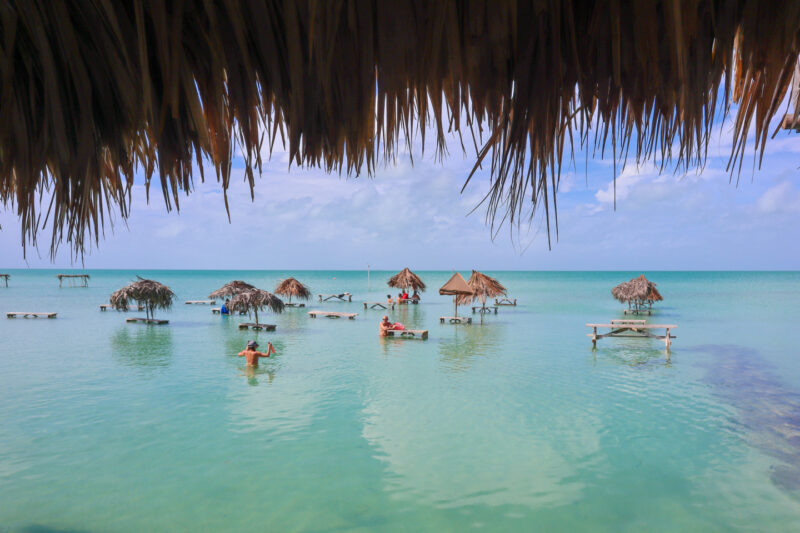 The nibbly little fish that gather around.

Sunset Palace Beach Club is the "end-of-the-line" when you are headed south – at least for now.  The road stops here.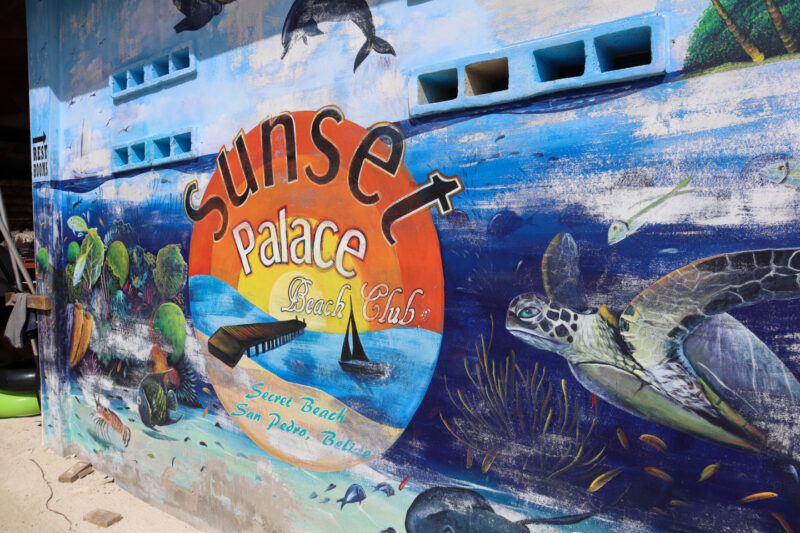 It's also a large property with lots of waterfront and plenty of space.  If you are looking for less loud music, and less of a crowd…this is your spot.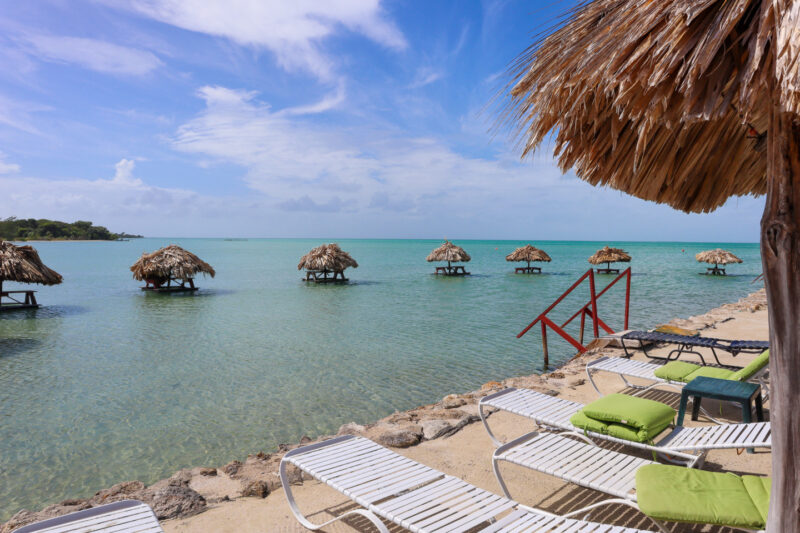 They have a bit of…everything.  Not all of it is being used, but you can see there were quite grand plans when the spot was being built a few years ago.  There is an above-ground pool (you can use), a large clay pizza oven (not being used), pool tables, and a massive wrap-around bar.
There is a long dock…and some great spots to enter the water.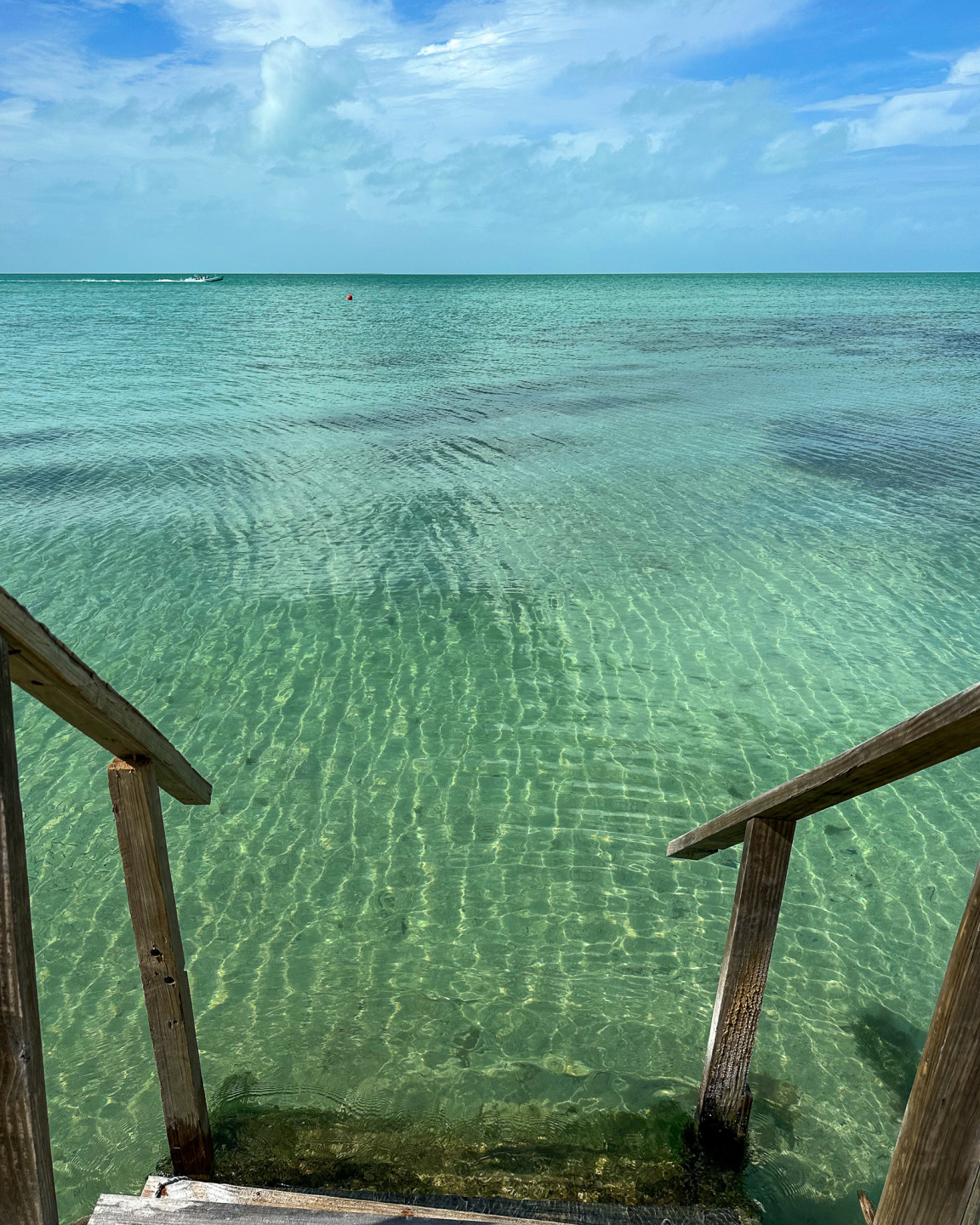 You can use paddleboards and the other things they have.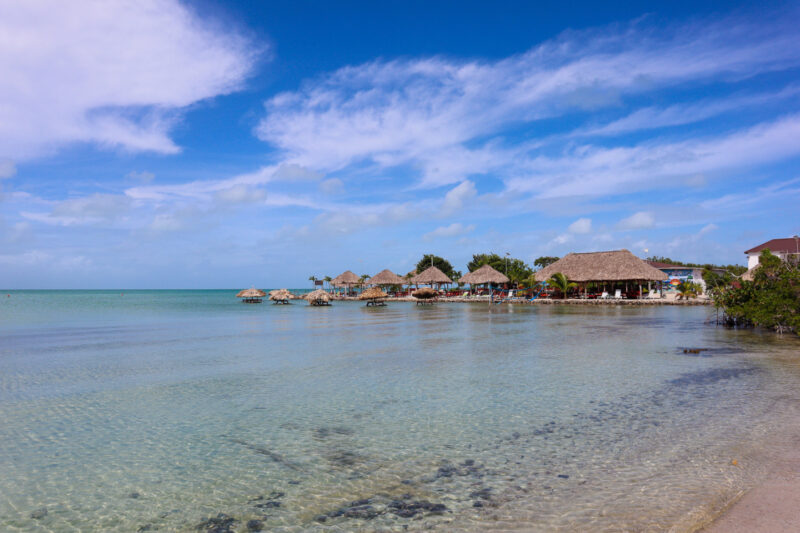 What I really like about Sunset Palace is the SPACE!  You can sit in loungers in the shade or in the sun, you can sit far away from the music or close to it, you can dine in the water or at a table.  Space and options!
Water and Adventure Activities
It's not just bars and food that brought you over to Secret Beach…it's the WATER.  It's gorgeous, perfect for kids, no more than 3 or 4 feet deep and generally around 80 degrees in temperature.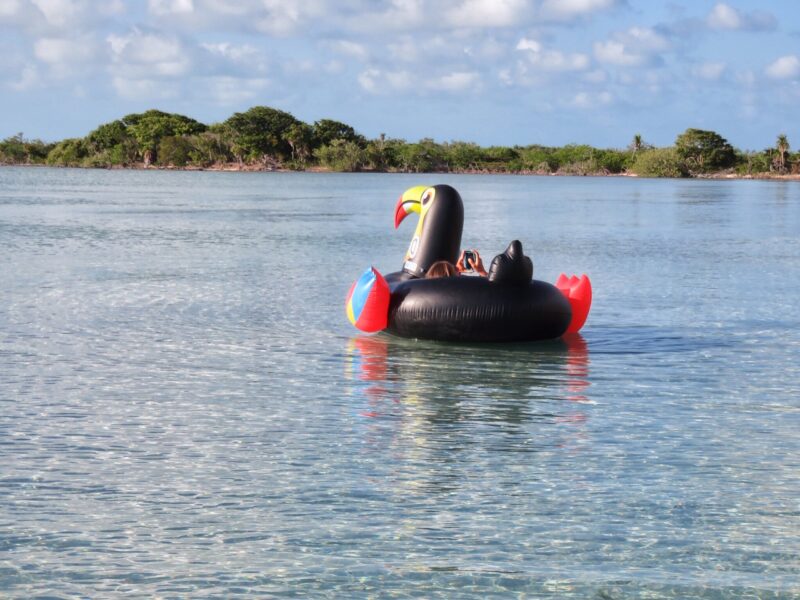 It's fun to bring a blow-up raft or ring (bring in your luggage) to Secret Beach…you can tie it to the top of your golf cart for the trip out there.  Don't bring anything expensive – or that will take forever to blow up – you are most likely going to be donating this toy to someone in Belize rather than packing it for the trip home.
Secret Beach Waterpark
Another update since my last post is a very cool, very kid-ready blow up water park and accompanying bar and restaurant called Secret Beach Waterpark Bar & Grill.
Look for the waterpark – you can see it everywhere…and the HUGE palapa as you cruise up the north side of Secret Beach.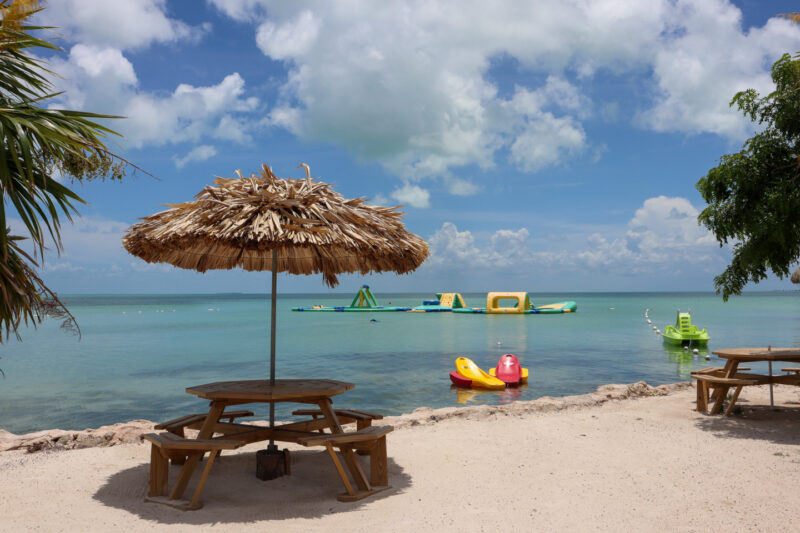 And then this sign.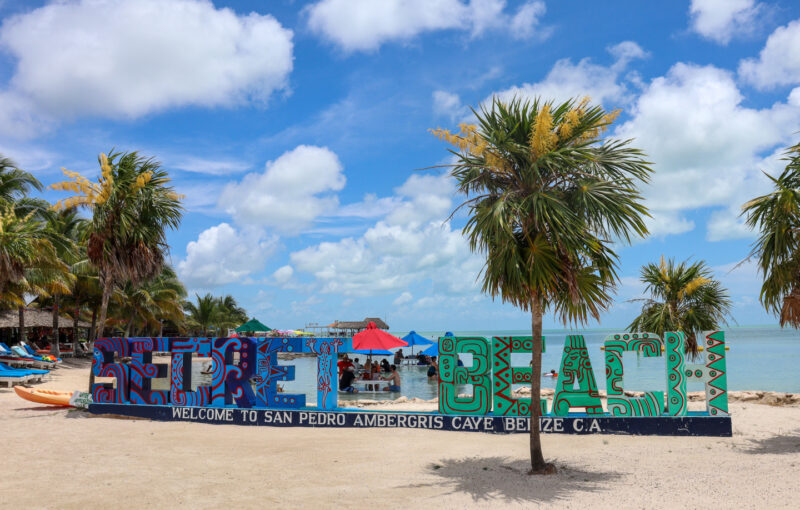 There are life guards and safety/life vests.  Prices are $10US an hour to go crazy along the course.  There are plenty of lounge chairs for parents who don't want to participate – to relax and enjoy the view.
I snagged this picture from their Facebook page because it has grown in the last few months.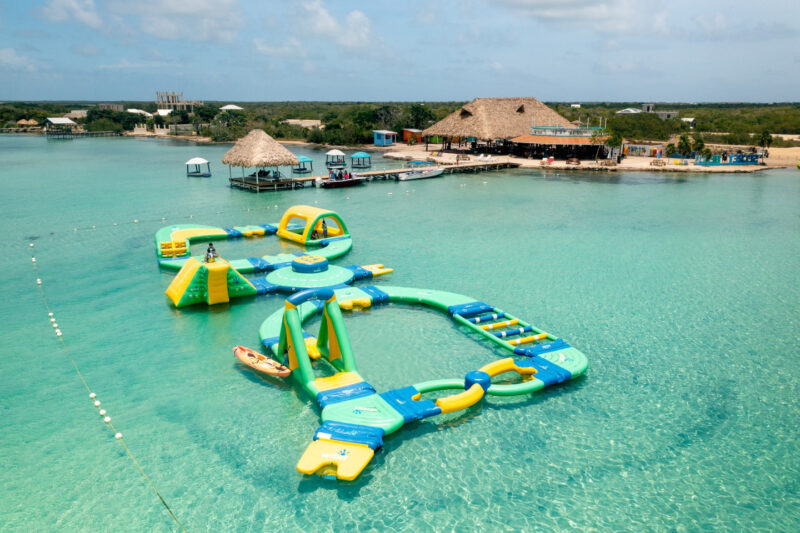 They also rent floating day beds, water pedal bikes and other rafts by the hour.
There Still Are A Few Secrets at Secret Beach
Walk North or South of the "Bar Scene" 
Beachfront and docks are public in Belize.  Private property (like beach chairs or tables) are not but you are free to walk along the coast both north and south.  It's spectacular.  To the north, you will find 3 or 4 new docks that have been built.  For seclusion?  They are perfect for lounging.
Just be sure to take your trash with you when you leave.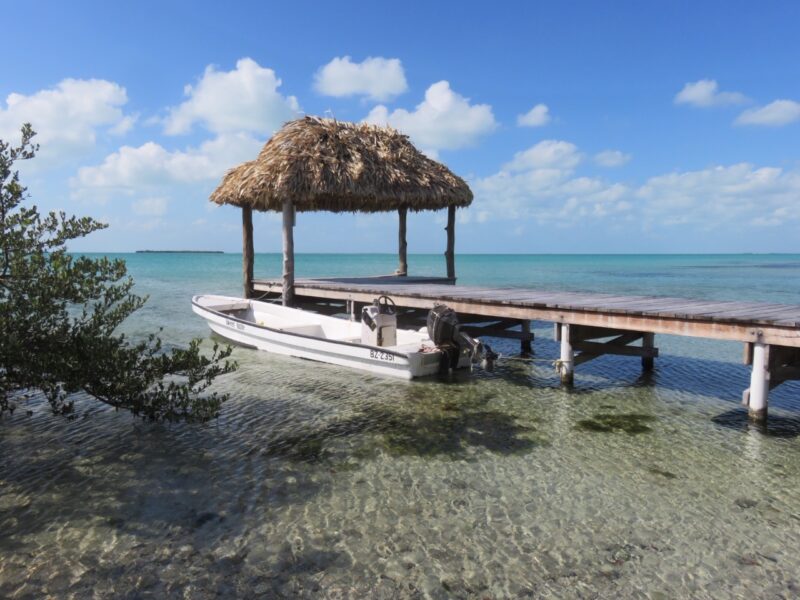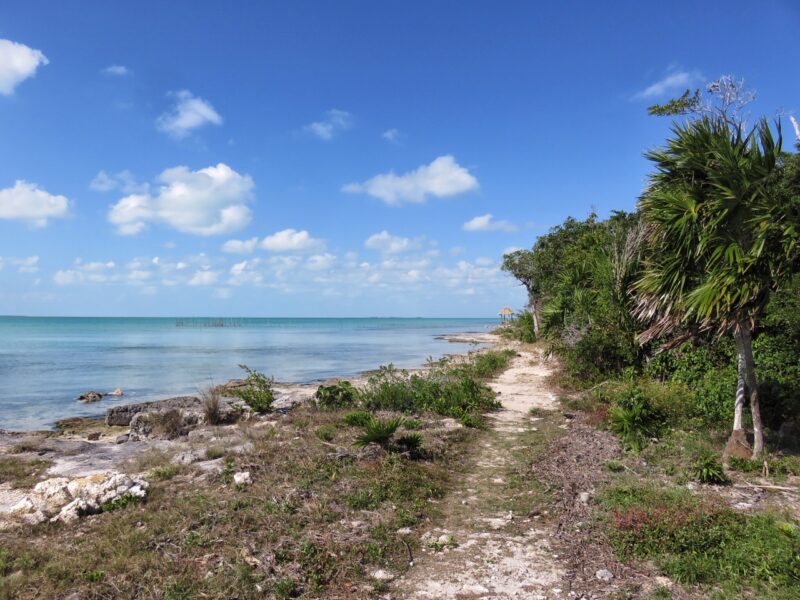 To the south, there is a bit more bush so it may be hard to find a spot to settle down but the walk is beautiful.  And if you have a flyfishing rod?  Both areas are great.
This is the view south – looking back toward Sunset Palace Beach Club.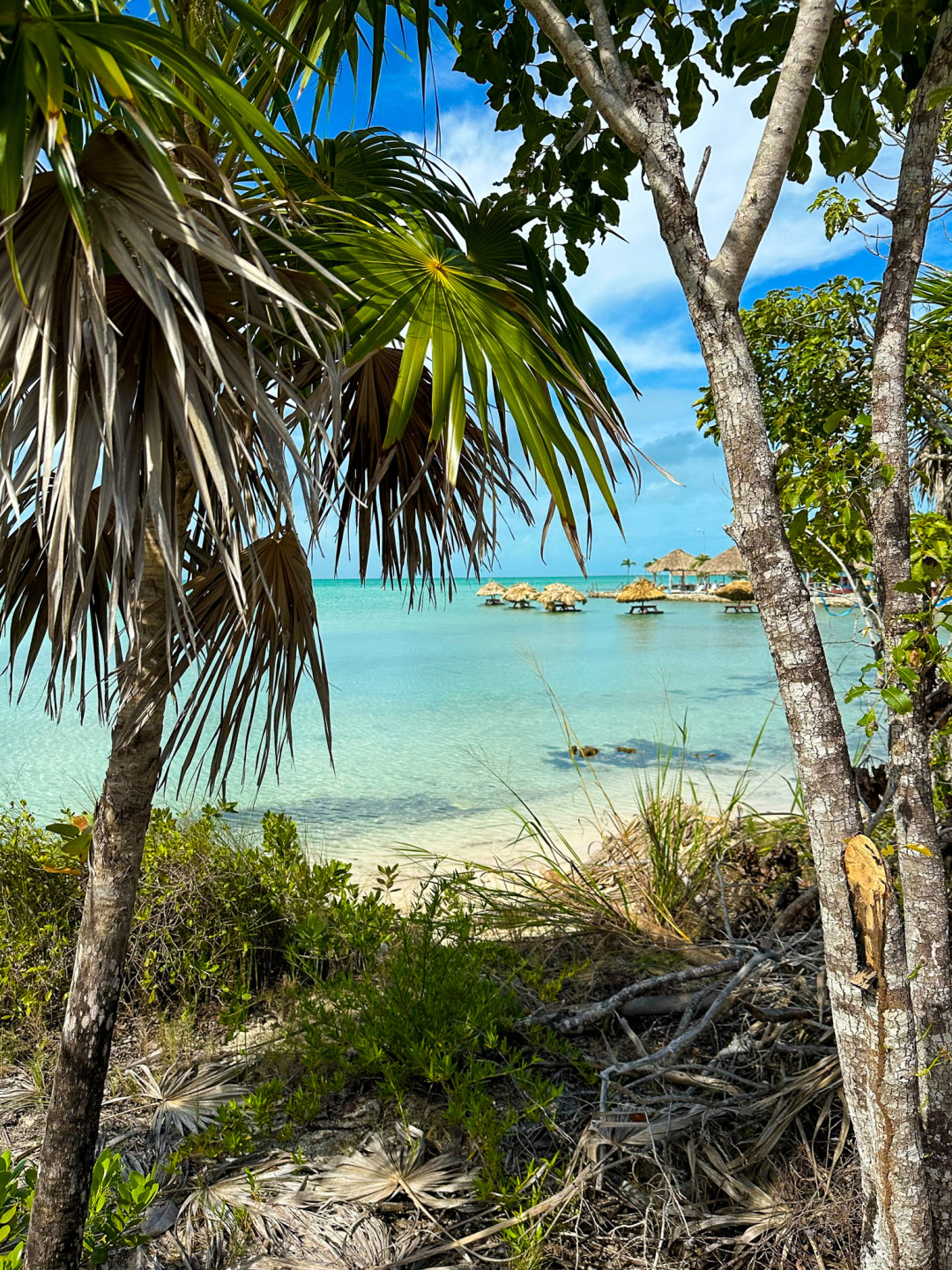 The "Local" Food Kiosks
Near the water park, there is a row on little colored kiosk booths that sell local food, at local prices in takeaway containers.  These guys mainly cater to the employees and local families visiting Secret Beach.  But if you are on your own – perhaps doing some DIY flyfishing or just hanging out on the beach – stop in for some rice and beans at a more discounted price.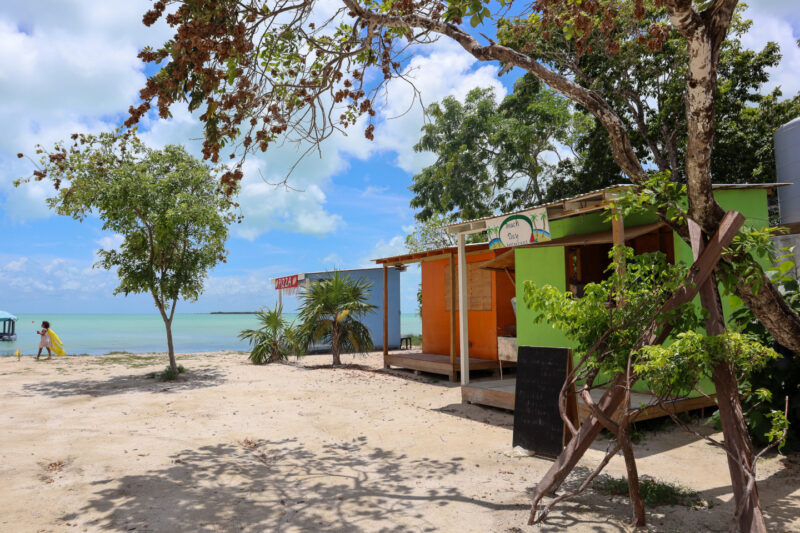 This all leads me to one of the more unique experiences you can have at Secret Beach…staying the night!
Lodging/Hotels at Secret Beach
This category is small but growing each year.  When I first wrote this post in 2019, there was one option.  Now there are a few on the beach itself.
Casa Nova Cabanas
This place is soooo cute with super comfortable, air-conditioned rooms and great breakfast and dinner.  Check out my stay at Casa Nova here.
I loved my stay here – great owners, great food, they make everything very easy for you.  Plus, look at this view!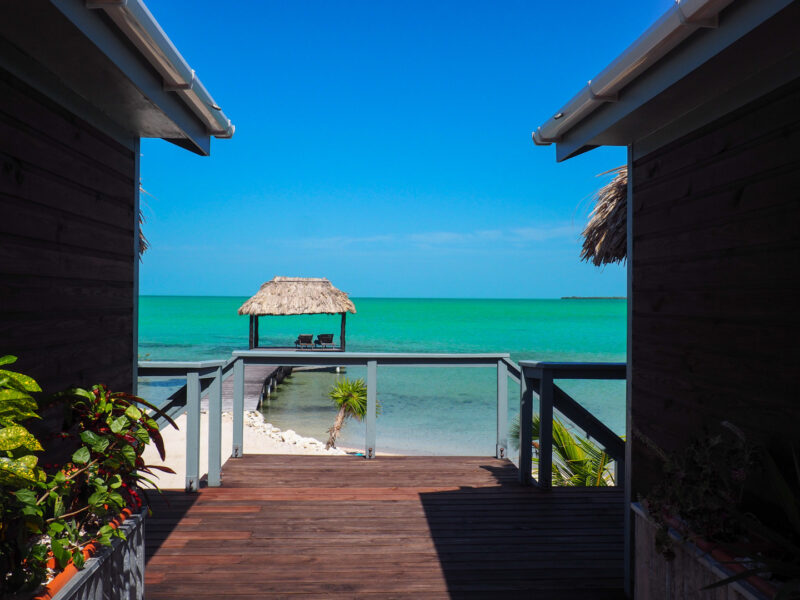 This is the original lodging at Secret Beach.  I stayed there a few years back – in the lovely peach cabana set up on stilts.

My favorite favorite part about staying for a few nights at Secret Beach was staying for sunset – and not having to worry about driving home.  And grabbing a morning cup of coffee – and exploring the area area before ANYONE else arrived.  It's magic.
Keep your eyes peeled for a new spot called Casa Cava that is under construction now…and I bet more and more will be popping up in the next year.  Look at this pool!
Rental Homes at Secret Beach
There are two modern rental properties right on the water in this area.
This home is located on the "main strip" near Blue Bayou – Secret Sunset Villa.
And then a bit farther north – Casa Nex Ta Sea looks beautiful.
All My Tips for Your Trip Secret Beach
Now THAT was a ton of information.
My #1 suggestion is that EVERYONE SHOULD VISIT SECRET BEACH.  I do think there is something for everyone whether you like to be alone or you like to be at the front of the conga line.
Here are my basic tips.
Sundays are going to be the busiest days, followed by Saturdays
Get There on the Earlier side if you are set on that special table – You'll always be able to find a spot but if your heart is set on one special table – or those loungers under that specific umbrella, try to get there before 11am
Bring Sunscreen and bug spray:  Seems obvious but don't underestimate the sun in the Caribbean.  Add in the fact that it is very easy to sit in the cool waters all day – and trick you into thinking you are NOT burning.  You are.  Everyone is.  SPF it UP!  And if you plan to explore north or south, or if you plan to stay for sunset, bring some mosquito spray.  This area is way less developed than the town and there are bugs.  I can not say enough great things about this bug spray – not greasy, not stinky, doesn't melt your nail polish or fishing line.  I buy lots of it!
Be Friendly but Firm With Hawkers:  I have heard many times from visitors that "there are too many hustlers at Secret Beach" – and that can be true.  (There are only so many times you feel like you can say "no thank you" to an offer for a "special brownie". But I find that everyone is friendly – it's a Belize thing!…and a firm thanks but no thanks works wonders if you find yourself a bit overwhelmed.
Take your time finding your first spot/Get There Early and Explore:  The loungers tend to fill up as the day progresses so get there early.  Maybe around 10am.  Scope out the area…find out if you like more quiet or busier and settle in.
Stay for Sunset:  Come back a second day and stay for sunset.  I say the second day because I want you to understand how far the trip is from your hotel.  If you are staying south of San Pedro town, it could be over an hour away.  It's easiest to figure this out during the day time.  Remember that we are most likely closer to the Equator than you are used to and this mean that darkness comes fairly quickly after sunset.
STAY OVERNIGHT AT SECRET BEACH:  It's a very cool way to explore this Gorgeous GORGEOUS side of Ambergris Caye
For other new posts on the Secret Beach area, see: