Driving Ambergris Caye's Newest Road From Secret Beach South…
Driving from Secret Beach to New Construction at Aruna Resort and Villas
"Holy crap.  It's shocking how BIG this island is…"
Jeff and I say it whenever we go golf-cart exploring Ambergris Caye outside our usual day-to-day.
Whether it's out west – to the Secret Beach area – or way up north to the Cantena Lagoon or even up to Cayo Frances Farm and Fly on the Cayo Frances Lagoon, this island is HUGE.  And so much of it is undeveloped.
Visiting Ambergris Caye – or even living here – just about everything takes place in and around San Pedro town.  And it's very easy to get the sense that the island is pretty small.
But Ambergris Caye is over 25 miles long – and up to 5 miles wide at certain points.   You only need to look at Google Earth to see us all jammed in the lower third of the island.
See me waving?
A few days ago, Jeff and I decided to take a drive – out towards Secet Beach.  (Guapo's is the first bar/restaurant on the way out there)
Out to the west side of the island – to the Secret Beach area – and then SOUTH.  There is a new-ish road that opens up a huge chunk of the island – land is primarily brush, rock, and shallow lagoon…totally uninhabited by humans.
A peek through the trees at Secret Beach.
You can see the new road in this Google earth screen shot.
We tested the fledgling road a few years ago and didn't get far – it was rocky and riddled with large holes.  Pretty undriveable in a golf cart.
But it was time to try again.
Because a few weeks ago, I stopped in to see a new development called Aruna Resort and Villas.  I was across the San Pedro lagoon – just a quick boat ride from town – to check out another site, and we took a quick look at neighboring Aruna.
I was told that the road above was now open…and it was a quick ride from Aruna up to Secret Beach.
WHAT!?!  I need to check this road out!
And so we did. I'm also going to share pictures of Aruna from my visit.  AND a link where you can sign up for more information about Aruna – specific to me.  A sponsored link?  Not really…I'm not getting paid for it.  An affiliate link is more correct.  If you sign up for information and you buy a unit, I'll get a commission.
Let's get back to the road!
It's pretty good – really good if you are comparing to other roads on this island.  A bit rocky in spots…a few puddles but a relatively easy drive.  And we drove from Secret Beach to…just across the lagoon from town in about 15 minutes.
This road opens up the area on the west side of San Pedro lagoon (just across the water from town) to the Secret Beach area…almost.  Let me show you what's going on!
We drove to the Secret Beach area and then southward…
Cute Xmas tree at the Swing Bar.
there are more and more houses going up every time I come visit.  This was my last visit about 6 months ago:  Houses Going Up At Secret Beach
Now we saw more as we headed toward the turn-off to the southern road.
All of these are about 1/3 a mile from the water?  Perhaps a bit less….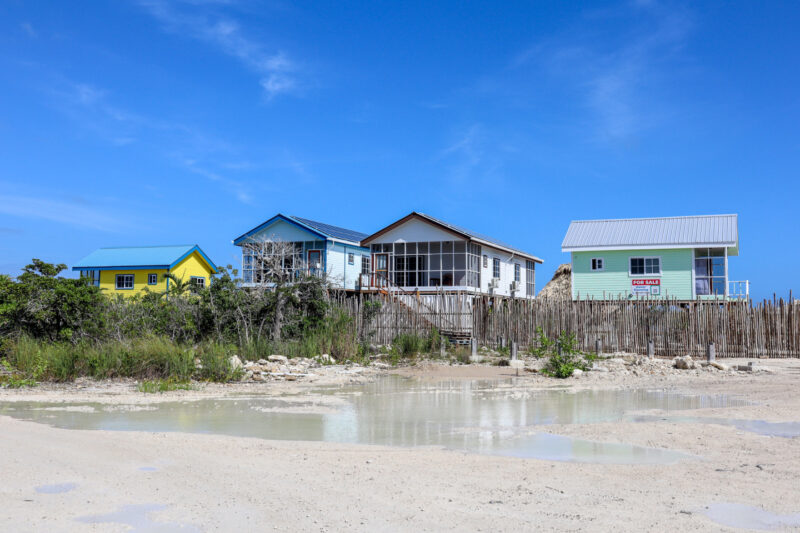 New side roads with homes…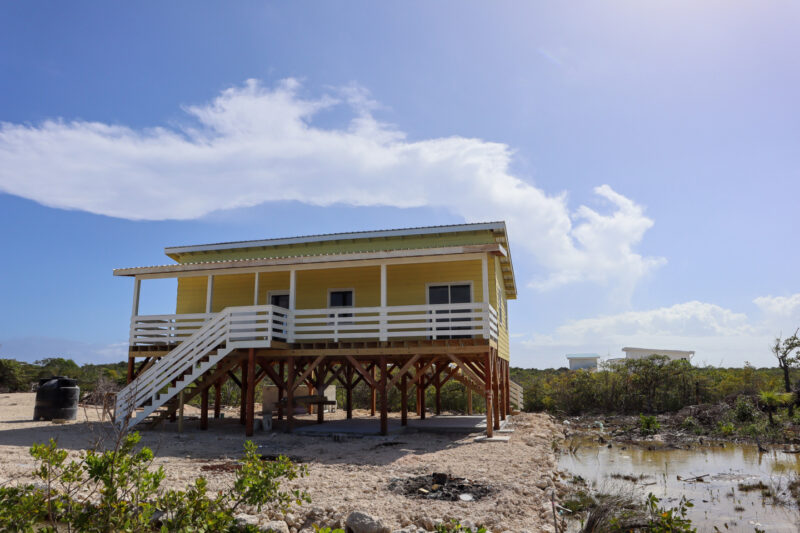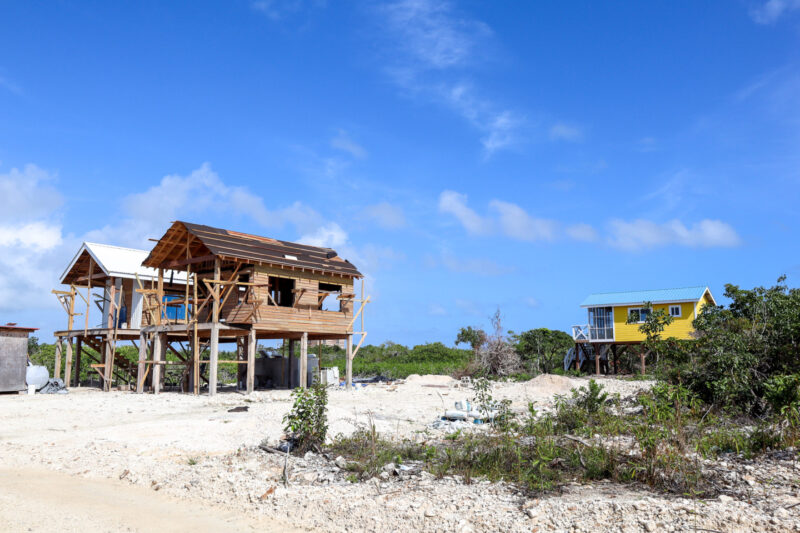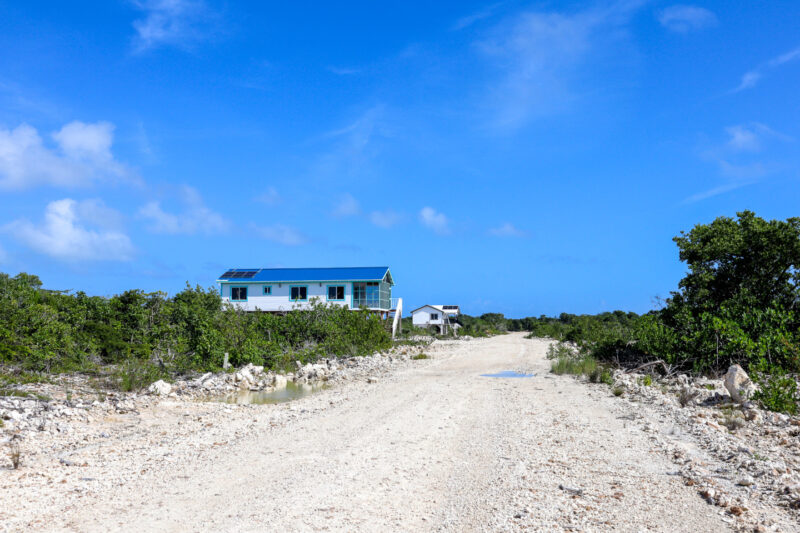 The road as we moved south.  Impressive, right?
At no point do you see the sea.  Mostly low lagoon and scrub.
At one point there is an area with some construction/digging equipment, a few temporary homes and a dog.  We didn't get too close.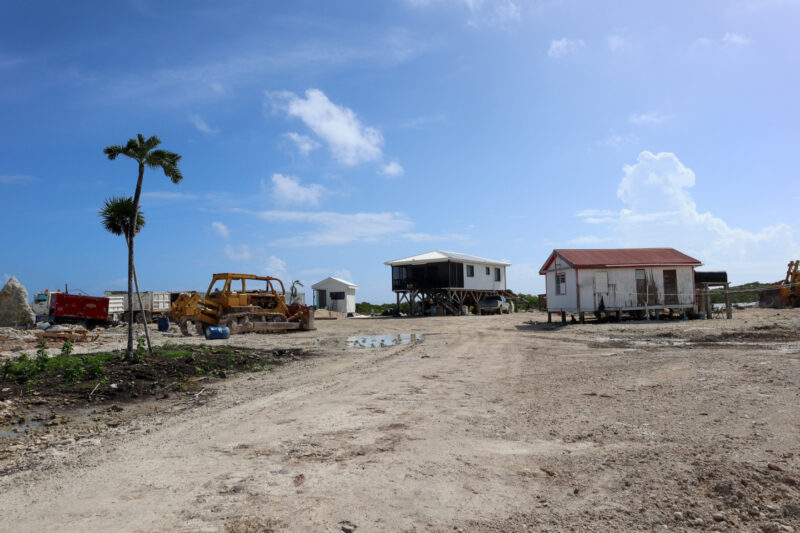 If you look across the lagoon, you can see Grand Caribe behind these buildings.
We kept moving.  We didn't see one person or any carts.
You then turn a bend and…you are across the San Pedro lagoon.  With San Pedro town on the horizon.  And Aruna is right there…
Wow.  The island is getting smaller every single day!  Secret Beach to the west side of the San Pedro lagoon in only 15 minutes by golf cart!
It can be done.
Here are some more pictures of Aruna.  It's all along a 1000-foot canal – and directly across from San Pedro town.  Reachable by boat.
Here's my affiliate link to sign up for more information.  Here is a link to their website – check out the map if I have completely lost you.  Even with the map, it's a bit hard to wrap your head around!
Here are my pictures from Aruna Resort…the spot where the road ends.
They have a huge dock over the San Pedro lagoon – with a swimming pool.  The view towards the canal and the resort.
And then a look inside one of the water front units.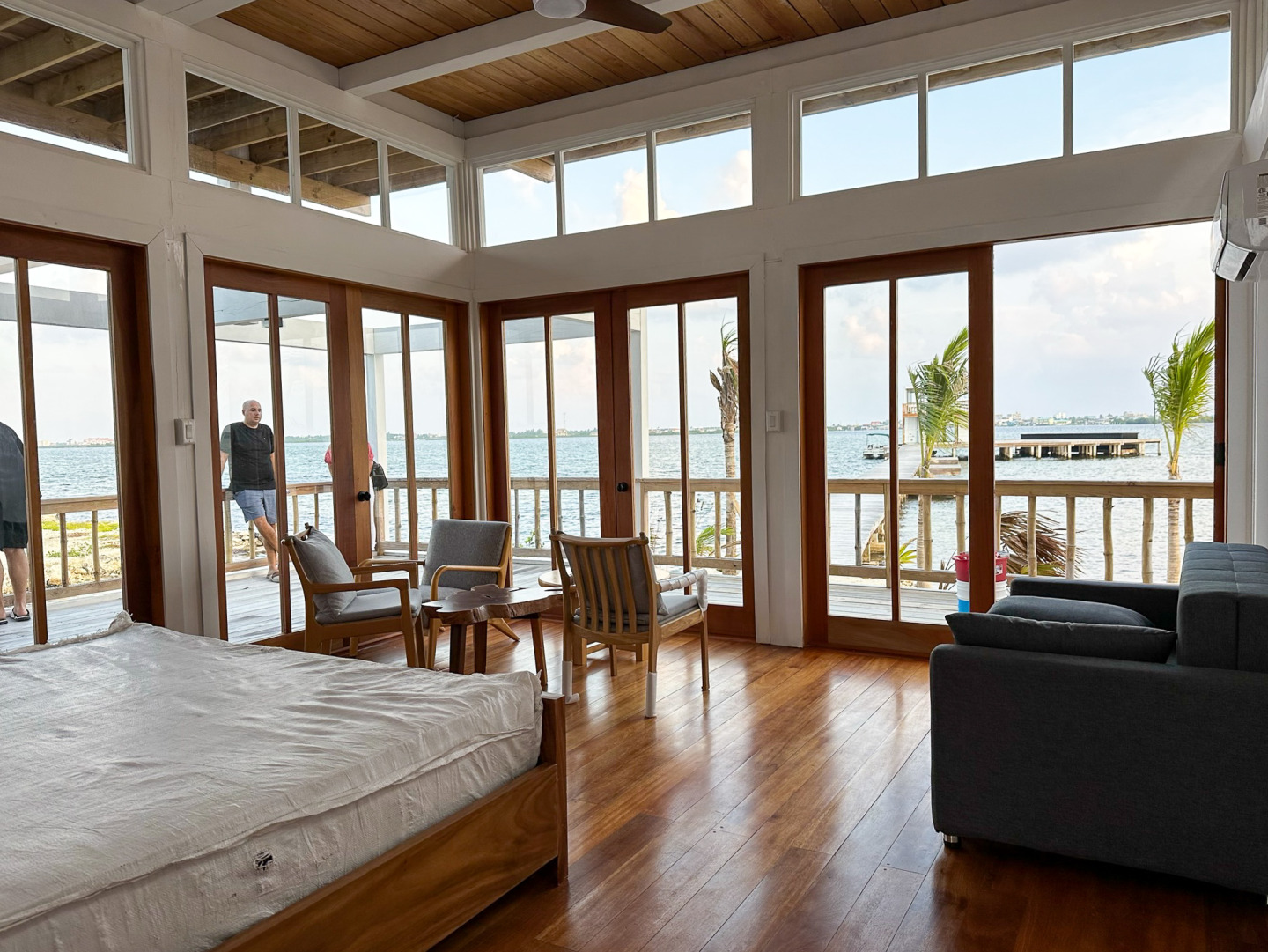 And a look out the back balcony over the area where the road starts towards Secret Beach…
Just a few minutes from town…but separate.  AND only a 15-minute ride to Secret Beach.  Interesting, right?