A Guide To Grocery Stores & Shopping on Ambergris Caye: 2023 Update
What to Expect When Grocery Shopping in San Pedro, Belize
Grocery shopping in San Pedro, Belize can be an adventure in itself.  And whether you are renting a home for a week with your family or spending a few days relaxing at a resort, you are most likely going to look for a supermarket or a grocery store at some point.   Even the traveler who packs fastidiously will need to pop into the local shop for a forgotten item.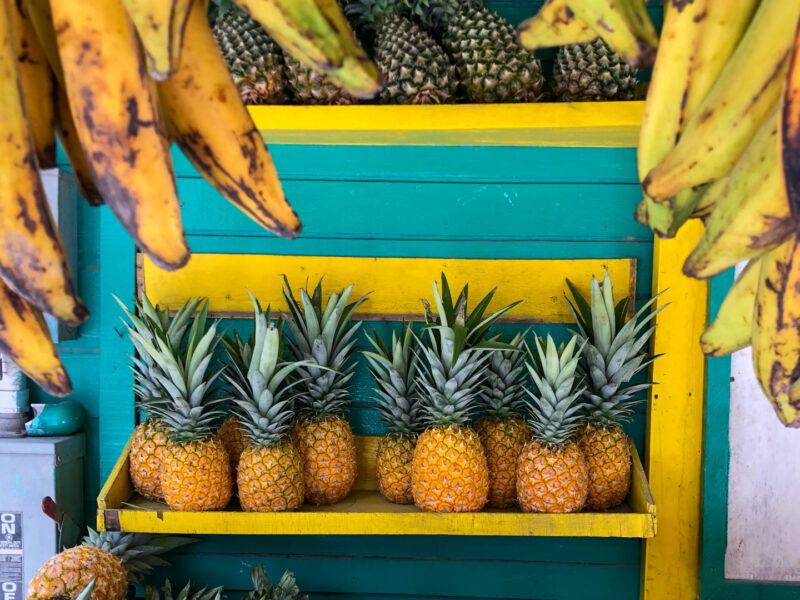 So let me give you some of my hard-earned tips about grocery shopping in San Pedro.  But be ready to make more than one stop – and to perhaps modify your menu based on what is and isn't available.  But you'll get it done!
Well…most of it anyway.
What Makes Grocery Shopping in San Pedro Easy
There are things that make things easy.  English is the official language of Belize..for most of you, that simplifies things.
And the currency conversion rate is a super simple fixed rate $2bzd = $1USD.
And US currency is accepted everywhere – just make sure your bills are in good shape. The local banks reject US dollars with rips or markings – so stores will too.
Tips for Handling Money, ATMs and Credit Cards in Belize
What Makes Grocery Shopping in San Pedro a Bit (Much More!) Tricky
Shopping in Belize isn't totally straightforward – especially if you are accustomed to large everything-in-one stores or big supermarkets.  Food shopping has been one of my hardest adjustments!
15 Things No One Tells You About Moving to Belize
Instead of popping into Whole Foods or Kroger's or even CVS to snag the things on your list, you will most definitely need to head to a few different stores. And a perhaps a pharmacy.   At the end of all that? You don't always end up getting everything you originally wanted.
There are no international chain stores here in Belize.  No Walmart or Whole Foods or Target.  Not even a McDonald's.  We are too small and, the government makes it tricky (expensive) to import most food items.  There are no stores open 24-hours a day.   Most spots close at or around 9pm.
So my #1 tip (which is easy to say and often hard to do) is:  Be flexible.  Or try to be.  If your entire recipe hinges on Fire-Roasted Canned Tomatoes or a certain shape of pasta…you might find exactly what you are looking for or, you might have to make some adjustments!
Here are a handful of tips and guidelines that should make things easy.
Grocery Shopping:  Where to Get What You Need
I mentioned earlier that instead of popping into a large US supermarket to buy everything from beer to produce to fish and meat to cough syrup…in Belize, that might be 3…4 or 5 different shops.
The Supermarkets
(My most-shopped spots are:  Super Buy, Caye Mart, and Walk-Mart)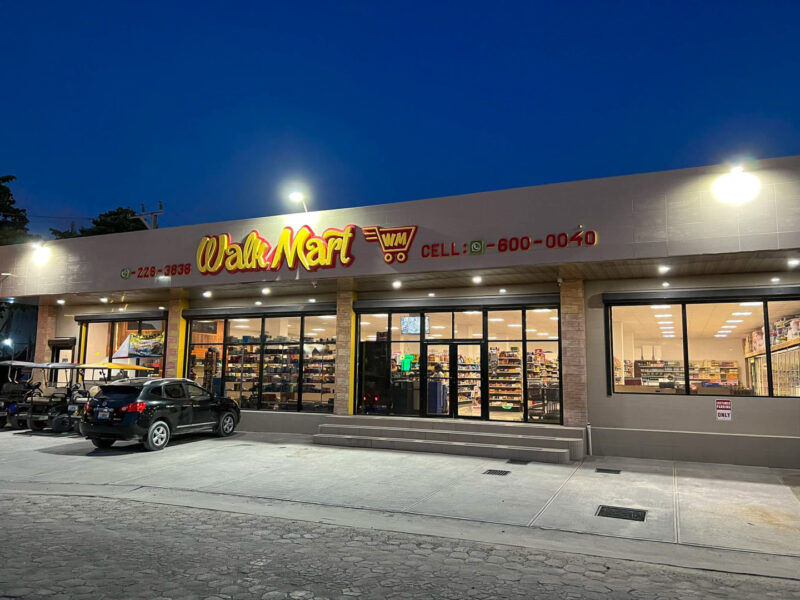 You got the Walmart, we've got the Walk-Mart, you've got the K-Mart….you get it.
These are large air-conditioned stores.  What originally was one is now 4 or 5 – and almost all of them are located in or very close to San Pedro town.
These stores are going to contain the largest selection of food and brands.  Soda and beers – your largest selection.  A good liquor selection (remember, local rum, cheap, imports EXPENSIVE!)
Frozen items – chicken, some beef and pork (almost always ground) – veggies, fruits, and ice creams.  Dry goods, canned goods, paper goods, soaps, shampoos, and personal products.  Depending on the store, there will be a good selection of "American products".  American brand cereals, snacks, sodas, baking goods.  But know that all things imported are going to cost more!
The Greenhouse on Middle Street
The Greenhouse is San Pedro's version of a health food store, a specialty store, and Trader Joe's/Whole Foods all rolled up into one.   They have an amazing selection of fruits and veggies from the local bananas and tomatoes to bags of fresh greens from the mainland for tasty salads.  Homemade pestos, slices of delicious cake, all sorts of stuff.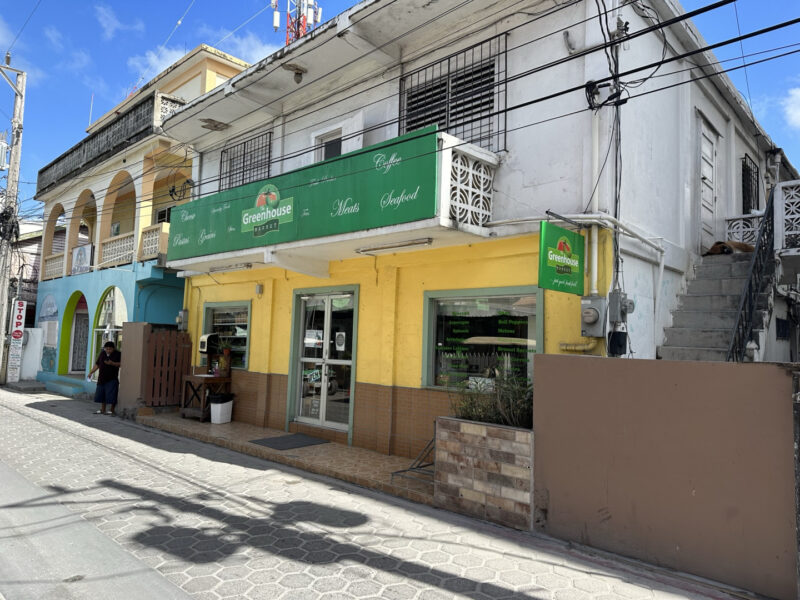 They are going to be your first stop if you are trying to eat Gluten-free or have any type food intolerance.  You can see some of their offerings – and you can message them thru their Facebook page.
They are the best – if you don't see what you are looking for – whether it's Nutritional Yeast or watercress, just ask.
Smaller Grocery Shops/Neighborhood Stores
These shops – they are located in every neighborhood – have more of a "local selection."  A selection catering to those who live and cook locally – the essentials that almost everyone here needs every day.  Basic bread, veggies (like onion, carrot, cabbage, cilantro, potato), canned milk, eggs, beans, flour, rice, bottled water, sugar, some spices and paper goods, frozen chicken, cool local beers, and local sodas (often in the glass bottles)
All About Local Food:  My Take on Belizean Food
Meat
While you can find many types of meat in Belize, all are not equal.    And all are not available at the supermarket.   The most common meat is chicken – this country can eat chicken!  The common cuts are boneless and boned breast, legs (which includes legs and thighs), "parts," and whole chicken.  All are local – grown in Belize-  come with skin and bones unless otherwise labeled.  All will be frozen – we are on an island in the Caribbean!
There is one word to keep in mind: turnover.  I like to buy chicken at the butcher (Lino's) or the chicken distributor (there are 2 Quality Poultry shops in San Pedro) – or at stores that are busy.  If the packaging is open or it looks like the blood has thawed and refrozen or the chicken is deep within a glacier, I'd step away from that freezer case.
If you want boneless thighs, Lino's Butcher Shop on Middle Street has them!
Lino's:  They Want to Handle Your Meat (It's not my play on words!)
Beef
Beef that grows in the tropics tends to be flavorful but a bit tougher.  (Often the restaurants  advertise imported steak or high-quality local  more "boutique" beef – feel free to ask!)   You can find ground beef at most supermarkets and stores but not other cuts.
You will often find "Stew Beef" cube – it's great when cooked for a long time, like a pot roast.
Pork:  In Belize, the pork is delicious and flavorful – better than store-bought pork in the US.  Most supermarkets sell ground pork and maybe very thin pork chops but for other cuts, you will want to go to the Ambergris Sausage Factory (they also have great cold cuts and bacon) – or the butcher.
Frozen seafood:  Conch, lobster tail, fish, you might think it would be everywhere.  But many of the local fishermen sell directly to restaurants and it can be tricky finding seafood.  Superbuy in town often has a nice selection as does the Greenhouse on Middle Street.  It will all be frozen.  Look for signs at smaller stores advertising seafood like shrimp or conch.
Fruit and Vegetables:  Our island gets fresh fruit and vegetable shipments on Tuesdays and Fridays.  Don't ask me why – it's just how it is!
Those are the days to hit your local fruit stand and find the good stuff.  We are getting more and more imported fruits and veggies – like apples, grapes, lettuces, all sorts of greens, berries, leeks, and more but you generally need to go to the fruit stands on Tuesday or Friday to get the good stuff.
For the biggest, most organized best selection in town, go to the Greenhouse on Middle Street.
You Can Find American Brand Foods But They are Expensive!
All prices – as marked- contain the local sales tax, the General Sales Tax of 12.5%.  There are staple foods – like beans, rice, margarine, baby formula – that is tax free.  (You can see the list here)
Anything that is imported into Belize – from veggies to frozen White Castle Burgers – is subject to both the 12.5% GST + a hefty import duty.   Import duty can run up to 100% but most commodities have a 20% duty charge.
So not only did those Klondike Bars or American cheeses come down in a refrigerated/freezer shipping container, there were numerous fees packing, and inspection, plus transport to the island, on the island, AND the 20% (or more) duty was applied at the port.
You are ABSOLUTELY incentivized to buy LOCAL.  More on this below.
Note:  Examine your products.  Since imported items have been…well…imported, there is a small chance but a chance that your very perishable item has changed in transit.  This is happening less and less as things move quicker and more efficiently but check.  My last batch of chocolate chips looked like this when I opened it.  (I bought these in Belize City not San Pedro)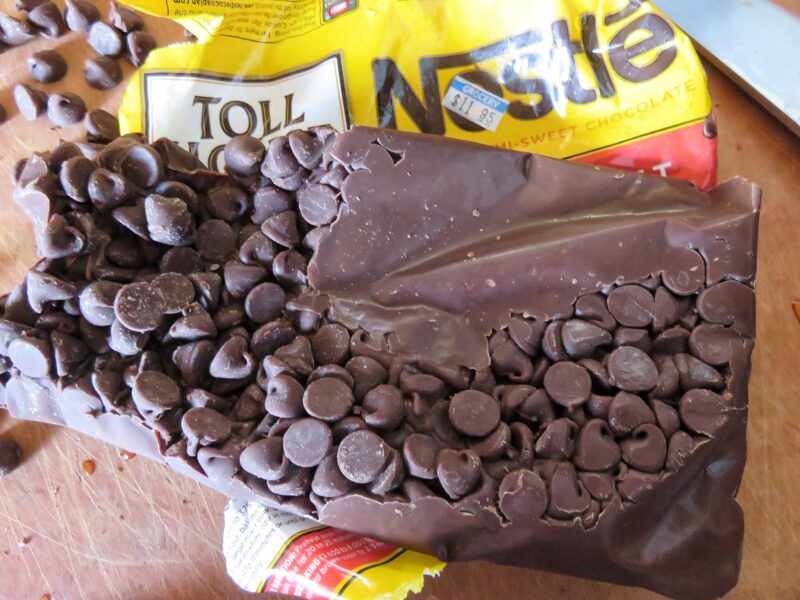 That's my fault – I didn't check.  Plus it's no big deal – I chopped the block and mixed it into my cookies.
Also, check expiration dates on your American/imported items…stores sometimes don't check as they might elsewhere.  And some do and will give you the item at a discount.  I am a giant fan of 1/2 price newly expired cheese.  But that might just be me.  🙂
Buyer beware.
Alcohol:  Again, local vs imported is going to mean a huge cost difference.  Local rum runs about $30bzd a liter or less, whereas imported liquors are significantly more.   These prices are median-ish.
I'm updating prices – the first price IN BOLD is January, 2023 – the second price (not-in-bold) is 2018
1 Liter Absolut Vodka:  $108.95bzd    2018 – $89.95bzd
1 Liter Tanqueray Gin:  $115.95bzd   2018 – $115.95
Here is some information about buying duty-free liquor at the airport as you head into Belize
Specialty Items like Gluten-Free
I'm getting the question more and more:  Do stores carry Gluten-Free items in Belize?  And the answer is a bit.  Yes but the selection is very small and sporadic.   They are starting to make their way onto the larger supermarket shelves slowly.   
There are a few baked good mixes (like brownies), some specialty flours like Bob's Red Mill, you can often find rice noodles.  I spotted this pancake mix earlier this week at Caye Mart.
Soy, rice, coconut, oat and almond milk are becoming more common – and almost always sold in boxes.  I've seen vegan American cheese (is it even cheese?) at Caye Mart.  I've seen Gluten-free pretzels at the Greenhouse – but you are going to pay for it.
If you know you are going to want it and use it – bring it with you.  Crackers, cookies, snacks…those travel beautifully in your luggage.
Bakeries
If you want to pick up snacks or basic donuts, loaves of bread and sweets, you have a few options.  One thing to note:  It's best to eat items within 24 hours.  I'm not sure what they put in some supermarket pastries/breads in the USA but they can still be good days later.  Things here – I'm sure the warm temps don't help! – tend to go bad more quickly.  Or…you can always freeze it.
French-Croissant Bakery
For baguettes and croissants and sandwiches, the French-Croissant Bakery is a great place to go.  You can find their offerings and the hours on their facebook page.
Annie's Pastries
I LOVE Annie's.  They are mostly sweet offerings like cinnamon rolls and slices of cake but you can find savory ones.  Their stuffed jalapenos and little ham sandwiches are delicious.  Look for the sparkly pink first-floor shop near the High School. Step in and grab a cafeteria style tray, some tongs, and pick your items.
Johnny Cakes (a bit like southern biscuits but not as fluffy) freeze beautifully…microwave or split and toast.  Yum.  They are 2 for $1bzd.
Annie's is open from 2pm to 8pm.
Casa Pan Dulce
This bakery is open all day and does white bread loaves, sweets, snacks…all sorts of stuff.  They are very reasonably priced and they have 2 shops.
Eat Local
Food is most definitely the largest part of my budget here on Ambergris Caye. Here is an estimated cost of living for the island – and I'm SURE I always underestimate.  Food is expensive!
Eating local products makes a world of difference.  This pertains to the basics like rice and sugar, meats and Fanta soda water (instead of Pellegrino).  (Here's the scoop on all the Fanta flavors – all bottled in Belize.)
The key is in the tops!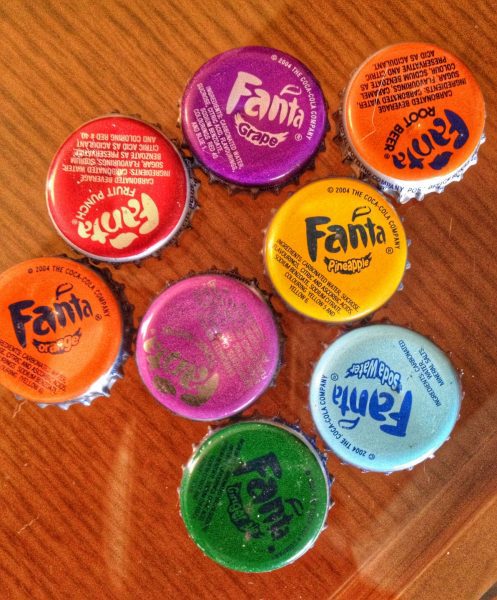 It also applies to lots of other products – juice.  You can buy a $15bzd carton of OJ or a $13.95bzd can of Dole Pineapple juice from the states. But just as good and way cheaper is Belizean juice in a box – Caribbean pride.  It's GOOD and only $4.95bzd.
If it's your first time shopping in Belize, take a few extra minutes, do some comparison shopping.
Let's Go Through Some Grocery Prices
Sample Grocery Prices:  These are prices from this recent week.  They are a guideline, an example.
1lb sugar:  $1.00bzd  2018 – Unchanged
1lb flour:  $1.50bzd  2018 – $1.25bzd
1lb onions:  $2.50bzd   2018 – $3.00bzd
16oz box Lucky Charms Cereal:  $18.95  2018 – $14.95
1 loaf of local white bread:  $3.00bzd  2018 – $2.00bzd
1 carton/box of Lala Milk:  $3.95bzd  2018 – unchanged
1lb ground beef:   $7.50bzd  2018 – $7.95bad
Eggs:  $5bzd for dozen with container 2018 – 3/$1bzd plus 50 cents for the styrofoam container
1 roll of Roses Toilet paper (Belize made):  $1.75bzd  (Local)  Unchanged 2018
2lb bag of rice $4.25bzd  2018 – 2lb rice:  $3.50
1lb chicken boneless breast:  $6.95  2018- unchanged
1 bottle Belikin beer:  $3.00 + .25 bottle deposit 2018- unchanged
1.5L Crystal water:  $1.50bzd 2018 – unchanged
Bananas:   5 for $1bzd (in other parts of Belize, up to 10!) – 2018 – unchanged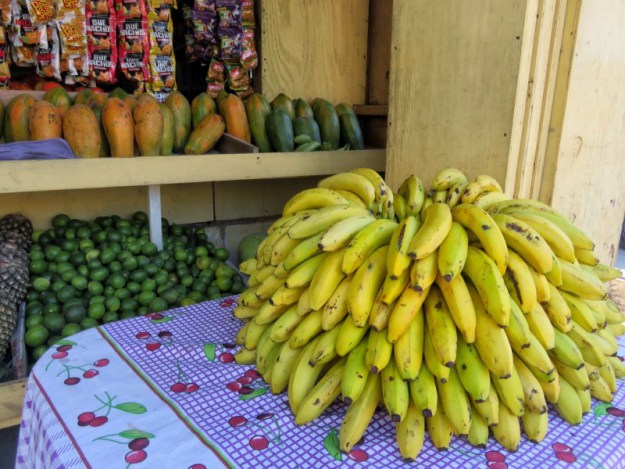 Compare to Imported Items
4 pack of Charmin Ultra Strong:  $16.95bzd  2018 – $11.95bzd
Tampax Regular Tampons (10 pack):  $8.95bzd  2018 – $10.95bzd
Friskies Dry Cat food 32.4oz bag:  $24.95bzd  2018 – $18.95bzd
Snickers Bar:  $2.50bzd  2018 – $1.75bzd
50lb bag of Pedigree dog food:  $120bzd  2018 – $85bzd
Can of Off Mosquito Repellent:  $20.95bzd  2018 – $18.95bzd
Spray Sunblock 50SPF: Spray Banana Boat Cool Zone 50SPF $44.95  2018- Ocean Potion 50SPF Sports Spray:  $32.95bzd
One Jar of Skippy Super Chunk Peanut Butter 16.3oz:  $12.95   2018 – $10.95bzd
One bar of Philadelphia Cream Cheese:  $8.95bzd 2018 – $6.95bzd
One pack of frozen Toufayan bagels: $10.95bzd 2018-  $9.95bzd
One roll of Bounty Paper towels:  $7.50bzd  2018- $7.95bzd
LASTLY, some of the smaller stores, and corner shops don't mark some or all of their products.  If I'm running in for one or two things, that's fine…I don't mind asking before I buy.  But if I'm doing a "big shop," I like things marked.  It just makes the whole process easier.
So…hopefully, that helps.