Your Favorite Blog Posts of 2022
The Most Popular Blog Posts for 2022 Old and New
Many of my most popular posts answer the questions that people google when they arrive in Ambergris Caye or are planning their trip to Belize.  Like "Should I go to Secret Beach" or "What is the best beach on Ambergris Caye" or "Are there mosquitos in San Pedro?"
My top 5 posts of 2022, each with 10s of thousands of views last year, were what I will call some of my Cornerstone articles.  Or "The Classics".  The posts that answer those "bigger questions" – and not just my daily walks around town or musings on the weather.
The top FIVE "Big Questions/Classic Posts" for 2022 were:
5.  Bugs that Bite in Belize (2022 Update):  I'm going to start year 16 on Ambergris Caye soon…and if I've learned anything, it's how to identify and treat my bug bites.  Thankfully for a good portion of the year, I get very very few/none (the dry season – January to June…July) and even more thankfully, my mosquito bites don't swell and itch anymore.  (It took 6 or 7 years for that to happen!)  But most importantly, I found what I think is the best bug spray in the world.  Non-oily, non-stinky and it lasts for hours.  I can't talk about it enough!   But in this article, I go through all the bug possibilities.sw
4.  Tips for Handling Money in Belize (2022 Update):  It's a good thing to figure out before you leave home – do I need to exchange money?   Can I use USD…or maybe Canadian money?  Will businesses take my credit cards…this should help..
3.  Is Belize Safe?  2022 Update From Someone that Lives Here:  No matter where you are visiting – from Belize to Disney Land – this is not a simple yes or no answer.  And part of travel is about making informed choices and traveling with information and a bit of planning.
2.   The Best Beaches on Ambergris Caye From Someone Who Lives There:  I've visited some amazing beaches in Thailand, Aruba, Grenada, Turks & Caicos, Tulum (one of the best), Florida but nowhere grabbed a hold of me like Ambergris Caye.  That being said…I would not say that we have classic beaches here.  But I do think you'll easily find spots you love.
#1.  My Complete Guide to Ambergris Caye's Secret Beach:  I just updated this a few days ago to include the new lodging, the new bars, the huge growth, the few still secret parts and more…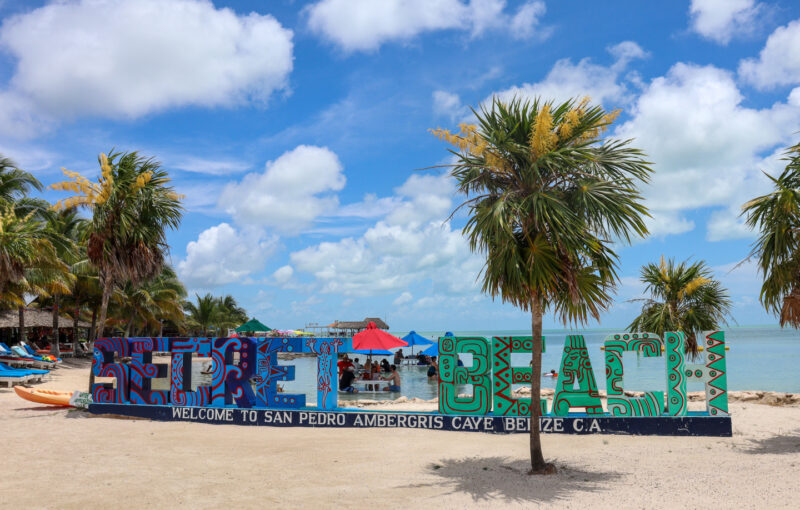 And then new posts for 2022 -these were the Top 5.  What I am learning most is that people are interested in SECRET BEACH!  And I need to spend a bit more time out there myself…
Top 5 NEW for 2022 Posts in 2022
5.  Chetumal, Mexico:  Is it Worth Visiting? (May 2022):  It's the big city closest to Belize and yet…many people have never heard of it.  I hadn't before I moved to Belize!  Why would you visit Chetumal?
4.  Announcement of Lobsterfest Dates for Caye Caulker and Ambergris Caye, 2022 (March 30, 2022):  After COVID cancellations, people were READY!   The lobsters, we can assume, less so…
3.  Cost of Living on Ambergris Caye, Belize: (May, 2022)  I know it well!  You visit Belize and you fall hard.  Could you move here?
2.  At Long Last: A Refreshing SOLUTION to the Sargassum Problem in Belize (April 1, 2022)  It's the most wonderful day of the year…and we are still so pleased with this logo our friend Richard made.
#1.  Houses Going Up in The Secret Beach Area (June 30, 2022):  West Ambergris Caye and the whole Secret Beach area has been touted as the next big thing for 5 to 7 years.  But it felt like things were moving slowly.  No electricity and…nothing on the horizon.  There have been some bigger projects announced like the insanely ambitious Six Senses Resort and this new one (slightly less ambitious but wow) that keeps popping up in the feed…but nothing there yet either.  So I was surprised when we went out there last summer and a bunch of private homes were scattered about.  Progress…
That's it. On to 2023.  Hopefully my biggest bestest year yet – I have some big projects to get out of the way first.  Like the new website…it's happening…soon…ish.
Always send me messages with what you'd like to see more of…restaurant reviews?  Hotel visits?  Real estate? Just general stuff?  I'd love to hear from you.