Completion of the New Bridge and A Gas Station North? Here's What I Hear
San Pedro has one real bridge (aside from a small viaduct on the way to Secret Beach).  It connects San Pedro town and South Ambergris Caye to the north side.  It was officially built just as I was first visiting San Pedro in 2006 – replacing a manually pulled ferry.  And it began the "age of development" of North Ambergris Caye.  The completion of a paved road to about mile 3.5N and then a marl-packed and smoothed road to mile 10N in 2014 got things moving even faster.
If you follow me on Facebook and/or Instagram, you have seen 1000+ of my photos as we drive over the bridge to head home.  It's a gorgeous view.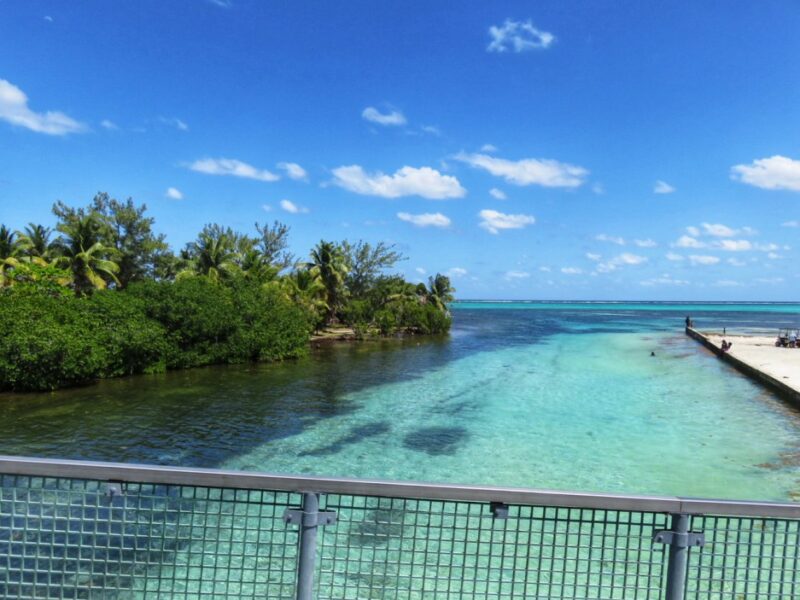 Golf carts could come across and then cars and then big trucks.  But just a few years back, people started noticing a serious deterioration of the bridge.  These large trucks and much more frequent traffic were really eroding the bridge and in 2021, it was announced that the bridge would be replaced.  By a larger structure – with a north bound side and a southbound side.  So that traffic no longer needed to stop when a truck was going over…because one of the huge dump trucks took up the entire bridge.
Construction started just before Christmas in 2021…just over a year ago.
With a berm for the big crane.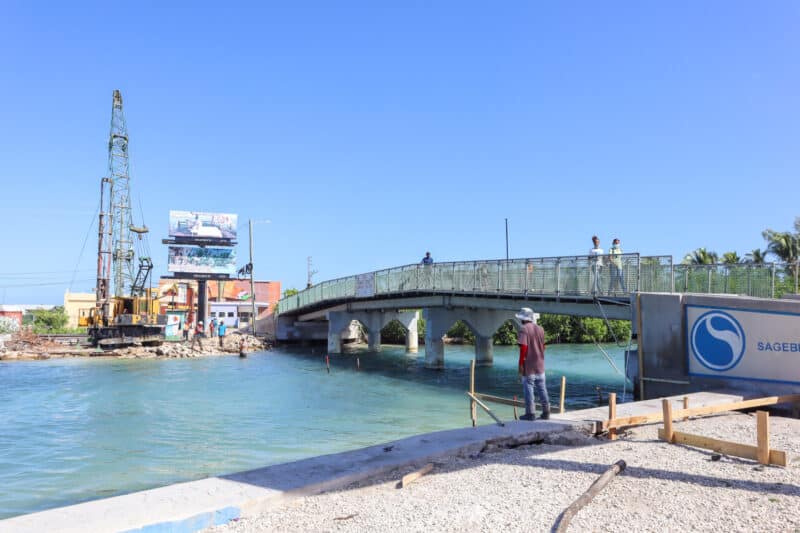 One side would be built and then used for traffic, and the old bridge would be replaced.
And…we are almost there!  Yesterday, I took some pictures of the bridge and two of the construction workers told me that the job was to be done this week.  FINISHED.
This is great news for traffic since the island is VERY busy right now…and, I would guess, heralds the next "age of development" for the North side of Ambergris Caye.
We already have a 6+ story building just north of the bridge and a 7+ story is going up a few miles north.
Here are the photos that I took yesterday.
The north side of the bridge – the double width is ready to go
Still working on the paving and the pedestrian walkway
Looking over…
You can see the temporary worker housing on the south side – cargo containers.
And a video driving over from town to the north side…taken a few days ago.
And then the other side…the water was looking beautiful yesterday.
Now just across "the river" as it is known locally, the original construction berm remains…
And a large rectangular hole is being dug and looks like it will be re-enforced.
Is this going to be a community pool you might ask?  That is not what I hear…
I am hearing this will be a gas station.  It would be the 4th gas station on the island.  There is one in town – for boats only.  This is an older picture but I still love it.
An older blog from when we only had 2:  Ever Wonder how Fuel Got to the Gas Stations on Ambergris Caye?
And one on the lagoon side of San Pedro town – and one just south.  But there is no gas station on the north side.  For years, there has been speculation about a new gas station by the Secret Beach junction (the turn-off to Secret Beach about 4.5 miles north of town) but nothing has ever come from it.
But there is talk that this will be a gas station – on the north side of the bridge.  And the hole does make that seem like it is going to happen…
Right?  The rumors are probably true.
We NEED a gas station on the north side – this is very much the case.  But this is already a very high-traffic area…and if it is meant for both carts, vehicles, AND boats?  Let's hope it doesn't get too congested.
Let me know what you think.