Should I Rent a Golf Cart on Ambergris Caye, Belize?
Golf carts are far and away the most popular mode of transportation on Ambergris Caye.
And the short answer to this question:  Should I Rent a Golf Cart on Ambergris Caye is generally YES.  But there is more to know…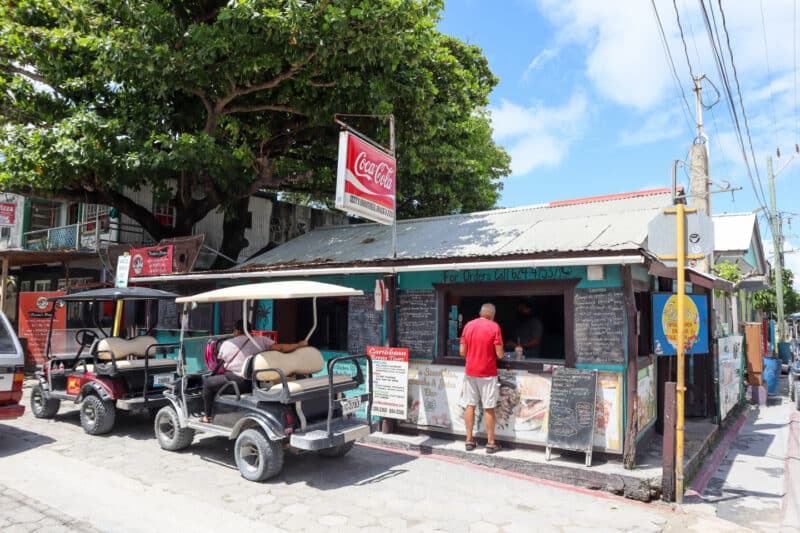 Quick note: San Pedro is the one town on Ambergris Caye, Belize. They are often used interchangeably when talking about the island.
But do you need the cart for your entire vacation? That can vary.  It's going to depend on a few factors:  your budget, which part of the island you are staying on, how much flexibility you like to have, and just much you want to get out and explore the island.
Ambergris Caye is the most popular vacation spot in Belize for a reason.  There is a ton of stuff to do.   (Here are my 11 Things to Do On Your First Visit to help kick things off and then I've got a bunch more in my book)
Ambergris Caye is not like a vacation at an all-inclusive resort in say…the Dominican Republic or Jamaica.  The island has a very DIY feel and a big part of the fun is getting out, on your own in your golf cart, meeting people, and exploring the different areas.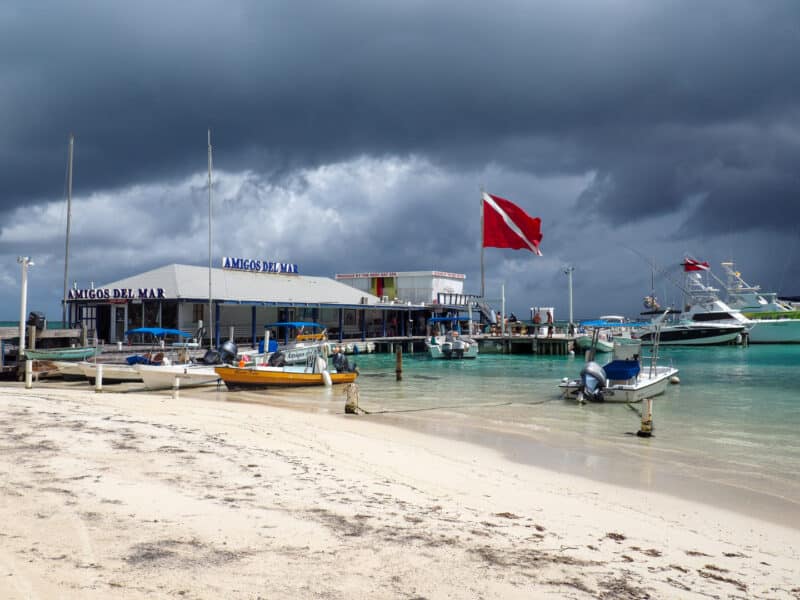 Plus, there are tons of simple and fancier restaurants, over-the-water bars, beach clubs (like this fun spot north), there's Secret Beach, and the green iguana sanctuary…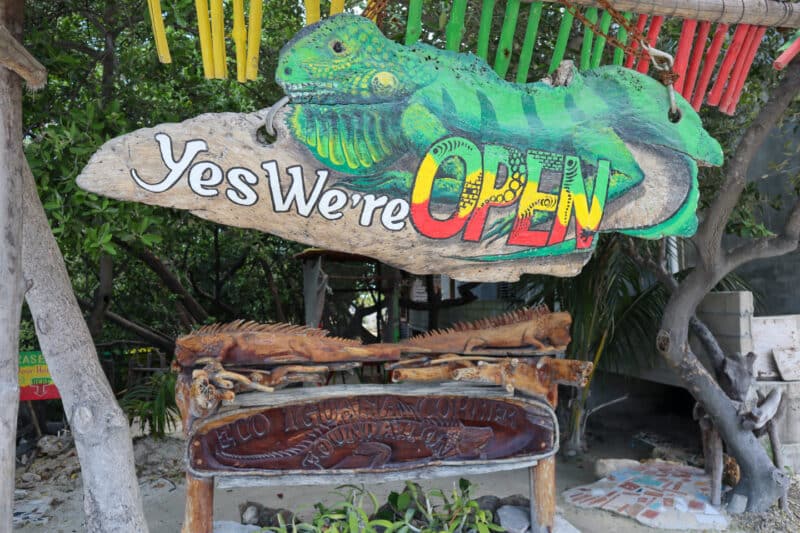 Here's a drive up to the north part of the island to the lovely Tranquility Bay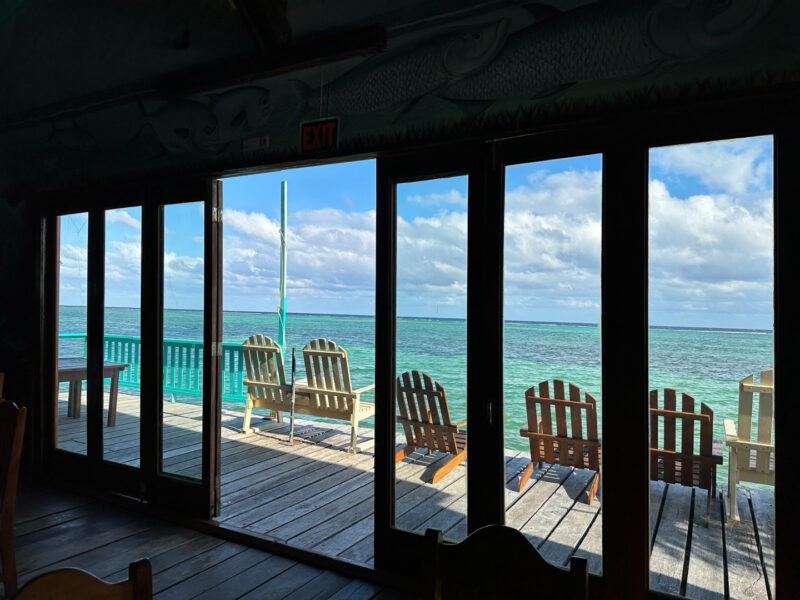 Or drive way south on the island.  Also very cool.
You are going to want to check out the island – it's surprisingly BIG.
Since there are no hard, steadfast rules when it comes to renting golf carts in San Pedro and there are dozens of golf cart rental businesses, I'm let me make some suggestions that I think should help.
And one quick tip:  Before you book, pay attention to WHERE you are booking.  Ambergris Caye is a long island – about 25 miles in length.  And while lodging and amenities are generally concentrated as you get closer to San Pedro town, hotels, and resorts spread out from 14 Miles North of San Pedro to 5 Miles South of town.
If you KNOW you want to try all the top restaurants and you want to go out dancing at night, staying 12 miles north might be tough for you.
If you KNOW you want lots of sun, sand, and sunrises and you aren't a night person, that location may be PERFECT for you.  Heading to town for lunch – or to a nearby restaurant – will be an easy trip.
This is our new cart…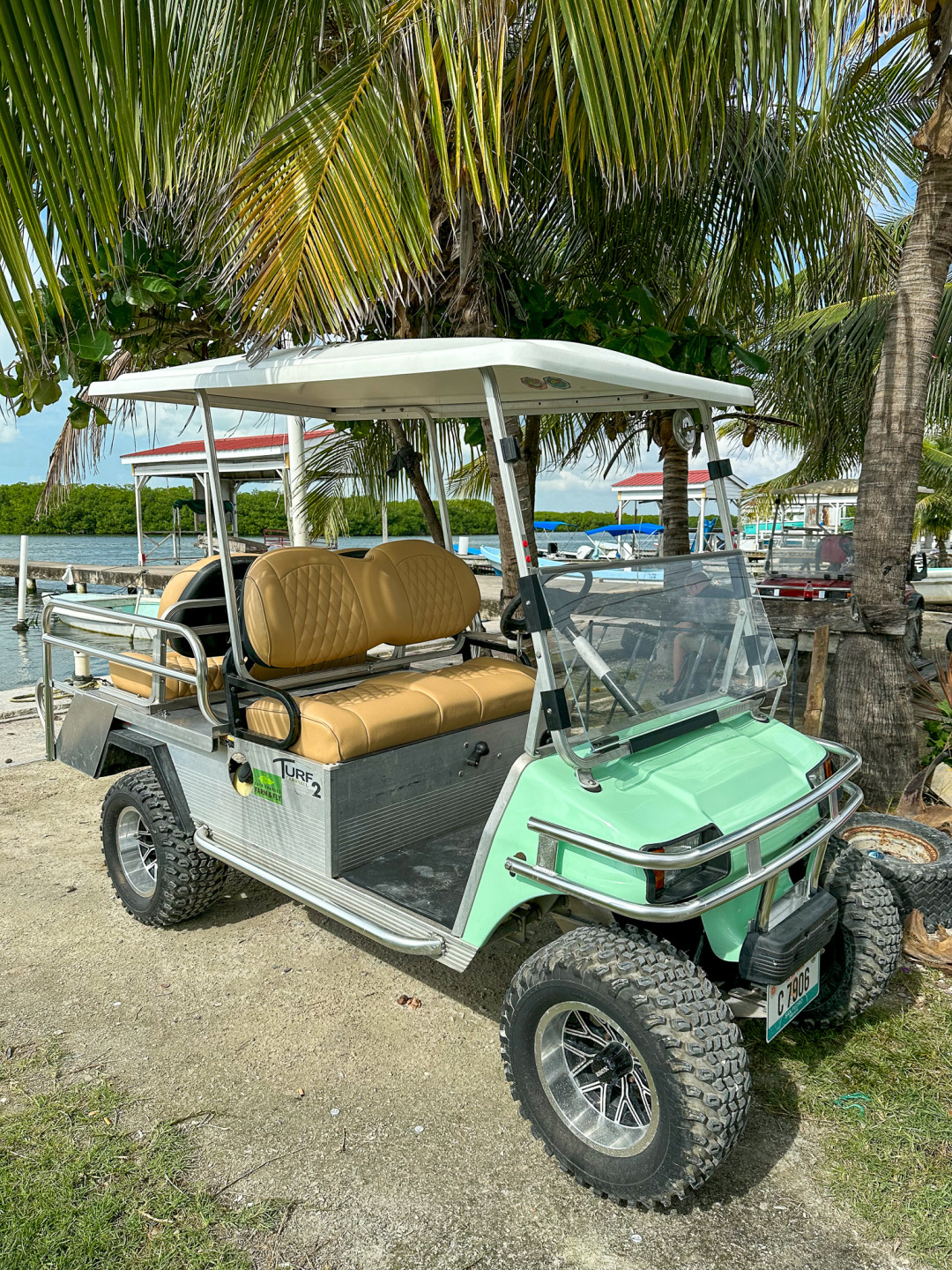 You will see your location in the resort address.  Example:  Rebecca's 8-Star Imaginary Resort and Spa, 5.5 Miles North.  Book this and you are going to be 5.5 miles north of San Pedro town center.
How to Get Around Ambergris Caye? Other Types of Transportation
Most lodging spots have bars and restaurants nearby – and that is especially true if you are staying near the town center. You can walk. Or ride a bicycle, if that is your thing. Many hotels have bikes you can borrow for the day or just the afternoon.
There are also taxis in and around town. Your hotel/lodging can call a taxi for you – and you can swap numbers with your taxi for future use. There are taxi stands in town and near the air strip but taxis, I find, can get expensive and a bit inconvenient, especially if you are staying outside of town.
Golf carts in the Christmas parade.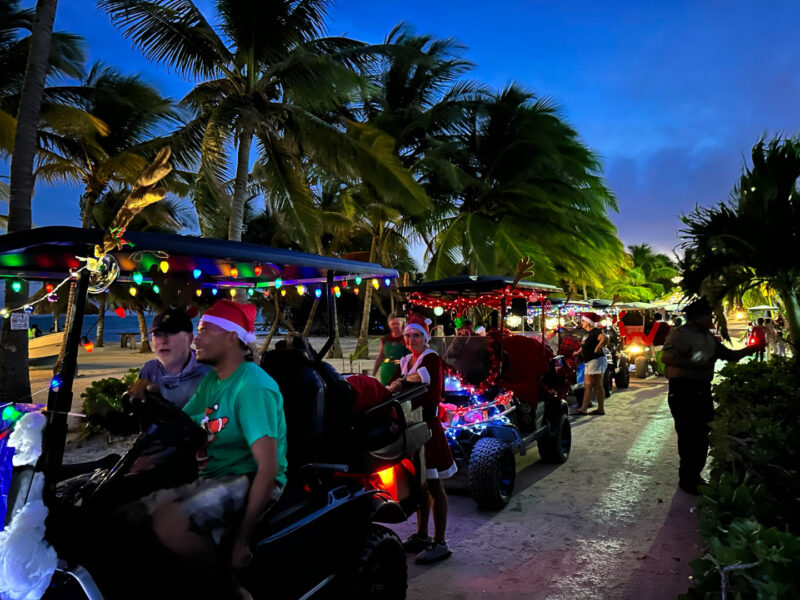 There is no Uber or Lyft in Belize.
Now let's get to the actual golf cart rental.  Most golf carts are standard 4-seater carts but now we are seeing more and more 6-seater carts available for rent.
How to Book Your Golf Cart
Most hotels and resorts have a relationship with a golf cart company – you can ask them about availability and prices. You should also check with a few golf cart rental companies here on the island for rates – email them as well.
Here are a few good ones for rates:
You will make a reservation via email or their website or through your lodging for the dates you plan to use the golf cart.
Once on the island, your golf cart rental company can meet you at the airstrip or at the water taxi/ferry dock or at your hotel – just make sure to let them know when you make your reservation. Now, you will fill out the paperwork, check your valid driver's license, swipe your credit card, and hand you the keys.
For additional travel information see: How to Get from the International Airport – Belize City to San Pedro, Belize: 3 Ways
Do you Recommend a Golf Cart Company/What is the Best Golf cart rental in San Pedro, Belize?
There are now dozens of golf cart rental companies on the island and we usually send our friends to the folks at La Isla Bonita Golf Cart because we have a long relationship with them – and they provide us with great service.  But I can not say that they are better than any specific company – I haven't tried them all…or even a tiny portion of them!
I still suggest checking with a few companies (see list above to start) – and with your hotel – to find one that fits your needs best.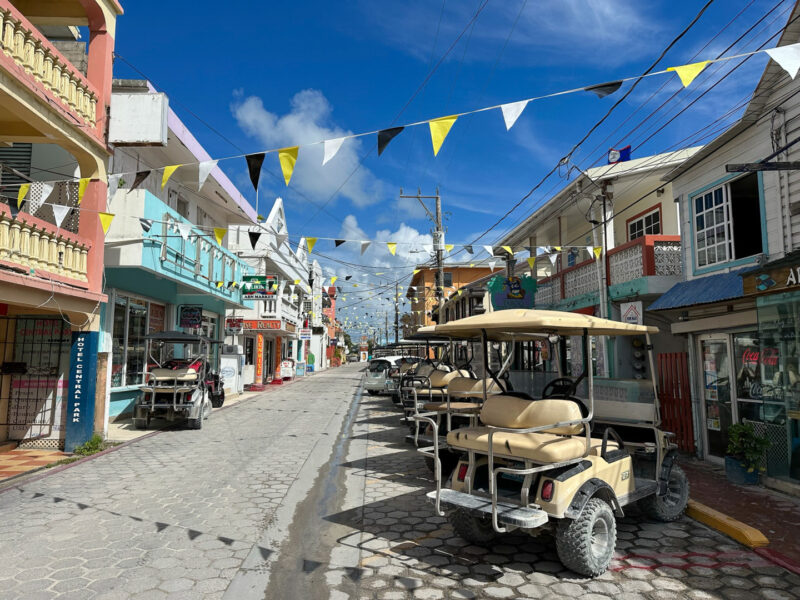 When Do You Need to Book A Golf Cart – How Far in Advance?
This really depends on the time of year. Some weeks are busier with visitors than others. The busier times are generally Christmas-New Years' week, late January, February, March/Spring break for kids in the US and Easter week. These times you want to book your golf cart in advance with your chosen golf cart rental company.
You have leeway during the slower times of year – which allows you to rent for a day or two and extend easily. It always allows you a bit more wiggle room for negotiation on prices.
How Much Are Golf Cart Rentals in San Pedro?
Golf carts cost from $35 to $65US a day depending on how long you are going to rent them for and depending on the time of year. A longer rental is generally going to give you a cheaper daily rate. Also, Christmas week, late January, February, March and Easter week can be very busy for cart rentals – and the prices tend to be higher.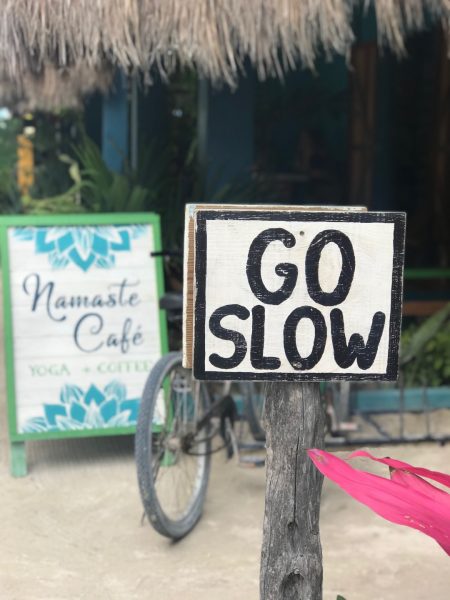 Are there Additional Fees, Tolls or Extra Charges?
There should be no additional fees with your cart. Carts have very basic insurance – a third-party insurance policy – that cost less than $100bzd a year per cart.
There is one bridge on the island – connect the north side of the island to San Pedro town & the south. There is a toll collector's booth and someone manning the booth M-Saturday until about 9pm.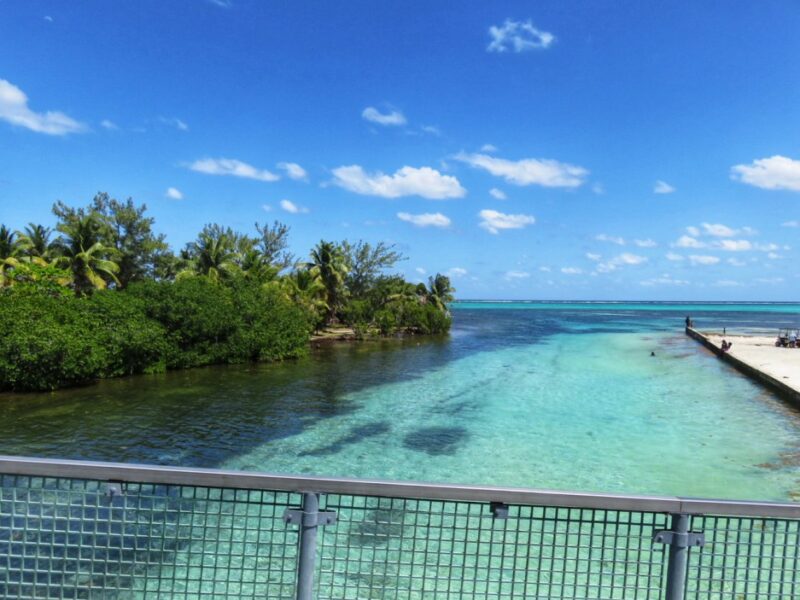 Your golf cart rental fee should include a monthly pass for the bridge for your rental cart. It is stuck on the cart – usually on the inside of the roof or under the seat. Just confirm with your rental company where you can find that pass if asked.
You are also responsible for returning your cart with the same amount of gas as when you picked it up/it was delivered to you.
Some Simple Rules When It Comes to Renting a Golf Cart on Ambergris Caye
Ask your rental company the best way to reach them if you have an issue or a question. (WhatsApp is very popular in Belize)
Many of the carts on the island spent their younger years on a golf course in Florida or Texas and then were shipping down to Belize and "refurbished". It's possible that you may have issues. I find that there is always someone who pulls over to help – and I'm constantly surprised by the number of island residents that are very handy when it comes to quick fixes for your cart.
If you need more assistance, you'll need to call/text/WhatsApp your rental cart company. Often they will just arrive with a replacement cart for you.
You must have a valid license to drive a golf cart. The streets in and around town can be busy – kids, bikes, dogs…drive carefully.
Remember the number and company of your cart.  All carts look the same (to me!)  It's been suggested that you tie a ribbon on the cart to help you recognize it.  I have even jumped into another cart and driven it home before I realized IT'S NOT MY CART.  (Just another reason to lock it!)
There are police stops checkpoints sometimes…carry your license with you when driving. You could get a ticket if you don't have one
Always lock your cart when you park it. Always. When parking in town, do not park at red curbs. Sometimes the red is well-worn…but it is still red. You can get a ticket.
Kids – OF COURSE – want to try to drive the cart…you are on vacation. But refrain from doing any practice driving close to town or on a busy road
Not to be a debbie-vacation-downer but golf carts do get into accidents – and sometimes – though not often – tip over.  Drive carefully!
Kids are drawn to golf carts lie moths to a flame – my nephews.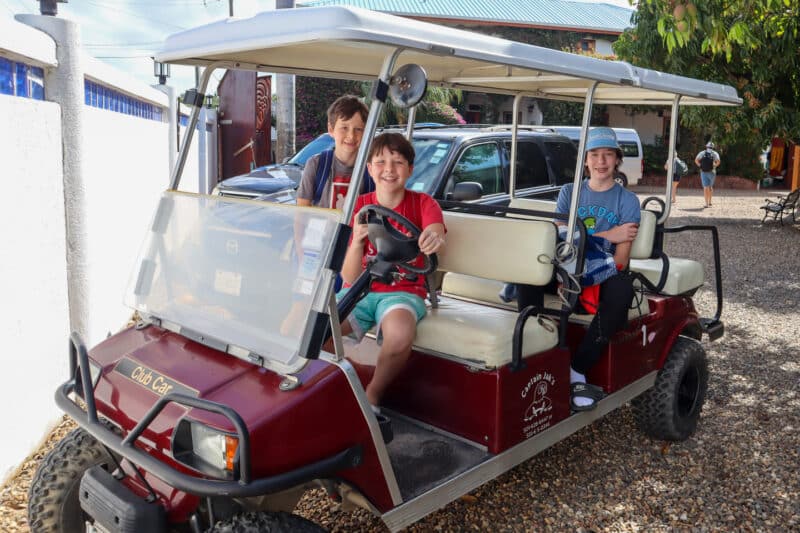 I hope that helps.
Here's what would probably be the most help – chime in!  For those who have been to the island, let me know how you got around or didn't get around.  Let me know your suggestions about renting golf carts on Ambergris Caye.