My Packing List for A Trip to Belize
A Guide to Packing for Your Trip to Belize
You probably have your tickets, and you are starting to think about what you need to pack for Belize and your vacation.  If you are doing this a few weeks before your departure – bravo!  I aspire to be like you.
I am the worst kind of last-minute packer, even though I KNOW that a small amount of planning goes a long way.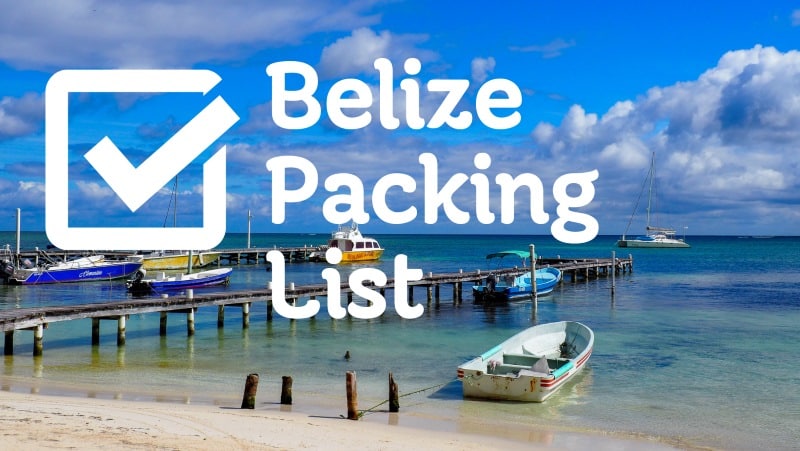 Luckily, you shouldn't need to buy much for your trip to Belize…vacation clothing for Belize, particularly the cayes (or islands) is extremely summer casual.  
First, let me briefly describe the general weather conditions, and then we can get into specifics.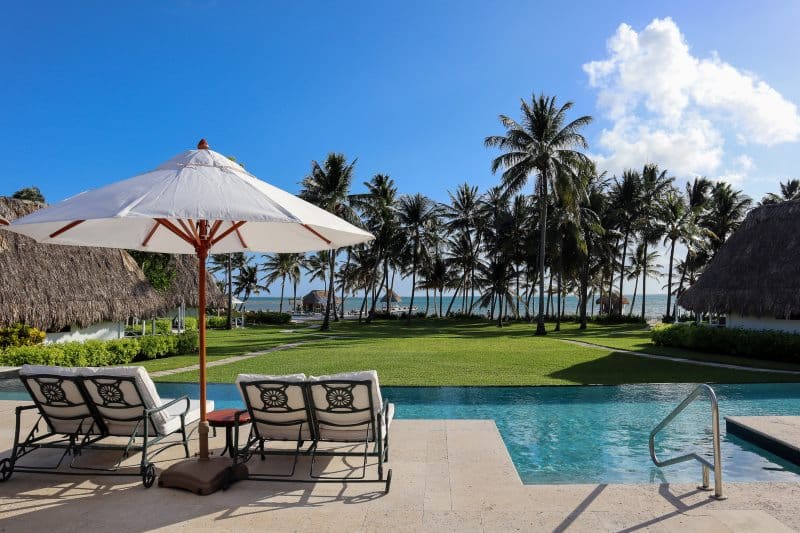 Photo from my recent stay at gorgeous Victoria House Resort
So that you can set yourself up for fun and adventure rather than searching around town for say…contact lens solution that you forgot to pack.
The Weather/Seasons in Belize
The temperature in Belize will be reliably warm – especially during the daytime – while you are visiting.  No matter when!
Here is my summary of the weather on Ambergris Caye (see the monthly stats here)
January – March: Perfection, days in the upper 70s/low 80s, cooling off to low 70s at night, an occasional cold front will blow thru and temps can dip to high 60s at night.  Sun and a breeze from the ocean.
April, May:  Things are warming up a bit and it can be windy.  Days in the lower to mid-80s, nights a few degrees cooler.  Sunny, sunny, sunny.
June, July, August:  Winds lessen. Temps a few degrees higher, days in mid-80s to rare low-90s, more humidity.  Some rain at night, sometimes heavy.  Generally sunny with passing clouds.  Start keeping an eye on tropical storm forecasts.
September, October, and November:  Continued warm and humid but cooling off into October and November.  Less of a breeze on many days.  Mid-80s to low-90s.  Highest possibility of rain during this time though often sunny days and rainy nights.  This time of year can see a string of rainy days but that is not frequent.  Things start cooling off in November and into December.
For more read:  Rainy Season is A Misnomer – the Real Story
Belize Vacation clothing style:
You'll find that vacation style in Belize is what I would call sporty-casual and that "style" has been embraced countrywide.
This sign does not lie.  You will always feel comfortable on the cayes in flip flops and a t-shirt.  (And during the day, by the beach, no shoes and no t-shirt will work too)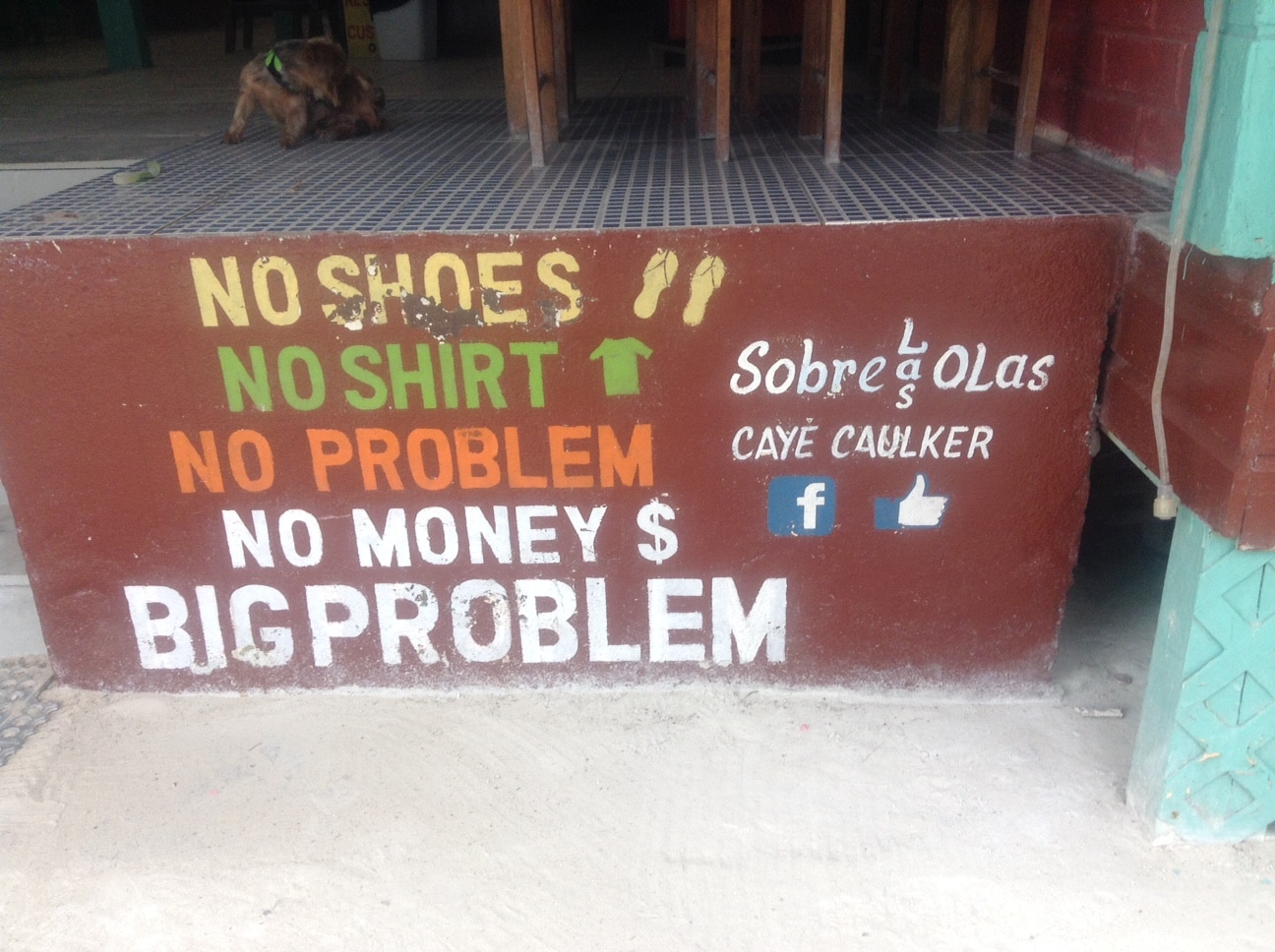 Locals tend to be a bit more formal, generally in the evenings and going out on weekends.  If you do plan to hit a nightclub – your shorts and t-shirts will work fine (especially on the islands) but you will see many local women wearing dresses and heels.
What to Pack For Your Trip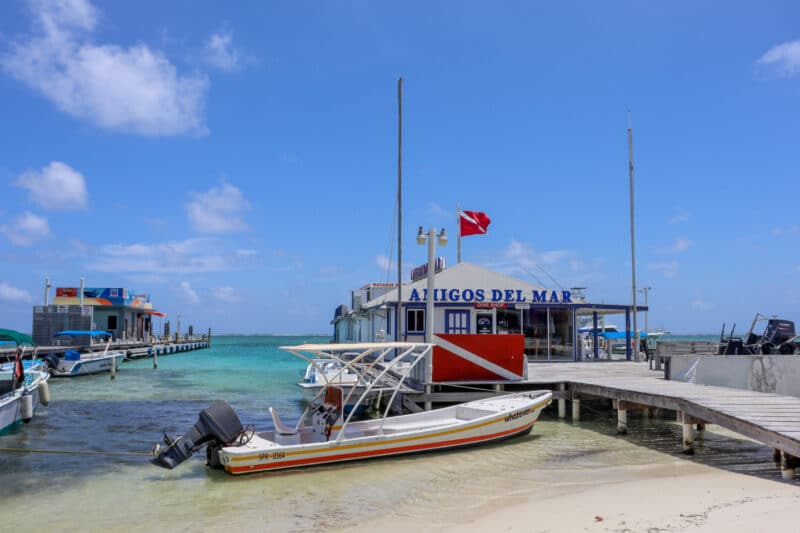 This is not a packing list for backpackers or those who like to squeeze all of their stuff into a tiny carry-on or backpack.  Check a bag.  I always do.  I do not like to fool around with travel size toiletries or lugging my 45lb carry-on from terminal to terminal to catch my flight to Belize.
But this is a personal decision!  As are things like packing cubes (they do nothing for me) or money belts (I don't want anyone to see me remove my money from one of these things – not even a criminal!)
Your summer clothing – shorts, tanks, tee shirts, sundresses are exactly right.  Rather than worrying about being cold – I'd focus on the clothing you want to pack to keep you as cool as possible.  Quick-drying shorts or shirts are great.
Not needed:  Jeans 
Note:  I have acclimated so much to Belizean weather that if temps dip below 68 or the hotel's AC is really blowing – I AM FREEZING and probably whiny.  If you get cold easily, bring a sweatshirt even if you just end up using it in your hotel room at night.
Additionally, if you are staying on the mainland for a few days (I hope you are…there is sooo much to do) – bring a lightweight pair of pants and a long-sleeved shirt (again, very lightweight)
2 or 3 bathing suits – make sure to bring one that feels sturdy.  You don't want to don a beaded strapless number for snorkeling or diving…
A very lightweight jacket:   This one is dual-purpose.  During the rainier season (late Summer to November), it's great to have if you get caught in a passing shower.  In the winter months (January to April), it's great to have in the evening when the ocean breeze brings a slight chill (I'm talking temps in the low 70s).  A light sweater or sweatshirt would work as well in the winter/spring when it rarely rains!
2 pairs of shoes – 1. flip-flops that are decent for walking on the beach or around town 
The ones I'm loving right now: 
FitFlop Flip Flop – basic sport flip flop look with extra cushion and arch support (I've been order these about once a year since 2015 – according to my Amazon orders)
and 2. If you are planning to head to the mainland for any adventures – cave tubing, Maya site exploration, light hiking, pack an sporty sandal (that are good) or light sneaker that you don't mind mudding up.
If you don't know when you are going to use them again, I'd buy something cheap…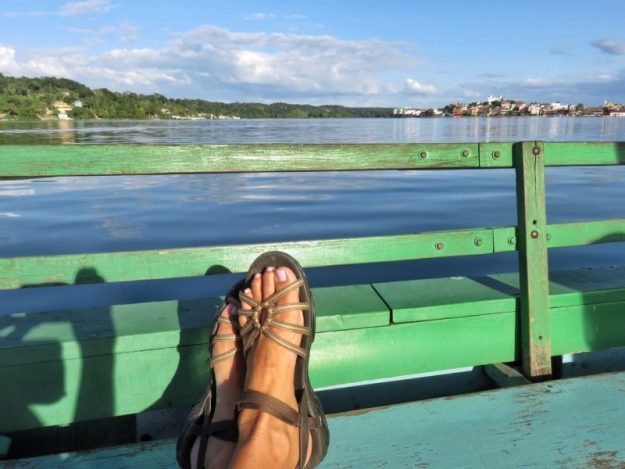 I really liked the 2016 tevas that I brought to BEAUTIFUL Flores Guatemala.  But once I got back to Belize, they sat on my porch for about 2 years and…fell apart.  GO cheap!
NOT NEEDED:  Heels of any kind…seriously.  It's tough to walk on a beach or a cobble stone road in them.  Belize just isn't that dressy.
Another important question:  Do You Need to Rent a Golf Cart on Ambergris Caye?
A few banadas/cotton scarves – I call these my "sweat rags" – definitely NOT sexy but OH SO USEFUL in the tropics.  From dabbing at sweat to cleaning off a wet golf cart seat to an impromptu napkin or neckerchief.
At least 3x a week, Jeff asks me if I have something fresh and dry to clean his sunglasses with.  Voile!
Bandanas or those cotton scarves you always see on sale at the end of the season as you are checking out at J Crew or Old Navy…grab some when they are on sale, wash first (they can be really stiff when you first buy them) and bring them down.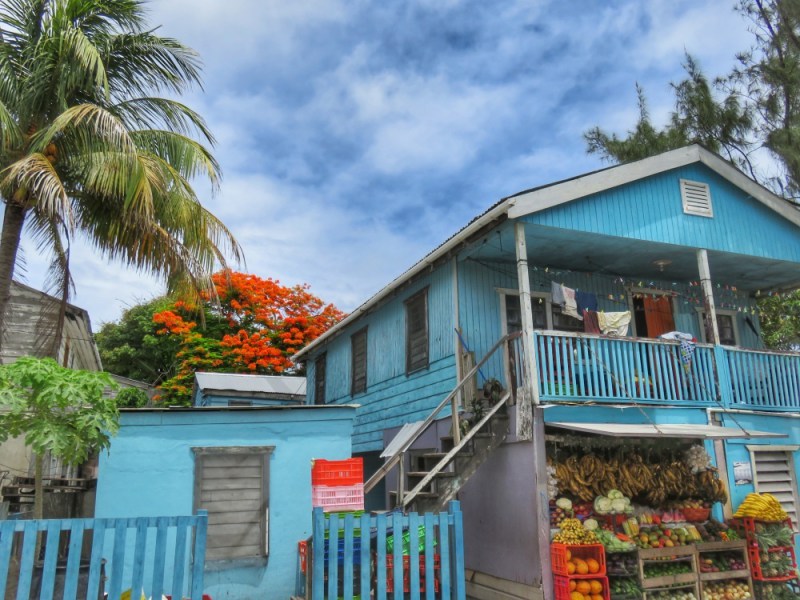 Re-Usable Shopping Bag/Tote – I love the BIG Baggu.  These things are AWESOME.  The best.  Great for packing, for shopping, for a beach bag, and a backpack if you are biking.  Great to use as a laundry bag and or an additional carry-on when you head back home with way more than you arrived with.  But we all have 450 re-usable bags these days – I mean..WE CARE ABOUT THE PLANET!  So bring some along.
Baggu makes great pouches too for all your make-up, lotions, all of it.  These shapes too!
Let me continue.
Toiletries and Extras
So you got the clothing part together…just easy essentials.  But do you want to load it up with 1000 giant toiletries?  Nope…never.  Actually…maybe.
Toiletry shopping in Belize can be frustrating and/or expensive.  The local shop probably won't have your favorite face wash or body lotion (just the very basics) and if they do, it is EXPENSIVE.  So here is a quick list of what to bring and what you can buy here.
Note:  About trying to bring only a carry-on or a small bag…You are going to want access to LOTS of sunblocks for your Belize vacation.  This is where I think you want to buy some new stuff.  That lip SPF balm that is a few years old (and caked with sand) at the bottom of your bag?  Don't mess with that stuff.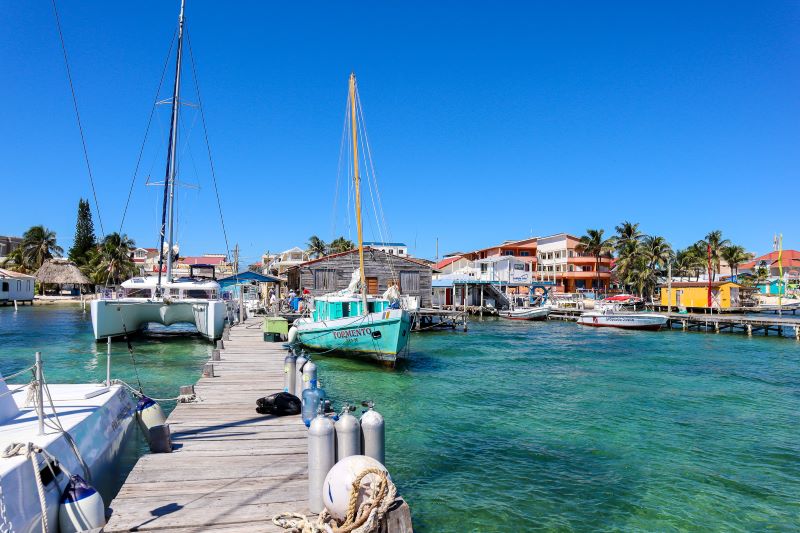 Sun Protection:
No matter how breezy it feels on the beach…the sun is POWERFUL and we are WAY farther south than the Jersey shore.  Pack accordingly and err on the side of caution.  Starting off your vacation with a blistering burn is…no bueno.
Also, the sunscreen that you purchase in local stores is going to be 2-4x as expensive as it is at home.  There is now a wide array of reef-friendly sunscreen available – even Amazon has their own budget type.  Buy a tube as well for when you are snorkeling.
NEVER forget the lip balm with LOTS of SPF.  Sun Bum makes some great flavors – key lime! (SPF 30) and tinted ones as well.
THE Bug Spray-Insect Repellant You Need to Bring
We have bugs in Belize.   I have a Guide to Bugs that Bite in Belize.  Less to none in the dry months, more in the wet months, so bring Bug Spray either way.
I think I wrote this whole post just to tell you to bring bug spray or lotion with picaridan.  It works as well or better than DEET, it isn't greasy, it doesn't smell bad, it doesn't melt the varnish off your golf cart.  It is THE BEST.
I LOVE the continuous spray and I LOVE the lotion.  I can put the lotion on in the morning and it lasts well into the afternoon.  Life changing.
THE Recipe for Itch Relief (Bug, Sun or Dry Skin)
This is the last of the BIG THREE.  Sunscreen, bug spray, itch relief – the three things I think you NEED to bring on your trip anywhere in the tropics.  
I will get itchy from heat and sweat in the summer (especially if I am traveling from a cooler climate), I will get itchy from bug bites during that season – nothing makes me crankier than being itchy.  Some people don't get itchy…but if you do, here's what I've found works best.
Here's what I use:  Starting in the morning…
Eucerin Calming Body Wash:  Perfect for rinsing off sand or salt or sweat and making your skin sigh with relief
Tea Tree Oil:  For topical use on bites, rashes and itches.  I've tried benadryl creams and other drug stores remedies but tea tree works so well.  Itch is going instantly.  Just a dab and my bites stop itching for hours. (I have the little bottle from Trader Joe's but I know Amazon has lots of brands)  It also works amazingly well on a pimple
Cerave Moisturizing Lotion for Itch Relief:  A cooling body lotion that works wonders on heat rash and just all over itchy skin
And then…the winner of the anti-itch Olympics, the greatest of all time –  Benadryl Tablets:  Sure it makes you sleepy, sure you hate to take it but…it works.  When your bug bites are itching or you have heat rash, nothing works better than Bennies.
Additional medications 
There are lots of pharmacies in San Pedro town that carry everything from Benadryl to Viagra (almost always generic of everything) Oh…and before you ask – they do not have Adderall.  Almost every time I head into the pharmacy, someone is asking for Adderall.  It seems popular with visitors but Belize doesn't have it.
I suggest bringing the meds you NEED and a few of the ones you might need – in case you are outside of town or need something quickly like an Advil.
Contact lens care – glasses.  If you need it, don't forget it.  Extra contact lens, if they have your prescription, are a pain in the butt to order – from the mainland.
All phone/computer/tablet/Kindle/camera cords (I always botch this up – and while I was typing this list I ordered this one from Amazon, simple, fun colors so I can find it easily in my bag, I will use all the time)
No, there will NOT be overnight delivery.  Read:  Do We Get Amazon Prime in Belize?  Shipping and More
Sunglasses and case (super fine sand wreaks havoc on them)
All hair products – the selection here, even on shampoo and conditioner, is VERY limited for shampoo and conditioner and almost no-existent for styling products
Camera Equipment for Belize
Bring your everyday camera and/or camera-phone.  I LOVE TAKING PICTURES around San Pedro and all over Belize.  But you may have guessed that.
I take this same photo of my dog Frannie heading to the beach – same spot – about 4x a week.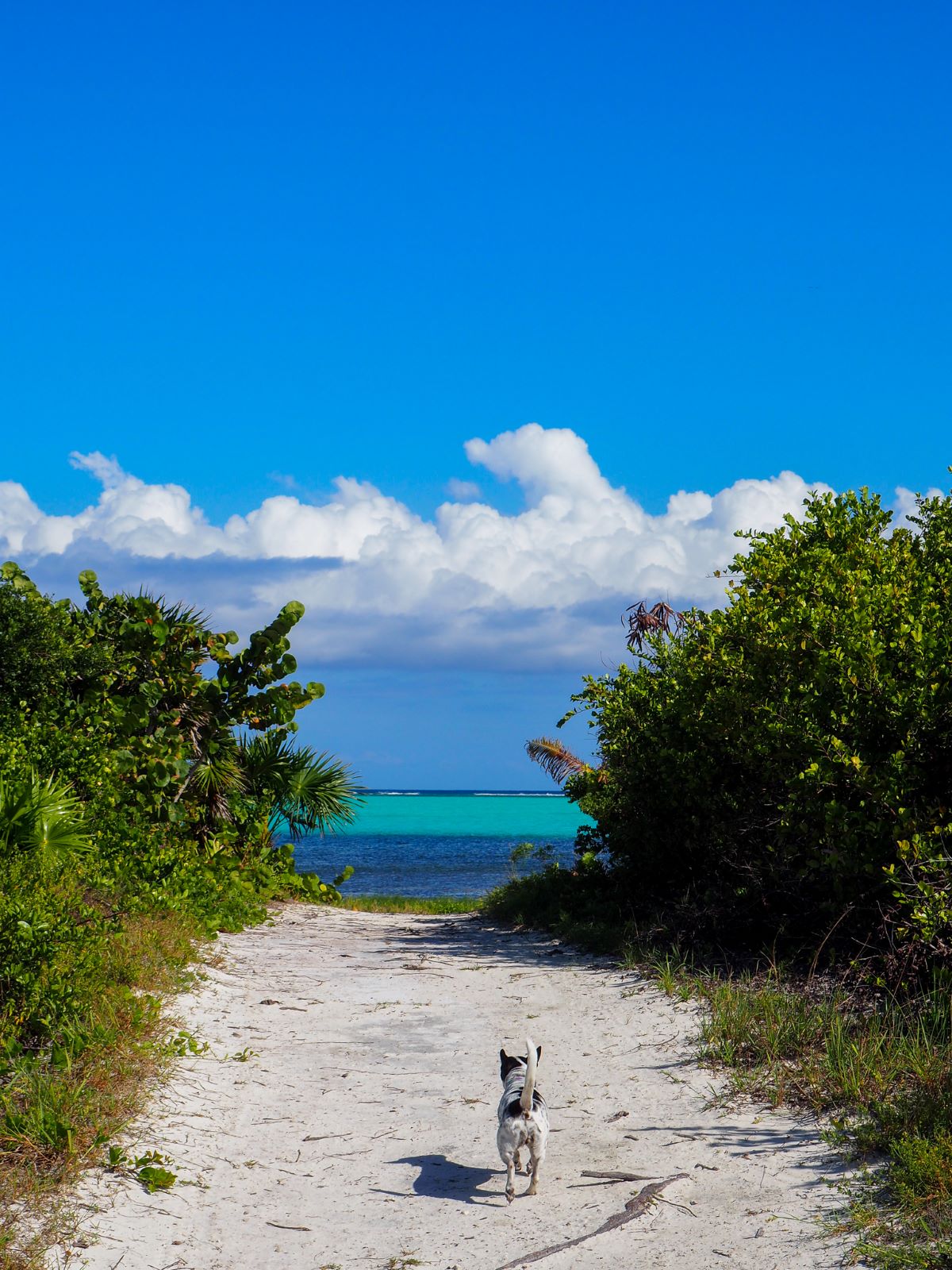 Do you want to make a big investment just for this trip? The GoPro you've been dreaming of or that underwater camera?
Sure, suppose you have been dreaming about it and will use it when you get home.  But if you are thinking of buying it just for your Belize vacation?  I dunno.  Let's be honest…no one is DYING to see your underwater snapshots of coral or fish.  I think it is WAY better to simply enjoy the snorkeling…
Forget the pictures underwater – and enjoy your experience.
Please let me know what you consider crucial to your packing for a trip to Belize.  I would love to add more to this list!