The Island's Jungle Bar: A Cool Spot For Everyone Charging Very Local Prices
Have you been looking for a family- and Belizean-owned bar that serves great food and drinks at local prices? A spot with an octagonal bar so you can chat with the friendly bartenders and other patrons or corner booths where you can just do your own thing?  One that has horseshoes and a pool table and lots of seats under some pretty incredible tall shady trees?
If not, you should be.  I FOUND IT!  It's called The Island's Jungle Bar and a fantastic spot.  But let me stop talking and do more showing.  I stopped in for lunch yesterday.
The Island's Jungle Bar is located about 1 mile south of town…just south of the gas station and across the street from Caribbean Villlas Resort, within walking distance of the Alaia Resort and a bunch of others..
You'll see the sign along the huge, shady property where they are located.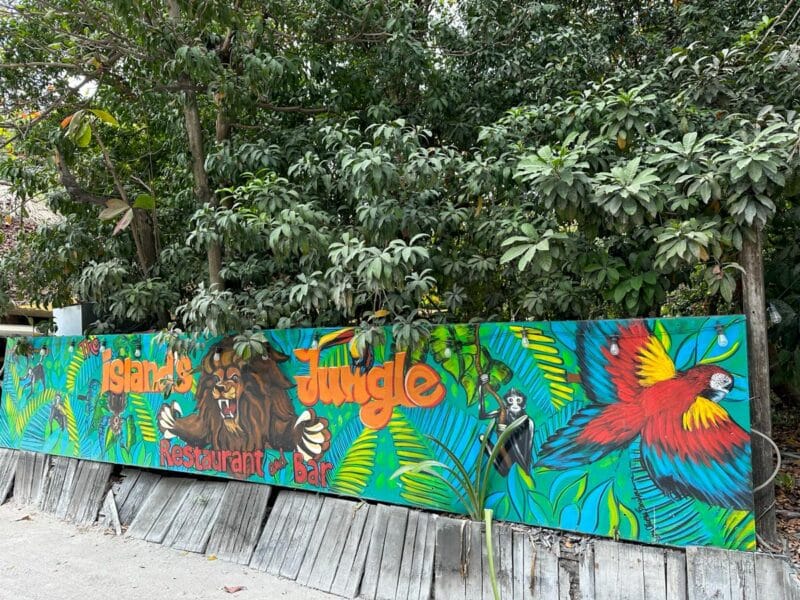 A chimp will be offering you wings and Belikins…head right in.
And I ran into Buddy – a beautiful dog hanging out by the entrance.  As sweet and sleepy as a…meatball. 🙂
Buddy's girlfriend Precious (Precious!) was sleeping under one of these containers.  She was cool and comfy and could not be bothered with me.
Step into the large palapa.  A huge octagonal bar surrounded by chairs and then in the four corners, comfy booths.  I love booth seating.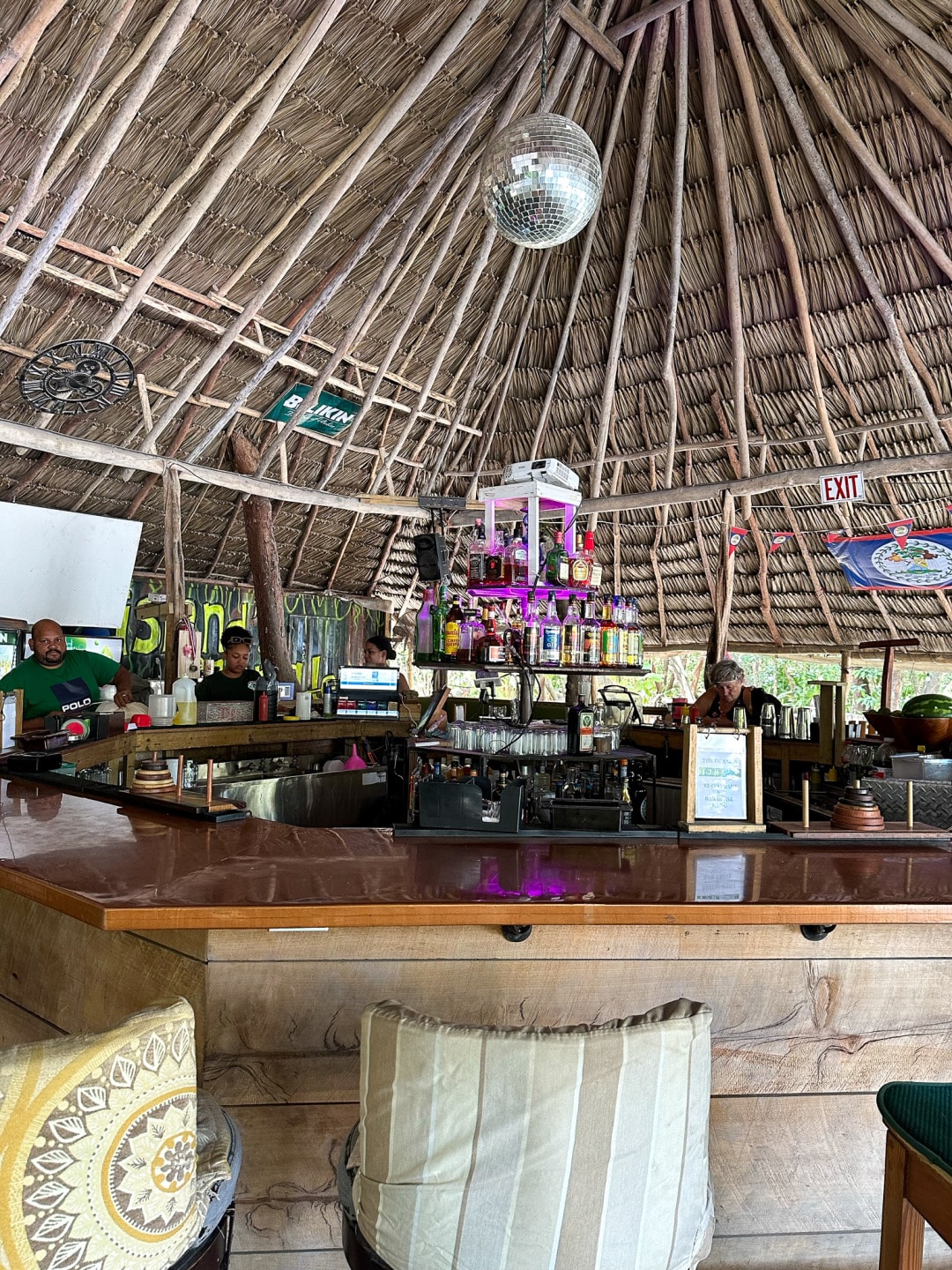 This booth…extra points for a book exchange right behind it.
My Favorite 24 From 2020 (It was a BIG reading year)
And the back beautiful beautiful fig trees – enormous!  Can you see the tiny (but full sized) disco ball?  This would be SUCH a great place for a wedding or a party…underneath this tree filled with twinkly lights?
And here s the owner Kevin – one of my oldest friends on the island.  He and his wife Rose own and manage the bar.
Kevin and I worked together at Tacklebox Bar & Grill for over 3 years…years that are a bit of blur…
He is also one of the hardest-working guys you'll meet on this island.  He is a building manager, he owns and runs this bar and he owns a golf cart rental company.
He also participates and often wins the Estel's BBQ Cook-Off each year. See 2023.
Same smile from when we worked together 2007-2011.
Back to the present day.  The menu at The Island's Jungle Bar has a nice assortment of items and…really really reasonably priced.  You can have a classic plate of rice & bean with stewed chicken for $10bzd…along with your shady comfy spot to sit.
I order two flavors of wings (5 wings for $7bzd) and a chicken quesadilla with lots of cheese and chicken…$12bzd!
Thick homemade tortilla…it was really delicious.
I had two orders of wings – 10 in total, half mild (yum) and half honey-lime – and a big quesadilla with fresh salsa and sour cream and a soda water with lots of ice, and my bill was $27bzd.   I had to bring more than half the food home.  THAT is a deal.
The Island's Jungle Bar is just that kinda place.  Kevin told me that 30 or 40% of his customers are the employees at Alaia Resort and Victoria House and Mahogany Bay Resort – who comes for food and a drink or two after work.
Kevin's spot serves food until 11pm.  (Love that)
They also serve Mine Beer (made in Orange Walk, Belize) which has the worst logo I've ever seen, but I hear that it is a very drinkable beer.  And again…cheap!
So…if you want great food, very reasonable prices and to hang with the locals.  (I caught up on some good local gossip with Kevin)  Order favorite San Pedro drinks like a Campechana (rum and soda water with a splash of Coke) or, if you are feeling a bit…hungover, a Michelada.  (Recipe in this old post – I now know better than to pick up a starfish!)
Or go a bit more upscale with a Mai Tai or a Frozen Margarita.
And visit bartender Ali on Wednesdays…
Ali was one of the first bartenders I met – at Crazy Canuck's when Canucks still owned it.  He's a great guy…please, say hi for me.
Here he is in 2012.
Sorry to drag you down memory lane with me!  The Island's Jungle Bar is a great spot – highly recommended but please…save that corner seat for me.
Check out their Facebook page for daily specials and all the details.