My Drive Up North Ambergris Caye: What I Saw and What I Hear
I jumped in the golf cart a few days ago and drove to the newly opened Margaritaville Belize at 13 miles north Ambergris Caye.  (The 13 miles is measured from Central Park, San Pedro – or so says local lore)
I live 8 miles north, Ambergris Caye so…the ride isn't technically that far.  Only 4.5-5 miles or so…and it takes me about 35 minutes to drive south to San Pedro town.  But this ride north is different…
Here's where I Live & Where "The Camp" Is
But as you go farther north on Ambergris Caye, the road tends to see less maintenance (if any) and then disappears altogether.
Here's a map I snagged from Moon Guide.  I've been using it for years!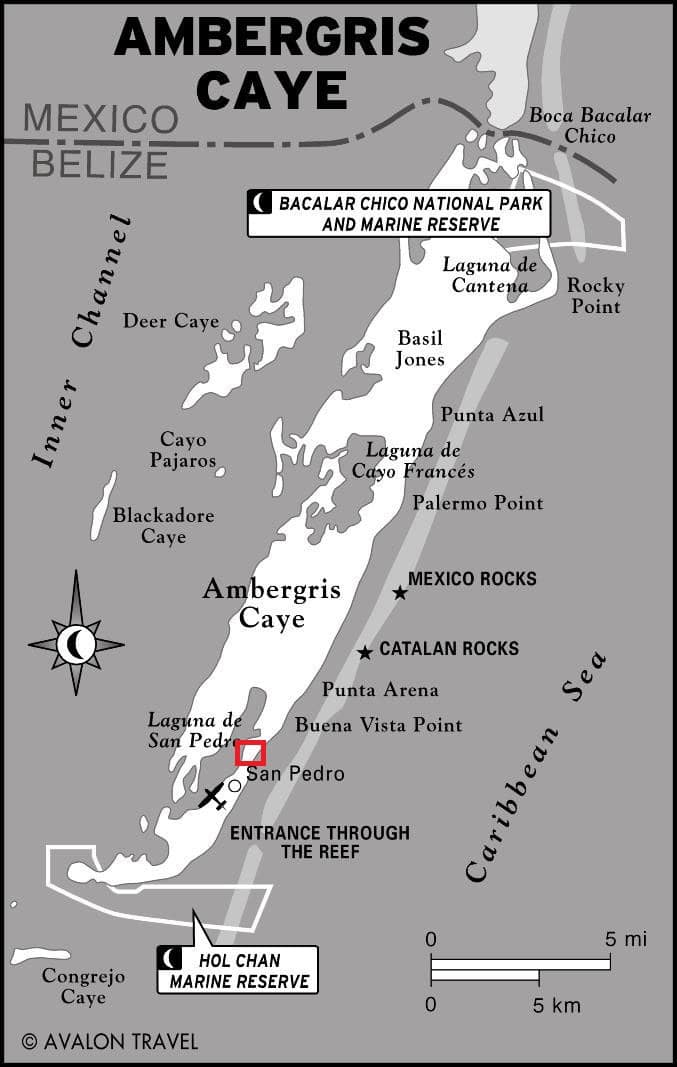 For those new here, this post is getting deep in the weeds.  But here's the overview:  the island has a bridge connecting San Pedro town (red box) to north Ambergris Caye – the road is then paved to about 4 miles north.  And then is hard-packed fill to about 10 miles north.  (This official road was finished in 2014 – until then almost everyone traveled to north Ambergris Caye via boat)
After about 10 miles north, it is more of a path – along the beach until Robles Point at about 15 or 16 miles north.
Robles Point is the first spot that the reef runs into/melds with the land – and then about a mile later, it restarts at Rocky Point.
Cool right?
So…I am starting my drive at home -about 8.5 miles north.  About where the Mexico Rocks Marine Reserve ends.
Let's go!  A bit of what I saw, what I've heard, and what I know.
Our neighbor to the north, Tuto Belize.  One of the most beautiful properties on the island.
And our dogs favorite place to run.  Coconut palms and squirrels galore.
About a mile north – and a right towards the quarry – is the new police station norte.  I stopped in to say hi, introduce myself and get some phone numbers to call in case of emergency.  I've never called the police before, but you never know!
I met a lovely officer – having them up north is great.  I'll have to remember to drop off a banana bread next time I'm by.  (My best recipe)
They also have 2 very cute scruffy little dogs hanging out there.
There is another quarry beginning operation – let's call it the PUP Quarry after the current political administration and some new roads are being forged in that direction.
This cute sign and very cool looking house.
First Bonito's Shop – where he was preparing BBQ.
And then the road extension.
The road gets more jagged from here.
You'll pass Sapphire Beach Resort – I stayed there 9 years ago. Look at that beach!
And just across the way, someone is building what looks like a large structure across the street from the resort.
Right next door is Alom Estates.  The website looks amazing but I'm not exactly sure if that is what is behind the gates.
And just next door the North Beach Retreat and its gorgeous flowers.
And then a few hundred feet north, a new spot is being built.  I've only seen the posts about it on Instagram but it seems to be coming along.  It's called Sand and Sky Resort.
I just found this on their Facebook page.  I'm totally into this…
But imagine washing these windows…the sea schmutz!
Much more boring from the road.
We are at about 10 miles north right now.  Let's keep going!
Not far is the lovely Chat n Chill.  They have a small but great restaurant that is open now from 12 to 3pm and 5 to 8pm every day but Monday.  And if you are up this way, it is totally worth stopping in.  From 2017 but take a look – this place is CUTE.
Onward!
You reach a fork in the road and head right – if you went left, it used to be a dead end but they are working on this road too for the new quarry.
You won't go too far before the road to the right ends and you are driving on the beach path.  There is a very welcoming bar called El Norte.
When I stopped to take a picture, the dog ran out and peed on my tire.  TOTALLY something my dogs would do.
It's a very pretty but slow drive.  The road can be super smooth but there can also be a pile of coconut fronds in your way…or actually coconuts.  Or just a big rock embedded in the road.  You want to take it slow.
The old El Secreto Resort.  It closed in 2018 – it had been GORGEOUS – and you can see before and after pics here from late 2018.
Now it is just crumbling.
Much of the land up here is some of the highest on the island.  Don't think cliffs and hilltop vistas.  I'm talking 12 feet above sea level.  But that's a lot on this sand/coral bar of ours.
Fun fact:  There was once another village way up north in the Bacalar Chico area.  By 1930, there were said to be 100, perhaps 200 people living up here.  But the Hurricane of 1942 (a doozy that hit in November) wiped it out and after that the area was unpopulated for decades.
There are a smattering of homes between here – about 11 miles north and Margaritaville at 13 miles north.  Once you reach Margaritaville, you are going to reach these posts and be routed around the HUGE property on a new "road" that is more like a rocky jungle path.  I HOPE they fix that up…it is a tough tough drive around.
(If you then headed 1 mile into the bush, you could build a home here:  Homestead Belize)
And this is where I stopped to check out the island's newest resort.  The resort is not a new one but a fully refurbished one.  The spot was originally called Sueno del Mar – and gave me my very first, very part-time job on the island shopping for the handful of residents from a list, putting it on their boat, and sending it up there.
It was a gorgeous spot but man…a story of heartbreak for investors.  I'll leave it at that.  You can look back through the old articles – here is one of them.
Here are some old pics of Sueno Del Mar – I forgot about the odd smurf themed bar.
It's another half mile or mile to Tranquility Bay Resort.  A spot that was recently sold – and the new owners were renaming it Salt Resort.
From what I gather from their adverts on Facebook – they were bringing 4 kids down and looking for a full-time at home teacher AND they were going to be filming a show documenting the whole thing!
Go BIG or go home!
And from what I heard…they arrived at the resort for a bit…and chose the latter.
I hear the deal didn't go through.
I remains a beautiful spot.  You can see all my pictures from Dec 2022 driving up to Tranquility Bay and even farther north..
That's it for today – hope you all have a lovely week.
Oh!  And for those asking.  My drive up to Margaritaville – from my home at Mile 8.5 to Mile 13.  It took about 45 minutes.