Cost of Living in Belize – Ambergris Caye: 2023 Update
How much does it REALLY cost to live on Ambergris Caye, Belize: From Someone Who Lives Here
There is a saying that the old crusty expats (yes…we get crusty – the sun is tough!) love to tell newcomers when they land on Ambergris Caye with stars in their eyes, signatures on real estate contracts, and rum punches in their hands:
"Know how to make $1 million dollars in Belize?  (Pause for effect) You come down here with $2 million!"  Heh heh heh.
Read:  Why Pick Belize in the First Place?
Belize is consistently on the lists of places where you can "Retire For $1KUS Per Month" – or where "$200K Will Last You 30 years of retirement".  Lists generated by companies looking to help you (paid help of course) with moving to your new country – or sell you insurance for your move…but are they accurate?  Is it cheap to live in Belize? My quick answer:  maybe…BUT…
But: You will most likely not be relocating to the spots most frequented by transplants from the US, Canada and Europe.  The locations that you probably fell in love with on your very first vacation to Belize.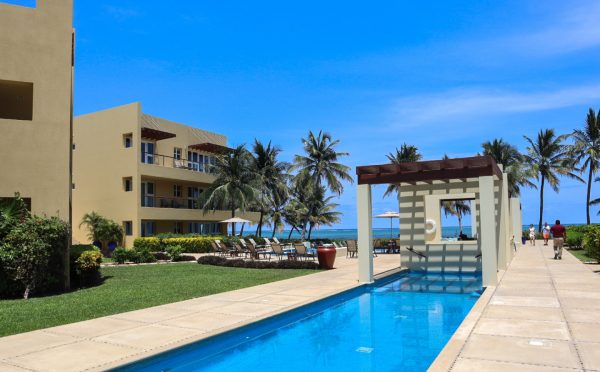 These "popular" spots – the more tourist areas include Caye Caulker, Ambergris Caye (my home for 16 years), and Placencia.
Ambergris Caye is the location with the highest amount of visitors AND, overall, the most expensive spot, generally, in Belize.  The cost of living – the rent, the food prices, the activities – here will most definitely be more than the cost of living in Belize as a whole (on average).
Can you live here in Ambergris Caye for $1000US a month?   Not easily, if you are including your housing.  But if you bought a small apartment already and you are just one person and have very low monthly HOA fees – and you are careful with electricity and ride a bicycle only and eat local foods.  Probably.  But it's gonna be tight.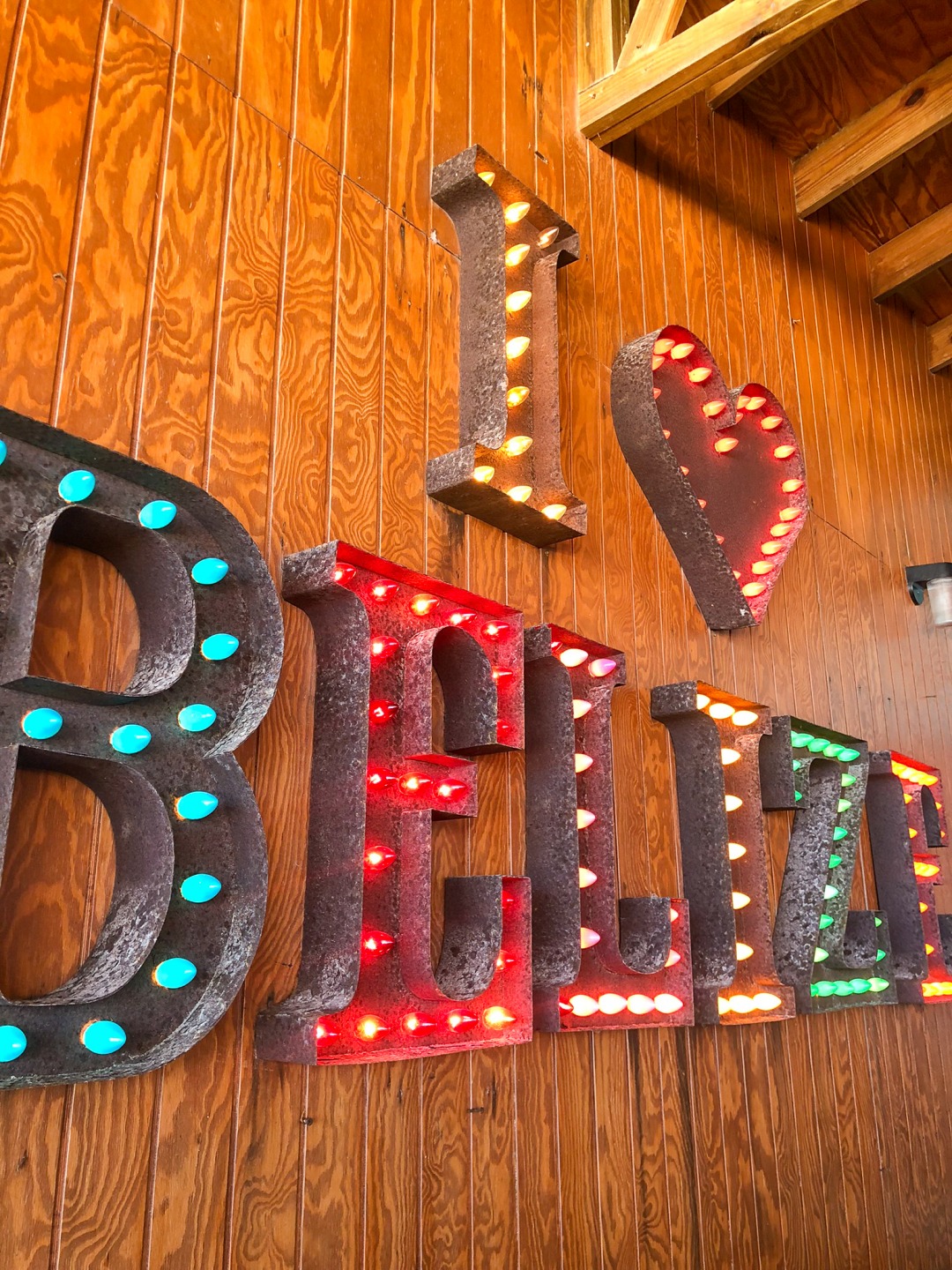 For $1000US a month, you are going to want to look at smaller villages and more remote areas – like Punta Gorda in the south.  Or Benque in the west.  Or look at Corozal in the north (though that might be getting tight).  And your rented home might be a bit more rustic than you are accustomed to.
If you are going to live on Ambergris Caye – it is going to cost you more.  Here is an estimate of prices on the island – based on my 8 years of renting condos on the island and my 16 years in total living here full time.
Obviously, your Cost of Living on Ambergris Caye is going to depend on the choices you make – do you want transportation around the island (own or rent a vehicle) – will you use the air conditioning (temperatures can get steamy in the summer and fall( – do you have medical insurance/will you want to get it – do you love red wine or going out to eat?
Easiest just to tell you my experiences – and some of my expenses – and you use that as a jumping off point.  Remember that $1US = $2bzd.  (And that doesn't mean that your money goes twice as far – I hear that all the time! – it means prices will most likely be 2x what you are used to)
For more information on Belize Currency and tips of money in Belize
Fixed Costs/Fixed Spending
Let's start with the biggest cost – and the one that is probably going to get you over $1000US/ month right from the get-go…
Housing or "How Much is Rent in Belize":
For an American-style condo, one bedroom, one bathroom, you can expect to pay $750US to $1500US.  This would generally include any homeowners/condo fees but not utilities.  Prices increase with amenities.  Beachfront/non-beachfront.  Pool.  Security.
The rental market on the market can be a bit murky.  Listings can be scattered in different spots – or just word of mouth.
Here are some good places to start when looking for rental spots on Ambergris Caye.
Facebook group:  Ambergris House/Apartment for Rent
Listings will often be a bit higher in the winter/spring (the "busy season) and lower in the summer and fall.
Below is Royal Palms, an older condo (20+ years old) development about 1.5 miles south of town – and where I had my last rental (6 years ago).  It has a beautiful pool and is on the ocean.  My unit had 2 bathrooms, 1 large bedroom and was very dated – including an ancient central air system that would cost up to $1000bzd a month if left on.  I did not have a sea view or a pool view and my final rent was $850US/month.  Again, this was 6 years ago and it was one of the cheaper units in the complex.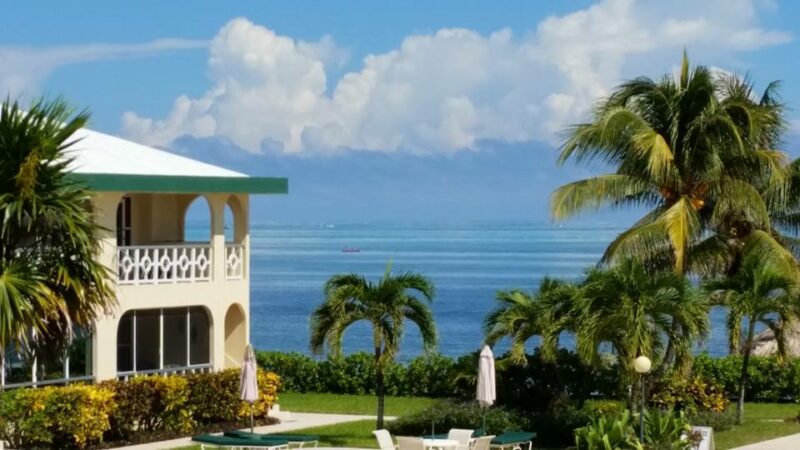 I always recommend that people rent before buying if you plan to move full-time to the island.  Ambergris Caye (and Belize)…it's a different country.  And what at first is SUPER FUN VACATION!!! becomes real-life.  And real-life everywhere has it's challenges and frustrations…and when so many things are not what you used to?  Those can add up!   It's not for everyone.
Trust me…your worries and cares don't just melt away at the beach.  Sorry memes.
15 Things No One Told Me About Living In Belize
Electric Bill (BEL):  $100 to $400US per month.   Again, this depends!  We use AC – 24 hours a day for two rooms in our house – just under 1000 sq feet – (which Jeff says is "a very inefficent house") – and the electricity bill can be as low as $400BZ in the winter and up to $700BZ in the hot summer months.
Some people choose to leave the AC on all the time – not only for being cool but to lessen the corrosive effect of the salt air on electronics.  It eventually eats everything – your computer, your refrigerator, your pots and pans, your leather belts…everything.  Obviously, it's a personal choice.
Note:  We pay about .43bz a kWh – it varies by usage, time of usage.  Here are the KwH for countries around the world – .43bz (or .21 1/2 US) puts us near the middle of the pack.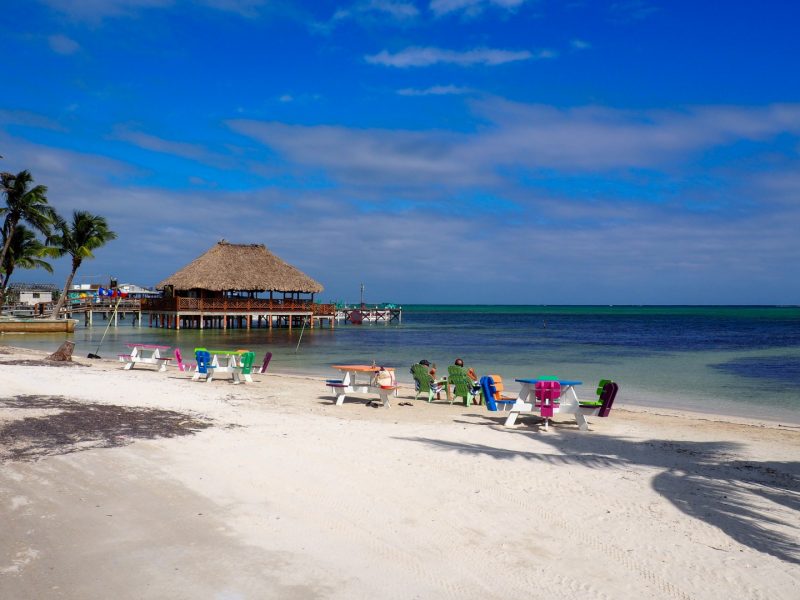 Water Bill (BWS):  $35-75US per month (in town and south) – just a few hundred feet north of the bridge, there is no Belize Water Services (BWS) and all water is either made or collected in your cistern.
For drinking water:  Everyone buys drinking water – primarily from Bowen & Bowen – in 5-gallon jugs.  Each jug refill costs $5bzd.
Internet:  Over the last few years, internet speeds have increased a TON and prices have decreased.  I couldn't be happier.  Here is BTL's current pricing sheet and speeds they offer.
We pay $79BZD for 40Mbps speed.  Which allows us to get Netflix…wooohooo!  But for other channels (like HBO and Hulu), you will need a VPN (they are not offered in Belize).   
And you know how the prices can add up…I am sure that you are in the same quandary in the US or Canada.  A new show gets announced that you REALLY want to watch…so you sign up for the most basic plan of Hulu or Apple or Netflix or HBOMax and then…you promise you are going to cancel…and…
We used ExpressVPN on our FireTV – which costs about $15US a month.
If you want to get local television and the "regular channels" – there is one cable company on the island and it has increased in price over the last few years once HBO found out that we were pirating their channels.
Cable Bill (Coral Cable):  $60BZD per month,
The hardest thing I found was getting used to NO DVR.  A life without my US boyfriend, TIVO (remember, I last watched TV in the USA in 2006) is a whole new life…
It took me years to stop looking for the PAUSE button when watching TV.
Cooking Gas/Propane:  Unless you have an electric stove, you are going to need to buy and refill a propane tank for your gas stove and oven.
Read:  Things I Took For Granted Until I Became an Expat in Belize – one of those things is that cooking gas just comes out of a pipe in the wall (or that when you flush your toilet it just disappears to…who cares!)
I'd say that we are light users of our stove.  We have an electric tabletop convenction oven where I do all of my roasting and baking.  We drag out 50lb propane tank to town once every two or three months and refill it – for around $80bzd.
Mobile Phone:  The phone system here is pre-paid for the most part.  I spend about $50-75bzd per month for my phone credits to use the telephone locally and to buy data on my phone to use the internet.   To make long-distance calls, I use Facetime or WhatsApp.
You can see Digicel (one of the two local phone companies) for data plan prices here.
Pets:  This is a big expense!  Things like cat litter or dog food can cost double, often triple, what they would cost in the US.   We order a 44lb bag of Canidae dog food from Reimers in Belize City every 45 days.  The bag costs about $175BZD plus shipping on the water taxi is $12BZD.  (Here's the bag at Petco in the USA)
That's food.  You also NEED flea, tick AND heartworm meds.  These are all very real issues in Belize.  Tick fever is very common (our dog Frannie has it – that's Frannie below) – and so is heartworm.  Tick fever is manageable when diagnosed early – heartworm is SERIOUS.  And seriously expensive.  The only way to definitively get rid of it is 2 shots that are very hard on the dog and cost $1500BZD at San Pedro Animal Hospital.
That's how we cured Mocha of her heartworm.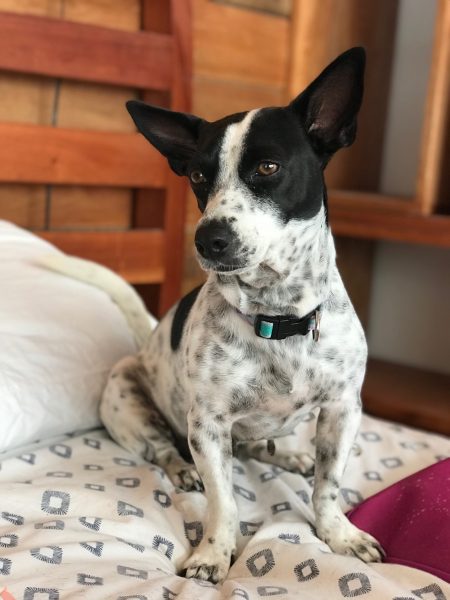 Medication for these will cost you around $50-75bzd for each dog (or cat) per month.
So that's for your pet, what about YOU?
Medical Care:  Since I moved to Belize, I've been uninsured.  A word that, at least for Americans, causes many to shudder with terror.  We've all read the stories of families that are bankrupted by the US Health Care system.
When I moved here, at age 33, I didn't worry about it one bit.  I had paid for healthcare (thru my work for years in the US) and rarely rarely used it.  And in Belize?  I went to the doctor once in a while (walk right in) and it was very very affordable. Less than $100BZD for my visits.
But want to do something more spectacular?  Like when Jeff had a heart attack a few years ago (at age 49!???!) – you are going to pay out of pocket.  $15-20K USD.  (Let's not even talk about how it aged me 25 years)
Or my new-ish diagnosis of Hashimoto's Auto-Immune Disease…I was just in Merida, Mexico getting a more solid diagnosis on that.   
Some people here have Expat Medical Insurance – there are MANY plans out there – some are retired and use US Medicare (and travel for medical needs) – many are uninsured.  This is a personal decision.
Here is my post about a visit to a gynocologist in Belize City – a mammogram – and how easy it is to fall back on "expat denial" when in Belize.
Transportation:  A golf cart is expensive.  You can buy a decent used cart for $12k to $18kBZD ($12K would be a great deal) – and a new cart for $20k to $40kBZD.  Maintenance is imperative – especially if you live far south or north or out by Secret Beach.  Rinsing it with water, greasing it, oil.  Repair work is expensive.
You can rent a golf cart from golf cart companies on a monthly basis.  I would say prices (you may be able to find a better deal in "off season months) are going to start at $400US a month.
Immigration costs:
If you plan to stay in Belize, you are going to have to get a monthly stamp at the immigration office in your passport – a visitor permit extension that costs $100US per month.
After one year on the island (leaving less than 14 days during that year) you can apply for your residency.  Those 45 and over may consider the Qualified Retiree Program – or QRP.
NON-FIXED Costs
Food:  This, for me, is BY FAR the hardest estimate. 
And when you do come up with an estimate? I'd say double that.  Food is quite expensive in Belize unless you stick to the foods grown and produced locally.  Now that, initially, sounds amazing.  I could eat chicken, rice & beans all day and night!  (Plates of this POPULAR dish in Belize) cost about $8-12bzd at local joints.  And local pineapple?  I love it!
But you are going to want to branch out – eat some imported foods like cereal or cheeses or fruits like apples or grapes.  It can get expensive!
This post:  Grocery Shopping in San Pedro Belize has a bunch of prices on things from bread to milk.  Check it out.
And San Pedro has amazing restaurants – they are a huge part of what makes this island so wonderful.  You are going to want to eat out!  Check out these menus – like Elvis' Kitchen or Red GInger Restaurant for a sense of the prices.
Travel:   I travel some, but not alot – it is expensive!  And I try travel relatively cheaply.  I use the water taxi, the bus and stay at low-priced hotels – unless I get an invitation from a resort.  But I LOVE to travel.  And if I go on a trip within Belize for a few days, I can easily spend $500US.  
Also, if you plan to visit friends and family in the US (or Canada or your place of birth) make sure to factor that in when budgeting.
Remember, that if you visit once a year or less (like me) – you might go a bit crazy in Target or CVS.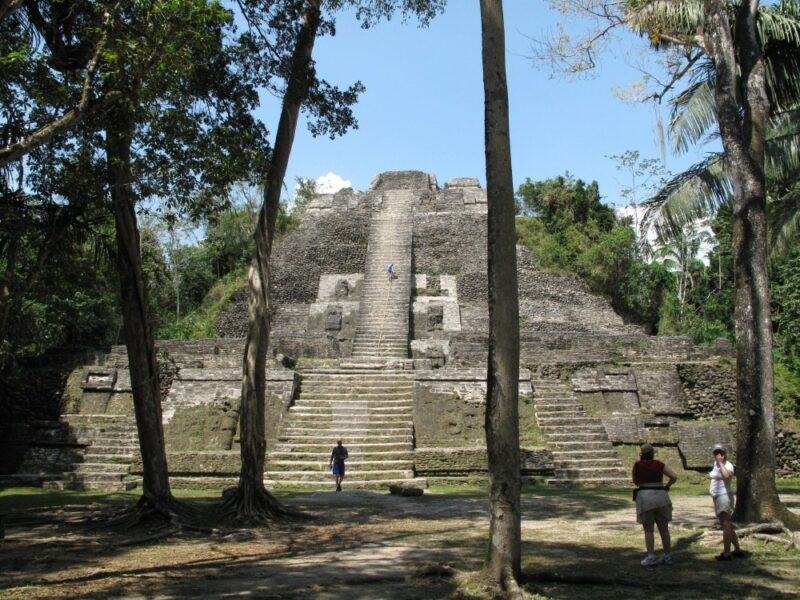 Entertainment:  This, obviously, varies for what YOU want to do on the island.  Do you dive? ($50US+ per tank dive)
Do you like eating out?  Watching DVDs?  Buying books on Kindle?  Meeting friends at bars?  Sailing?
Make sure to add this to your budget.
So there you have it.  I wish I had a definitive answer for you – a dollar amount that you could count on but…I don't.  It's all very personal and could range from $1300US a month to $5000US?
Remember that old crusty expat saying.  There's something to it.  Buying and/or starting a business in Belize is as hard, if not harder, than opening one in your hometown.
Here's a post on what I call the "Living the Dream Economy In San Pedro, Belize" and how it can make things very tricky.
I wrote this post a few years ago: What Businesses Does Ambergris Caye Need?  That gives some of the special situations in Belize…like seasonality.
Please let me know if you have a different experience – or have lower/higher numbers – in the comments below.  AND if you live in a different part of Belize and would share with me – I'd LOVE to write about your experience living in Belize.
Additional info:  Can You Shop Amazon Prime in Belize?
I refresh this article every two years or so – please let me know if you have any specific questions or numbers that you would like to see me include.