Eight Things I LOVE About Cancun and Some Things That…Well…Not So Much
I often hear from people that they hate Cancun.  "I SO would not go there ever again."
But the more I visit (I'm guessing I've been here at least 15 times), the more I like Cancun.  The better it gets.  But  first a few simple warnings.
Cancun is NOT the place to visit if you are looking for an exotic locale.  Or if you are looking to impress your traveler friends.  Or If you want to commune with the locals (the Mexican accent you hear at the front desk may be the only way you know you are in Mexico.)  Not the place if you want to get off the beaten path.  If you want to have a beach to yourself.  If you actually want to feel like you are in a foreign country.   Do Americans even need a passport to get here?  I think maybe they do.  But that is a recent development.  (Imagine Mexicans trying to get into the USA with only a birth certificate?  No.  You probably can't.)
Cancun is…EXACTLY WHAT IT IS.  Fantastic.
And here is what I think IT is.   I LOVE Cancun and I'm not ashamed.  Here is why.
1.  The Weather
Same as Belize.  Gorgeous most of the time.  During the hurricane season, it can rain.  It can rain hard.  But I'm here now, in the middle of October and it is clear and beautiful.  HOT and humid…but beautiful.
2.  THE BEACH
Miles of white sand that stays cool with the most gorgeous ocean.  Ribbons of blue darkening to the horizon.  The water that is fairly rough most of the year (challenging waves for sure) that now, in October, is almost like a pool.
These are ALL pictures taken in October, probably the SLOWEST month for Cancun.  The beach is NEVER this empty.  You've been warned.
(By Thanksgiving time, the water can be a bit more rough but still GORGEOUS!)
3.  The Impressive Infrastructure.  The roads.  The constant public buses whipping by to take you anywhere for less than $1 USD.  The lawns.  The police.  The total lack of litter.  I've never ever seen a stray animal.  Never.   I've never even seen or been bitten by a mosquito!  In October!  At sunset!  This place is immaculate.
I also LOVE LOVE LOVE the huge international airport with constant direct flights from Paris, New York, London…and now more than ever huge flights from foreign airlines like AeroFlot to Air France to Jet Blue.  Flights are frequent and usually CHEAP!  (A big hunk of the reason I travel through Cancun to get to Rhode Island or Medellin.)
My only question.  Why with all of the cheap transport is the 20 minute taxi ride from the airport to your hotel (20 minutes costs you about $7-10USD anywhere else but this route) $64 USD?!?!!  That price is insane.   Some sort of crazy mafia taxi union?  Who gets these taxi licenses?  Members of the royal family?
That's for another day.
4.  The Convenience.  Your reasonably priced hotel probably has a gorgeous spa, 4 huge pools, a perfect beach front and an amazing gym.  Plenty of rococo-faux luxury (I'm sure that is a real style).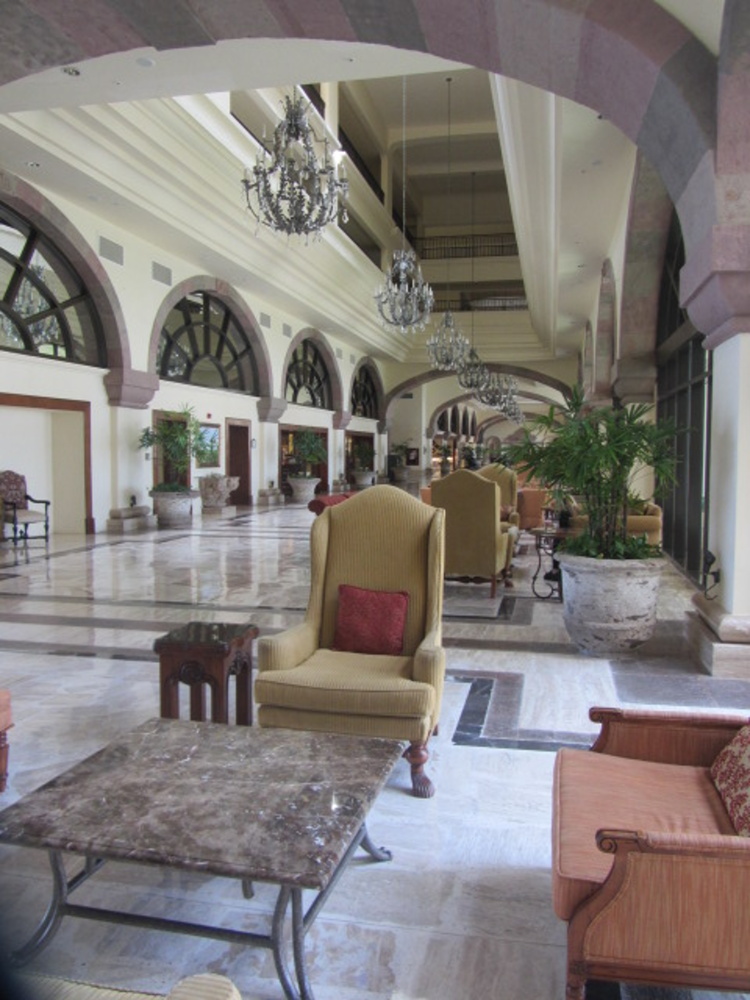 You don't have to search for one thing.  You can arrange to jet ski, buy tickets to the club for tonight,  fish, for the booze cruise…all from your beach chair.
Every kind of restaurant (from sushi to steakhouse) is easily accessible.  You can run across the street to 7-Eleven and buy cheap water and snacks.  You can hit the local pharmacies for whatever you want…from dramamine to Latisse to Viagra to whatever else you crazy pill poppers love.
5.  The HUGE Hotel Selection
The hotel zone or the main strip is wall to wall hotels.
Along the 10 or so miles, you can access the beach in a handful of public entrances or you MUST go through a hotel.  You may see a crowded beach but I also see selection and competition.  You can even stay in the city of Cancun for the REALLY cheap spots.
I am now staying at great hotel in a prime location for only $79US a night.  Love it.
My noon time spot at the hotel.  The eight bartenders are bored.  It's October and the place is empty.
But if you want, you can also find a party.  Here is the "party spot"…the music was thumping and the shots were pouring at the Oasis Cancun.  But still pretty tame…
Though it leads me to my next favorite part of Cancun.
6.  The Retro-Fun-Cheesiness of It All.  In my mind, Cancun invented crappy souvenirs like the neon shot glasses and plastic refrigerator magnets.  Over 1 billion (I'm sure) have been sold.
They were the producers the Carlos N Charlies and Senor Frog's t-shirts that you wish you had when you were a teenager.   Cancun was the place that pioneered the horrible vacation ritual of beading women's hair and mens' goatees.  A look that only Bo Derrick can pull off.  All other white people look sadly balding and then the next day, horribly patchily sunburned.
Cancun doesn't hide this stuff, it flaunts it.  Embrace the cheesiness.  Get yourself a t-shirt and a temporary tattoo (you are going to need one to fit in on the beach).   Take your picture which a Cancun Hooters girl.   Call it ironic…call it whatever you want.  It's good times.  You're in Cancun!
7.  And The International Upscale Part
Cancun, like Las Vegas over the past decade or so, is getting a serious lift up.  Money pouring in…visitors from Russia, China…all over the world.  Luxury car rental seems to be a popular thing to do.   Check out Exotic Rides Mexico for their list of Ferraris, Lotus and Lamborghinis you can rent.  AWESOME.  Buy a few pesos worth of "Mow down a tourist" insurance and I'm off to the races!
Or the new stores at the malls?  Gucci?  Carolina Herrera?  Louis Vuitton?  Impressive.
Senor Frog's Junk Store has closed (maybe since the last purchase was made some time in 1996?) and Ralph Lauren is moving in.  Ooh la la.
I'm sure the celebrity chefs will be opening outposts soon.  I'm guessing Guy Fieri will be at the forefront of that movement.  But for now the only celeb chefs are Bubba Gump and Jimmy Buffett.
8.  The Many Chances to Do Something AMAZING.  There are some really spectacular day trips from Cancun that negate any negatives.  like a trip to Chichen Itza Maya Ruins (crowded but worth it)
or Tulum.
Or just a boat ride away…WHALE SHARKS and manta rays.  From June to September.  Un FREAKING believable.  That's me on the right.
A quick day trip to Isla Mujeres is like visiting a totally different world…and it's about 20 minutes away (read those posts below).
The cenotes?  So much to do in this area.
THE MAYBE NOTS.  I hate to turn negative all of a sudden but there are some negatives.  The reasons why people say they hate it here.  Mine may not be the same.  Here they are.
1. SOME of the visitors.   Some (in fact MANY) of the tourists that I've encountered in Cancun are just downright rude.  To me.  To staff.  Just rude in general.  Let me give you a few examples of the types of people that I'm talking about – I've encountered each of these types once (if not many times) during my three day stay.  Some Americans, some not.
The Person that Has No Understanding Of Your Personal Space.   Why must you push into the hotel elevator in front of me?  Why must you lay right next to me by the pool when there are 100 other chairs available and SMOKE!  Why must you knock into me, spill my water and no even acknowledge it?
So far not Americans.  Russian and Mexican tourists.
The Person Who is Rude to Hotel/Restaurant or Shop Staff.  Here is my example from this trip.  The American woman who winked at me while I was online (this person is generally clad only in a wet bathing suit and an oversized t-shirt) at McDonald's.  As she was hovering for her order and criticizing the wait time, she made sure to say LOUDLY to me "watch out for these people.  They are constantly trying to rip you off."  McDonalds employees?  Mexicans?  Ewww.  Please don't wink at me lady as if we are in cahoots.
Don't even get me started on the person who is SO over the top friendly/jokey/unctuous with "the locals"…the one who is always scanning to make eye contact with the room to make sure everyone sees how well he treats the "help".   Sigh.
Any Person Near A Baggage Claim (okay.  I will admit that this is NOT Cancun specific.)  Why is it that when people near the baggage carousel, they regress back to when we were chimps?   Pushing.  Standing RIGHT in front of you as if you are not there.  Jabbering way too loudly into phones.   Lining up RIGHT against the snaking luggage claim so that no one can see if their baggage is actually coming.  Finding a way to roll over your foot no matter where you are located.  It all fills me with unspeakable rage.
Any Grown Adult that Has ANYTHING that Indicates They Are a "Drinking Professional".  I know, I know.  I'm getting nit picky now but honestly, isn't your bottled beer enough?  You…45 year old guy.  Yeah…you.   Do you REALLY need to pour a six pack into a giant 100+ oz. travel mug and sip it while floating around in the pool?  Duh.  Who are you trying to impress?  OR WORSE.  A plastic shot glass that you wear around your neck on a cord?
Totally Americans.
Enough of that subject.  I am overly critical.  I know.  I know.  Perfection comes at a price…
2.  The Internet.  My beautiful hotel, The Marriot Casa Magna, comfortable, gracious and luxurious in every way had one giant flaw.  THEY CHARGE YOU $11US a day on top of your room rate.  And I found out that almost every hotel in Cancun does the same thing.  Not only that, but they tease you…they tell you that there is free internet in the lobby.  They DON'T tell you that that internet is low speed and cuts in and out all day long.  Grrrrr…a quick way to irritate guests.
3.  It Gets Crowded.  Often with these same obnoxious people.  PLUS the spring breakers…public nudity and tattoos ablazing.   Late spring, summer and particularly the fall are going to be the slower seasons (like most of the Caribbean.)  Late October or November can be the PERFECT time to visit.
That's it for the negatives.  Hardly a thing.  So…as you can see, it's love.  TRUE love.  Let me know what you think about Cancun.  It's very possible that you might think I'm crazy.
And as you know, this is not dead serious…please don't send me emails if you think I hate Americans or am making fun of you.  Thanks.
If you would like to share on Pinterest…please do!