An Overview of Northern Belize
The region of "Northern Belize" is comprised of two districts, Orange Walk and Corozal, and is an area often overlooked (or just flown over) by visitors to Belize.  Separated from Mexico to the north by the Rio Hondo River, these flat, agricultural districts, sprinkled with small villages, were once at the heart of the Maya empire.
Today, you'll find a variety of ethnic groups in Northern Belize though the population is predominantly Mestizo.  A cultural blend of Spanish and Yucatec Maya, many of who fled the Yucatan during the Caste Wars in the mid-1800s.   You'll also find Mennonites, Kriol people, Chinese people, and what I think might be the fastest-growing segment of the population.  The expat retiree.
Both Orange Walk and Corozal districts have main towns but are mostly comprised of rural villages - some with beautiful Maya names like Xiabe (pronounced "Shy-Bay") and Chunox ("Sha-Nush") and others named, in Spanish, after saints.  San Narcisco, San Joaquin, and San Felipe to name a few.
Orange Walk District Overview
Orange Walk is inland - in the NW corner of the country with Mexico to the north and Guatemala to the west.  And in much of the district, I find that you are more likely to overhear Spanish rather than English.  This generally means that people speak Spanish at home and with friends, but...as in all of Belize - just about everyone speaks English too.  Especially the younger folks.
Orange Walk is predominantly agricultural, and the capital is Orange Walk town, nicknamed "Suga City" in homage to the district's biggest crop.
The major industry is...you guessed it - sugar cane.  If you drive in the district, you'll see field after field of the high grass (sugar can grow over 20 feet tall!), you'll pass big, open trucks heaped with cane, and at certain times of year - the roadsides are littered with stalks that fly off the trucks.  Two of the country's largest rum producers, Cuello's/Caribbean Rum and Old Master Rum, are located near Orange Walk town.
Things to Do in the Orange Walk District
The majestic Lamanai Maya site is the #1 attraction for visitors in this district.  It's a scenic and easy trip from Orange Walk town - a pretty boat ride to the site.  It's a tour that allows you to get to Lamanai early and explore the entire site, often with only a handful of other visitors.
Interesting to me:  Lamanai is one of the largest sites in the Mayan world and it is also one of the oldest sites. Lamanai (which means "submerged crocodile") is thought to have been occupied since the 16th century BC!
Lamanai is also a popular day trip from Ambergris Caye and Caye Caulker, but from the cayes it can be a very long day.  One that starts with an early morning pick-up, an hour+ long boat ride to reach the mainland and then onto a bus and then another boat.  Still totally worth it!
But if you are an archaeology and history fiend, if the Maya sites are your top priority, definitely consider staying on the mainland to spend some more time exploring these gorgeous sites.  Lamanai is going to be near or at the top of your list.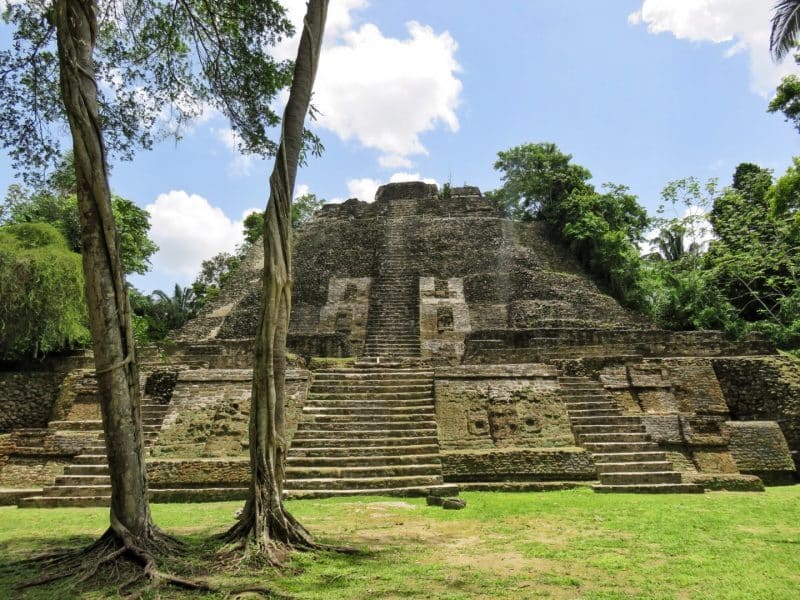 Orange Walk town is famous within Belize for its tacos.  After a very late night at the clubs in Belize City, I've heard stories of friends driving over an hour, up to Orange Walk just for a plate of early morning tacos.
The tacos are a breakfast food - chicken or pork cooked to a shredded stew and rolled in fresh corn tortillas.  You can ask for chopped white onions, sometimes cilantro and cabbage, and always hot sauce (known in Belize only as "peppa").  They don't look like much but they are soft and savory and delicious.
A breakfast that's easy to get hooked on.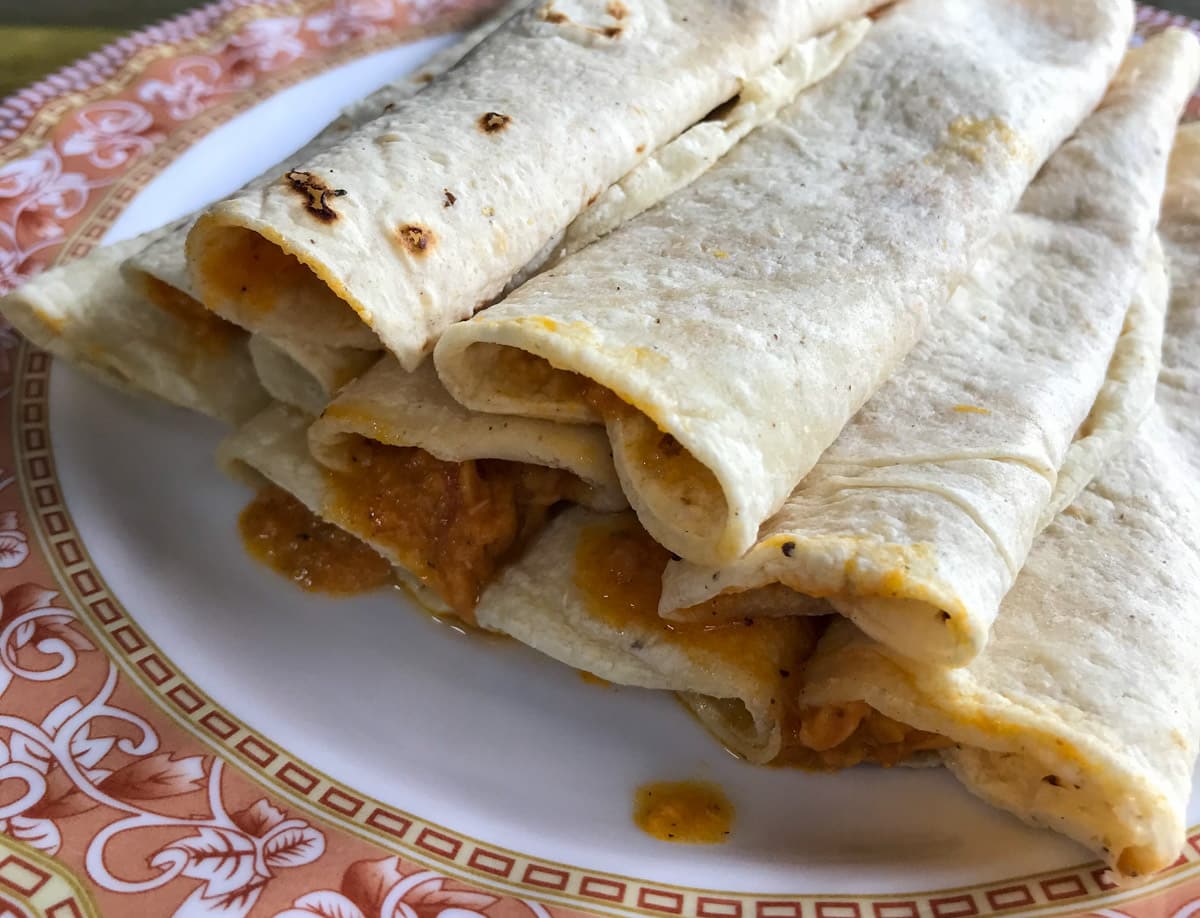 I've tried lots of different stalls and different tacos in Orange Walk.  It's a fun morning heading to the town market and stopping by the bustling stands testing the nuances of the Orange Walk Taco.  You won't need much money but you will need a huge appetite.  Breakfast tacos in Belize are generally 3 tacos for $1bzd.  The ultimate budget eats.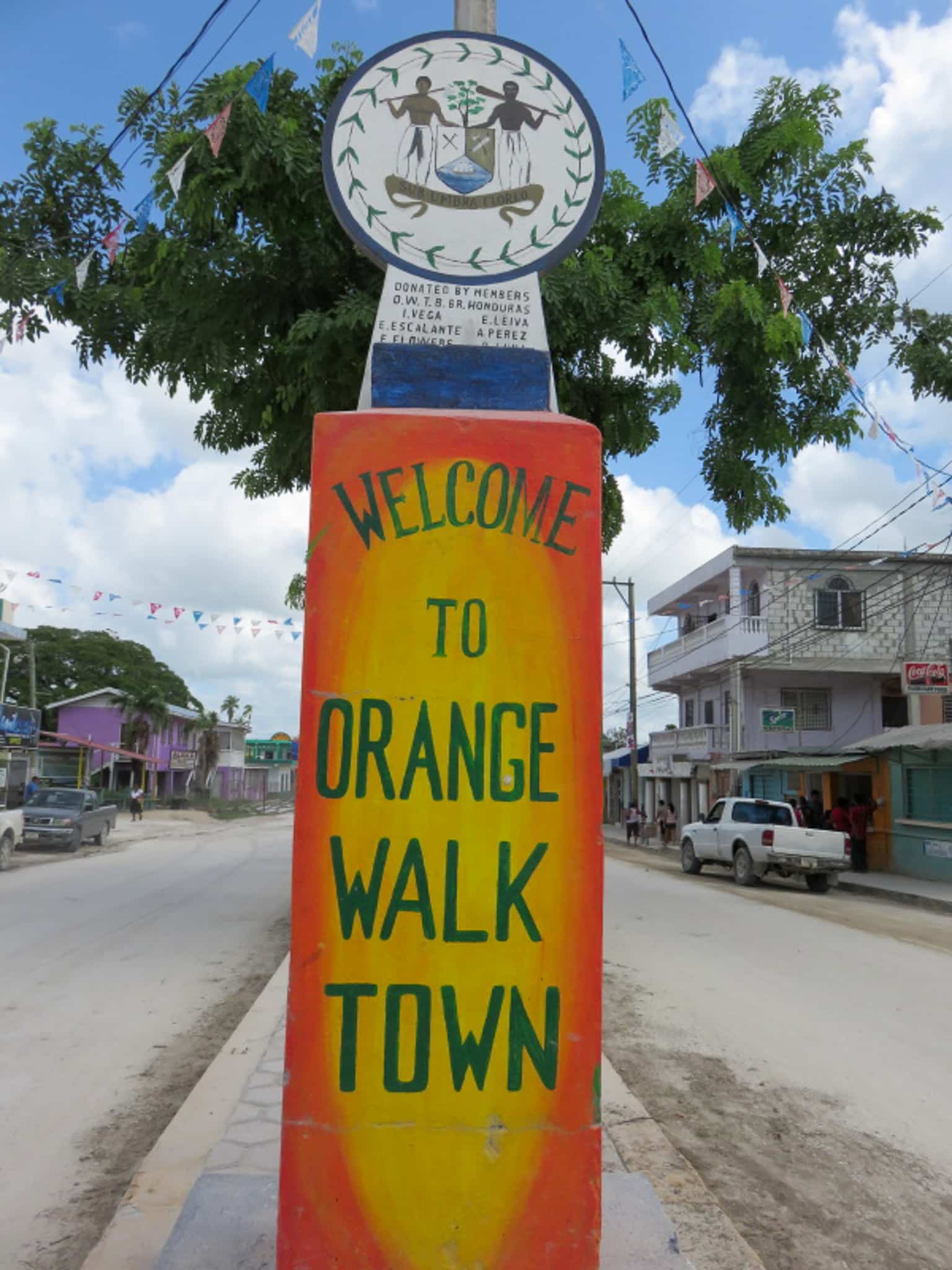 If you are very lucky or just an excellent planner - your visit to Orange Walk might overlap with Independence Day in Belize - September 21st.  While many towns and villages have September 21st parades...including Ambergris Caye, Caye Caulker, and Placencia, they are NOTHING compared to Orange Walk's celebration.  People travel from all over the country to celebrate in Orange Walk and watch the enormous parade.
Blue Creek village, along the northern border with Mexico, stands out to me.  It is a large, modern Mennonite village - with huge agricultural interests.  I visited a cattle ranch and beef producer there a few years ago - and it was one of the most intriguing and surprising places I've visited in Belize.  It almost felt like I was in Nebraska, except the local store sold school books in a low German dialect.
And the cattle look a bit different...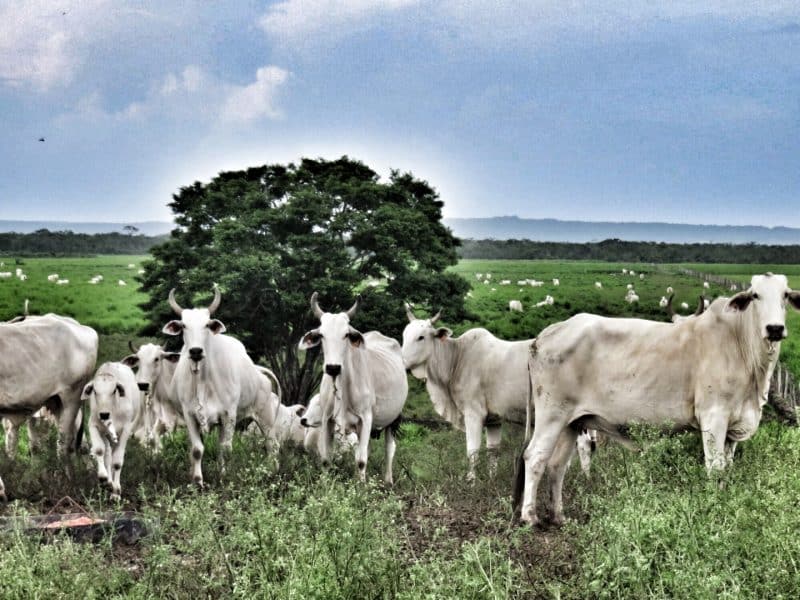 Orange Walk has several Mennonite communities in varying degrees of strictness and separation from the modern world.  In certain villages, you can see Old Colony Mennonites, often speaking the German dialect (sometimes with a blend of Spanish), utilizing horses and buggies, and eschewing modern technologies.
Over the past century, many Mennonite families moved from Russia to Canada to Mexico and then Belize away from any secular encroachment on their way of life.  Now some of the more strict families are moving to Bolivia.  It's a very interesting history.
Mennonites comprise up to 4 or 5% of the population of Belize and live across the country - predominantly in agricultural areas.
Getting To Orange Walk District
To travel from PGIA (Belize's International Airport) to the Orange Walk district, you must get a private transfer (either with your hotel or with a private service) or rent a car.
There are also buses from Belize City to Orange Walk if you are adventurous, have a very strict budget and have lots of time!  (Here are my 8 Tips for Taking the Bus in Belize)
There is an airstrip in Orange Walk but since the pandemic, flights are only available via charter.
Corozal District
Corozal district's largest locale is the quiet seaside town of Corozal.  With a population of just about 10,000, Corozal town is just a stone's throw from the Mexican border and only 10 miles south of the city of Chetumal, the capital of Quintana Roo, Mexico.
Visitors traveling down from the Yucatan, from Cancun, Playa Del Carmen, Tulum and gorgeous Lake Bacalar all pass through Chetumal, Mexico and cross the Mexico/Belize border into Corozal.
See:  Chetumal, Mexico: Is it Worth Visiting If You Are Visiting Belize?
The two spots are so close but so very different.  Chetumal, a city of hundreds of thousands of people, has busy highways, fast food spots, a Walmart, multi-plex cinemas and shopping malls.  Tiny Belize does not.
Corozal is a quiet colorful town with a distinctive Mexican feel.  You can see all the pictures from my most recent trip here.
With proximity to Mexico and the BIG Mexican city of Chetumal, the seafront location, and lower prices than many, more touristy areas (like Ambergris Caye, Caye Caulker, and Placencia), Corozal is becoming more and more popular with expats relocating from the USA and Canada.  But it is far from crowded.
Things to Do in the Corozal District
Corozal has a legit Maya site right in the middle of town called Santa Rita.  (I say "legit" because I was so surprised at how lovely it is  - small but so accessible)  But it's a great spot to explore by for an hour or two especially early in the morning before the sun really gets going.
There are quite a few expats moving to Corozal town but in some of the surrounding areas as well.  There are some small, contained communities that line Corozal Bay that cater to these arrivals.  Places like Orchid Bay and Consejo are growing slowly.
Sarteneja is a tiny traditional fishing and boat-building village just 15 miles southeast of Corozal town as the crow flies.  But the road leading to it from the area's main town has been...an impediment to any large-scale growth.  For years, it has been mostly unpaved, prone to very bad rainy season flooding, and required two vehicle ferries/barges to cross the river.
Work started in 2019 to help alleviate those issues (thanks Government of Taiwan!) - to properly pave the road and build bridges to make Sarteneja more accessible.  It's not finished yet...and the easiest way to travel to Sarteneja remains the boat.  There are twice-daily ferry rides from Ambergris Caye to Sarteneja to Corozal town and back again.
Getting To Corozal District
To travel from PGIA (Belize's International Airport) to the Corozal district, you must get a private transfer (either with your hotel or with a private service) or rent a car.
There are also buses from Corozal to Orange Walk as well as local buses from Corozal to the local villages if you are adventurous and have lots of time!  (Here are my 8 Tips for Taking the Bus in Belize)
You can also travel to and from Corozal from Ambergris Caye.  Either by a 15-minute daily Tropic Air flight or a twice-daily boat that makes the trip.  Traveling from San Pedro, Ambergris Caye to Sarteneja and then Corozal.  (The total trip takes just about 2 hours)
Many visitors - especially backpackers - cross the border from the north to travel to Corozal and the country of Belize.  It too can be done by bus, car, taxi or even walking across the border and catching transport on the other side.  You can read about my last border crossing here - customs, immigration, transport, etc.