If it is your first time on my website, welcome. Maybe you are planning a trip to Belize and know very little about the country.
Trust me, I get it. I was once in that exact situation!  I'm glad you found my SanPedroScoop.  Let's start at the top and answer the big question:
Why Visit Belize?  8 Reasons Belize is SO Special
Belize is NOT your all-inclusive, I-could-be-anywhere-in-the-Caribbean, drinking all-you-can-drink cheap liquor, and only talking to other Americans- kinda place.  It's gonna grab hold of you - just like it did me 16 years ago.
I went on vacation with no intentions of moving anywhere... I mean...I loved NYC.  But then, six months later, I moved to Ambergris Caye by myself. And I've been here ever since.
So SPOILER ALERT:  You will fall in love with this country.
Belize is a tiny country, an area about the size of New Jersey, surrounded by Mexico (Cancun is just over 200 miles north of us), Guatemala to the west and south, and the longest coral reef in our hemisphere and the Caribbean Sea to the east.  It also has a tiny population.  For reference, New Jersey has over 9 million people, and Belize...just over 400,000.
Belize is an amazing mash-up of a Caribbean beach island getaway (snorkeling, sun, beach bars) and a Central American adventure vacation (waterfalls, cave exploring, incredible wildlife jungle adventure).   But it's even more special. 
Let's get to the specifics.  The 8 Reasons.
1. Tiny Sized Country with Huge Diversity
Belize might be small but it's packed with really diverse experiences.  Imagine snorkeling with nurse sharks in the morning, wandering around a seaside village in the afternoon, and eating fresh BBQed lobster in the evening.  Wake early the next morning to head into the jungle for an adventure at an ancient Maya site.
Or, if it's more your speed, you can hang out at a few over-the-water bars and swim, sun, relax and repeat.  Belize offers something for every type of traveler.  And if you and your partner want different things - like birder vs. foodie, beach bum vs. jungle trekker, flyfisherman vs. spa lover - you can do it all in Belize.
What I'm saying is YOU'VE GOT OPTIONS!  All in one country.
2. The People and the Culture
Ask anyone who has visited Belize:  "What was your favorite part about the trip?"  The answer is always the same:  The people.  Belizeans are warm, friendly, and really knowledgeable about their country.  People here are proud to share Belize with visitors.
Belize is a mix of cultures, boasting a diverse population that includes Maya, Creole, Garifuna, Mestizo, East Indian, and Mennonite communities.  Add a heavy pinch of Americans, Canadians, and some Europeans who fell in love with Belize and made it their home too.
You can experience these different cultures through food, holidays and festivals, visiting local markets, food stalls, and restaurants...
3. We Speak English
While traveling around Belize, you might hear Maya dialects or Garifuna, and most certainly, you will hear Spanish and Kriol. However, English is the official language of the country of Belize.  And many Belizeans might speak Spanish or Kriol at home with their families, just about everyone is ready and eager to chat in English.
I don't mean to sound uncultured - I love traveling to countries where people speak different languages also.  But there's a certain level of ease when you can not only ask questions and converse in the local language but also joke around and make friends using it.  It helped me feel at home here early in my first trip.
4. The World's 2nd Longest Barrier Reef & over 400 Cayes off-shore
Belize has the largest barrier reef (2nd only to Australia) and offers some of the best snorkeling and SCUBA diving in the world.  You can explore local dive sites like the stunning Hol Chan Marine Reserve, where you'll find colorful coral, sea turtles, countless colorful fish, eels, sharks, rays, and sometimes manatees.  Or, venture to less-visited atolls and the world-famous Great Blue Hole.
This miraculous, perfectly round, coral-encrusted sinkhole was formed over 150,000 years ago when this area was dry land and later covered by the ocean.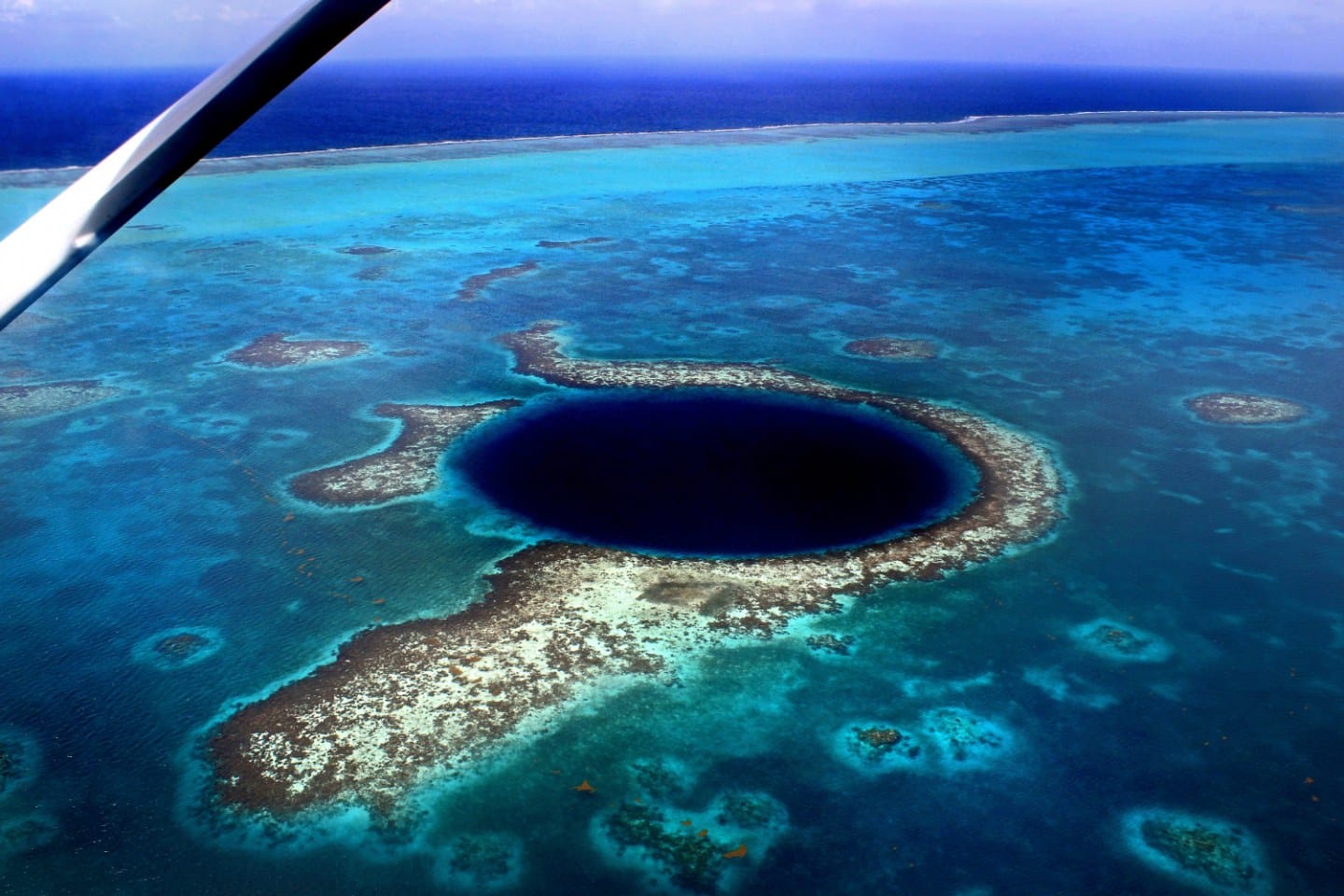 Belize also has world-class catch and release flyfishing - for permit, tarpon and bonefish.
Yes!  World-class. Belize consistently ranks high on so many "BEST OF" lists when it comes to ocean-based activities. We're just that good.
5.  The AMAZING food
Now let's talk about one of my favorites... one that completely took me by surprise when I first visited Belize. I'd never even heard of Belizean food before I arrived.
It won't take you long to fall in love with it.  It's hard to have a bad meal in Belize...no matter where you eat.
The "national dish" - stewed chicken, rice and beans, potato salad, and fried plantain is addictive.  Fresh seafood ceviche is quite possibly the best thing you can eat on a hot day.  And fry jacks? Are insanely good.
I've been to other Caribbean islands and had food that left me...unimpressed.  Or I just couldn't figure out what the local cuisine actually was.  But here in Belize, it's easy to eat really really well for every single meal. - whether on a budget or going all out.
6. The History and The Maya Sites
There were more people living in Belize during the height of the Maya civilization (between 250AD to 1000AD) than there are now.  Isn't that mind-blowing?
And that civilization left artifacts, cities, and jade carvings - found and unfound - all across the country.  For the large cities, you can visit on the mainland like Lamanai and Caracol (where the tallest man-made structure in the country can still be found!) to camps and outposts on Ambergris Caye.  Whether you're interested in hieroglyphics, mathematics, and astronomy, or simply want to imagine the vast network of roads, waterways, farmlands, and cities that existed over 1,500 years ago, it's a fascinating culture to delve into, even if just for a few hours.
We even found this on our property a few weeks ago.  It's corn...I think.  Whatever it is...it's REALLY cool.  Please excuse my finger nail...but to find this stuff, you must look in the dirt!
7. Unique, Hands-On Experiences
Because Belize is so varied and the people here so accessible (by speaking your language and just being kind, helpful, and very quick to share) - visiting Belize can have a very DIY feel.
Rent a golf cart on Ambergris Caye and explore the island - maybe pick up a few school kids and give them a lift on their way home.  Or try a new fruit - like a soursop or a mamey or green mango slices with salt and pepper - after chatting with the salesperson for a while.  Test out a few different breakfast spots in San Ignacio town and pick your favorite fry jacks.  Or taco stalls in Orange Walk in Northern Belize.  Ask a passerby to recommend his favorite ceviche joint on Caye Caulker.
Sure, you can strictly stick to the 30 planned things you want to do on your trip to Belize - but I find that the little things make me fall in love with this country every day.  Message me when you return...I'd love to hear about the most random or most unexpected-best part of your trip!
8. Holidays and Festivals
Belize loves a party - a fete, a carnival or just a good reason to get together with friends and family and drink some Belikin beer.
So it's fun to find that your vacation coincides with a special event or holiday.  I've put together this EVENTS calendar so you can find out if your trip coincides with one of the countries' three Lobster Festivals (in Placencia, Caye Caulker, AND Ambergris Caye) or maybe Independence Celebrations across the country in September or maybe Mango Festival in Hopkins...
So start planning your trip!  You can find out information about the different areas of Belize by navigating around this website.  But hopefully, this gets you started...and why you'll agree with me when I say...