Belize City & District Guide
Belize City & Belize District Overview
When many hear about the Belize District, they think about Belize City, the largest city in the country.  But this district, along Belize's eastern coast, is quite a bit more.
The Belize District includes the most visited cayes like Ambergris Caye, Caye Caulker, and tiny St. George's Caye (the capital of Belize in the 1700s). It also contains Turneffe Atoll - Belize's largest of our three atolls.  This area is world-renowned for both diving and sport fishing.  Turneffe is home to a few resorts but is otherwise sparsely populated and absolutely gorgeous.  You can read about my visit to tiny Calabash Caye at Turneffe Atoll here.
The Belize District is also the home to the lush Belize River valley, which was the first area colonized by the British for logwood (used for dye) and other timber.  And, of course, it is home to Belize's biggest city - by a long shot!  Belize City.  In the Belize District.  In the country of Belize.
The country of Belize has only two official cities.  One is the small capital city of Belmopan in the Cayo district, with about 20,000 residents, and the second, is seaside Belize City with over 75,000.  Belize City is not generally considered a visitor stop, but more of a jump-off point for those who want to explore other sites and destinations throughout the area and country.
Belize's only international airport, Philip Goldson International, is located about 10 miles outside the City (often just called "Belize" just to make things more confusing!) in the country's largest village, Ladyville.  It's a 15-30 minute taxi ride - depending on traffic - to Belize City from the international airport.
Things to Do in Belize City
Belize City is the country's largest urban center.  And while no longer the country's capital*, Belize City is the undisputed center for business, commerce, and shopping.  There are some good restaurants, museums, shops and sights, so if you are in Belize for an extended period, consider visiting the biggest and oldest city....even if just for a day.
* The capital was moved in 1970 after the devastating Hurricane Hattie destroyed up to 3/4 of the city in 1961.  The government offices were shifted from coastal (and often below sea level) Belize City, 50 miles inland to the Cayo District and the (now) city of Belmopan.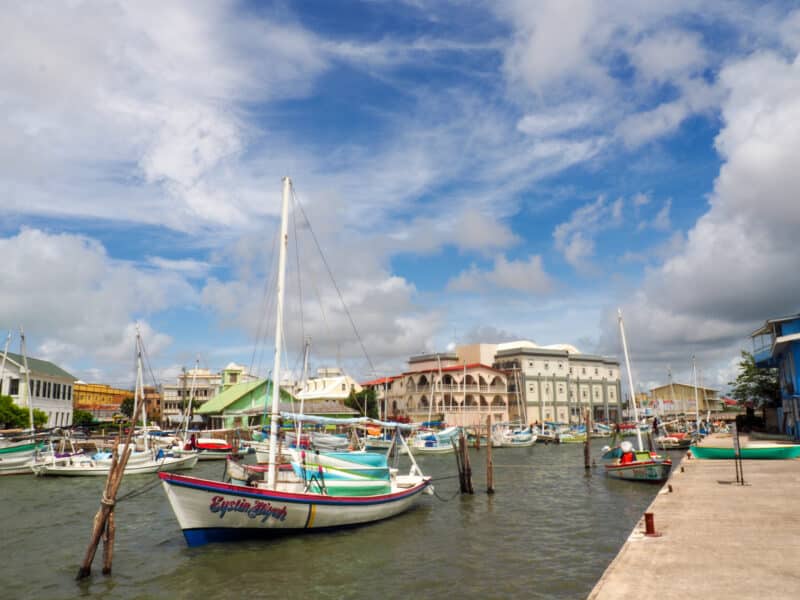 Here are articles about my visits to Belize City - I travel from my home in San Pedro to Belize City by water taxi at least 5 or 6 times a year to shop or for a doctor's appointment, or just en route to another location on the mainland.  I always try to eat something different and delicious and take a walk around for lots of pictures.  There are some very pretty parts of the city - especially the historic Fort George area by the seafront.
Not far from the Fort George area is the Museum of Belize, which, while small, contains some really interesting stuff.  Like the most amazing insects and very cool stamps and beautiful Maya pottery and jewelry.  The museum is located in the old Belize City Prison, a facility that was in operation until the mid-1990s.  They have an area that shows what the prison cells used to be like and...EEEEK.  A good reminder to me:  Crime does not pay!
When I visit, I always learn something new - like...did you know that in 1927 Charles Lindbergh landed in Belize City in the Spirit of St. Louis to a hero's welcome or that Muhammad Ali visited for some exhibition boxing in 1965?  During both of those visits, Belize was still known as British Honduras.
But the Belize District is not just the city...it's incredibly diverse.
Outside the City: The Belize Zoo
Located about 25 miles directly west of Belize City is a national treasure - the Belize Zoo.  I LOVE visiting this zoo.  I even dressed up like a jaguar at a real jaguar's 8th birthday party to entertain school kids at the zoo - with a real feel temperature of about 100.  Perhaps 115F inside a plush jumpsuit and padded hood?  I love it that much.
It's a small zoo with tons of character - beautiful trees, plants and flowers, and lots of hand-painted signs with information about the country, the animals, and just...beautiful sayings.  I always take a photo of this one.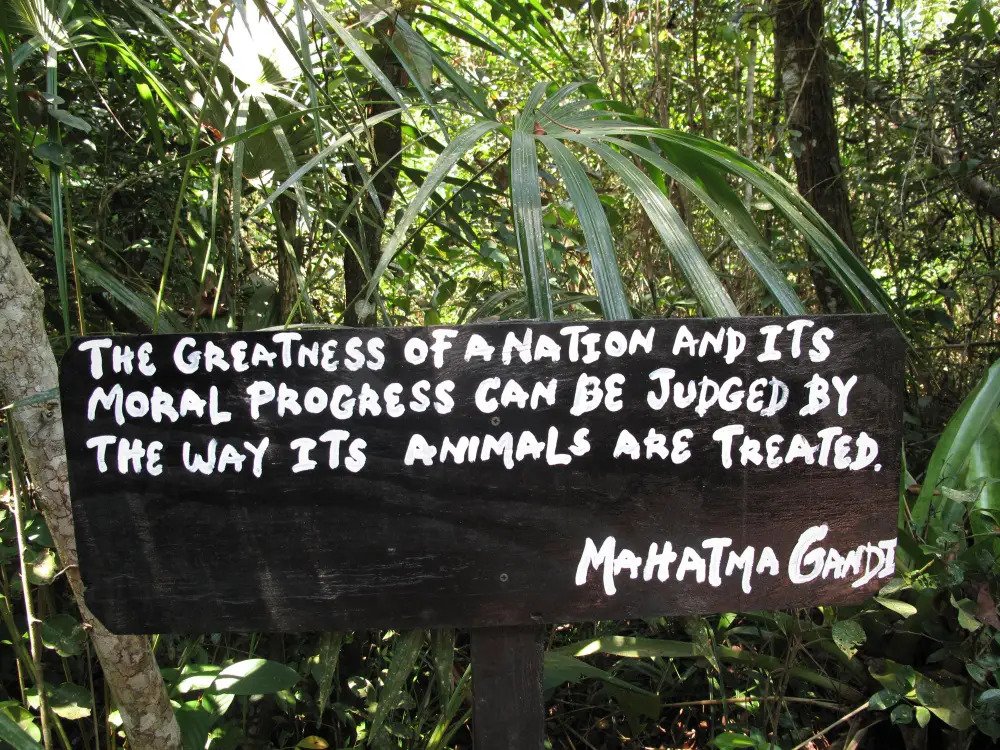 The Belize Zoo only contains the native animals of Belize - no polar bears sweating in the tropical heat.  But "only" underplays the AMAZING animals of this country.  You'll meet jaguars, pumas, ocelots, tapirs, crocodiles, 5-foot-tall jabiru storks, scarlet macaws, and other parrots...
All have been rescued when hurt, sick, or found as abandoned babies, and you can get so up close and personal with them.  It's such a lovely spot - and a must-visit if you are on the mainland.  Many lodges can stop for you on the way to or from the International airport.  Just make sure to plan it ahead of time.  Even if you have an hour to spare- stop in!
They also have lovely overnight lodging - if you want to visit the animals at night.  It's REALLY cool to visit the animals when they are the most active. And there is something just a bit extra about feeding a jaguar at night.
To the north and west of Belize City...
The Belize River Valley
The Belize River runs right through the middle of the district, through Belize City, and into the Caribbean Sea draining about 1/3 of the country's waterways.  Dozens of freshwater creeks, lagoons, and waterways flow into Belize's longest river, and that fertile area is referred to as the Belize River Valley.
You'll swoop right over it as you land at our international airport - the winding, green river surrounded by dense trees.
The area contains small villages with some very quirky names like Double Head Cabbage, Burrell Boom, Flowers Bank, and Blackman Eddy.
The Belize River was a major thoroughfare for the Maya and the colonial settlers as they forged deeper and deeper into the country looking for logwood and mahogany. The river valley is also the center of the Belizean Creole culture.
Crooked Tree village is well-known for the birds (especially the enormous jabiru storks) that flock to its freshwater lagoons, particularly as the water dries up in the early spring.
As the waters retreat, the muddy river and lagoon beds become a huge buffet of snails and critters for birds of all kinds.
You can take a boat ride here and enjoy storks, hawks, and kites, herons, and egrets flocking to feed in the shallow water and mud.  It's amazing.  Crooked Tree, with its thousands of cashew trees and mango trees, birds, and horses, is just a beautiful place to explore.  Here's My Guide to Beautiful Crooked Tree.
You can also visit Altun Ha Maya site in the area outside of Maskall Village.  Altun Ha found its way into Belize's most famous brand logo - the Belikin beer bottle.  It's also the location where the "crown jewel of Belize" was found - the INCREDIBLE jade head of Altun Ha.  This huge chunk of carved jade is usually on loan to an international museum or locked in the Bank of Belize vault but I had a chance to visit it in 2012.  Wow.
Also in this area, the Belize River Valley, is the Community Baboon Sanctuary - a group of villages that have embraced the local howler monkeys (often called "Baboons in Belize) and brought in visitors to showcase them.  I loved watching the tour guides interact with the animals and getting a closer look at the Kriol villages.  I need to go back!  Especially during the Spring when the local cricket teams play. Cricket!   In 2023, there were over 20 teams from the valley vying for the national title.
Here's my visit to the "Baboon Sanctuary".
A baby!
Now let's head south of the city...
South of Belize City:  The Coastal Highway and Gales Point
When you fly south of Belize City, you see mostly...water.  Rivers and interconnected lagoons and marshes.   As you get farther from the coast and the land gets a bit higher, there is an old road called "The Coastal Highway" that runs to the south of Belize City.  Connecting the village of La Democracia (by the Belize Zoo) to the area just outside Dangriga in Southern Belize.
If you are renting a car in Belize, your agreement will have strong wording when it comes to this so-called "highway" - they don't mince words.  STAY OFF THE COASTAL HIGHWAY.  WE WILL NOT BE RESPONSIBLE FOR ANY DAMAGES ON THE COASTAL HIGHWAY.
This is because the road was unpaved, riddled with bumps, gullies and rocks.  And though this highway is only about 40 miles long, it could feel very very remote.  Hardly a building for miles and cell phone service that went and out. It did not help that it could also flood in areas during the wetter season. 4 wheel drive was an absolute must.
But now, things have changed! The road has been paved and what was once remote is now accessible.  I need to report back with some first-hand knowledge...please stay tuned!
I have been on the road once - to visit one of the most remote and interesting villages that I have ever seen.  I am dying to go back.  Take a look at the very special Gales Point Village - a tiny sliver of land jutting out into a saltwater lagoon about halfway between Belize City and Dangriga.
It's one of only a few tiny settlements between Belize City and the next town of Dangriga - villages far from the beaten path with rich histories.
Getting Around The Belize District, Belize City & The International Airport
About 10 miles inland from coastal Belize City is the Philip Goldson International Airport (PGIA).  It is the only international airport in the country so if you are coming from abroad, you will be landing there.
From PGIA, you can fly to various locations throughout the country on either Maya Island Air or Tropic Air - our two regional airlines.  There are airstrips in every district - in towns like Dangriga, Corozal, Orange Walk, Punta Gorda, San Pedro, and on the Placencia Peninsula and Caye Caulker.  Since Belize is so small, this is the quickest and most scenic way to travel.
There is also a small municipal airstrip in Belize City.
You can also choose to rent a car at the airport or in Belize City - there are various companies you can choose from.  You will find taxis available at the airport and at taxi stands in Belize City to take you where you want to go.  (Be sure to ask for the price first!)
While you will not find bus service at the international airport (PGIA), there is a good-sized bus station in Belize City that offers bus service around the country.  Here are my tips about taking the bus in Belize. 
Finding online information like schedules and bus companies can be spotty, but I find that this site has the most up-to-date information.
There is no Uber or Lyft or any other ridesharing service in Belize.