An Overview of Caye Caulker
The island of Caye Caulker (pronounced "Key Caw-ker") sits midway between Belize City and Ambergris Caye.  For a few decades now, Caye Caulker has been a popular stay for the backpacker crowd - vacationing here for the laid-back way of life, the cheaper lodging, the easy-breezy bohemian feel, and sun, beers & BBQ on the beach.  But Caye Caulker is not just for backpackers on the "Gringo Trail" anymore.
Caye Caulker is often called "Ambergris Caye's little sister" though I don't think that's quite right anymore.  Yes, it is smaller.  She's only 5 miles long vs. Ambergris' 25 miles.  There are fewer bars, restaurants, golf carts, tourists, and dive shops, and a more laid-back feel.  But Caye Caulker is also growing quickly.  And it is not just hostels and barefoot European 20 years old anymore.   Not by a long shot!
Caye Caulker is fantastic.  And the range of hotels and lodging is growing quickly (especially with development going full force on the northside - which was almost empty just 10 years ago)
If you are trying to decide between Ambergris Caye and Caye Caulker and you can't decide...here's a post you might find helpful.  Visiting Belize?  Deciding Between Caye Caulker and Ambergris Caye.
I want to suggest both.  A few days here, a few days there, or at the very least, a day trip from Ambergris Caye to Caye Caulker.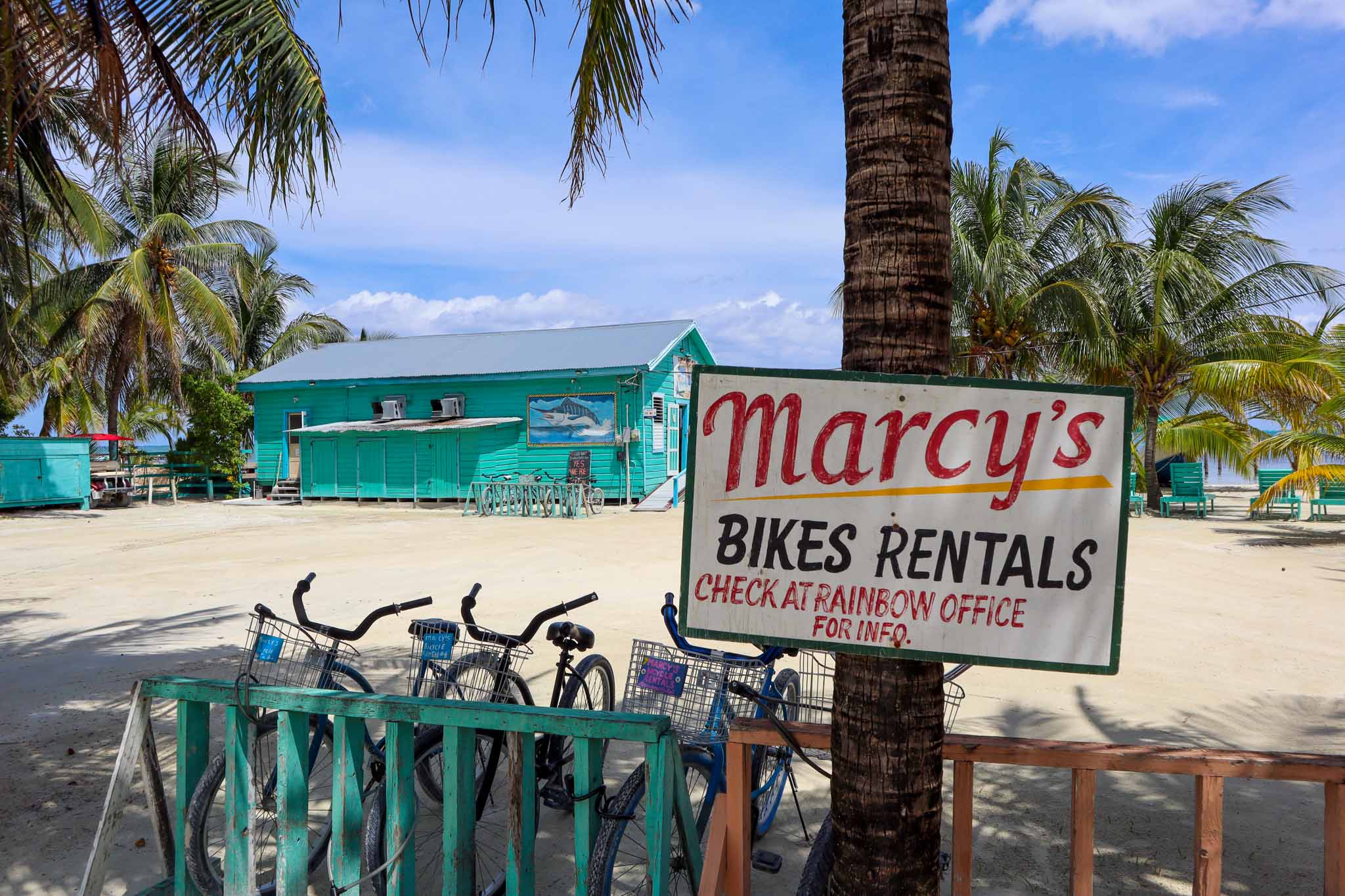 You'll see and hear this message as soon as you land on the island:  "Go Slow" and it really sums up the feel of this lovely place.  Caye Caulker has a laid-back Caribbean charm and a very manageable and walkable feel (I think you can get a good sense of the island in just a day or two)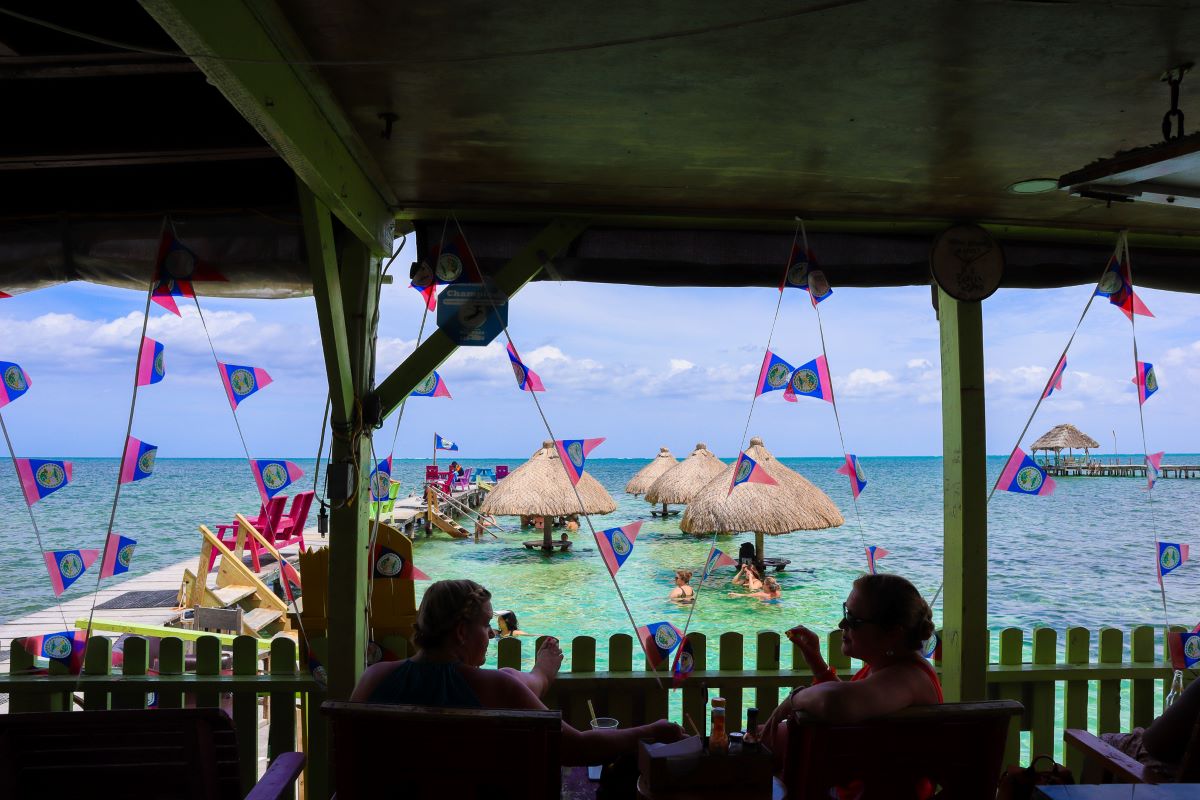 Caye Caulker still tends to attract somewhat different tourists as compared to the busier Ambergris Caye.  You can find Americans all over Belize, but visitors to Caye Caulker tend to be a bit younger, often backpackers from around the world - many from Europe and Israel (especially in the summer months) - often traveling down from Mexico through Central America.
Caye Caulker tends to skew a bit more budget-friendly with a broader selection of lesser-priced lodging, hostels, and simple guest houses.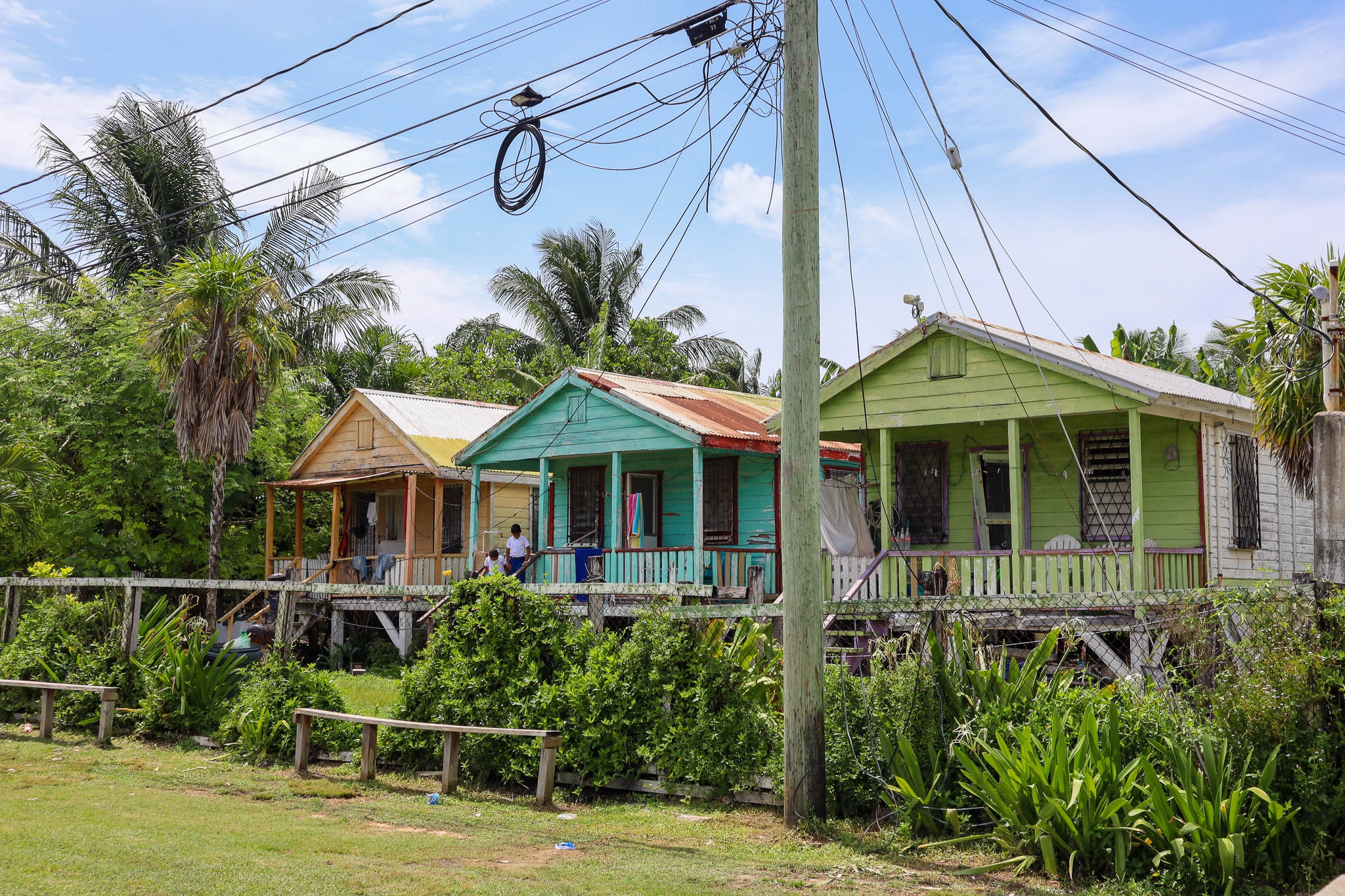 If you are staying in San Pedro, make sure to head over to Caye Caulker for a day trip.  Sorry to shout and to be repetitive, but I really must insist.  Walk around - see some of the sights - have a few cocktails.  Or...maybe try it for a few days?
Things to Do On Caye Caulker
There are a few that you are absolutely going to want to do on your trip to Caye Caulker.
#1. Snorkeling and/or SCUBA diving.  The incredible Hol Chan Marine Reserve is a MUST on your trip to Caye Caulker.  You'll see hundreds of fish and other sea creatures, often sea turtles, bright corals and sometimes, if you are very very lucky, a manatee....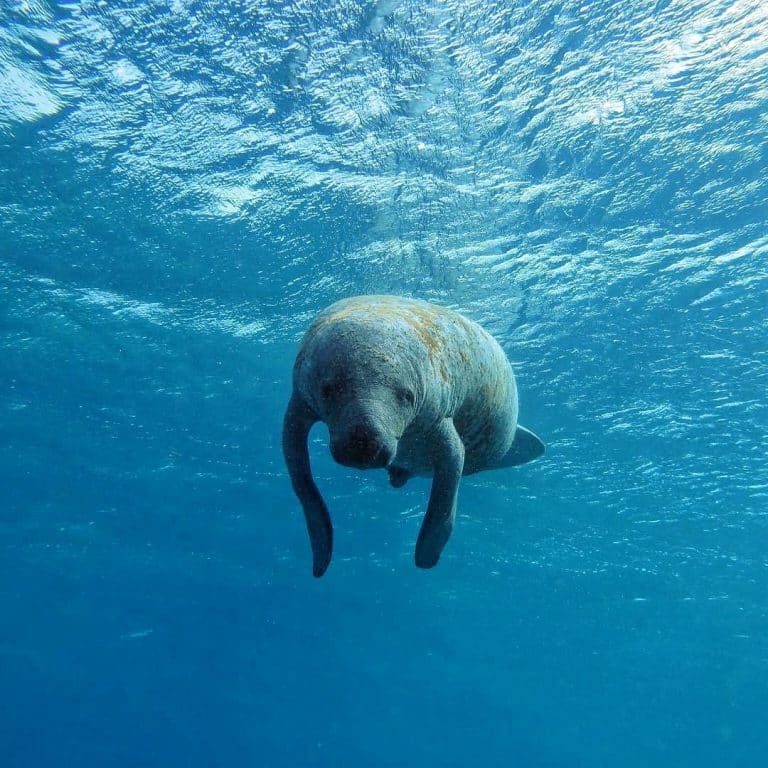 You'll also stop at Shark-Ray Alley for a dip with the hungry nurse sharks and sting rays.  Sounds scary but it's exhilarating and oh-so-photographable plus they are hungry for fish scraps not for you.
Or at least that's what the guides always tell me.
You'll want to find the dock on the back street of Caye Caulker where you can feed the giant prehistoric-looking tarpon...by hand.  You'll definitely head to the Split for a drink and a swim and maybe a jump off the high dive.  (I'm too chicken by I hope you do it)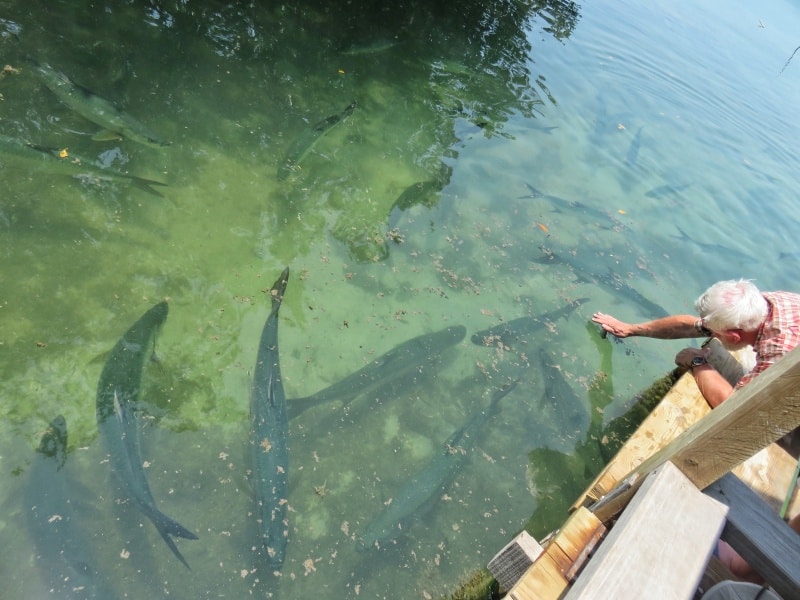 The Caye Caulker Split is one of the country's most recognized landmarks. It is the deep blue cut in the island that separates the north and the south sides.  It was widened substantially by Hurricane Hattie - the devastating hurricane that hit just south of Belize City on Halloween of 1961.  And the beautiful blue water and the lively bars attract many of the island's visitors during the day.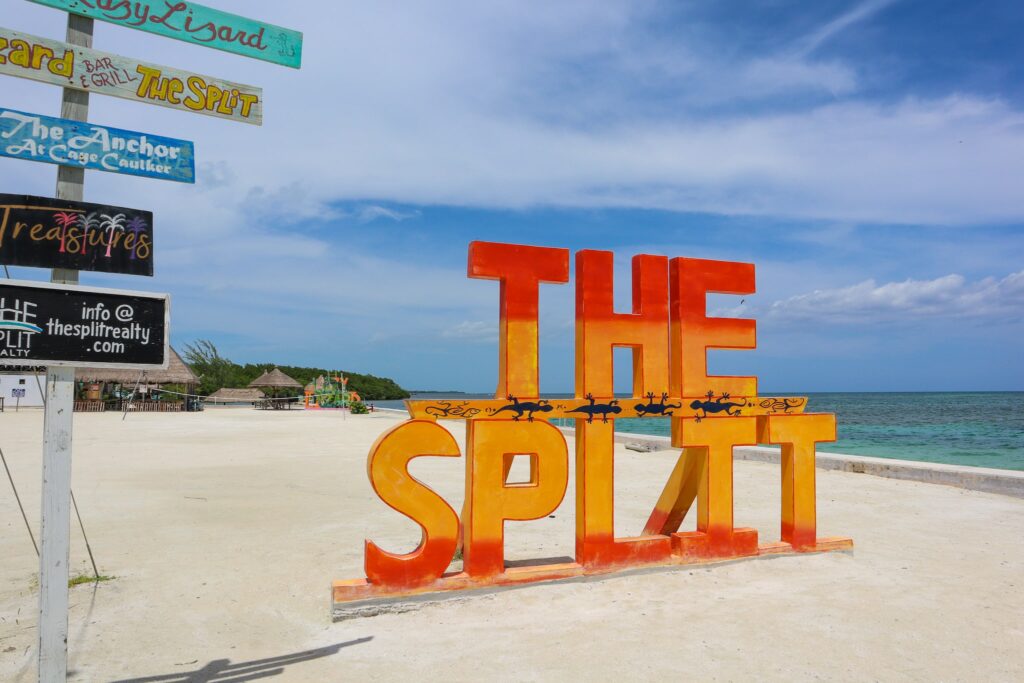 You can take the Split-to-Split ferry from the south side (the much more populated side) of the island to the north side - which is just starting to develop but quickly and is absolutely beautiful.  It's a great place to take a bike just to explore...
Here's a look at the North Side of Caye Caulker.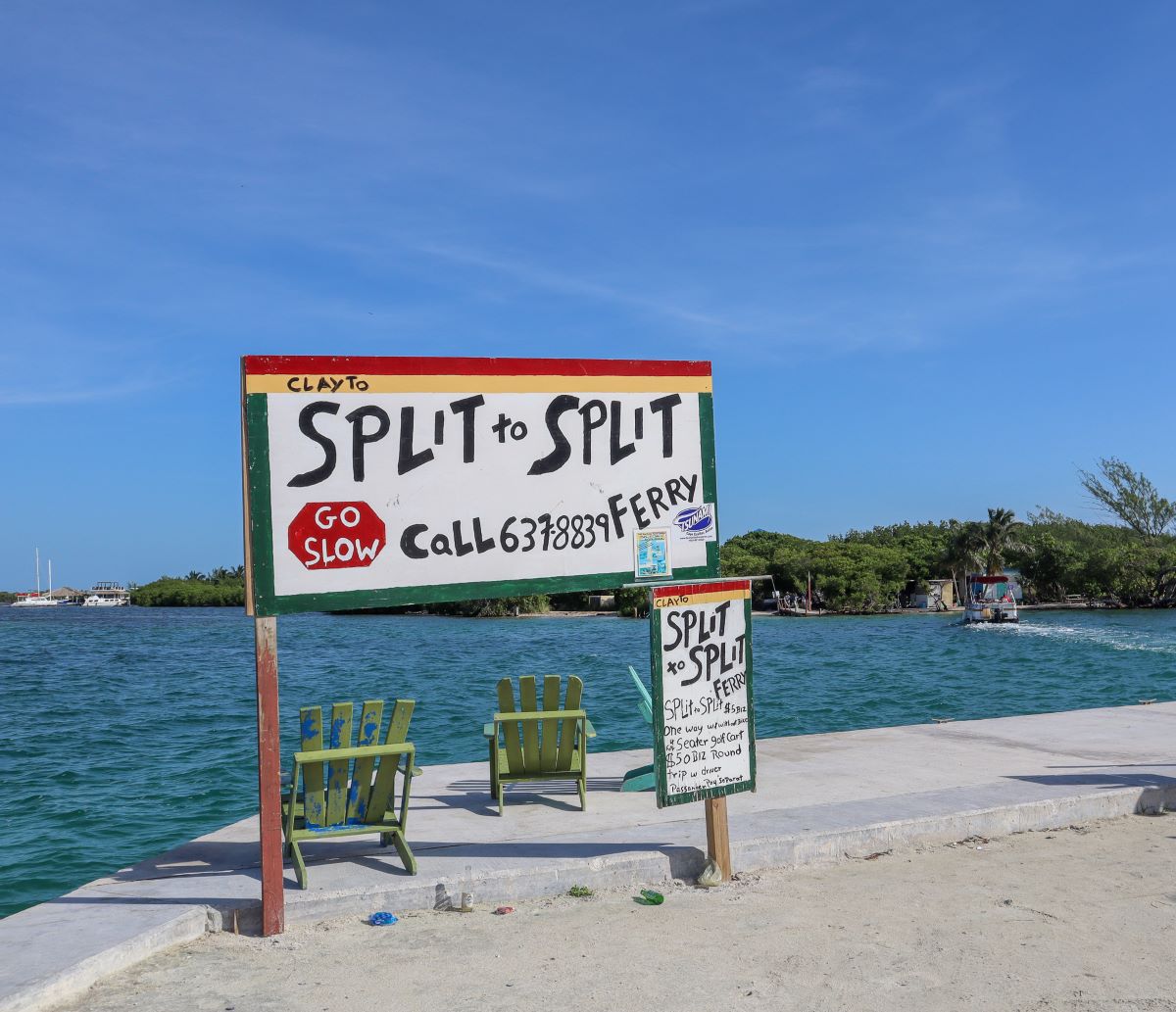 Back on the south side (the main side of the island), watch out for the sign (as well as the cats and dogs snoozing in the sun) pointing to the Caye Caulker Animal Shelter.  Kenny is a one-man operation feeding and caring for the animals and often helps facilitate a visitor taking home a new friend.  He welcomes visitors and donations.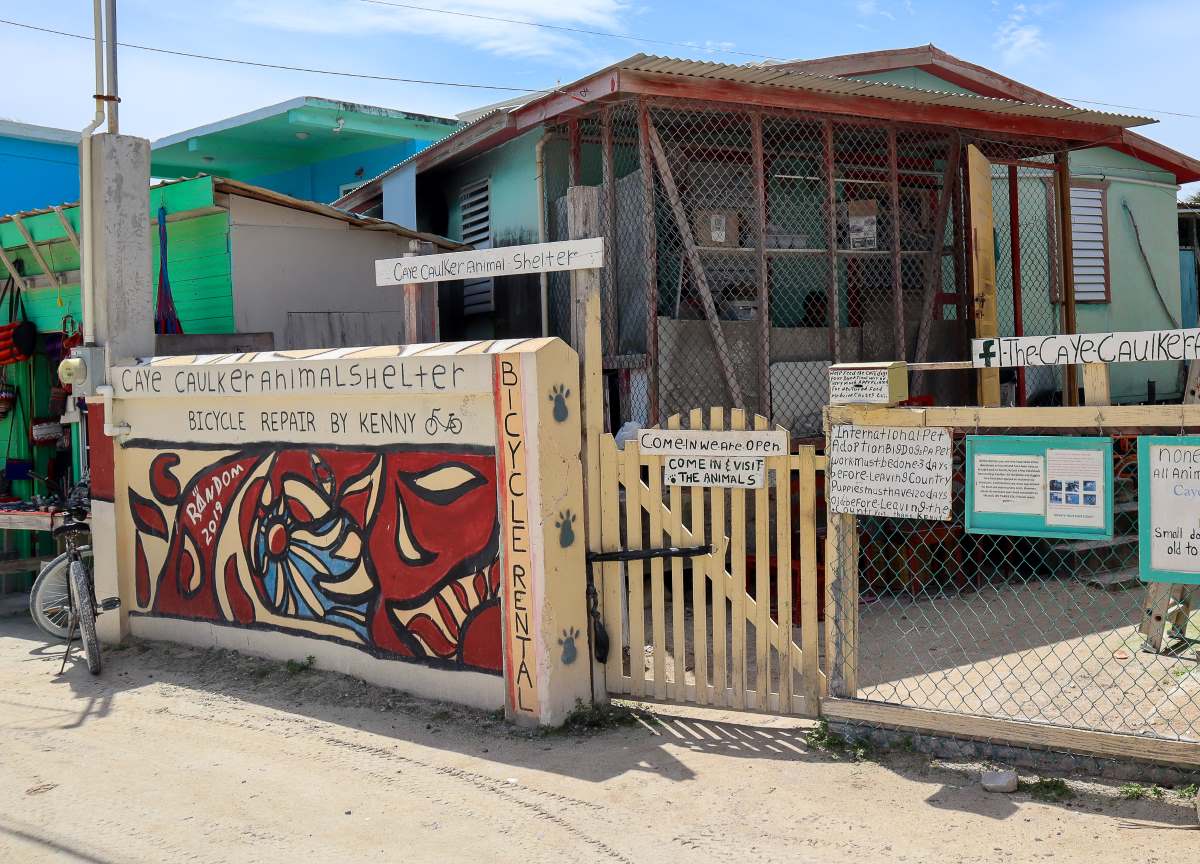 You can bicycle down to the south tip of the island which is also very scenic - at the southern tip you can look over to the smaller Caye Chapel.  It was once a resort and golf course - and for the last 10 years, there has been talk of a Four Season Resort/Community being built there.  I think it's finally happening...maybe?
Head to yoga at Namaste Cafe - they also do a fantastic breakfast and lunch, delicious honey hibiscus kombucha, they've got yoga classes on the roof level, and it's just a great spot to hang out...super comfy.
Check out the cute gift and art shops - in the pastel buildings of the Artisan's Market - or the Lil Blue Gift Shop.
Most visitors on the island gather at Iguana Reef Resort for sunset. To enjoy a cocktail, and watch them feed the pelicans and the stingrays as the sun dips over the horizon.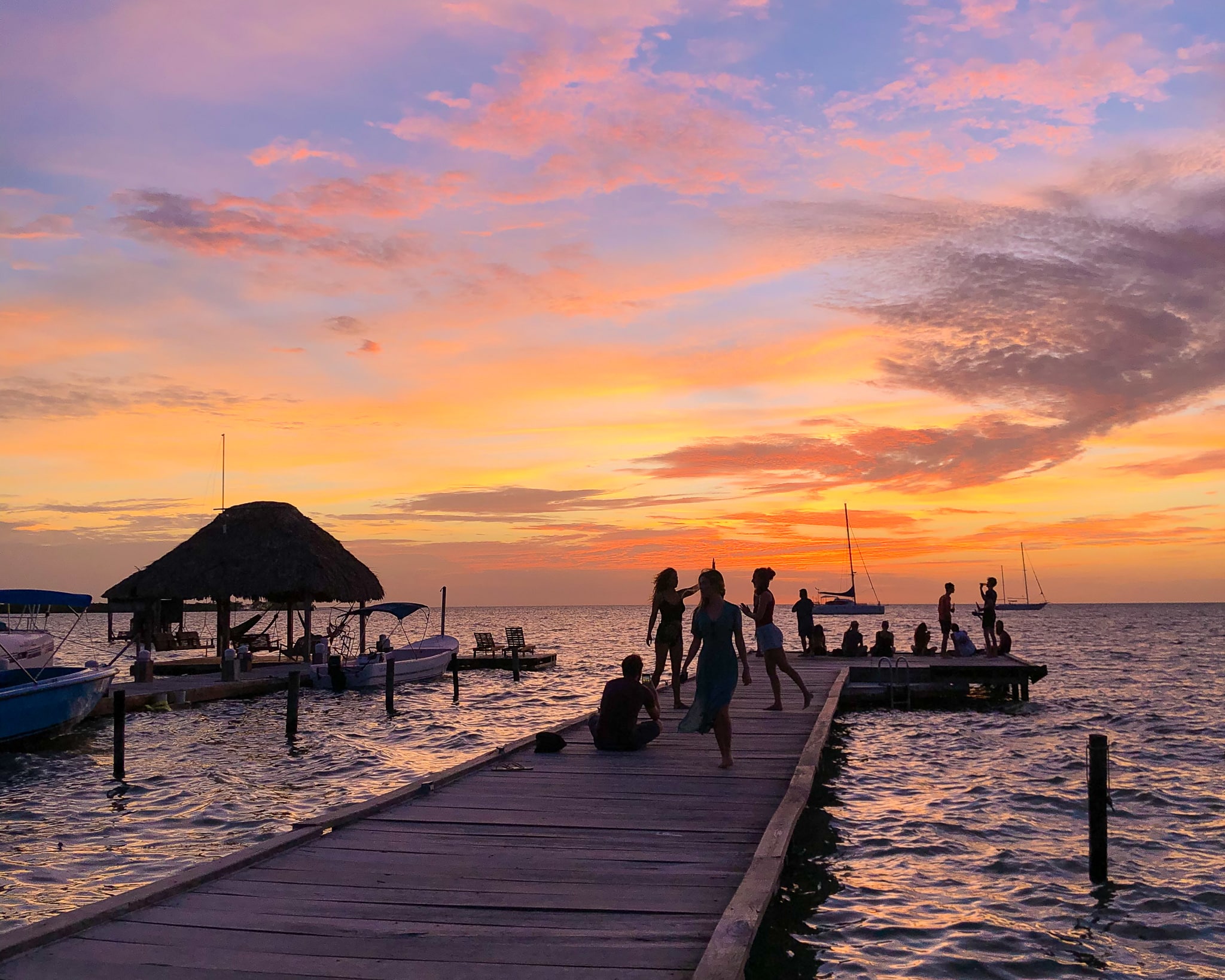 There are lots of fun bars and restaurants but to me, the top appeal is that you can walk or bike pretty much anywhere on the caye.  You really feel at home very quickly.
Explore the island, talk to those who live there, buy BBQ chicken or lobster on the side of the street and banana bread from bicycle vendors, visit the small, tiny animal shelter, and maybe bring home a pet.
Just "Go Slow" - and you'll love Caye Caulker.  It's impossible not to.
Where to Stay on Caye Caulker
Since I live only 20-25 minutes away from Caye Caulker by water taxi - I haven't overnighted there enough!  I dream of spending a few nights a month on Caye Caulker and then perhaps I could write a book about my second favorite island in the world.  Someday...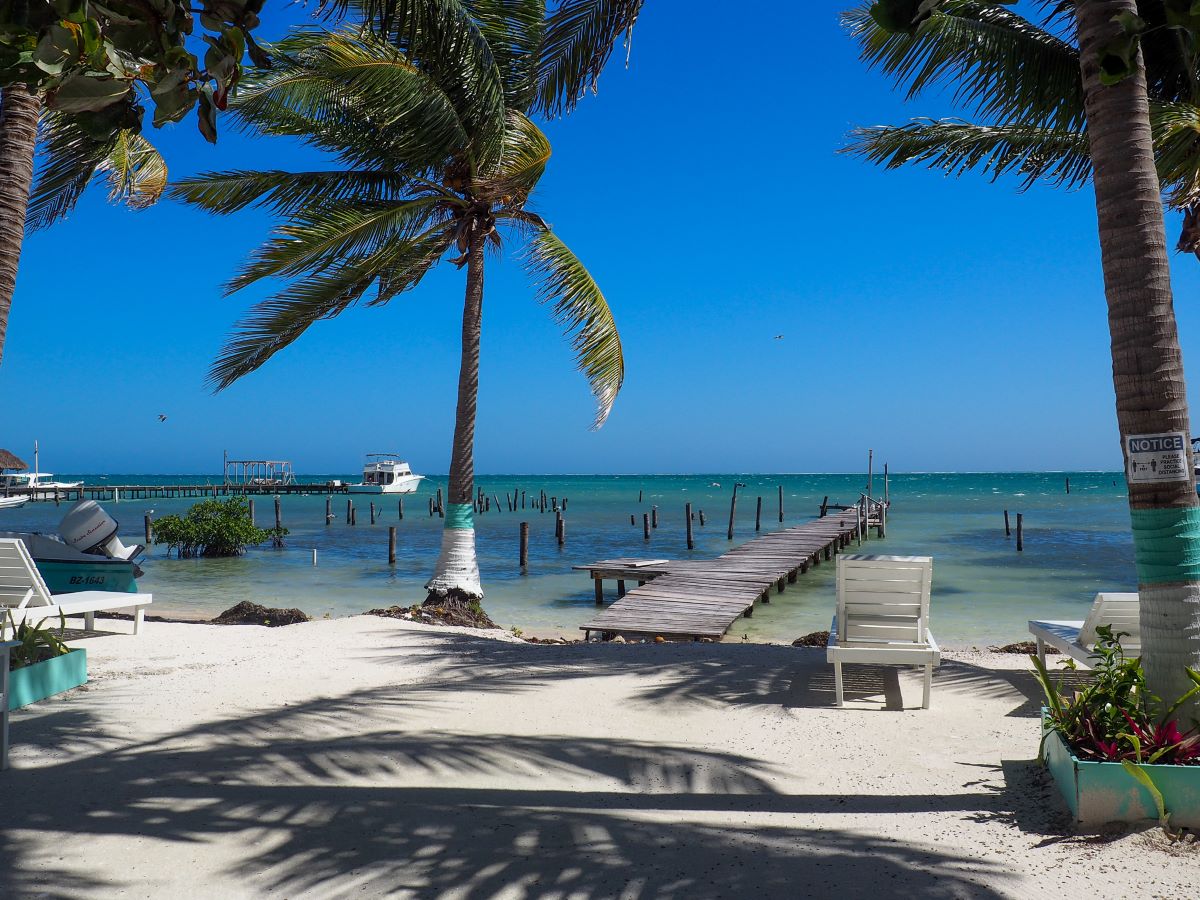 You can see the great spots I've stayed here  - I'd LOVE to hear your feedback about your favorite places on Caye Caulker.  Maybe I can sneak away and write about it too.
Where to Eat on Caye Caulker
Caye Caulker does not have the wide range of restaurants as Ambergris but it's a smaller island! There are some delicious Italian spots, fresh seafood, ceviche bars, and a house of Fry Jacks (fry jacks, you will quickly discover are one of the great foods on earth)...you'll find your favorite spots!
Maggie's, below, is famed for the best stewed chicken and rice & beans.  And if you visited Belize and didn't eat this dish - I would argue that you haven't been to Belize at all.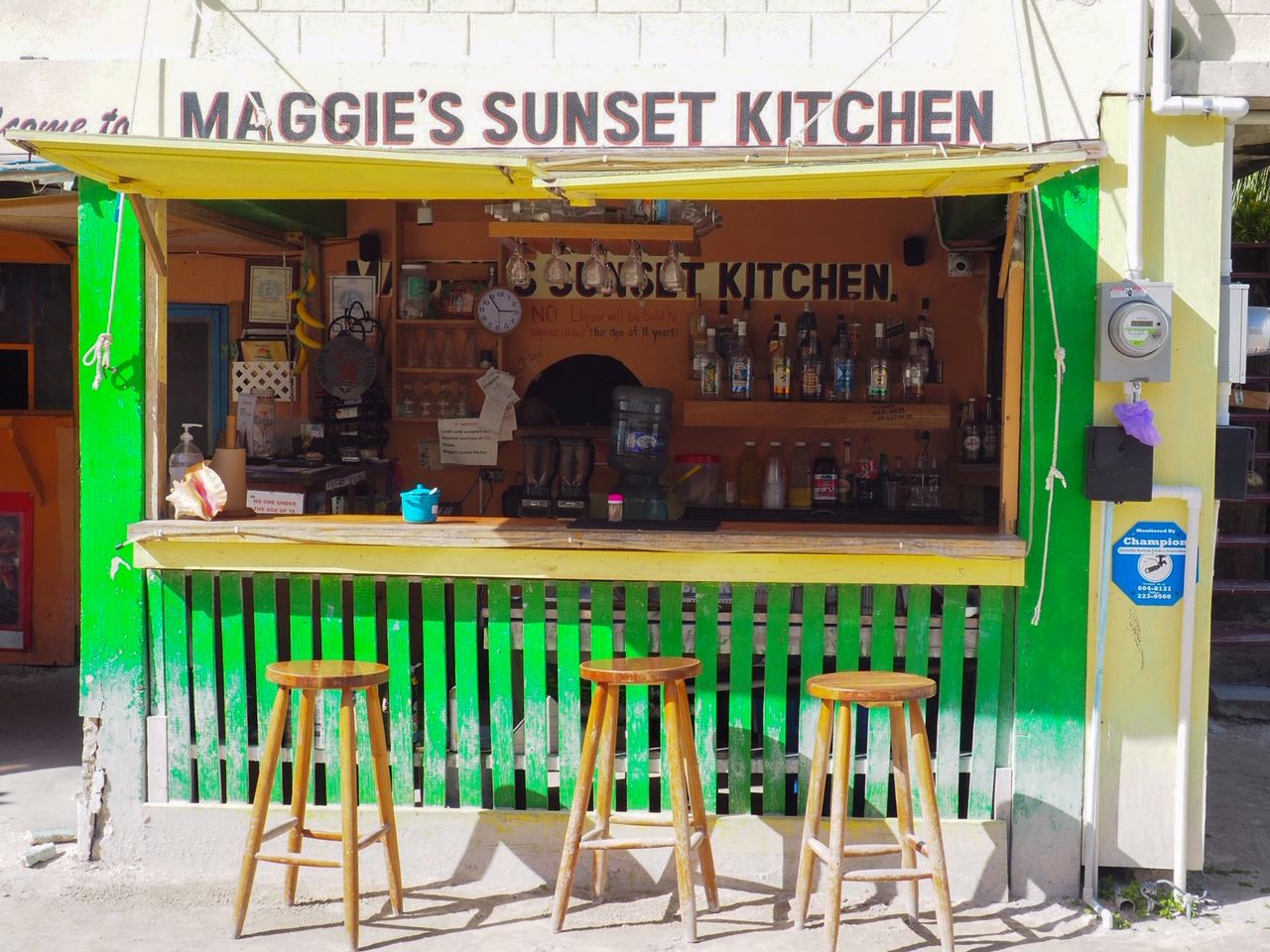 And make sure to eat as much Belizean food as possible - fresh ceviche, conch, fish, and BBQ.  Let me know your favorite spots.
How to Get To Caye Caulker
Caye Caulker is an island so...you will reach this destination by airplane or boat.  The caye is located about 20-ish miles from Belize City; it is about 45 minutes by water taxi.  We currently have two water taxi companies that will take you from Belize City to Caye Caulker - and then they continue on to Ambergris Caye (another 30 mins).
You can also fly - if you want to go directly from the Belize International Airport to the island.  This is the most expensive option but it is also the fastest and the most scenic.  You can book tickets through either of Belize's domestic airlines - Maya Island Air or Tropic Air.
Lots of backpackers travel each year through Mexico and down through Belize - always stopping in Caye Caulker for the young, laid-back vibe and the hostels and cheaper lodging.
There is a daily water taxi service from Chetumal, Mexico (the capital of the state of Quintana Roo - which contains Cancun, Playa Del Carmen, Tulum, and Isla Holbox) to Ambergris Caye and then onward to Caye Caulker.  You can find out information at Water Jets International and San Pedro Belize Express.
How to Get Around Caye Caulker
I've said it a few times in this post and I'll say it again - one of the very best things about Caye Caulker is the size.  The village and many of the restaurants and bars are an easy walk from where ever you are staying.  You don't even need shoes on the main drag...it's a sand road.  But, as a self-identified tender foot, I'd bring them just in case.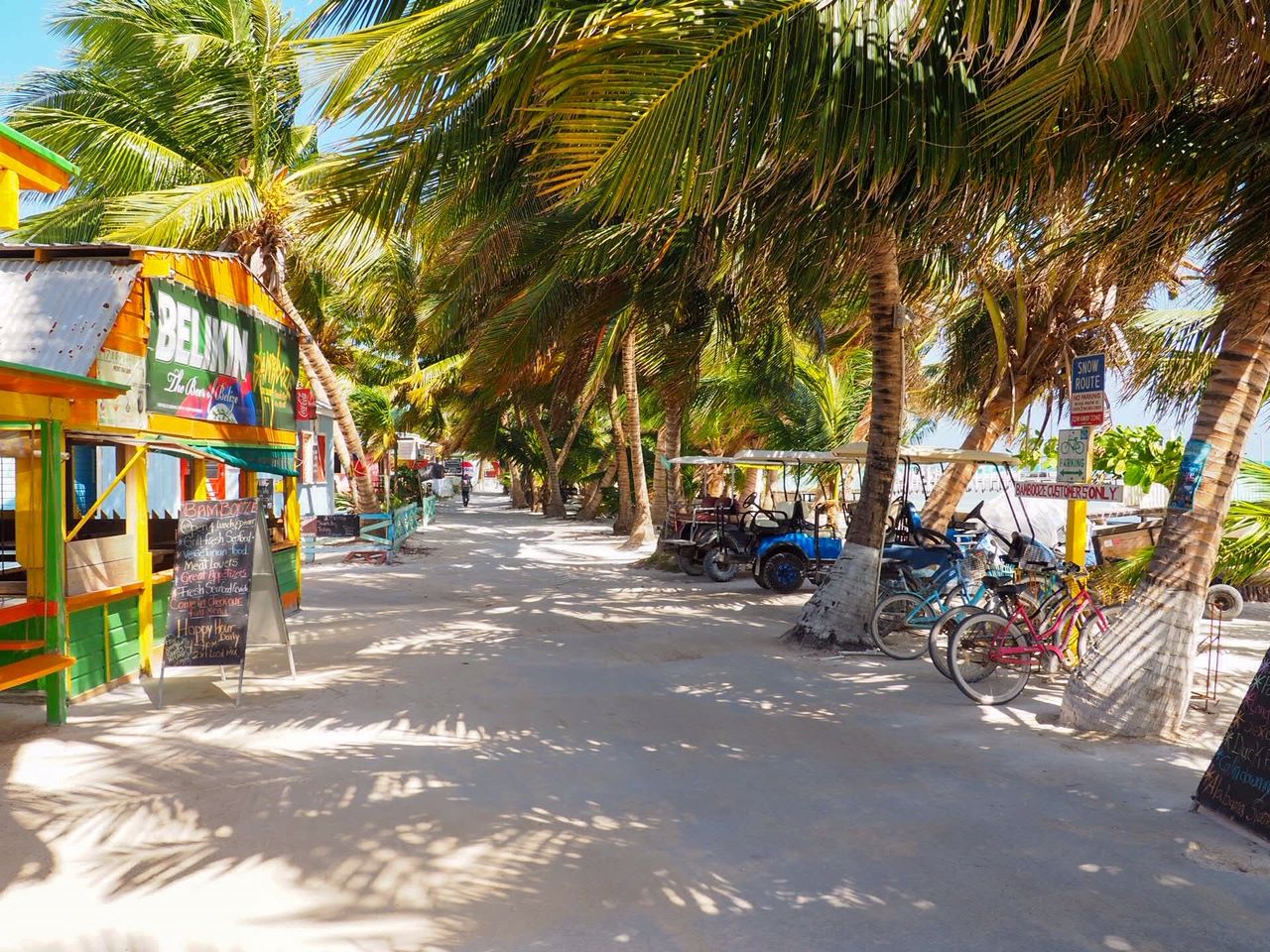 If you want to do some additional exploring, bikes are a great idea.  And there are golf carts - even golf cart taxis you can hail or a few golf carts to rent.
For ALL my articles on my visits to Caye Caulker over the years, click here.  And always send me the amazing spots you recommend after your visit!