Making My Way Back Home from the US to Cancun to Belize: Let's Add in a Good Night's Sleep
Just about 2 weeks ago I made the trip up to Cancun for a flight from Cancun International Airport to Rhode Island.  I flew from Cancun rather than Belize City to save $400US – tickets are generally SO much cheaper.  I endured 29 hours of generally sleepless travel (so sleepless that I left my Kindle on the Cancun bus) and serious McDonald's gorging to save a buck.  Or four hundred.  You can read all about it here.
Really.  It's not as bad as it seems.
But on the way back, I wanted a good night's rest.  It would cost me less than a new Kindle for sure and would make me a much happier camper.  I found a place online and…well…here is my trip.   Providence Airport to San Pedro, Belize in a few steps.
Trip hours:   First Day – 15 hours  Second Day – 3 hours
McDonald's Calories consumed:  0  (Burger King:  1,430)
Large Coffees drunk:  2
Hours of Sleep:  Lots
Approximate US$ saved on total trip:  $400US minus (I subtracted the $99US for the Kindle ordered)
Perceived pounds gained due to sharp increase in humidity from Rhode Island to Cancun:  Ten, 4 in my hot dog fingers
1.  The US Flights.  
Nothing of great importance to tell you here other than unlike my previous trip last September, this time I DID NOT get a massive hassle about having a one way ticket to a foreign country.  In September it took the United desk personnel about 45 minutes to decide that they would let me go to Cancun but WARNED that I might be turned back at the airport for entering the country with a one-way ticket.  (Not one Mexican immigration person even noticed or if they did, cared.)
Much to my brother's dismay, I booked the cheapest flight – the 6:03am out of Providence.  Required leaving the house at 4:50am…that's not SO bad!
I always like to check out what the airplane book shop sells in each city.  In Rhode Island, they are Boston Strong.
At my next stop, in my home state, it's always been all about New York City but Jersey is getting more and more of an identity thanks to shows like the Sopranos, Real Housewives and the defining work of artists Snooky and The Situation on The Jersey Shore.
Ha ha.  Go Jersey!
By 12:30pm, we were landing in Cancun.
2.  Bus from Cancun Airport to Playa Del Carmen, $140 pesos ($9USD)
A regular bus now leaves from the airport to Playa Del Carmen.  Check the ADO site for details.  It's mostly in Spanish but all you need are place names and dates…
Just outside of the terminal, right past all the 150 guys holding resort signs with names, you will find the bus stop…
Buy a ticket for Playa del Carmen and probably the most expensive drink of your time in Mexico (my diet coke was $53 peso – usually about $14 pesos each) and wait for the one hour bus.
Playa Del Carmen is the perfect place to spend the afternoon and the night if you are making your way down to Belize.  My issues?  I want to go as far as I can in just one day AND I really really don't like Playa Del Carmen.
Yes the beach is nice and yes, there are lots of restaurants but it's all just so…crowded.  Most will disagree with me but I would rather spend the night in Cancun than PDC and I'd MUCH rather spend the night in Tulum.    Here's a look at the last time I was in Playa…
So…you can get off here and spend the night or you can continue your journey south but you need to switch bus stations.  Annoying but relatively easy.  Jump in a taxi and take the 5 minute ride with your luggage from the downtown PDC bus station to the uptown one.
I had 2 hours to spend in Playa Del Carmen…
3.  The Bus from Playa Del Carmen to Chetumal, 4 hours 15 minutes, $294 pesos
Most of this time spent sleeping off the giant Whopper Meal I ate in Playa.
4. Taxi to the Border and My Hotel
The taxi drivers in Chetumal, especially at night, love to try to rip me off.  A good clue is when the price is given to you in US dollars.  Don't worry…at the bus station there are plenty of taxis and since I had taken this trip just a few weeks earlier, I knew the prices.
I asked how much is it to the Hotel Lagoon (about 1/3 mile from the border), the taxi driver says that he "can do it for $20 US".  I know that this price should be $80 pesos (or about $7US).  $20 US?  I ask?  Really?  Ok, he says, he can do it for $200 pesos.
How about $100 pesos I ask.  He shrugged and accepted.  But if you have no idea what the price should be…I'd ask a few taxi guys independently.
5.  Night at the Hotel Lagoon
I wanted to go as far as I could in one day and getting myself to the border of Belize was it.  I arrived at the Hotel Lagoon at about 9:15pm.  The website for the hotel looked really good and though it was hard to imagine a place on the border being nice…this place was really cute.  REALLY cute.
Even my key, this little coconut cottage…
And my room.  AC, balcony overlooking the lagoon and TV?  Perfect.
Honestly…this place is very surprising.  And for about $40US, internet, clean sheets, morning coffee and a good night's sleep?  This stop was SO worth it.
The view from my back window.
6.  Taxi to Border
Another great thing about the hotel is that you are 2 minutes from the border…it's just around the curve.  Hail a taxi or one of the border tuk-tuks.  For $50 pesos, he can take you to Mexican immigration and then across the border to Belize.
You will go through Mexican immigration and though I was only in Mexico for less than 24 hours, you pay the exit fee of $352 pesos.  UGH.
You pass my least favorite place in Belize – the Free Zone (feel free to read about my misery there.)  And then BELIZE!!!!  Home sweet home.
Immigration?  Easy!  Customs?  Nothing to declare?  No problem!  Woo hoo!
7.  Belize Taxi to Corozal Town & Tropic Air
I was scheduled for the 10:30am flight from Corozal town to San Pedro and had about 2 hours.  (I picked one up coming across the border.)
There are Belize taxi services before and after you go through immigration and there is the $2bzd bus that I mentioned in my previous trip's post.  I was set on the bus.  One taxi offered the trip direct to the air strip for $20US.  No.  One guy said he recognized me and offered $15bzd.  DONE.
For a few extra bucks, he took me to a place for a DELICIOUS to-go breakfast.  DELICIOUS.  Al's Cafe in Corozal.
Scrambled eggs with thick ham strips, yummy beans and tons of flour tortilla.  With coffee $10bzd.
8.  The Gorgeous 15 Minute Flight from Corozal to San Pedro Direct on Tropic Air
Just three of us on this swanky new plane.  I LOVE THE VIEW.  And though I almost always take the boat to save money, I am always so grateful to be flying.  Love it.
Corozal – can you spot the circus?
And then the landscape to the coast.  Chalky strange colored pools.  It's almost like another planet.  Isn't Belize just the MOST beautiful?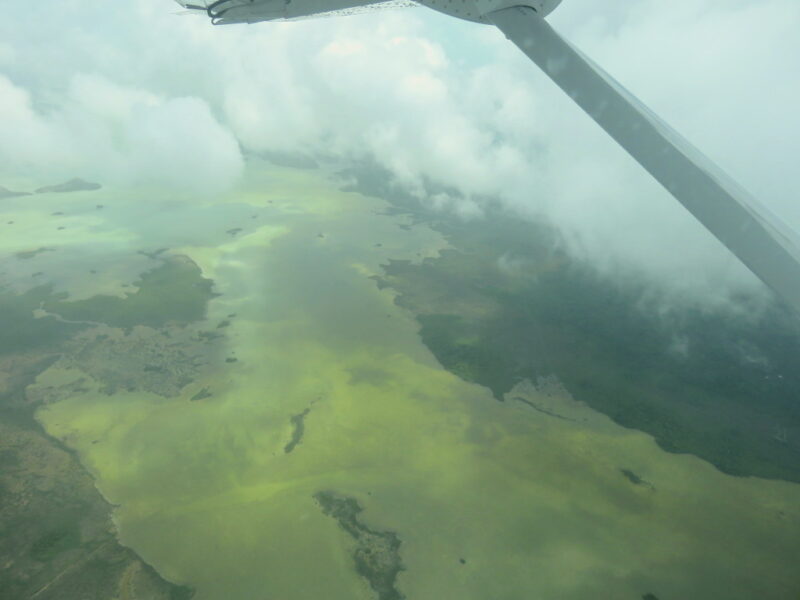 And to the coast.
With yesterday's haziness, you couldn't really tell the sky from the sea.
The sugar barges leave long scraps along the sea floor…and Blackadore Caye – Leonardo DiCaprio's island lying just west of Ambergris.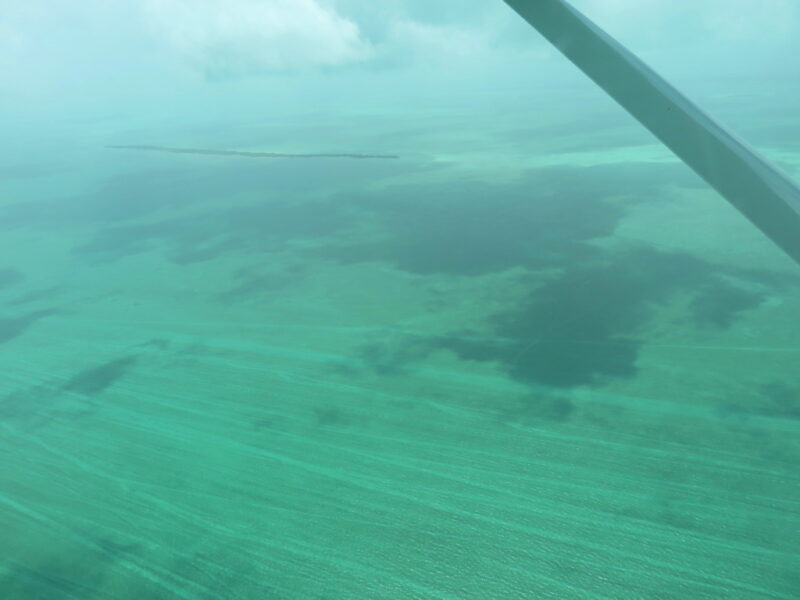 And then the private island Cayo Espanto.  Close to the very top of my Belize bucket list.  Bill Gates, Tiger Woods, Leonardo DiCaprio, Rebecca Coutant…
HURRAY!
I am so glad to be home.  Lots of fun stuff coming up in the very near future.  ALL THREE LOBSTERFESTS San Pedro, Caye Caulker and hopefully Placencia and a trip to Sarteneja and a veternarian clinic there.  A trip to WildTracks – an amazing place that rehabilitates monkeys and manatees.  The Belize International Film Festival and more.
ALSO, I'll be spending the summer working on my website…tweeking, upgrading.  If you have any suggestions PLEASE let me know…I love to hear from you.