Up Into the Western Ghats, Kerala, India: Elephants, Tigers and Shopping, OH MY!
I left off last at sea level in GORGEOUS southern India.  The state of Kerala to be exact.  And we had spent a night on houseboats and then one at a fabulously lux hotel.  We were headed up into the mountains.  And not just any mountains but the Western Ghats that run along the south west edge of India.
The mountain range is a UNESCO World Heritage sight with parks and reserves that protect the abundance of wildlife.  The real show stoppers are the bengal tiger and the Indian elephants.  And we tried to catch a glimpse.
I have now been on the Kerala Blog Express (25 countries – 30 bloggers) for one week.  JUST ONE WEEK!  It's hard to believe.
We have been moving from resort to hotel…it's quite the whirlwind.  We are treated to festooned elephants, gorgeous jasmine necklaces, beautiful rooms and views and an amazing array of food.
We started out early on Friday for the winding road upwards.  It can take up to 6 hours to cover 100 kms and the roads are NARROW.   We stopped at this lovely church on a hill overlooking the rolling tea fields.
About 2% of India's population are Christian but in Kerala, the number is about 18%.  Vasco De Gama was the first European to find a sea route to India and landed in the state looking for spices – but many believe Christianity was introduced much earlier.  The Smithsonian just wrote an interesting article titled:  The Surprisingly Early History of Christianity in India.
The weather was gorgeous…80s rather than 90s at the coast and much lower humidity.
And the hills of tea.  So beautiful.
They make the most delicious tea here boiling the water, milk and tea together and then adding sugar and pouring it, with great flair, to add froth.
A few hours later, we stopped at a resort called Spice Village – a beautiful property adjacent to the Periyar Wildlife Sanctuary.  We were greeted by an elephant and by a group of young drummers.
Our exact location.
Again we were off.  This time for a boat ride through the tiger reserve.  A huge park that contains 40 rarely seen tigers, over 1000 elephants and more animals.  All I wanted to see was an elephant…that's it.  ONE elephant in the wild.
But first, before we even boarded the boat, we ran into hoards of biscuit and soda stealing monkeys.
They were everywhere.  Off to the boats.  Patricia from Brazil took a big selfie of us all…she is a professional and her pics are amazing.
This park is EXTREMELY popular…there were loads of people trying to get on the larger boats.
We puttered along for about 10 minutes…some deer…meh.  A wild boar or two.  AND THEN….ELEPHANTS!
A mother, kid and a baby bathing in the lake.
The two older elephants kept the baby close, even sandwiched between them for safety.  
Absolute magic on one gorgeous day.
We also spotted a much shyer monkey – one who prefers to collect his own food.
Good monkey.  There are thirteen types of monkeys in India.  I'll let you try to identify my two.  The scary grey one that takes cameras and water bottles and the cute black one that looks at us from afar.
The next day we did a bit of an early morning hike…
We happen to get loads of great photos taken because, almost like a reality show, we have two camera men following us at all times.  If they weren't so nice about it, it would be my absolute worst nightmare realized.
Here is Jins, one of the papparazzi, in the woods.
No elephants or tigers but back in town, I spotted a man reading the obituaries in the local paper…
and then headed off to a spice farm.  The entire area, in fact, seems to smell of cardamom and it just happens to be my new favorite spice.  The bulk of the spices grown here are peppers, black, white and red – the reason for the colonization of India in the first place.  Black gold.
A vine growing up trees covered in little bunches of berries.
And the picking process.  We even woke one morning in our hotel to find a guy up the tree next to our window plucking peppercorns.
Pepper.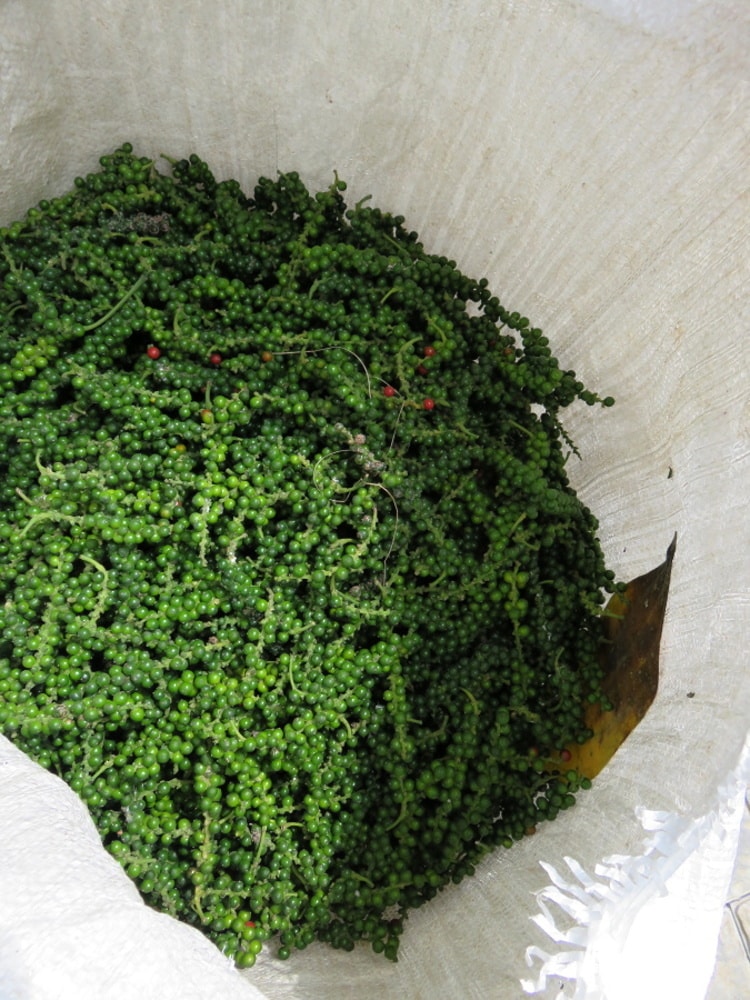 Fragrant coffee flowers.
Cardamom that grows at the base of a larger plant with tiny flowers almost like orchids.
And then the spice shop…
Now let's get to shopping.  We had the afternoon free and I decided to hit the town and see what Thekkady has to offer.  And what I found out was…they have quite a bit.  I came back with a bag, sterling silver, coral & turquoise earrings, bracelet, necklace, tapestry, two pairs of pants, some chocolates, some cardamom and a top all for about $110US.
A spice shop in town where I bought 2 soaps.
The beautiful tapestries I had to buy.
They had hand knotted silk rugs so beautiful you could cry and downy soft pashminas.  Statues and carvings.  Painted boxes and elephants galore.
Jewelry!
And all types of antique curios.
A bit of everything.  Which is exactly what I bought.
I will show you all my goodies as soon as I unwrap them…my suitcase seems to double in size with each hotel we visit.  And tomorrow morning we are off EARLY for a 4-5 hour trek in the mountains and then overnight camping.  If it is anything like what we saw today…the tea for miles…I can only imagine it's going to be glorious.
Tonight we are staying at a Bollywood Movie Themed hotel in Munnar – it is awesome.  Our movie is called "Sholay" and there are posters everywhere.
The Silver Tips Hotel.  Where everyone is a star.  🙂
Oh…and I do have 6 more days here after the t