Antigua, Guatemala: The Food And the Restaurants
When I set out on my trip to Guatemala almost two weeks ago, I had no clue what the food would be like…but after living in Belize for 10 years, I could make an educated guess.  Beans and rice, for sure.  Chicken and chilies.  A mix of Mayan and Latin/Spanish influences.
And lots and lots of delicious coffee.  OH THE COFFEE.
But that I must save for the next post.  There was SO much of it.
I wasn't that far off…the food was delicious.  The wider selection of fruits and vegetables, since Guatemalan ranges from sea level to 13,000 feet, is a very nice bonus.  Who doesn't love year round avocados and mangoes, blackberries and strawberries and some of the best coffee in the world?
Antigua was the perfect place to eat Guatemalan AND internationally.  The town has quite the food scene from Italian and French to Indian and Thai to bubble tea.
And even some things that…oy.  At the Museo Chocolate.
It also has the most low-key fast food places I've ever seen.  The only way you'd recognize Domino's Pizza is by the single brass domino on the exterior.
Here's another example – the only sign.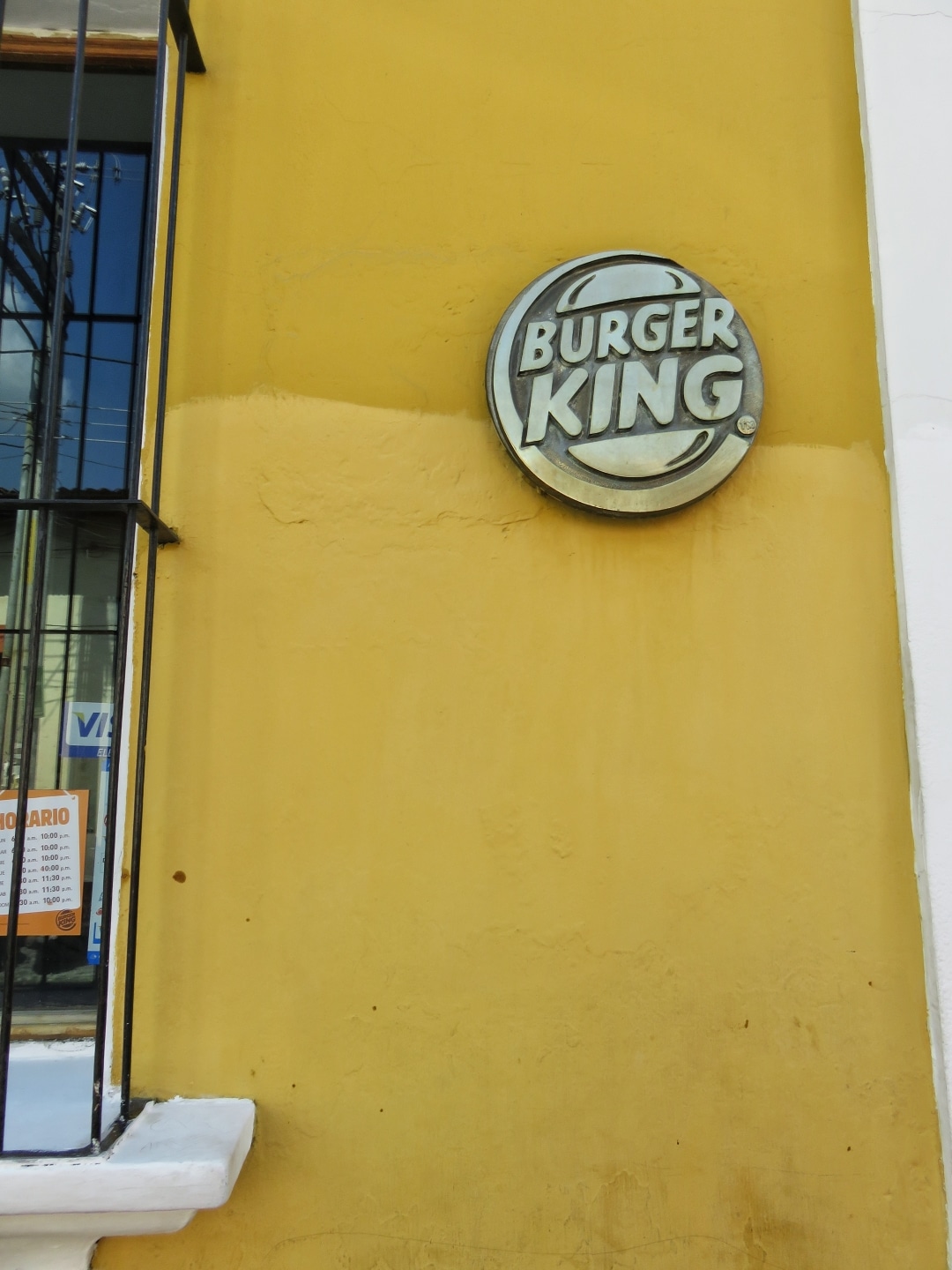 Antigua was also a great place to see how coffee is actually grown and processed.  I'd been to a coffee finca in Colombia – this one was equally beautiful and impressive.
And for a relatively touristy place, it has some incredibly good eats for some incredibly low prices.
Here's where I ate:
I'll start with my favorite – both in price, the quality of the food (best potatoes I've EVER eaten in my life, SERIOUSLY) and the fact that you feel like you found the locals' choice.
Rincon Tipica Out front one of the staff is making the handpressed corn tortillas.  So thick and tasty.
Inside I had three choices, pork, sausage or chicken or all three.  It came with potatoes roasted in the meat drippings, salad, tortillas and a juice for Q30 or $4US.  The place was PACKED.
El Porton
For Q25 ($3.33US), they have 4 or 5 specials.  I chose pollo pepian, a traditional Guatemalan dish – in fact, I think it may be the national dish.  Yummy tender chicken in a thick spiced gravy with vegetables.  Served with rice, salad, fresh homemade corn tortillas and a cup of horchata, this stuff is delicious.
My most expensive lunch but well worth it was the very popular Hector's Bistro.  They have about 7 tables and I was there at 3pm.  There was a small line at the door…
I had delicious grilled portobello mushrooms with orange and olive oil.
This open faced steak sandwich which was delicious.  But the sweet potato fries with the home-made ketchup (a touch of all spice or cloves?) was so freaking good…I asked for a bucket of ketchup to go.
The waiter thought I was joking.
So so tasty, amazingly unexpectedly good…but (SO UNLIKE ME) I decided that the money spent, Q200 with tip ($27US), would be best spent on the gorgeous gorgeous fabrics and crafts of Guatemala.  Food over stuff?  YES!  It is THAT beautiful.
I'm not going to lie…I ate a few meals at this tasty bagel spot though I did NOT try coffee cream cheese.
The bagels are fine…but the sandwiches are great.
And I did have to stop in for one or two desserts at this French dessert shop called GANACHE.  Great coffee…and while a bit on the pricey side…desserts for $4 to $5 US…it was a perfect place to relax a bit in the town center.
Plus, I very much enjoy this ratio of lemon cream cheese icing to carrot cake.
Here are some of the beautiful items I brought back with me – the ones that made it hard for me to spend TOO much on food.  Each piece of cloth made on a hand or foot loom.  Absolutely insane.  And a tiny pair of pink jade earrings.
One more thing…I apologize for being off line for the last 4 or 5 days…TORTURE!  But not only did my phone die in Antigua – crazy but an IPhone 5 does not like getting dropped on cobble stone streets! – but my COMPUTER STOPPED FUNCTIONING!
The fan stopped working and was at the shop as soon as I set foot on Ambergris Caye.  Good grief I was worried.
Diagnosis?  Animal hair.  I wonder how that happens…
🙂