Guatemala's BELOVED Pollo Campero: Is the Fried Chicken Worth the Wait?
From all the talk I've heard about Pollo Campero, I could only surmise that it is the very best fried chicken in Central America..perhaps the world.   The family owned chain has 350+ franchises included about 70 in the US…and I've heard people remember it with eyes tearing and mouths watering.  According to the empire, it's "the chicken you can't campero".
I like that.  Clever.
There are many legends about their specialty – the fried chicken.  The first is, that the aroma from the boxes of chicken on flights from El Salvador's airport (an insanely busy Pollo Campero restaurant) to the U.S. are so ridiculously overpowering that headquarters is working on a special insulted box for transportation.
Another rumor (which more than one taxi driver in Belize City has told me) is that the management of the chain came to Belize City to see if they could expand into our country.  They went around tasting the most popular fry chicken spots in the city (it's called "fry chicken") and announced that Belize had no need for Pollo Campero.  We were doing fine on our own.
Apparently when relatives visit Guatemala, the only request they get from those in the US is not coffee or beautiful fabric but…you guessed it…Pollo Campero.
NOW IS MY CHANCE TO TASTE THIS WONDER OF THE WORLD, THIS LOVE OF LATIN AMERICA, THIS CULT-INDUCING CHICKEN.
"On the eighth day, He invented Pollo Campero".
I have tasted fried chicken around Belize trying to find my favorite of the favorite.  I went to Li Chee's for a greasy bag & Friendship for very rude service and very tasty chicken, I ate at Dawn's in Placencia, I've eaten Lily's in San Pedro (my favorite on Ambergris) and I crowned Syd's Friday Fry Chicken special the best in Belize.
Here is Lily's.
I was ready to taste Guatemala's best – measured by the insane popular demand.  I first went to the chain in the middle of Antigua – Saturday afternoon at about 3pm, not your standard lunch or dinner hour.  The line was out the door.
It's just up the street from Antigua's beautiful and very popular Central Park – the hub of the town.
I then went to the larger outlet near my B&B on the edge of the center and tried to order at the register.  The attendant told me to take a seat.  I was confused.  Was I not allowed to order?  I had been scolded for taking a photo at the counter.
That chicken is not baking under a red light – I bet it is all served in under 4 minutes.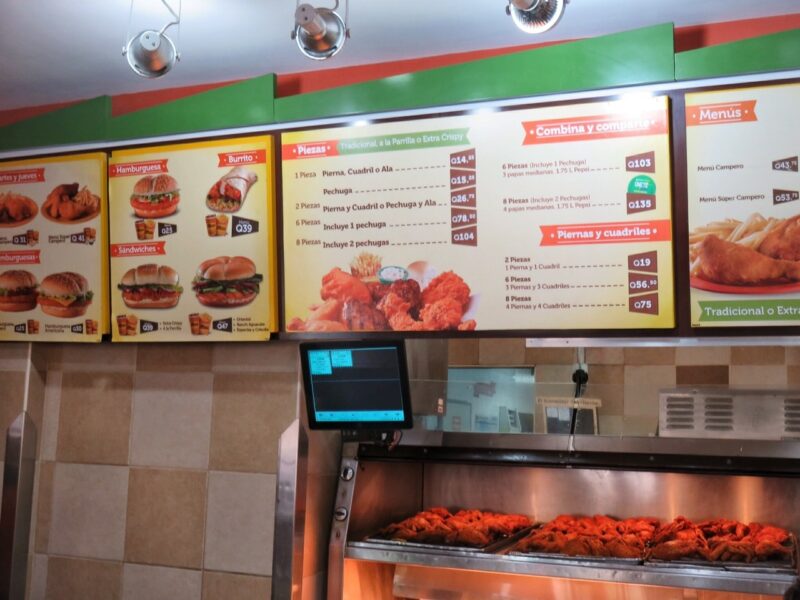 I sat down and realized that the greeter at the door ("Hola, Welcome to Pollo Campero") was really a host.  A maitre d.  Armed with an elaborate headset, a computer slung around his hips and a cleanly pressed dress shirt and pants, he already knew that I wanted a table for one.  The attendant has radioed him.
But how did he recognize me?
I joined the 40 or so people waiting for a table.  Things moved quickly and I was escorted to the dining area resplendent with a fountain and about 100 booths and table.
WHAT AN OPERATION!  This place is making bank!  The owner is said to be a billionaire and I can EASILY see why.
One of about 30 waiters came to give me a menu and then take my order.  Oh I was ready to love it.  I WANTED TO LOVE IT.
Soon my two piece, fries, drink and dinner roll arrived.  I dug right in.
And…the fries were good but not MacDonald's crisp, the sweet tea, excellent, the dinner roll was a bit dry and the chicken….ummm…decent.  It tastes like some sort of citrus and heavily of black pepper.  My least favorite spice in the world.  And the meat tasted unseasoned.
The ketchup was my favorite part – slightly sweet…a slight taste of all spice…or is it cloves?  Very very tasty.
Clearly all of Central America is right and I am wrong but I'm not a big fan.  PLUS, the price was about $6US or Q42.75.  That ain't cheap.  Minimum wage here is about Q80-85 per day.  That's a crazy ratio!
So it's just not my taste.  What I did notice is that this empire is SO SMARTLY RUN.  The technology, service (waiters and waitresses!), the speed, the uniformity, THE SPEED…super impressive.
Sigh…i didn't leave wanting more chicken, I left wishing I had invented it.