Iota Brings Rain and Winds to Ambergris Caye But We Got Very Lucky
I don't know about you but I'm getting kinda sick of the 2020 jokes.  I know!  I've made them myself…when I stub my toe…or when my camera broke…in Belize! or just when watching the daily news.  It's the year that just keeps on giving.  The bad stuff.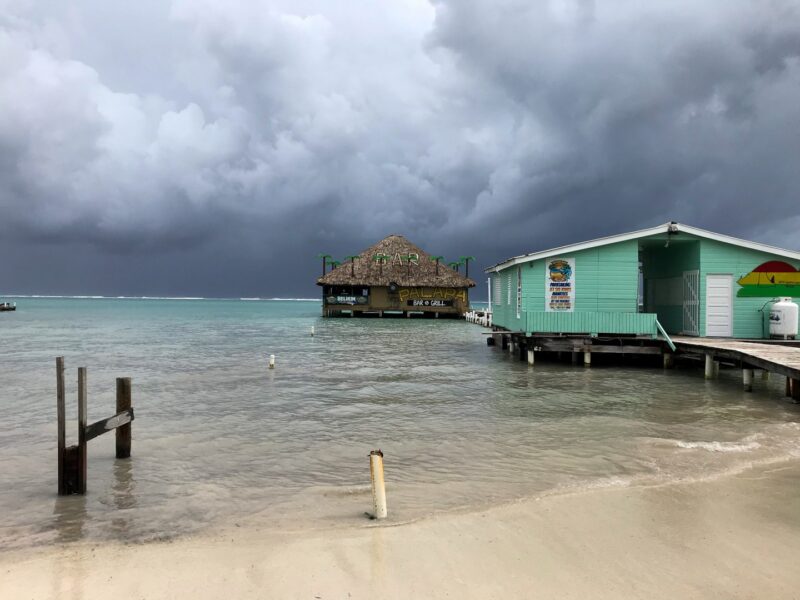 Many of you will probably get something for the holidays to commemorate…that you'll most likely find in your junk drawer or the back of the pantry in a few years.
The old Dumpster Fire Christmas ornament
The 2020 Mugs

Quarantine Thanksgiving/Christmas is real.
Some of these are kinda cute AND on sale (shocking!)
Or…
The TP jokes feel a bit tired to me but…I begrudge no one their Joke Christmas Gifts.  Gift giving is hard sometimes – especially for your dry cleaner (see mug above).  I loved giving sets of gruesome fake teeth to kids on Christmas' past.  (Just google "Fake Hill Billy Teeth" – a gift everyone loved but my mother)
But this post is NOT about holiday gifts – and it's not even about 2020 really…it's about HURRICANES!   Two late LATE season hurricanes hitting Central America as POWERFUL Category 4/5 storms in THE EXACT SAME SPOT.
Here is the location this morning with two more spots on the radar (in yellow) – in the 5 day forecast!!!!!!!!!!!!!
If that is not bad luck…if that is not SOOO 2020…then I don't know what is.  The  poor people of Nicaragua and Honduras – hardly close to dry after Eta's TORRENTIAL rains – are now getting pummeled by Iota.
You can see some of the horrible damage to our south here – Weather.com shows how the eye of Iota hit just 15 miles south of the eye of Eta.
Even hundreds of miles away, we are seeing rain and winds from Iota.  Here are some pics that I took yesterday and this morning.  Winds were up to 50 mph gusts but the rain, so far, isn't close to what we saw from Eta (who curved up much closer to us)
We headed to town after some heavy bands of rain and wind passed at around 8am yesterday morning.  Great satellite video of Iota
Windy.com is a great way to track the storm locally.
2020 – the year someone built a warehouse/cistern in front of our house.
The road is bumpy and wet in spots – but totally do-able.  Beware…you are going to get splattered with mud
Jeff checking on the bilge pump…
Some boats pulled out of the water…and street flooding (much from the run-off from the storm drains around town that run back to the lagoon)
I was not going to get lunch in town – but then I saw my favorite comfort food at my favorite deli in town – Briana's.
It's not the most photogenic food – pigtail is as ugly as it gets…but good grief…coconut rice…dumplings.  It's heaven.  (Here's how I make it myself – if you want to see how gross pigtails look…)
Starch on starch on salty fatty pork on starch.  Plus a side of sweet plantain starch 🙂
To Front Street!
A spot I used to love is being taken down – thinking that the lot has been sold… I hope they donate the sign to the town.
Photo from Feb 2018 – the Grand Opening!  And the ramen spot in 2019!
A few more businesses.
A peak down to Amigos Del Mar dock – one of the largest in town.
We did a bit of shopping at our local grocery store.  The guy in front of us was headed to court in San Pedro – and was getting a drink for…fortification?
This size of rum is often called a "bad man" in Belize.  Not sure why.  Just enough to make you a bad man?  250ml…just over 8 ounces.
We took a slow drive along the shore in Boca Del Rio.  The beach road has seen lots of erosion.
And then back over the bridge – we thought we'd get outta town without getting soaked.  We were wrong.
Oh….and one quick thing I learned while written about Screw Pines in my last post.  This sturdy grass that grows about waist high and has incredibly sharp tips called Cord Grass in the states is called something else locally.
Either Pincha Huevos or Guevos.  Both mean:  Puncture Balls.
That's funny to me.
Have a great day!  It's still windy and raining a bit here…but it's trying to brighten up!