Carnival 2013: Belize City Wi Bash It Up, Part Two
In first post on last weekend's Carnival in Belize City, everyone looks clean and dry, happy, neatly pressed and well hydrated.  This was before the parade really started.
About 4 hours later, as we were stationed at the Belikin tent by the Karl Heusner Hospital, the crowd was just trying to keep cool.  These ice salesmen were doing swift business…
Tailgating of all sorts was happening up and down the road.  I won't pretend it was just tasty ices…rum bottles were being passed around freely.
Thanks sir…but I'm good for right now.  With his many "Rollin' 30s" prison tattoos and half closed eyes, I certainly wanted to keep my curb-mate on my good side.
Finally!  The first vehicle arrived.  We honestly were waiting for HOURS!
And I was charged by this guy who spent a few seconds twerking on me.  Obviously this is a costume that life altering night mares are made of.
He stood up, conked me in the head with a bull horn and thankfully ran off to catch up with the parade.  
It was really the tricky part of this event.  It was relatively fast moving, it was VERY tightly packed so taking pictures was hard, and the crowd was mixed with the performers much of the time.  It was a bit chaotic…in a fun way.
Everyone was EXHAUSTED.  Imagine hauling this costume for 5 miles in this heat?
By this time even my purse was feeling like a 75lb weight.
This guy has this giant dragon over his shoulders and is still smiling and dancing.  Craziness.
All eyes turned to the Belikin tent where bags of cool water were being given out.
This guy atop a truck had some pep left in him…
Each dancer in a huge costume was followed by a serious crew of dancers…
We got a few personal dancers…some not even in the parade.  For some reason, we drew more than average attention.  I blame it on my friend Krista.  Not often you see a pretty 6 foot tall red head at these events…
All the cool kids got the seats on top of the speakers.  Careful boys…
Bowen & Bowen's Coca-Cola Float was by far the most impressive with two stories of steel pan players…
And their Fanta girls.
Then, for some reason, the energy level seemed to rise.  Mouths were blue with Belize's Energy Drink "Full Throttle"…maybe that can explain it?  Take a look at that post if you are interested…their tag line "Street Legal.  Barely." is hilarious to me.
This guy going strong with Mackeson Triple Stout.  God bless you sir.  THAT is impressive.
There weren't really "float" in this parade…more like giant 18 wheelers hauling people and drinks.
Here is what most of the carnival looked like from my angle…a total free-for-all mash up.

Our lady from Colorado still going strong!

March, march, march…KEEP IT MOVING…
Now STOP!
Now GET DOWN!
ONE PERSON PULLING THESE THINGS!
Now STOP and get down with the crowd.  Go white bwai.  Go Nicolai!
Stop!
Now get down.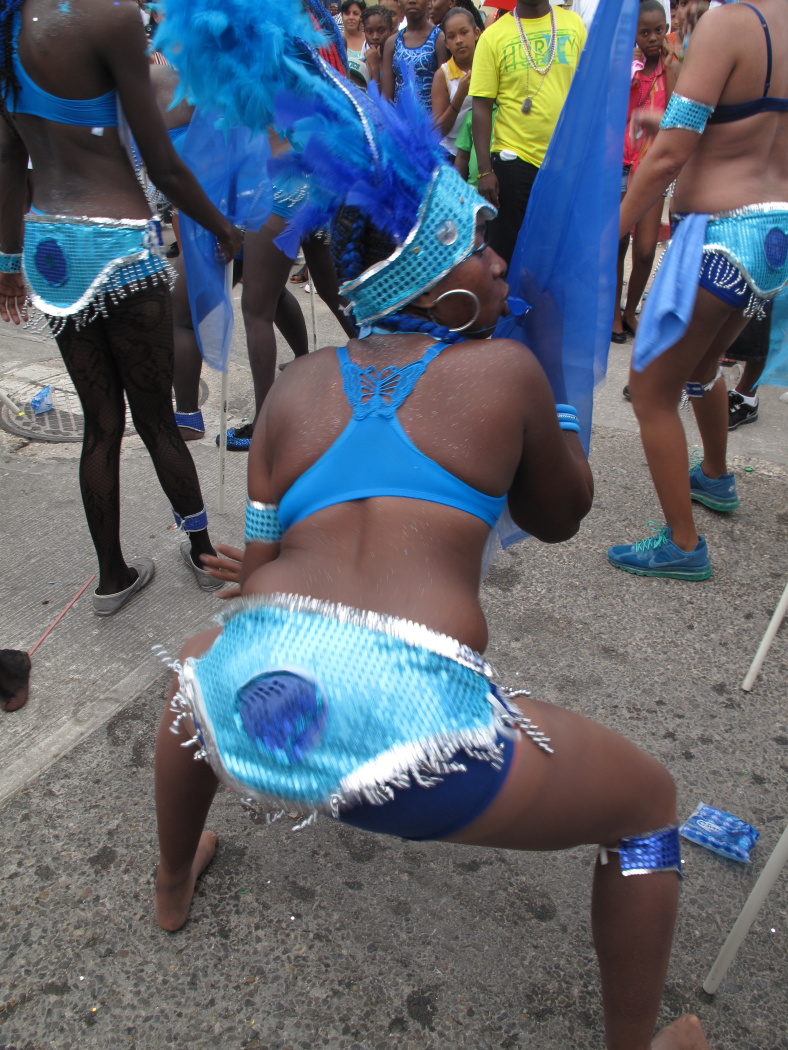 Chaos I tell you.
It's 5pm already!  Hot, sweaty, covered in body glitter and the 1pm parade NOT EVEN over, we had to make a dash back to the boat.
Good-bye Belize City.  What a day!
Who says there is nothing to love about you?  All I know is that you guys LOVE to party.