Texas Music Icon Jerry Jeff Walker Fills Fido's Courtyard with Avid Fans (and Converts a Country Newbie)
Every year, for over 15 years, famous singer/song writer, Jerry Jeff Walker comes to San Pedro, Belize to visit his vacation home and to bring a large crowd of his super fans…to something that is called "Camp Belize".  He does two big shows per week, now at Fido's Courtyard (the most popular bar in town with visitors for sure)…
for people who have flown in from all over Texas, the states and the world for the sold out concert.   The entire two week "camp" turns into one HUGE party…with various live music jams every day, often many a day, all over town.  Lots of cowboy hats around.  And plenty of food and drinks.
Fans enjoying some pre-show Tequila shots.
And I've lived in this town for 7 years now and never ever seen any of it.  Not the big shows.  Not the "pickin' parties" all over town.  Nothing.
I may have mentioned it before.  I was born and raised in New Jersey (America's "Garden State" – which many wrongly scoff at – NOT "America's Heartland") and moved to Belize from Manhattan, NYC.  7 years ago, there wasn't even a country music station in the biggest city in the US.
SO…my exposure to Texan/Western/Country music was limited to a bit of Dolly Pardon (love), Johnny Cash (love also) and all the super crappy new stuff that I saw & heard on Country Music channels accidentally when I was moving a bit too slowly with the remote control.  The sound of that twangy, corny, "18 Wheels and a Dozen Roses" stuff really can ruin my day.
It's just not my thing!
A fan at Fido's.
But this year, I had a chance to go to the show and I took it.  I love live music.  And seeing and meeting fans around town at Pickin' Parties and feeling their excitement had ME a bit excited.
Pickin' Party at Wet Willy's on Tuesday evening.
Below is Conrad Olsen (I found out last night) who coordinates much of the party and music around town during Camp Belize.  Last night at Fido's, I ALMOST asked him if he was Jerry Jeff…
And apparently, he's run into this issue before.
SO, as you can see, last night I had a chance to go to the BIG SHOW and it was REALLY really good.  
Jerry Jeff making his entrance…
JJW is a serious entertainer with songs that range from beautiful ballads to fun, dance songs.  Not all my style but it was GOOD TIMES and he is amazingly talented.  JJW is telling stories the whole time.  Picking on people in the crowd who have been coming for years, asking for participation and suggestions.  Talking about his first shows at Victoria House on the beach and his love of Belize.  How the sea air eats all his electrical equipment down here…about his home town of Austin.
Plus, I had a fantastic view!  Actually, everyone does.  There are 280 tickets sold and all of the audience has a great view.
People were up and dancing later…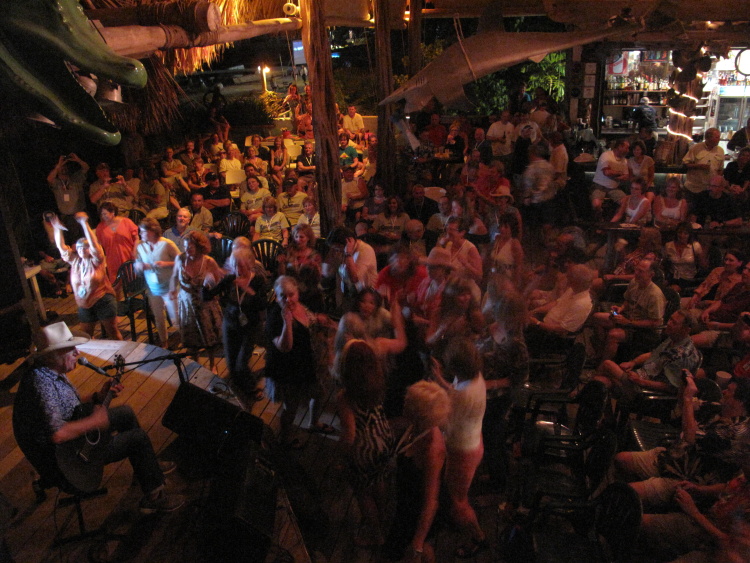 Seeing live music with a crowd of people SO into it…it is hard not to get into it yourself.  And I was…
This guy was the first person to take JIMMY BUFFETT to Key West.  Read his bio, it's pretty amazing…he could probably tell stories for DAYS.   I'll get back to you with more next week…
I'm hoping to get to meet him.
I glad I was able to see him playing alone because for Friday and next Tuesday's show, he is bringing the band.  And I'm going back to see it again.  Oh my god, does this make me a country music fan!?!
Jerry Jeff and all of his super fans are here for two more weeks.  And while the shows are sold out, at 9pm, after the shows, FIdo's opens the doors and you can join the party.  Friday should be an AMAZING time.  Conrad supervises much of the music during the after hour parties.
And if you are not here until February, you are still in luck.  Another Texan artist, Kelly McGuire starts playing at Fido's on February 2nd.  You can check his schedule on the right hand side of this blog.  See you there too.