Gorgeous Mile Walk on South Ambergris Caye That Ends in a Coconut Sculpture Garden
Finding a place on the island to stay can be tricky for sure.  If you've never visited it might seen overwhelming (and I get LOTS of emails from the overwhelmed)…North Ambergris known for the larger resorts and beautiful sandy beaches or San Pedro Town with so many bars, restaurants and events or the area that I hear least about…South of town.  Or as I like to call it, my neighborhood.
For those not familiar with this area, I think it's just gorgeous.  And no matter where you stay, one worth exploring.  Let me propose a two mile walk (one mile there and back) along this beautiful stretch of beach.  If the idea of exercise on vacation makes you feel queasy, call it a pub crawl.
Golf carts are excellent and a great way to get around quick (well "island time" quick) but beach walking is the way to go.  Breezier, prettier and you never know when you are going to run into something awesome.  Like these guys amusing their wives that I ran into a few days ago.
GOOD TIMES.
Underpants aside.  Things you'll need for this Southern AC walk?  A bit of sunblock, shoes that are easy to take on and off, money for snacks and drinks and your camera.
Starting spot:  Victoria House Resort 2 miles south of town (mostly so that when the walk is over you can relax at their beautiful outside bar & restaurant with a few drinks and bar snacks)
Here she is.
One side on the beach with a beautiful view of the dock and ocean and on the other side one of V House's pools.
Though I'm only a 5 minute walk north, staying a few nights at Victoria House (mostly in a plush robe) is on my Ambergris Bucket List.
Just before the Mile 2 marker is the old Sandbar Restaurant and Bar.  Closed now for maybe 3 years, it was completed dismantled leaving only the tile floor and the outside bowling alley.
And then one of my favorite strips of beautiful private homes and rental houses.
This area…south of Victoria House is called the Mosquito Coast.
Another great thing about walking on the beach…it's pretty much guaranteed to be mossie free.
This is the view from the 2.5 mile marker this morning.
You get to your first "water crossing"…this little cove where the water has crept up the beach.  Remove shoes and get in.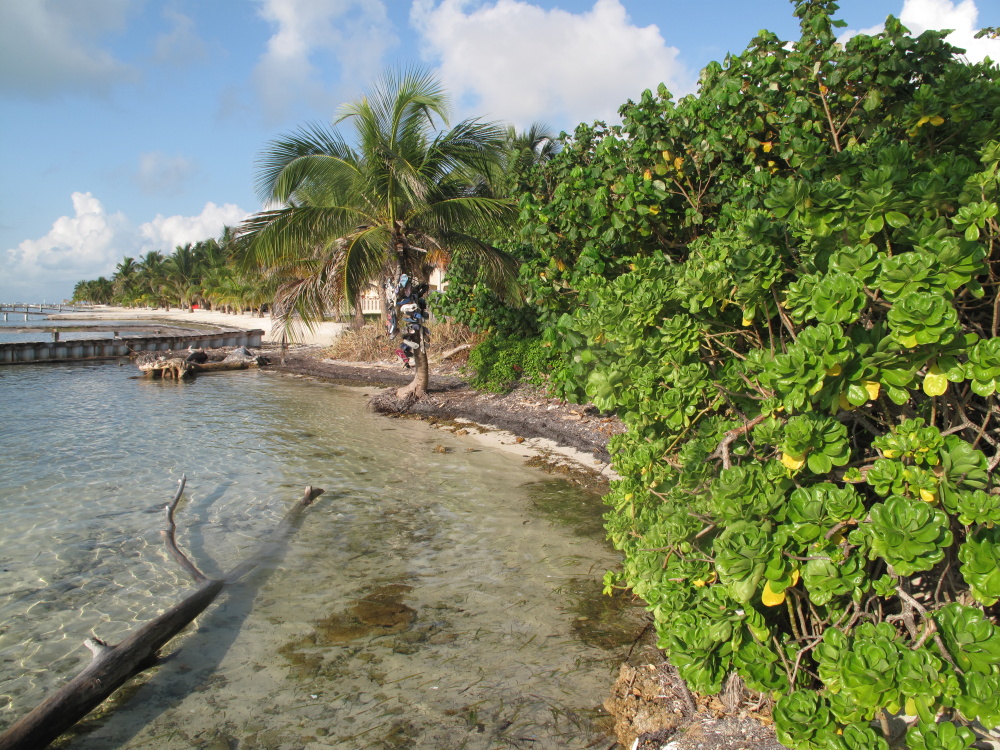 Halfway across stop to enjoy one of nature's wonders…the Belizean slipper tree.  (We call flip flops slippers here.)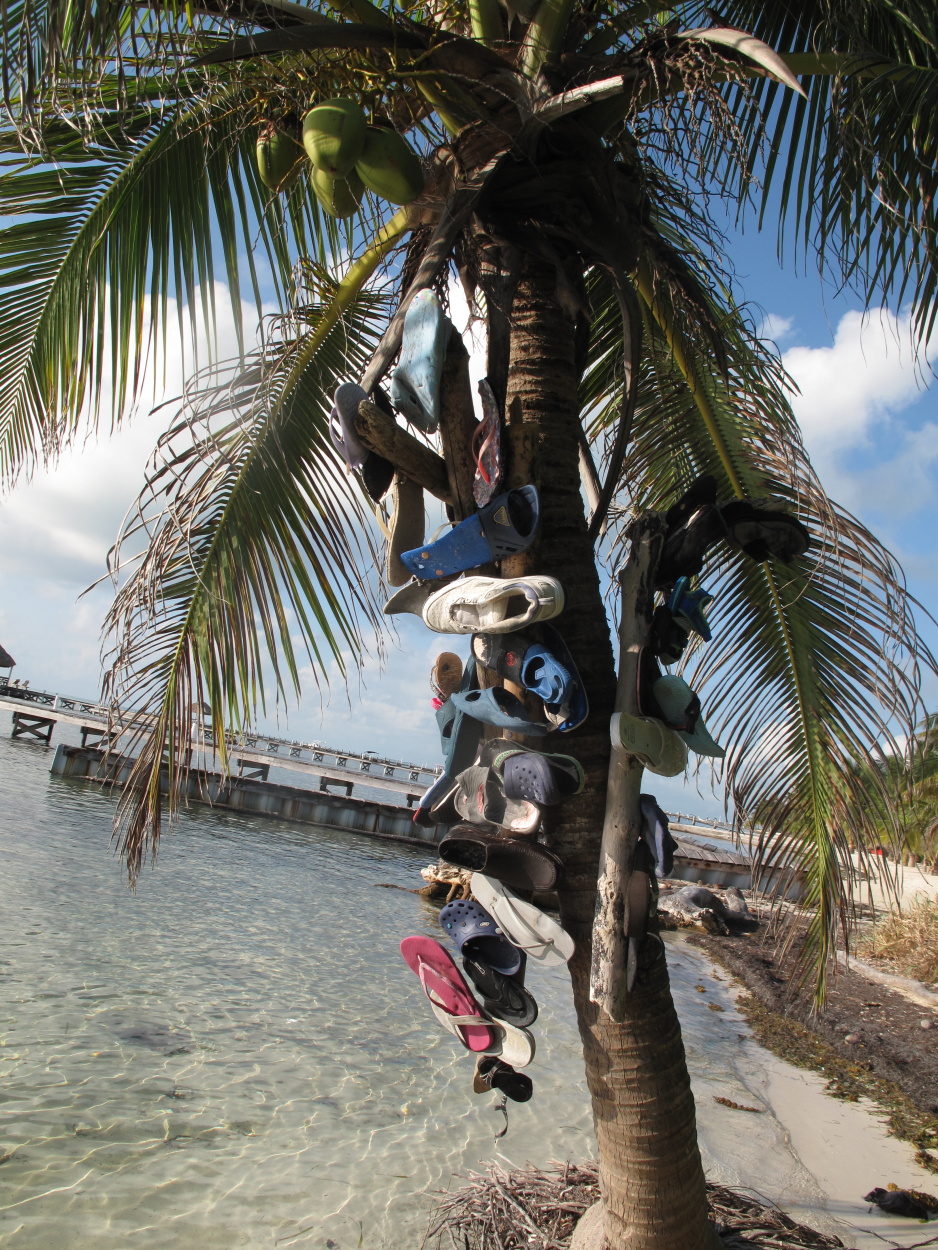 Back to solid land.
Athens Gate Resort.  Not one of my favorite bits of island architecture.  Doric columns?  Really?
But what you will like, if you are thirsty, that this is your first official bar stop for water or beer.  Or…you can keep going.
To this GORGEOUS former private home that has been converted into a LUXURY rental.  Wataview.
They've installed a basketball court/tennis court next door.  Potentially to lure uber-sporty Justin Beiber to Belize.  Who knows?
It's another one for the bucket list.
Pelican Reef Resort is your next water stop.
And then Mile 3.  Shoes off for another water crossing.  It's not far to go and it's totally worth it.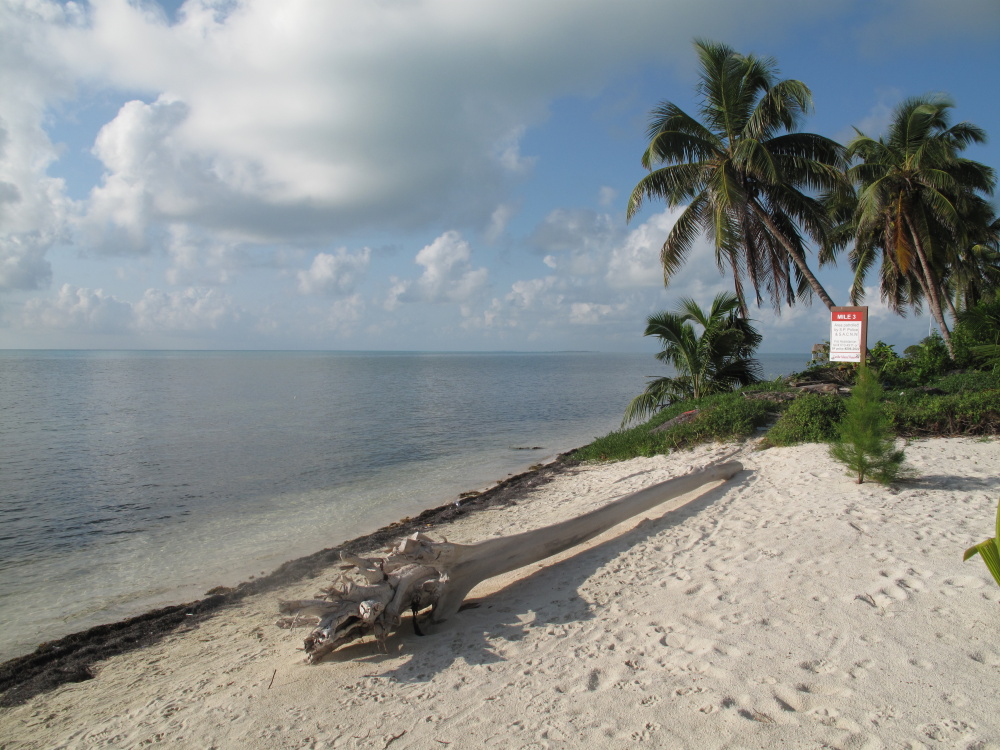 It's a beautiful stretch and after the mangrove bush, where you don't think you can go any farther is a little path that loops back and you come out at Casa Mariposa and this sign.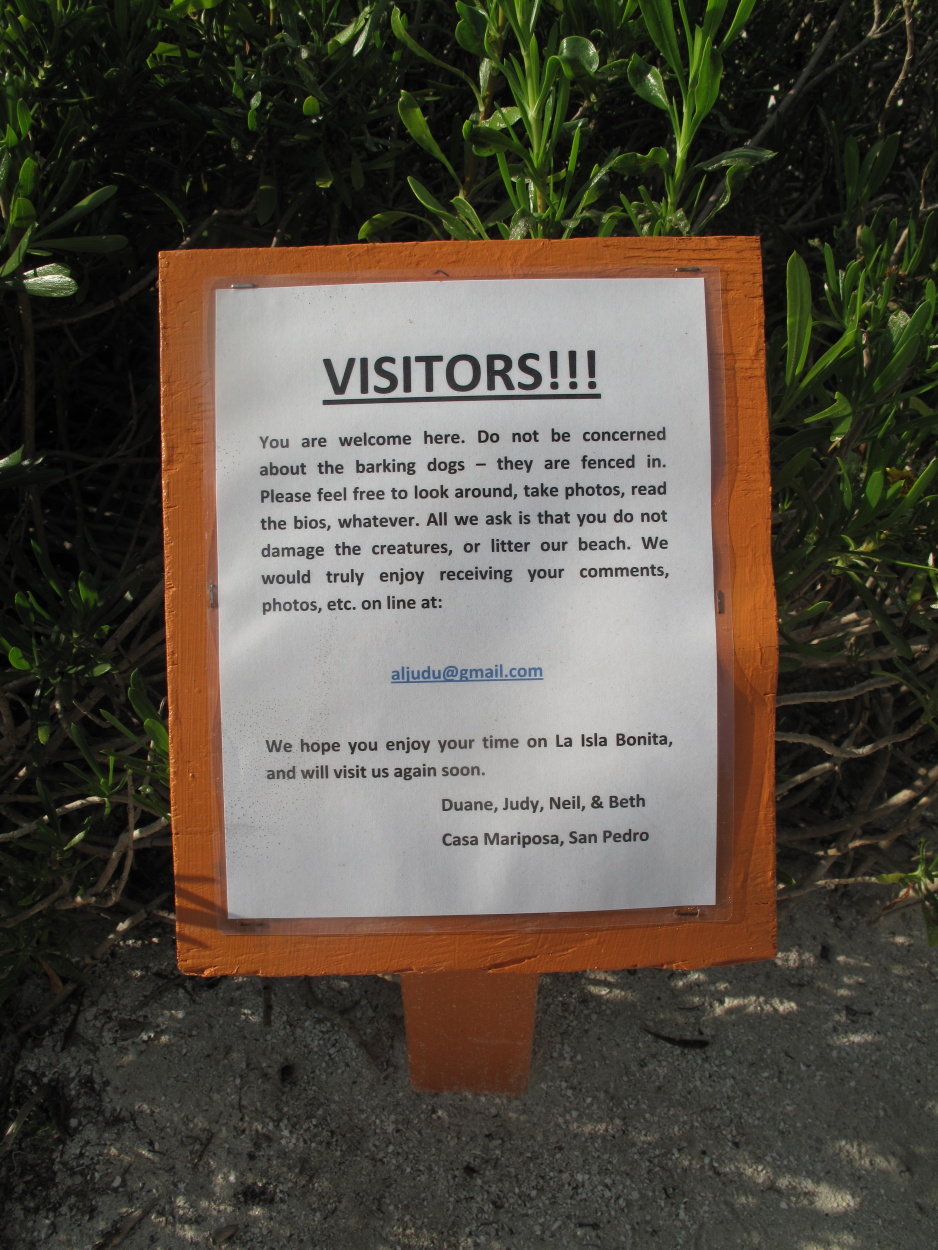 And a beach yard filled with coconut sculptures.  How super cool and super unexpected.
Kids would be so into this and I'm only showing you about half.
Enjoy the sculptures and make you way back.  If you are very VERY lucky, you too will run into my buddies.
Oh!  And thanks to Van, a visitor I met in Fido's, for the head up on this coconut garden.