The Rainy Season is Upon Us and HOPEFULLY Wrapping up Soon
After an almost unreally beautifully start to November, it closed with…a bit of a squish.  Wet, rainy, grey with a chilly northern breeze.  The temperature almost dipped into the high 60s one night!
Saturday was a beautiful break in the rain…
but Sunday and Monday?  Pretty much rain outs.
A few pictures that I took around town over the past week.  Rainy days aren't THAT bad.
Black cloud looming over the Sandy Point Resorts dock in the middle of town.
Getting dropped off yesterday by the 230pm Coastal Xpress up at Rojo Beach Bar.  The torrential morning rain had given way to just grey drizzle.
And the view by the pool.  Not a day for lounging outside.
Alleyway view in town.
The pouring rain coming in the distance that I do NOT like to see when I am walking to town.
Grey Sunday morning getting on the water taxi from Belize City to San Pedro.
For current weather forecasts, the best we are going to get around here, check Belize Hydromet.
And here's a picture from about 10 mins ago.  Just…bleh.
Just this satellite image…doesn't look all that pretty.
Totally true.  Some of my very favorite pictures have been taken on crappy days.
Like this photo from a stay at Tranquility Bay a few years ago.
Or taking a sail on the Rum Punch 2 when a storm cloud approaches…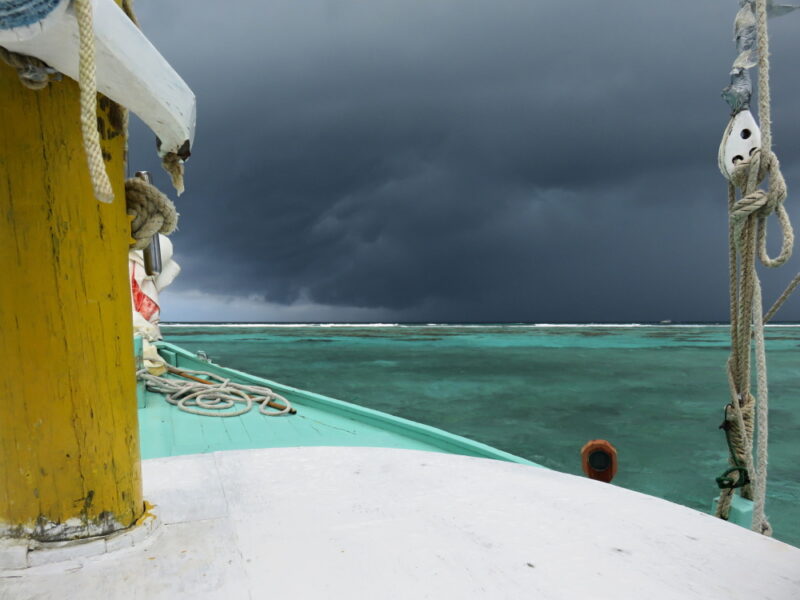 Even the gas station looks gorgeous on days like that.
Beautiful yes…but let's start hoping for sun.