A Walk WAY North: Tranquility Bay Resort to Robles Point, Miles 14 & 15 Ambergris Caye
My stay up at Tranquility Bay Resort was absolutely blissful.  How could it not be?    Here is a view of their beach.
And though only there for just over 24 hours, the weather was perfect and twice, we walked north.   Wading, fly fishing, sea shell collecting, taking photos, meeting dogs and running into barely a soul.
It's just another reason to stay up here…at the very last resort.  The beautiful walks along "the road less traveled" in an area where the reef moves closer and closer, finally meeting with the land in a jagged and stunning bleached coral graveyard.
We walked from Basil Jones and Tranquility Bay to Robles Point (the first spot where the reef meets the shore) and it is just spectacular.
Here are my pictures:
Along the resort beach at Tranquility.
"Turtleman's House" – here's a video that someone took a few years ago of the inside and the outside.  It used to be a rental/vacation spot for those looking for the true "Robinson Crusoe experience".
Pictures are from two days – so it's a mix up of total sun and a bit more stormy-ness.  Gorgeous, I think, either way.
And the owners home.
Boat tree planter.
It's just so pretty…
And look at Astro all grown up guarding his house!  He seemed a bit stunned that I knew his name.
I met him almost two years ago (and posted tons of pictures in this post:  "A House Party Way Up North:  Bocce Ball in Bacalar Chico".
Go puppy Astro (circa 2013) GO!
Nice that someone set up some seats.
Someone eyeballing me from this coconut tree.
Ha.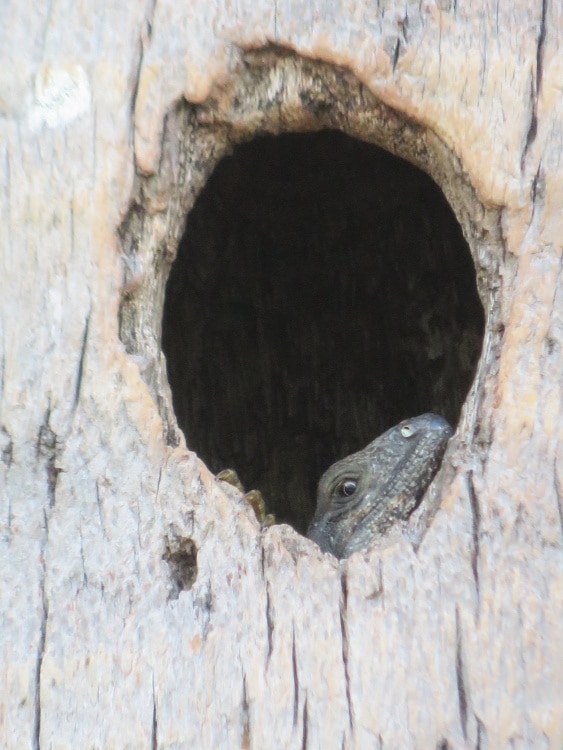 Not nesting season yet (late summer/early fall) but I love the hand painted signs.
And then the last house before the point curves outward towards the reef.  A long dock thru very shallow waters, a wind mill, a boat filled with old collected buoys and an awesome dog Fritz.
Fritz the springer spaniel hunting dog.  He is either in the water hunting fish…or out digging up holes, scurrying into the jungle after iguanas…he is CONSTANTLY on the move.
Since he is WAY faster than you, particularly over the coral beach, he is not the ideal dog to take bone fishing.
But since I'd rather collect coral than fish, I love him as an escort.
Fritz scaring off fish.
And then digging unsuccessfully for a crab.  I'm not sure how he missed it.
The beach.
Bleached beautiful coral and shells and…things.
The area is just…stunning.   MAKE SURE TO BRING STURDY SANDALS!  My old Navy flip flops with no treads on the bottom were not the ideal shoe.
Just beautiful.
And we made it back to Tranquility Bay JUST as the rain was coming in.
Oh!  And a quick note:  another great way to explore this area is with Seaduced tour company.  They do a Robles Point/Beach BBQ day trip to a beautiful property that we passed along the way.  Snorkel in this gorgeous area and then stop for food and a walk.
And see this relatively untouched area of Ambergris Caye.  You won't be sorry.