SAGA Humane Society Cook-Off & Fundraiser Allows Many To Eat All Their Faves in One Meal
Just a few nights ago, I had one of my favorite meals in a while.  One slice of left-over good pizza, half of a small piece of dark chocolate cake coated in chocolate ganache and two still warm chunks of the fatty crust of a freshly baked mustardy/brown sugared ham.  Heaven.
Well rounded, "2 veg and a meat meals" are so…blah.  Why not just get a taste…a sample…or a few or TEN of your favorite things?
Walk into a restaurant and ask for "just a dollop" of a bunch of menu items?
That's EXACTLY what happened last night at the SAGA Humane Society's Bi-Monthly Fundraising Cook-off.  Hosted by Island Time Beach Bar and serving "International" Cuisine by 10 different chefs…
…a $20bzd ticket (all of which goes to the VERY worth charity) left all of the diner's very happy.
I stopped in early yesterday to join the festivities and maybe help raise a little money for the island animals.  This guy joined me as I found a seat.
Cheers, big ears.
Island Time Bar is just south of beautiful Victoria House Resort – in the location of the previous Fido's South/Sandbar (though that closed about 3…4 years ago?)
The beautiful and HARD WORKING ladies of SAGA were all set up and ready to go.
Island Time is set on a big stretch of beach and has plenty of seating and a broad, long comfortable bar.  Super nice spot.
They also have some funky outside bowling.  Plastic pins…and the kids will love it.  So will you after a Belikin or three.
A picture earlier this year of the alley when I was babysitting my friend Max.  He enjoyed racing back on forth on the lanes.
The sun was setting over the resort pool next door.  Beautiful WINDY night.
Raffle tickets were for sale.  All items donated by generous businesses of San Pedro.
Thank you all!
Ruth of Island Time Beach Bar (facebook business page), Moncho's Cart Rentals (facebook page), Sandbar Hostel, Restaurant and Bar, Black Orchid Restaurant and more!
And then the crowd starting filling in – tickets at these events sell out fast!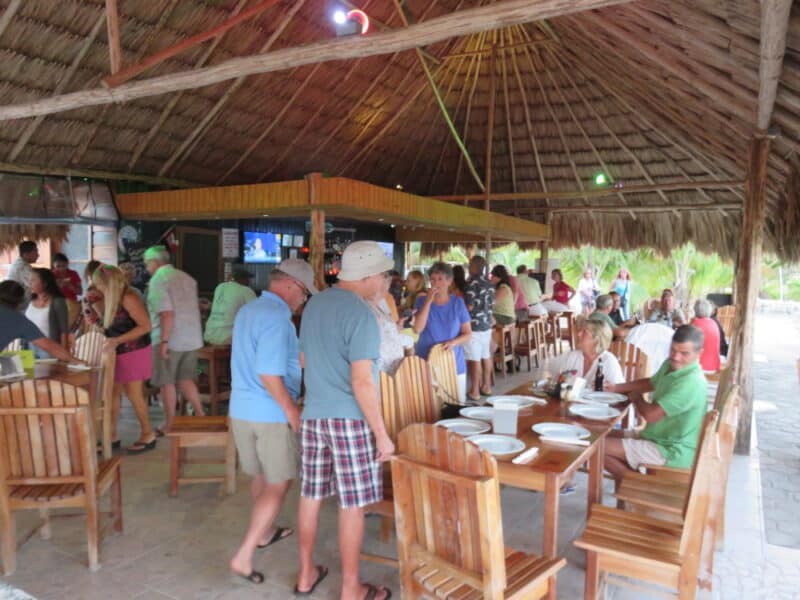 And then the VIP tables (extra donations can reserve you an extra cushy position – check out details on the flyer below) were served and…the smell of the food…and I was STARVING.
Island Time does a Tuesday Curry Special.  British style with gorgeous uber-coconutty rice.  $18bzd.
Good grief it was tasty.
I didn't try ANY of the SAGA dishes!  But I know many who did…and this may have been one of the most favoritest cook-offs yet.
Let's jump to the end.  And the winning chefs!  All the eaters voted and…
1st place went to Lick's Cafe and their Thai Style Curry Chicken and rice
2nd place:  Mama Ray's Sausage & Peppers by Ray's Big Dog (a new restaurant right in the Middle of town)
and 3rd Place was a tie:  English Fish & Chips by Island Time Beach Bar and Stuffed Italian Meatballs by Lisa Morley
I had a super fun evening…just imagine if I had tasted all of that food.
Thank you so much to all the chefs who donated so much time and food…to everyone who came and ate and bought lots of raffle tickets…to Island Time Beach Bar (I'll be back on Tuesday's FOR SURE).
This helps feed the animals who are waiting for their forever homes at SAGA AND for the on-going campaign to spay and neuter the dogs & cats of San Pedro.
EVERYONE knows that It's HIP TO SNIP!
For more information on the SAGA Humane Society and how you can help, check out their website.
I mean…only if you want to…I'm sure this guys doesn't REALLY need a good home.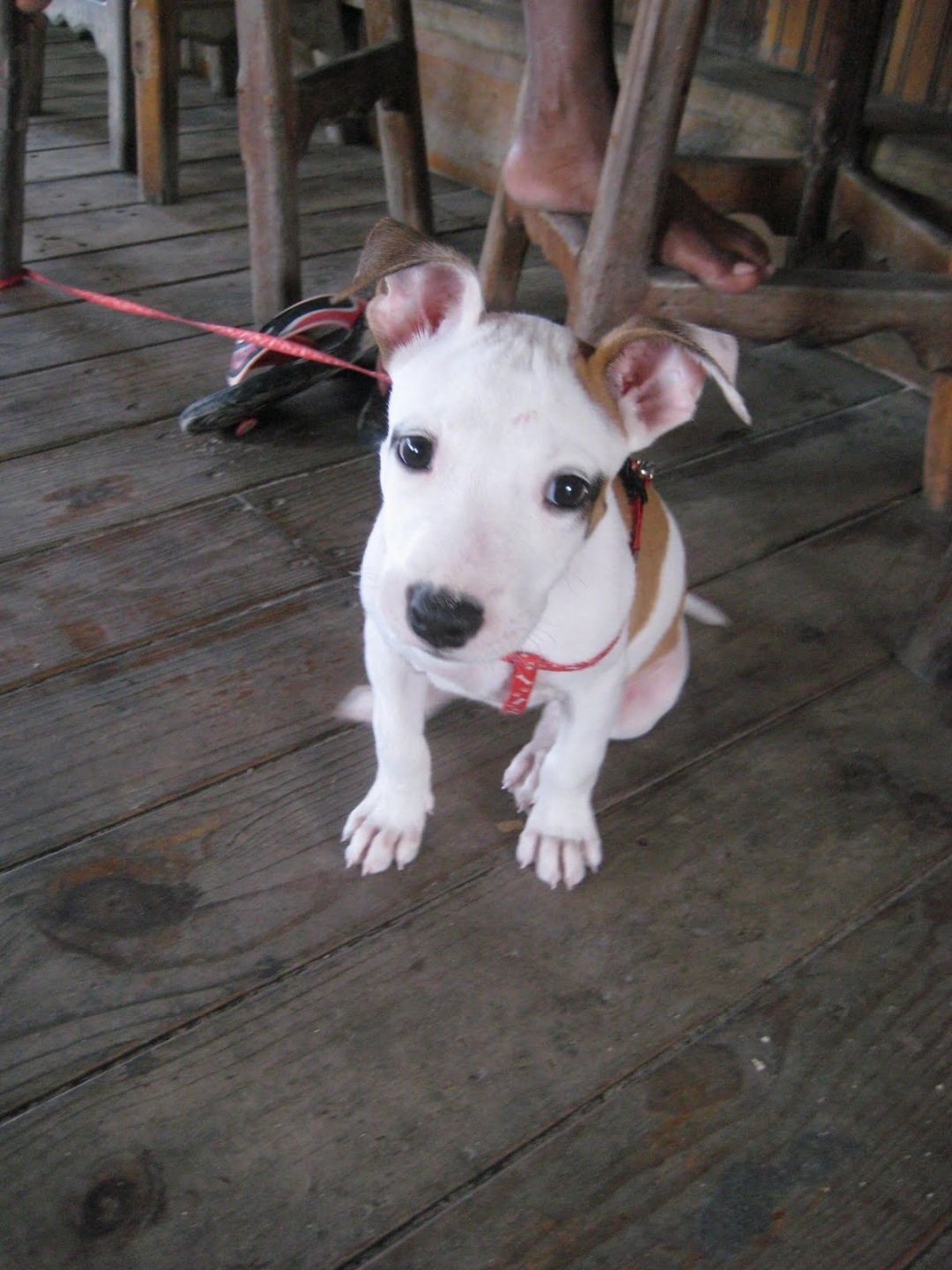 He looks like he could make it on the streets 😉
Stay tuned to the SAGA facebook page for the next cook-off.  You'll be glad you went.