Sunrise Hermit Crab Crowd Spawning On North Ambergris Caye
There has been some pictures and speculation over the last few years about a strange phenomenon on Ambergris Caye.  Once a year (for a few days) hermit crabs emerge from jungle and…have a giant get-together.  (Here is last year's…a bit earlier in July and some pictures by Correspondent Kardashian.)
If you are looking for an official "Migration Month" on the caye – July is definitely it.  Over the past week, we've seen the butterfly migration.  Cloudless sulphur butterflies and a handful of orange and yellow ones heading south for…who knows what.  Watch the beautiful video here.
And now the crabs…last night was the first of their mating dance/social gathering and just a strip of beach at the south end of Rojo Beach Bar.
Here's what I saw at about 5am this morning…
This seems to be some sort of night time madness…they were all retreating as the sun was coming up.
RETREAT!  THE SUN!  They will see us!  RETREAT!
And clinging to the coconut tree.
Some really couldn't be bothered.
One in a glossy pink shell….perhaps a bit of nailpolish from last year Finn?  And why does no one want to go near her?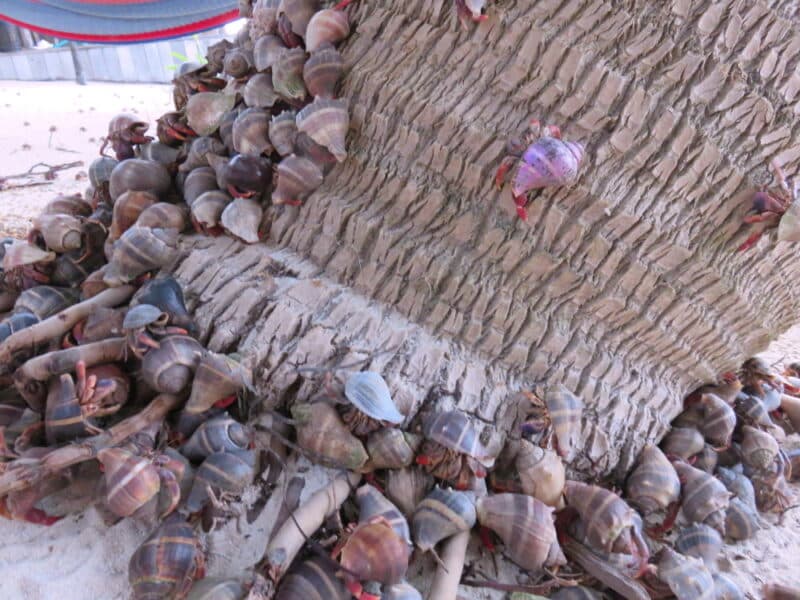 And then the gorgeous sunrise…
Love.  And the clicking of shells.
This should be going on for the next few days…they all start emerging in the late afternoon and…Rojo is open today but closed Sunday and Monday.
Just saying 🙂