The 5th Annual LoveFM Christmas Parade Brings Out All Of San Pedro's Families
The countdown to Christmas is here…and LoveFM National Radio & TV organizes beautiful parades around the country.  Last night at sundown, families and KIDS assembled and lined the streets to watch our only land based Christmas parade here on Ambergris Caye.  (The Lighted Boat Parade is December 19th!).
Here are squillions of pictures of the event.  Fantastic…and a little bit dangerous.  Hard candies are showering down most of the time.
I arrived early to take some daylight pictures…without serious camera equipment…and a moving parade?  It's my only hope!  Plus, a great chance to take some pictures around town.
The lovely Phoenix Resort and its holiday trees.
Just a perfect night for a parade.
All the kids…whether in the parade or not…are in their Xmas finery.  Super cute.
SANTA!
My friend!  Who is literally at every single festival in Belize – it's his full time job.  Beach balls at Lobsterfest, flag at September Celebrations and…
The little girls in tutus and candy canes…SO CUTE.
And then it started getting darker and…here are all the pictures!  I did my best…and I LOVE A PARADE!!!!
The models lined up on the Top Notch float.
And SAGA Humane Society.  Go guys!  They were also doing photos with Santa in the park.
The town council had some pretty cute t-shirts…and kids.
Oh thank goodness!  We can start…Santa's sleigh arrived a wee bit late.
And the angel.
And hurray!  The Lions' Den and their queen and…Santa!
The town council!
And all I can show you of the girls is "tutus in motion".
GO DJ DEBBIE!
On the LOVEFM float, Melanie Gillet!  One of Belize's most famous singers.
Dancing Lions.
Santa…again!
Hip hip hurray!  ABC Preschool brought Cinderella and Mickey and…a pig.
TWO Rudolphs…
The Garifuna group was out in full costume.
And Wings Store.
Love the umbrella jellyfish.
It all looked just beautiful in front of this house covered in lights.
The Three Wise Men driving with Milo's Center.
Pre-schoolers up way after bed time…and with adorable lollipop smears all over their little faces.
And as I headed out of town on this warm winters' night (trying to get a taxi before the streets were closed down)…I took a few pictures…
Every year I am drawn to this pawn shop Christmas tree.
Sigh…and the Thomas Hotel.
The beautiful town tree…
And one of my favorites…
MERRY CHRISTMAS TO ALL AND TO ALL A GOOD NIGHT.
Two notes:  The Lighted Boat Parade is December 19th!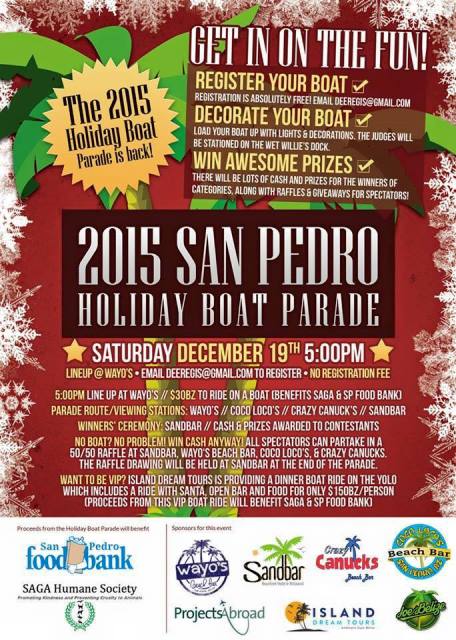 And two, I have NEVER EVER seen this many tourists in town at this time of year.  YES – they come in droves for Christmas week…but before?  Low fares – the "Southwest Effect" is in full effect.