San Pedro To Belmopan and Back…Picking Up My New US Passport
As of January 1, 2016, The US Embassy in Belmopan, Belize no longer adds additional pages to your valid passport.  When it's full, it's full.  And it was time to get a new one.
A trip to Kerala, India would require two full pages for my Indian visa.  It was time to move fast.  I made an appointment online (January 4th) with the US Embassy in Belmopan, arrived with my 2″ x 2″ photos and application.   $110US paid, I was out of there pretty quickly.  And on my way to a gorgeous lodge in the mountains.
I would show you tons of pictures of the Embassy but it is as secure as Fort Knox – no photos, doors that are solid steel (even one that I needed assistance opening), a giant marble fortress.
Here is a stock photo from their site of about 1/3 of the compound.
It's as intimidating as buildings get in Belize.  I am nervous (for no reason) just being there.  Did I have an old traffic ticket that has turned warrant?  Does the IRS want to audit me just because?  Has Donald Trump decided that US Citizens can no longer live abroad?
I dramatize.  The people that work there are actually lovely.  But this place is SECURE.  I left with a receipt and my old passport and was told an email would come in 10 business days.
I received an email Wednesday, January 13th, that my passport was ready for pick-up.  Wowzer.  QUICK.  I decided to head to Belmopan and back to San Pedro in one day.  Here's how I did it.  Easy but…a long exhausting day of travel.
8:30am San Pedro Belize Express from San Pedro to Belize City (RT $47bzd with member card)
We were on the big boat (moves a bit slower) but arrived in Belize City in less than an hour and a half.  I hustled over to the 25 taxi guys waiting at the terminal and told him QUICK!  We need to catch the 10:10am James Bus Express to Belmopan.
There are buses leaving Belize City for Belmopan frequently…but those that are not express stop OFTEN and can make the hour, 10 minute ride up to 2 hours long.  Check here for schedules and ALWAYS find a terminal worker to help you find theright bus.
A $7bzd taxi ride to the bus terminal and I was a few minutes early and easily found a spot on the express.
Don't forget A Guide:  Eight Tips for Traveling on the Bus in Belize.  Important stuff 🙂
The fare is $5bzd.  Belize City to Belmopan.  I can't keep my eyes open on these late 80s Bluebird school buses.  Head down on the seat in front of me, I awoke in Belmopan.
There at 11:20ish, I was way early for the assigned pick up time (1 to 4pm) so I headed to the Farm House Deli…cured meats, a bakery, home-made cheeses…I'll tell you about that tomorrow.   YUM.
Taxi rides within Belmopan cost $5bzd.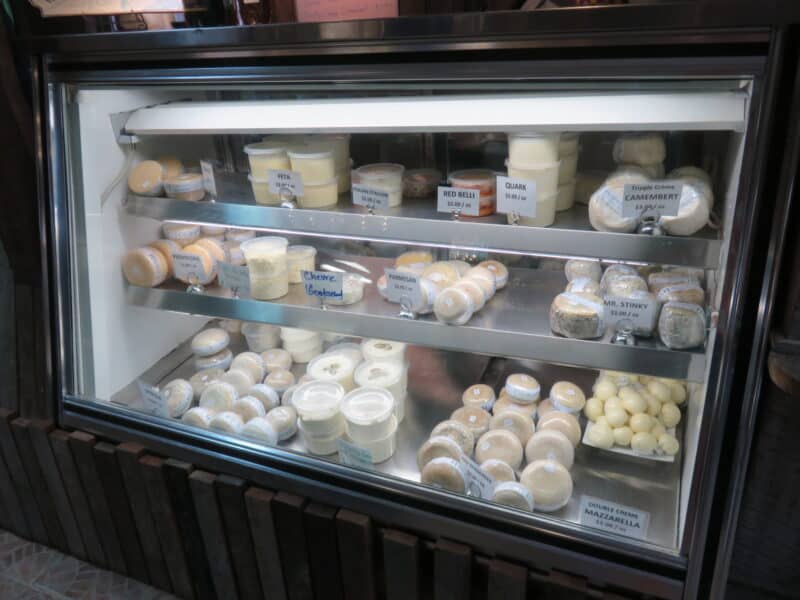 At 1pm, I walked down to the embassy.  Passing this sign.  Has anyone seen a cricket match in Belize?  I'd love to attend one.
One person is allowed through security at a time but the whole process is quite easy and definitely well organized.  I had a new passport in hand, with 56 pages (now standard – the old was 26 pages – for those applying abroad).  Perfect.
I hope to fill this one too.
I was back at the bus station for the 2:15pm Express bus back to Belize City.
Deja vu.
I made it back to Belize City bus terminal and another $7bzd taxi ride, I was back at the water taxi terminal.  Ready for the 4pm boat, I decided to do a bit of shopping at nearby Mirab's (the Target of Belize) and hopped aboard the 4:30pm instead.
The lone passenger on the top deck.
Passing the cruise ship village and a pair of dolphins on the way out.
45 minutes later, we stopped in Caye Caulker.  And I moved inside…it was getting chilly up top.
And another 25 minutes and I was home.
70 miles as the crow flies.  8:30am to about 5:45pm from San Pedro to San Pedro.  A total cost of $76bzd.
Not your ideal day…but not the worst.  Relaxing in fact.  And now I've got my new passport.