10 Resorts in Belize Where You are Most Likely to Mingle With the Rich & the Famous
I am totally celebrity crazed.  I check TMZ.com a few times a week, I love to read US Weekly on my Kindle and I really enjoy Keeping Up with The Kardashian.  It's my thing!  Don't judge!
We know that Belize is a vacation hotspot.  And in recent years, it's becoming a hotspot for celebrities.  During the Christmas and winter season, there were constant rumors of celebs on Ambergris Caye…
It makes me crazy…in a good way.  I LONG to be a representative of TMZ in Belize…sigh.  What fun that would be.
SO, if you want to stay at the spots in Belize that host the rich & the famous, here's my handbook on those hot spots.  AND the celebrities that I know have stayed there.  I bet there are many many more that I do not know.  Please let me know!!!
AND, I am currently collecting funds that will buy a TURBO telescope to spy on Blackadore Caye (Leo's island) once it is up and running (please click here to donate 🙂 )  I will also accidentally wash ashore there by stand up paddle board.  But that's not for a few more years.  Until then…
Azul Resort – Two huge white villas on a long beautiful stretch of beach with a gorgeous private pool and private dock.  Located about 4 miles north, Ambergris Caye, it's an easy spot for our celebs to get to town or to stay tucked away on their own beach front.
The view from the dock isn't bad.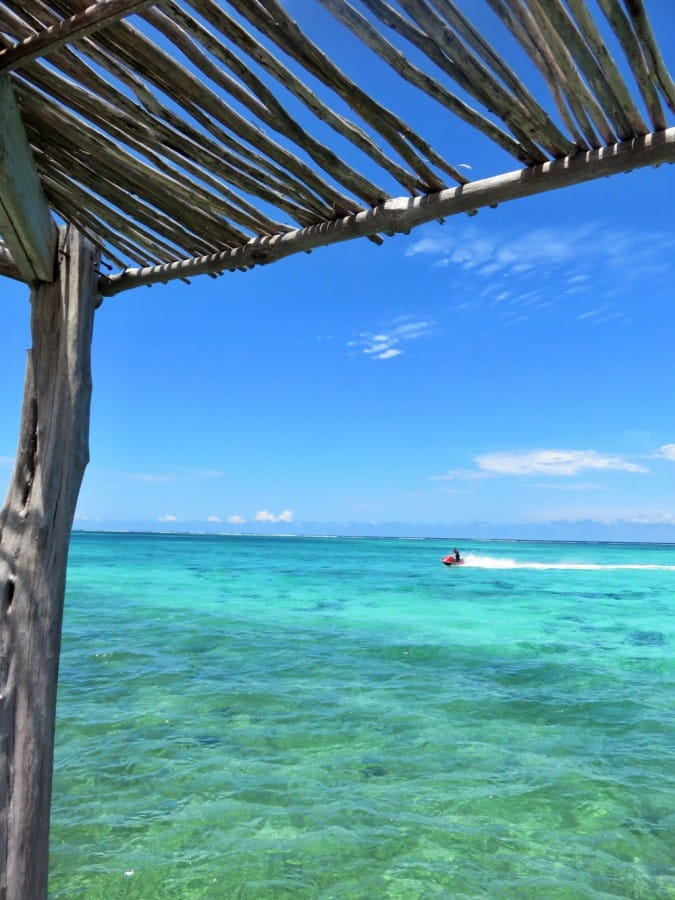 Celebrities include Katie Couric and that guy who played Gus on Breaking Bad.
Cayo Espanto  The original uber-luxury resort on Ambergris Caye….though it's not actually on it.  Cayo Espanto is tucked behind San Pedro town on the leeward side of the island – the water is crystal clear.  A small caye that contains just a handful of villas that are supposed to be absolutely phenomenal.  You get your own private butler but when the cheapest room is $1595US, that doesn't seem too crazy.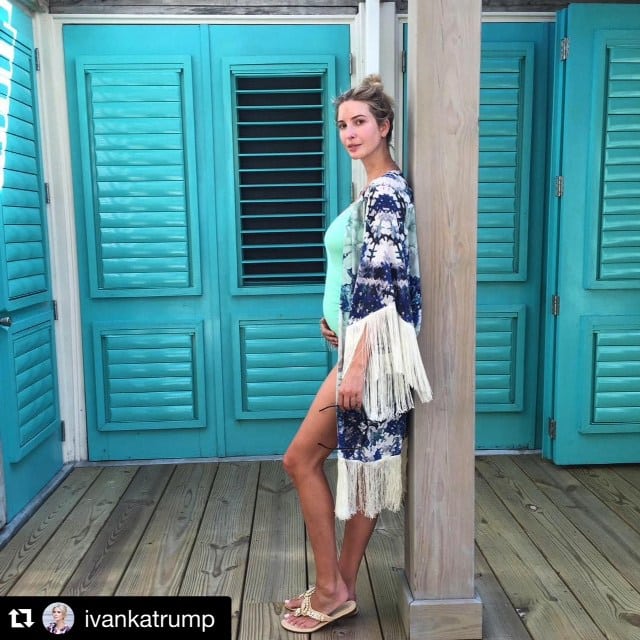 Celebrities include Tiger Woods, Leonardo DiCaprio, Giselle Bundchen and Ivanka Trump.
El Secreto  El Secreto is a fairly new one and located about 11 miles north on Ambergris Caye for a whole bunch of celeb privacy.  There is a gorgeous pool, restaurant, spa and more…

Celebrities include Harry Hamlin and Lisa Rinna
Mata Chica Resort & Spa – Just north of Azul Resort, Mata Chica is a collection of super comfortable thatch roofed cabanas painted in assorted tropical fruit colors (with matching hammocks).     Mata Chica has a fleet of boats to whisk you about and a huge, attentive staff.
Since there was a change of management 5 or so years ago, the place has become even more stunning with a gorgeous pool and a sister resort, Gaia River Lodge.  Located in the Cayo district, this jungle lodge/gorgeous resort also makes the list.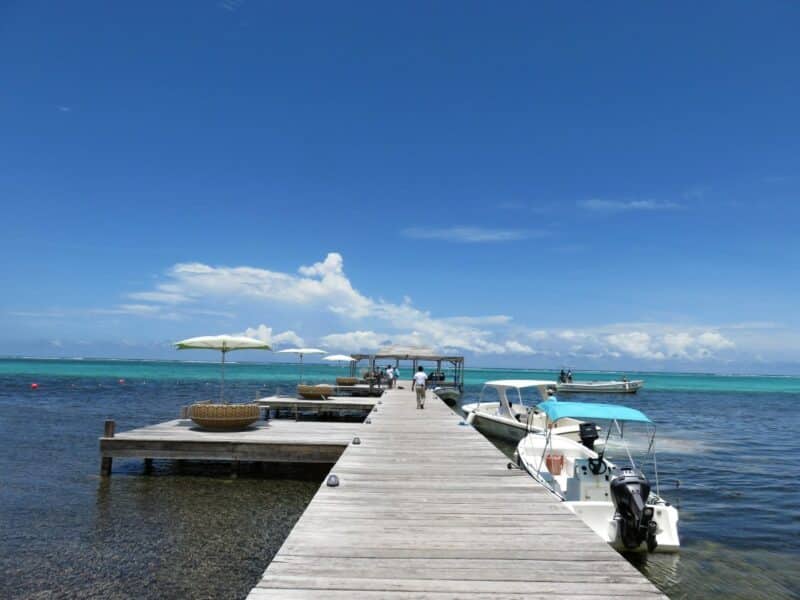 Celebrities include Derek Jeter, Alexa Chung and Alexander Skarsgard and American Idol contestant Kimberly Caldwell and her MLS  husband
The Phoenix The only resort here that is close to town (and I LOVE town) – The Phoenix Resort is located at the end of Front Street, San Pedro.  It's pretty fabulous.  Huge modern full kitchen living spaces with massive balconies overlooking the pool.  They have a great spa, restaurant, gym, pool AND they give back to the community with weekly beach clean-ups through town and larger projects.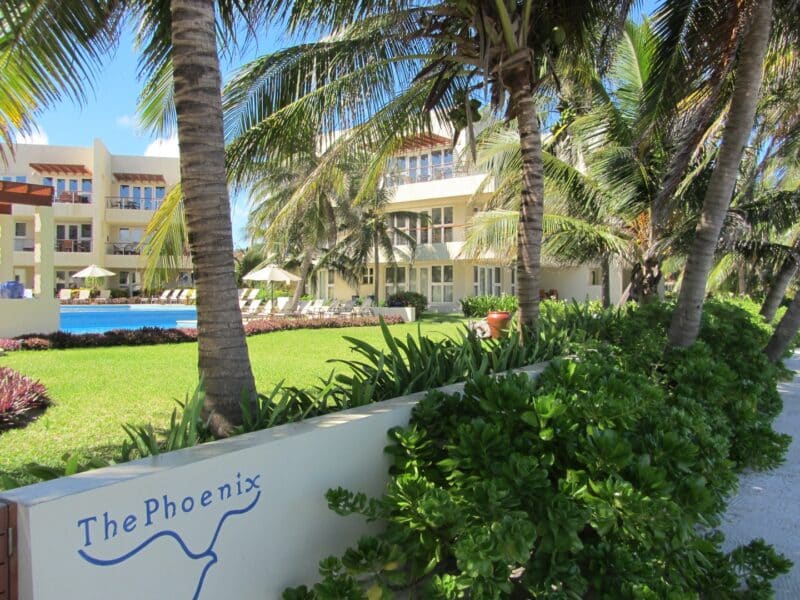 Celebrities include Rashida Jones and Angela Kinsey, Wilt Chamberlain.
Victoria House  Victoria House Resort is absolute colonial/plantation style gorgeousness.  2 miles south of San Pedro town, it's spread over a huge GREEN property (not common on the caye) with a perfect restaurant and the THE most civilized beach bar (you want to stop by for a drink or lunch even if you are not a paying guest.)  They currently have a spa in the works – the largest one on the island – that should open soon.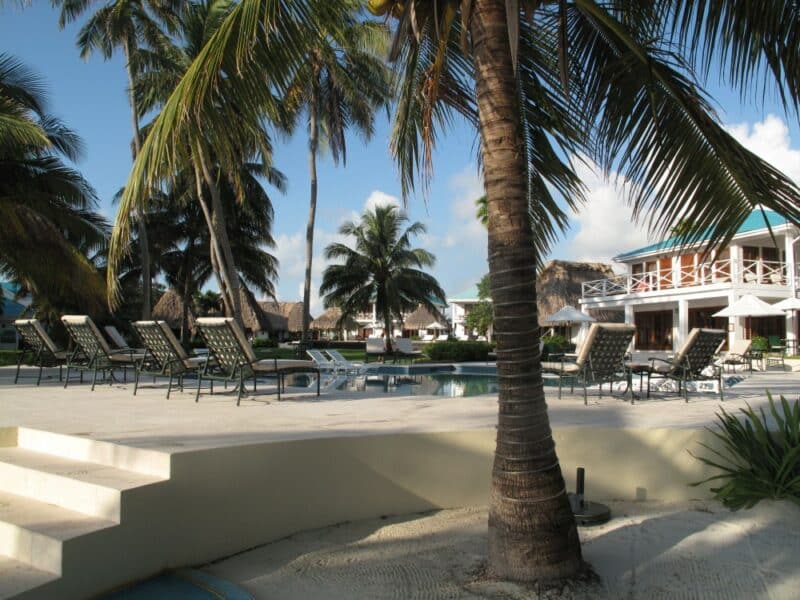 Celebrities include Jennifer Lawrence and Chelsea Handler.
Blancaneux Resort – Refurbished and owned by Francis Ford Coppola (yes THE FFC!), this place is bound to attract the celebs.  This somewhat surprising hotelier fell in love with Belize in the 80s and bought this abandoned lodge as a family retreat.  Located deep in the Pine Ridge region of Belize amidst waterfalls, mountains, jungle and wildlife galore, they have their own runway and helicopter pad for easy celeb-access.
The lodge is filled with beautiful historical photos of the old logging and exploration days in Belize – not all that long ago when some of the major caves and Mayan sites were discovered.  It also touts a giant wine cellar and the best pizza in Belize.
Celebrities include the massive and massively famous Coppola family.
Chaa Creek I am in love with this spot.  The huge swath of green jungle, the staff (who ALL know your name as soon as you arrive), the tours (MUST DO THE NIGHT TOUR) and the details.  It's all just perfect…from the art in your rooms hand picked by the owners and tourism pioneers Mick and Lucy Fleming to the variety of steeped rums at the cozy bar to the tour guide who excitedly calls you from breakfast to see a monkey troop in the trees above.  Love.
Celebrities include Prince Harry, Helen Mirren, Heidi Klum and more
Ka'ana Resort  Ka'ana is located in the heart of all the jungle activity.  The ATM cave, the Maya sites and even Tikal in Guatemala.  Spend your days exploring the area and your nights in rooms gorgeously stocked with everything you might need.  From Egyptian cotton sheets to yoga mats to turn-down service to "good night cookies".
Their restaurant is first class – the food is a fresh, innovative take of Belizean food.  Try the Sweet Corn Colada.  Yum.
Check out these villas!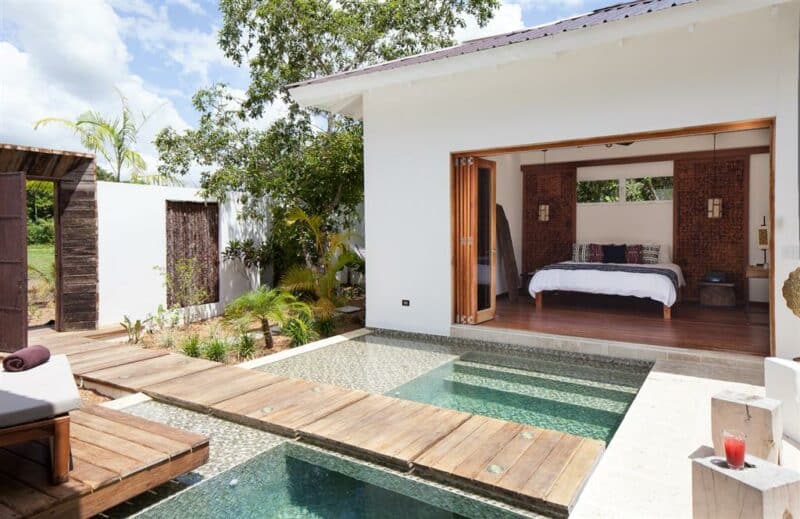 Their sister beach resort – It'zana Resort and Residences – is in the process of being built on the Placencia Peninsula.
Turtle Inn Resort  Luxury in Placencia.  I've always wanted to stay there and request a wake-up call just so I could use the super cool conch shell phones.  They are the only telephones in your room.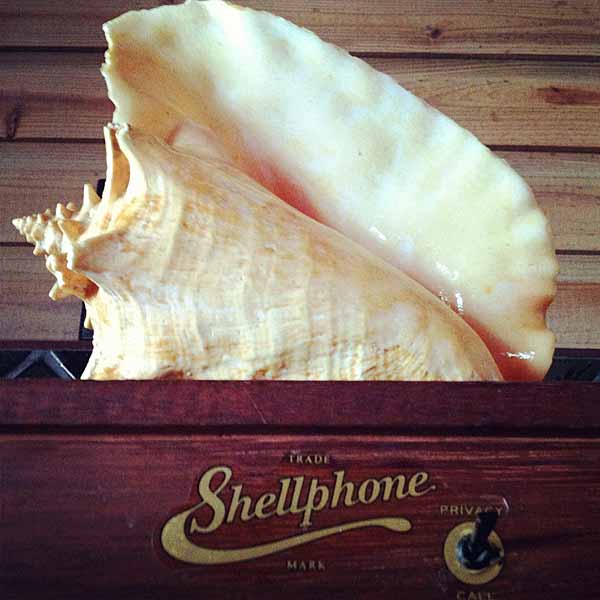 The beach in that area is gorgeous and just look at Sophia's Beach House…perfect.
Chelsea Handler and Reese Witherspoon.
So there you have it.  Gorgeous spots in Belize that would make anyone feel like a celebrity…
And AS ALWAYS, I'd love your feedback or photos if you've had a celebrity encounter in Belize.  O. M. G!
AND if you like it and want to save it or share it, please PIN!