A Boat Trip on YOLO: Great Snorkeling, Food & Drinks and Crystal Clear Water For Miles
You have probably seen YOLO before.  A large motorized catamaran designed and built here on Ambergris Caye, YOLO is meant for having a good time.  Just this week, my friend and I headed out on a tour with the crew – snorkeling at Hol Chan Marine Reserve and Shark Ray Alley (the most popular trip for visitors to Ambergris Caye for good reason) and then to a "chill spot".  A huge blue shallow sandy-bottomed heaven at the very south tip of the caye.
To park…and drink (I tried many fresh juice spritzers)…and play some volleyball and watch the sting rays drift by…
Here are lots of pictures of my trip.  AND…clever, clever, clever…there are two great waterproof cameras on board for everyone to share and use.  Check it out starting from the very beginning.
We arrived at about 8:30am ready to load on the boat at a great dock – with a lounge area – near town.  We were briefed on the boat, the facilities and where we were going.  AND we gave our email addresses to get the group pictures.  LOVE THIS IDEA!  Especially useful if you are recapping the day with a blog post.
We were off…cruising by town and one ridiculously perfect day to be on a boat.
After some sunning on the deck – love this boat for all the totally loungable areas like bean bags…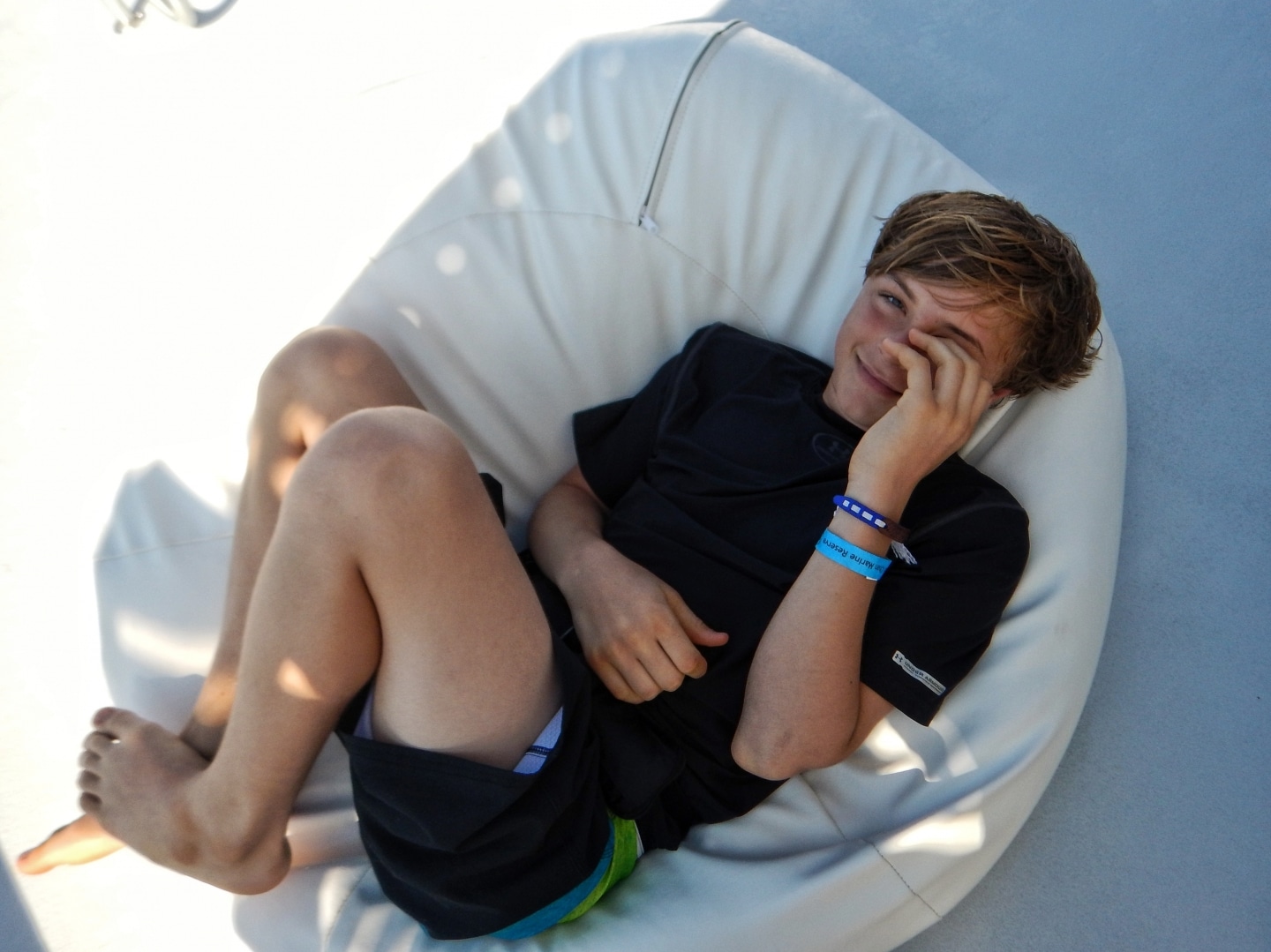 and lounge chairs…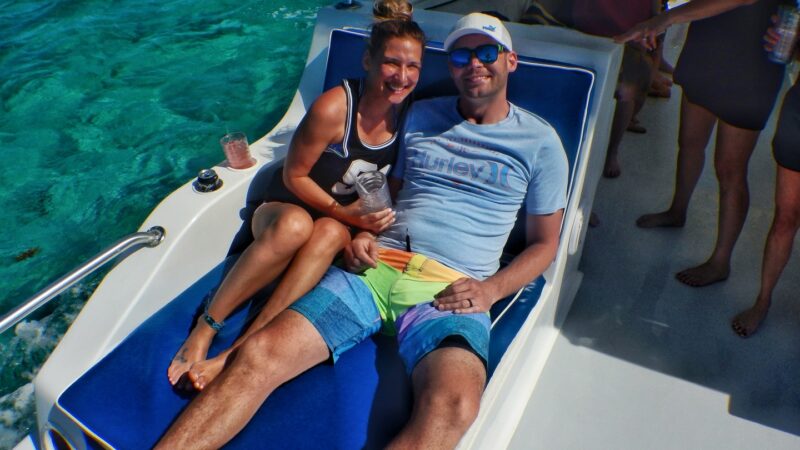 …we arrived at Hol Chan Marine Reserve.  Groups of 7 snorkelers went in with the guides and returned with some very cool pictures and stories of a moray eel encounter, eagle rays and endless visibility.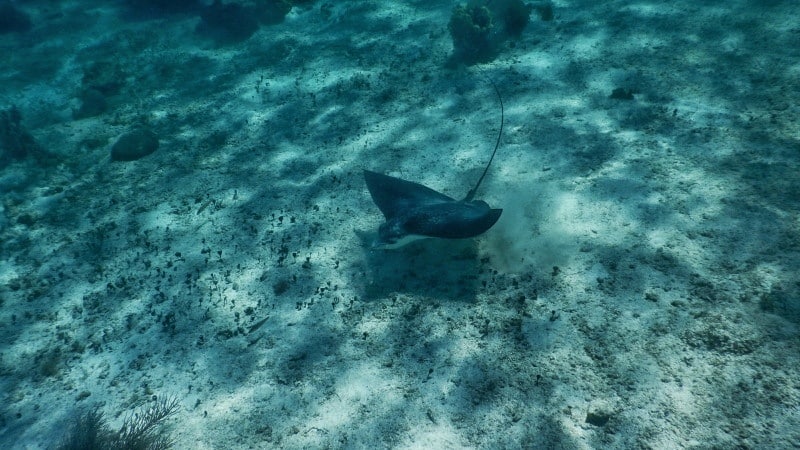 Hol Chan NEVER disappoints.
We had some fresh fruit and were off to Shark Ray Alley – also part of the Hol Chan Marine Reserve.  These guys hear the boat and come right over like doggies.
Time to jump in the water.  Sting rays and sharks and darting horse eyed jacks – all waiting for sardines.
Now…time to relax…even more.
We headed about 20 minutes south to the crystal clear gigantic swimming pool at the south tip of the island – near the famous fishing flats of Cayo Congrejo.
With a fishing shack standing on stilts in the middle.  Could it be more scenic?
We ate a huge hot lunch – delicious ribs and chicken, rice and coleslaw.  Snorkeling works up an appetite…and then got in the water.  No 30 minute wait.  YOLO!
The island, this far south, has very little development.  But that is changing.  In fact, when we pulled up you can see a LARGE skeleton of the resort-in-progress, La Sirene Resort and Spa.  Here is the facebook page, the website seems to be down right now.
You can see it behind the boat.  A volleyball net went up…lots of volleyballs and beach balls thrown out…cocktails made from the cocktail list.
The red Island Dream with fresh watermelon juice, rum and Triple Sec seemed to be a favorite.
Perfection.
My favorite part of the trip…well other than the boat and the southern swimming pool and the food and the camera sharing…was the company sharing with visitors one of the most important issues facing our UBER-IMPORTANT tourism industry…
The Government of Belize's proposals to explore for oil off our shores and off our reef.  The people of San Pedro stood up and said NO last October and we continue to do so.  But visitors want to get involved too.  So the Island Dream's crew asked us to take some pictures if we agree…
NO!
OFFSHORE!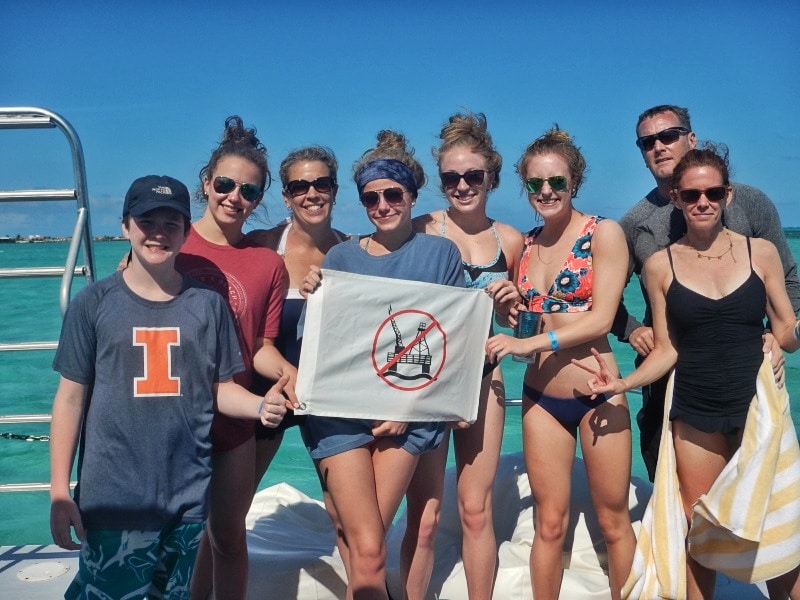 DRILLING!
It's not just a Belize thing…it's an "I Love Our Earth, the largest coral reef in our hemisphere, human being" thing.
GO YOLO!  Now time for the return trip…there were some more cocktails, there was ceviche served and there were some naps taken…
What an awesome trip.  I mean…if you like sun and sealife and perfect water.
A boat load of happy campers….and me with a new happy place.  Right here.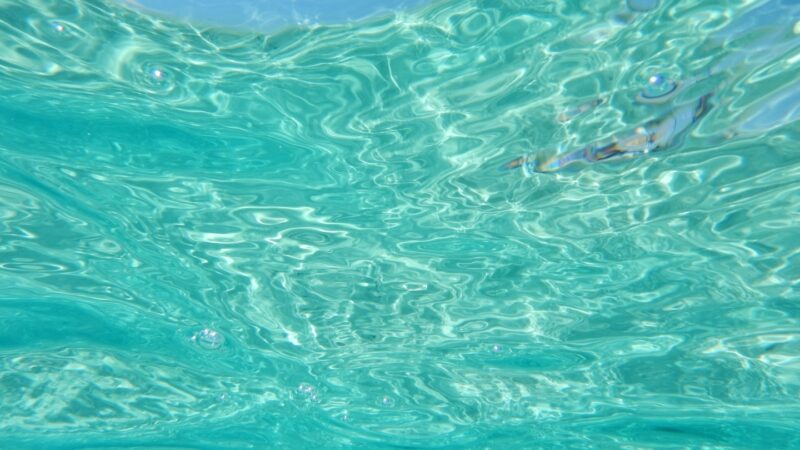 Oh!  And two tired cameras packed with over 300 photos from many different photographers…and all shared on Dropbox the next morning.
And some shared here in this post.
Thanks so much for the trip Island Dream Tours!  And for more information, PLEASE check out their website.  And to read about my other awesome trips on YOLO…check out my posts below.
I have friends visiting in a few months.  You will know where to find us.
If you want to save this tour for future trip planning, stick a pin in it.