Exploring Caye Caulker by Golf Cart: Tarpon, Sea Horses, Giant Caverns and Changes at the Split
Caye Caulker is just a few miles away – a 20 minute boat ride from my home base of Ambergris Caye.  It's the smaller, walk-able island that attracts all sorts of visitors – but is especially well known as a budget spot.  And lower prices attract more international visitors – those from Europe, Israel and other spots – and more backpackers.
There are only a handful of vehicles and the island is cut in half-ish by "The Split" – a channel formed by Hurricane Hattie in 1961.  The south end of the island is where most of the action is…and the north, just starting to be built on now.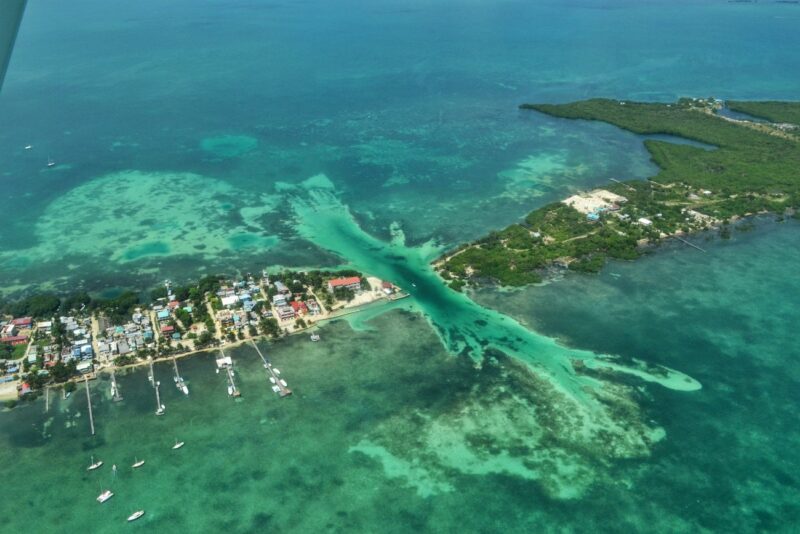 It's such a fun spot to visit.  And this time, with family visiting, we did something a bit different – we rented a golf cart for a few hours from C&N Golf Cart rentals ($25bzd/hour) and explored.
With the SUPER QUIET smooth electric golf cart, I saw things that I've never seen before.  Here's a look at my 4 hour tour.
We took that 10am boat from San Pedro and arrived in Caye Caulker just before the half hour.  C&N met us with the cart.
We first drove south – down thru town and passing the airstrip.  There are just a handful of homes.  I'm always intrigued by the big property.  There has been a ton of time spent on landscaping.
And now some signs inspired surely by the Trump era.  Best of the best of the best.  YUGE!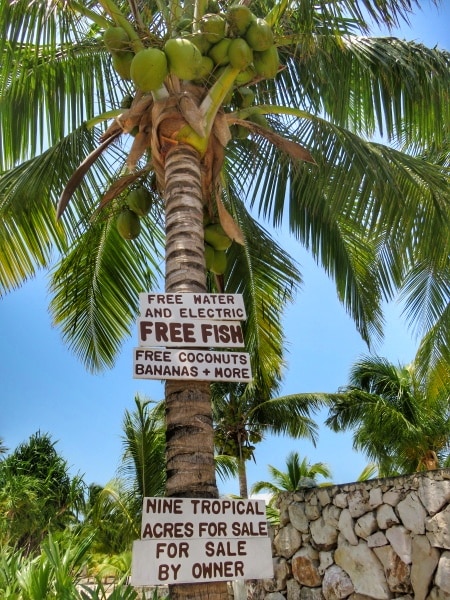 We continued south – I'd never been past this point before.  It's more of a sand path but very nicely maintained.   There are no paved roads on CC.   Through the mangroves you can see south to Caye Chapel – the former golf course that has been purchased by a development group.  The last I heard, Greg Norman had signed on re-do the course…
There is a very cool archway on one of the homes.
And then, the end of the road.
Passing this spot called "The Novelo" on the way out.  I'm not sure how I feel about a lazy boy recliner out on a dock.  Especially at rainy season.  (I found the property, the guest house, on Booking.com – interesting.)
Now to the leeward side of the island and two things I've heard about but never seen.  One is right off the new large beach at Iguana Reef Inn.  It looks great back there…expanded beach and chairs…large beautiful bar which is a favorite for sunsets…
…and a seahorse ranch.  An enclosed area that, at first, appeared to be nothing…perhaps construction?  (You can see it to the right above)
But as you looked closer there were lots and lots of strange creatures – sea horses.  About the length of my hand – brown ones, yellow ones, greenish ones.  Super weird.
For so many reasons, they are very odd fish…seahorse males give birth…seahorses have only one teeny tiny fin on their backs.
I'm not sure how I feel about them at all.   We looped around a few blocks – and turned towards the lagoon by the Blue Waves Guesthouse.
To another very interesting fish and a very interesting spot.
The spot is most famous for the large tarpon that reside here.  HUGE to me, but apparently, at 50-60 pounds, these guys have nothing on the biggest tarpon – that can get to be almost THREE HUNDRED POUNDS and 10 feet long!
For $5bzd, you can buy a nice sized back of sardines and feed these guys.   For free, you can swim off the dock and feel these massive, prehistoric looking beasts swoosh around you.
Here they are…
Here they are just before jumping from the water to grab the fish.  It got my adrenaline pumping.
Tarpon are strictly catch and release in Belize and these guys?  They are considered pets…a sanctuary of sorts.  It would be seen as very bad form to throw your hook in at this spot.  Cool tidbit about tarpon:  A tarpon is depicted in Michelangelo's Sistine Chapel.
But another crazy thing about this area is that just a few feet away is the entrance to potentially the largest (by volume) sea cavern in the world.  It's called the Giant Cave and the people that dive it – or parts of it – are crazy.
I mean very very brave.
Is there a connection between the tarpon and the huge cavern?  Temperature?  Food?
We continued exploring…
Passing the flyfishing shop Chasin' Tail.  I hear good things about them.
Peeking thru the trees by Seadreams Hotel.  SO BEAUTIFUL…
We headed down to the split.  There has been so much change here over the last few years.  The Lazy Lizard Bar has been downsized…the entire area filled with acres of white sand and see walls are being finished to enclose this end of the island.  Let me see if I can put some pictures together to show the change.
The split in early 2014.
And this picture from July 2015.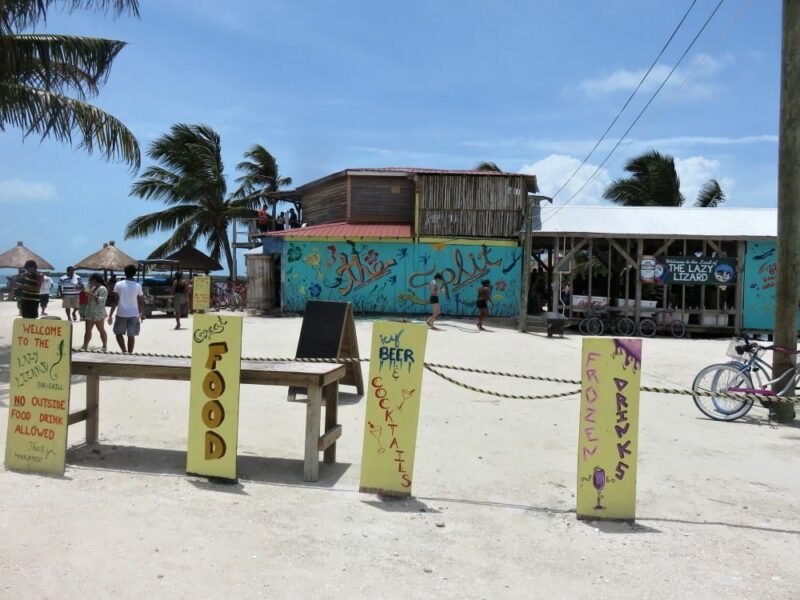 And this week.
The wooden dock has been removed and cement sea wall is going in.
The bar was quite quiet while the construction was going on.
Sigh…
We headed back to the water taxi for the 2.45pm.  Just over 3 hours in Caye Caulker and with a golf cart?  You can see a ton.
Let me end this post as I do ever other one that I write about Caye Caulker.
Man…I need to get over the more often.  AND overnight.  It's like a beach vacation away from the big city of San Pedro. 🙂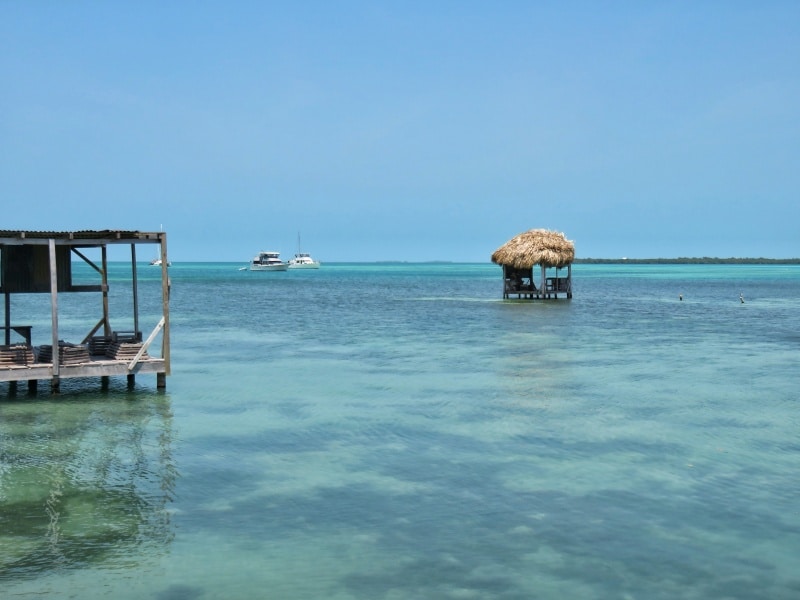 If you want to refer to this post later, please…stick a pin in it 🙂